Paramedic and adventure riding fanatic Georgia Melville has started a charity ride to raise money for a charity that she is passionate about – Beyond Blue.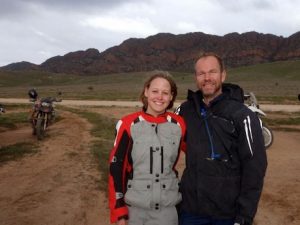 I first met Georgia when she was the paramedic on the Compass Expeditions Outback Tour with Charley Boorman a couple of years ago. She has since been stationed in the New England area which she explores on her BMW F 800 GS.
"I have started to organise this ride because I have found there to be a lot of paramedics with a common interest and something like this has not been done before," she says.
"I have found there to be a lot of younger paramedics getting sent to rural locations as their first postings, who are used to living in the big cities and as a result they have been experiencing symptoms of depression and even suicidal thoughts," she says.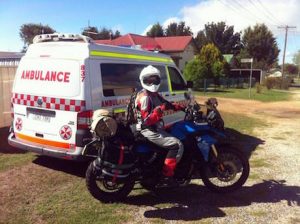 "It is more common than I would like to admit and after meeting Tex and Bundy at a Horizons Unlimited meeting I knew Beyond Blue was the perfect charity to fund raise for."
Riders and pillions on all types of bike in the North Coast, Hunter Valley and New England region are invited to attend the Paramedic Charity Ride on Friday March 6.
It starts from the Old School Cafe, 3 Ebor Rd, Wongwibinda, at 11.15am and will be led by Tex and Bundy the bike dog. Cost is $28 adult, $15 child and includes a buffet lunch and entertainment. There is a lucky for prize for the furthest bike travelled and all proceeds go to Beyond Blue.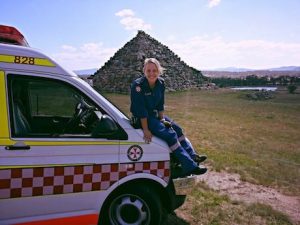 Musician Brendan Smoother will perform a few songs and hand out the prizes.
Riders will then head to Ebor Falls for photos and there will be both dirt and tar ride options available "so that people on the adventure bikes can cut loose if they need to get it out of their systems".
To confirm attendance, please email Georgia. mailto:gmelville@ambulance.nsw.gov.au