(Sponsored gear heads post for our North American readers)
If you'd rather ride on two wheels than step inside a car, then you should check out these must have motorcycle accessories.
In 2017, the number of registered on-road motorcycles in the United States totaled 8.4 million. That's a 100% increase from the 4.2 million registered units back in 2002!
Granted, not all share the love for these two-wheelers. But they're still pretty popular, with dealers having sold 470,000 new bikes in 2017.
Let's not forget about motorcycle gear that makes these bikes even more worth riding. On a global scale, this market made a whopping $2.87 billion in 2017.
Which now brings us to the main topic of this post: The must have motorcycle accessories. There are a lot of bike tools, gears, and techies for motorheads out there, which can be pretty confusing.
Don't worry though, as we've rounded them up for you so you don't have to. Check out this list of the motorcycle essentials you can't do without!
1. A Bluetooth, Aerodynamic Helmet
What better way to start this list than with every rider's primary protection?
Only three states — Illinois, Iowa, and New Hampshire — don't require a motorcycle helmet. The rest, plus D.C., are serious when it comes to their helmet laws. But even if you live in IL, IO, or NH, you should never go for a ride without a helmet.
Aside from helping keep your gray matter stay where it should, it also wards off bugs and other critters. Today's helmets are no doubt smarter, even letting you connect Bluetooth devices! Plus, the right look and fit will make you look more badass than if you don't wear one.
You'd want to invest in a helmet with an aerodynamic design though. This lets you ride with that needle on the right side, but with as little noise as possible.
One last thing: Go for a lightweight, yet sturdy and DoT-approved helmet. Be prepared, as you may have to spend a bit more for the best motorcycle protective gear. But it'll be worth it, especially if you plan on riding for speed.
2. An Armored Leather Jacket
Only a few things scream kickass louder than a thick, and solid motorcycle jacket. But it's more than a cool-looking piece of motorcycle riding gear. It also protects your precious skin, taking the brunt of skids and drags in case of an accident.
Look for armored features on the elbows and shoulders, which often sustain injuries. Also, consider the weather in your area — if it rains a lot, you'd want weatherproofing features. Airflow, thermal body warmers, and waterproof materials are what you'd want.
3. Palm Sliders
The body's instinct is to put the hands out during slips, trips, and falls. In fact, if you think about it, it's the hands that you use to shield your body from, well, almost anything, right?
To put things in perspective, consider this:
More than one million U.S. workers visit ERs due to hand injuries every year. 70% of them got these injuries because they weren't wearing gloves.
In Australia, 93% of surveyed organizations reported experiencing hand injuries too. That makes them among the most common injuries in Oz workplaces.
So, imagine how much damage the hands can get when one gets catapulted from their bike. The hands will try to lessen the impact on the body, which may lead to the wrists snapping. The friction put against the palms by the asphalt is a scary enough thought.
A little too visual? Well, that's the truth, and all beginner riders should be aware of that.
That's why you'd want to slide your hands into palm sliders too, whenever you go out for a bike ride. With these, plus your helmet and jacket, you're (almost) done protecting your upper body.
Low-friction, yet quality plastic gloves are good enough to protect your palms. For something longer-lasting (and better-looking), invest in leather sliders.
Better gloves out there have adequate cushioning and armor for the entire hands. With these, you'll have better protection for your knuckles and wrists too.
4. Earplugs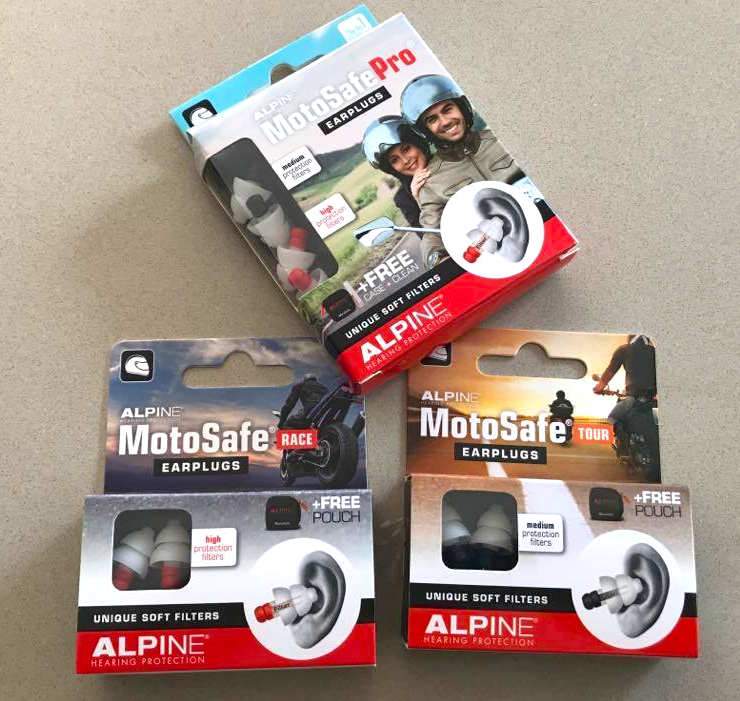 Completing the list of upper body must have bike gear is a pair of high-quality earplugs. Contrary to popular belief, they don't make it hard to stay focused and connected to the road.
The only thing they cut riders off from is the noise of the high-pitched wind. This then protects the sensitive inner workings of the ear. That actually makes you feel more relaxed and less tired after a long ride!
5. Riding Pants
You'll rip those jeans sliding on pavement faster than you can say 0 to 60. Even if you think they're the thickest, most durable pair you have, they're not built for safe riding. What you want is road armor, and luckily, there are now jeans out there with Kevlar lining.
Their prices are a bit on the hefty side though, so your other option is Cordura textile. The best ones out there offer good abrasion resistance without being too bulky.
6. Tough Boots
Apart from your hands, your feet and legs are at most risk of damage in an accident. So, keep those encased in sturdy, protective riding boots! Don't worry about losing style, since the best riding footwear out there still looks amazing.
Features like reinforced toe tips, soles, and padding protect the small bones on your feet. They have enough cushioning to make them comfortable and breathable. Although typical work boots have protective toe boxes, they lack feet protection features.
7. Tool Kit
Get a complete roadside toolkit with wrenches, top motorcycle spoke wrenches, Allen sockets, screwdrivers, and pliers. Get a few cable ties too, a multi-purpose tool, and microfiber towels for cleanup.
Pro Tip: If you're looking to take your ride out for long road trips, you'd want extra fuel storage. If you've got the budget, go for a self bunded fuel tank. This'll help you reach point A to B with as few stops and top-ups as possible.
Start Shopping for these Must Have Motorcycle Accessories Now
This list of must have motorcycle accessories is far from being extensive. But they're the best motorcycle gear you need, not to mention the most important. So, before you start shelling out money on bells and whistles, start with these seven first.
Want more two-wheeler riding/safety tips and travel advice? Then make sure you head over to our Tips and Training section! We've got more nuggets of wisdom to share with you there.