Updated February, 2018
Sportbike jackets are a critical piece of gear for every rider who is jumping on a rocket for even just a short ride.
Wikipedia defines a sports bike as, "a motorcycle optimized for speed, acceleration, braking and cornering on paved roads, typically at the expense of comfort and fuel economy by comparison with other motorcycles."
That is a pretty accurate description of a sportbike and also speaks to why protective gear is so very important for even the most skilled riders, as they will perhaps push that optimized power further than the novice or less skilled riders of these finely tuned machines.
Not only is it important to have durability in the event of a slide but it is also imperative to have protection from the impact that your body is going to endure. In the case of a slide, the abrasion of the road surface against your skin is a predictable injury. The calculation of the severity of damage is the loss of one millimeter of skin for every mile per hour over 30.
At 45 mph you stand to lose over half an inch of skin, and at 70 mph that equates to over an inch and a half of skin and muscle. When thinking about the potential impact that your body will absorb during a crash, it is estimated that a "sudden stop" at 60 mph will exert a force in excess of 20 times your body weight. Now the cost of a good textile or leather jacket doesn't seem so painful. The simple fact is that accidents happen and all that you can do to protect yourself is to wear the best gear available.
Be sure to check back regularly with us here at wBW to read about our latest hands-on reviews of Sportbike Jackets and other great products for riders.
Recommendations
Our Top Picks
Best Overall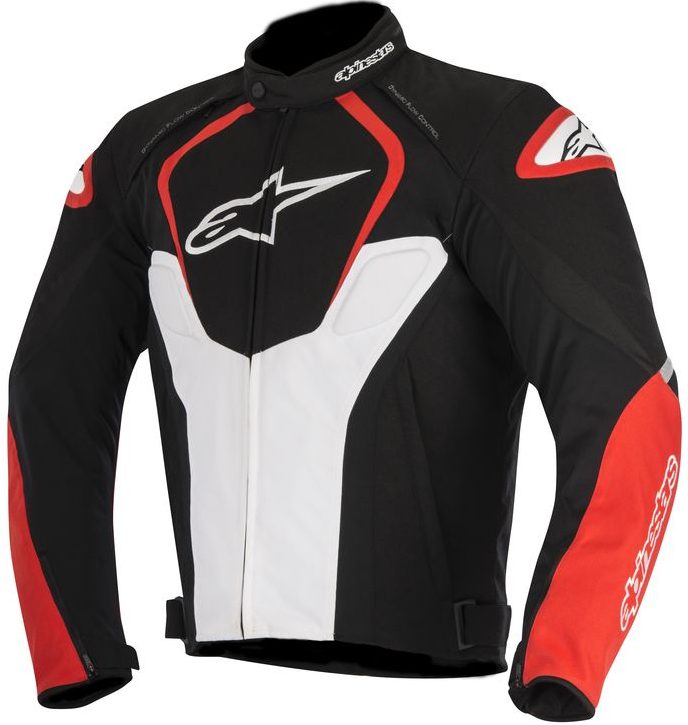 Best Value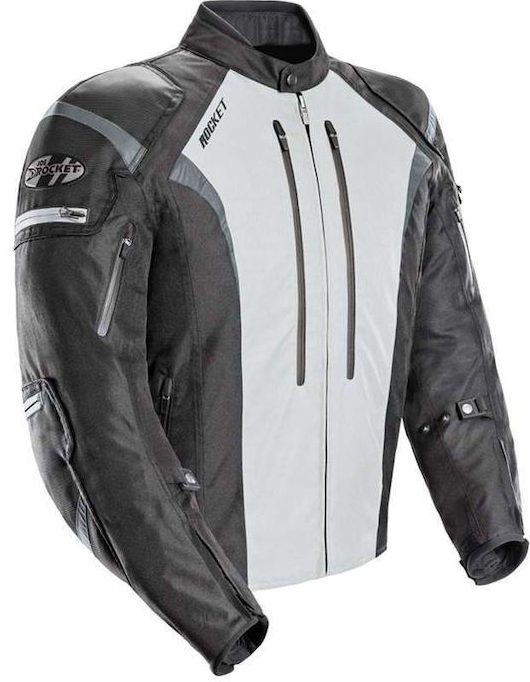 Fully Loaded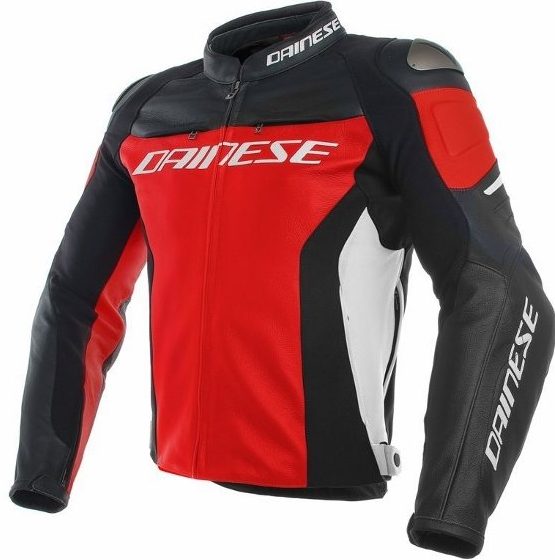 Other great options: Scorpion Clutch Leather, Cortech Latigo 2.0, Joe Rocket Resistor
Sportbike Jackets Buyers Guide
Wearing a sportbike jacket is a must but many riders have a difficult time finding a jacket that provides solid protection, is comfortable even when in the prototypical sportbike crouch and is reasonably priced.
We hope that our evaluations of some popular models will provide you with the information you need to make a solid decision on your purchase of a sports bike jacket. One of the factors taken into consideration for our "Best of" categories was the availability of both men's and women's cut and size. A proper fit is critical for a jacket to provide maximum protection and offering that feature to everyone regardless of gender is certainly part of what it takes to truly be the best.
The Winners
In Detail
Best Overall


Alpinestars T-Jaw Air & Stella T-Jaw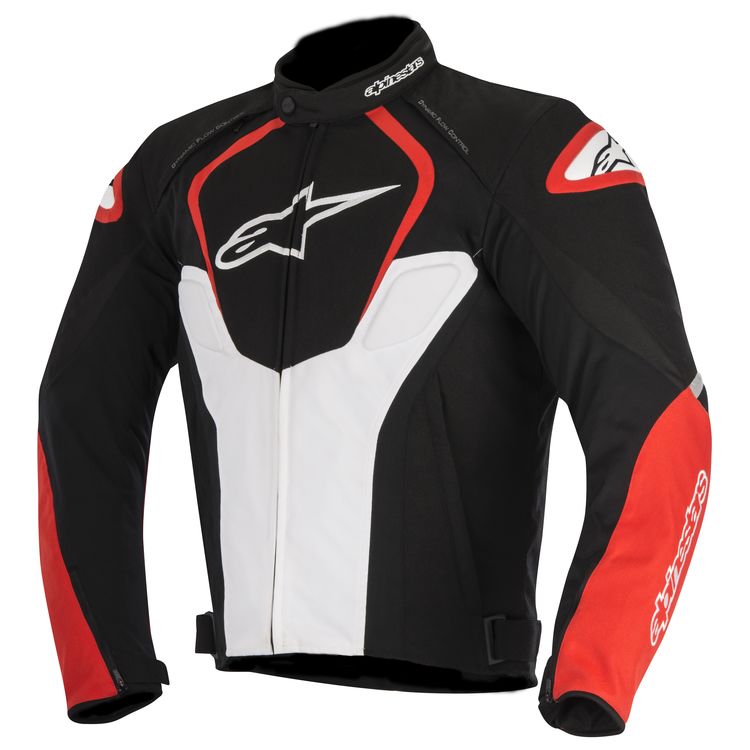 The T-Jaw Air offer riders the ability to wear a lightweight jacket that offers a huge amount of protection and safety without paying an outrageous price. In addition, this jacket offers a lot of options that riders can choose from to be certain that they are wearing the jacket that best meets their needs. One somewhat unique but great feature of the T-Jaw Air is that is available in both men and women sizes. Now both genders also have the option of wearing the lighter textile version or upgrading to the full leather model.
The T-Jaw and Stella T-Jaw are designed with racing in mind.
The pre-curved sleeves with stretch panels and 450D textile allow riders the full range of motion while fitting close to the body for comfort and safety.
The large mesh panels allow for plenty of airflow so you never need to ride without the safety of a good jacket.
On cooler days simply zip in the windproof liner for added warmth.
Added comfort and a custom-like fit are due to the stretch accordion above the elbows and behind the shoulders.
Velcro cuff closures keep the wrists snug over any style glove.
The short-cut waist of this sports style jacket and the Velcro waist closures keep the jacket secure and comfortably in place even on a long ride.
The internal waist connection zipper is great for attaching any Alpinestars riding pants to turn this sportbike jacket into a full race suit.
Impact protection is provided by padding details on the upper back, a chest pad with PE comfort foam and removable CE protectors in the shoulders and elbows.
There is also a back protector pocket where you can insert the back protector of your choice. This is a really great feature which allows you to select the backplate that you are most comfortable with, unlike some jackets that include a plate that they choose. Now you pick what you want and don't need to worry about the added cost of a backplate that you don't want or need.
The T-Jaw Air and the Stella T-Jaw Air are really setting the bar for all sportbike jackets. This model offers textile or leather and both are available for the ladies as well. The race cut and style of this jacket offer extreme comfort and the ability to customize the fit to your body and your riding style.
All of these features and choices at a very affordable price are what makes the T-Jaw our Best Overall choice for sportbike jackets.
Buy T-Jaw Air & Stella T-Jaw
---
Best Value


Joe Rocket Atomic 5.0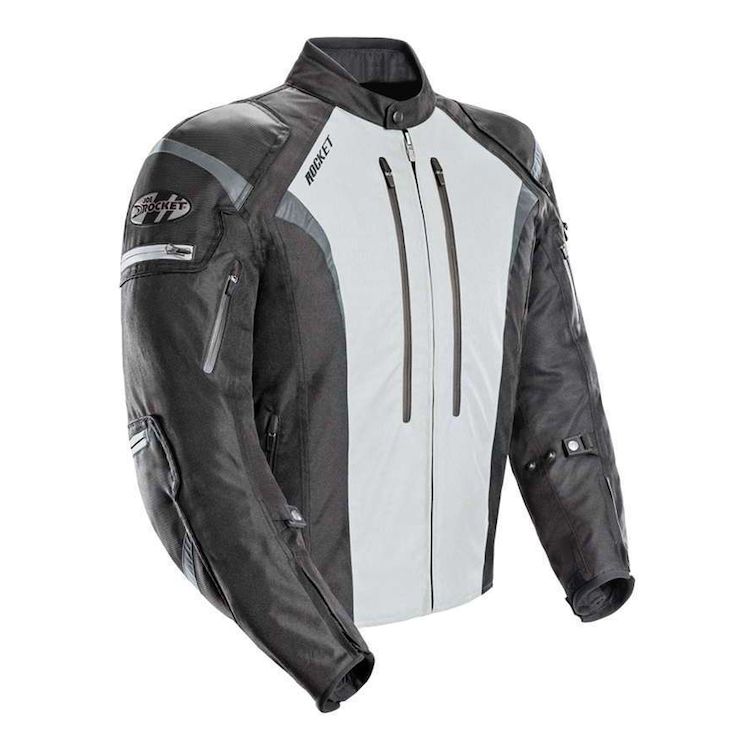 At just over $150 the Joe Rocket Atomic 5.0 is an amazing new version of a jacket that has been considered the industry standard for years. This is now a true year-round option for sportbike riders who want safety, comfort, and affordability from a single jacket.
Joe Rocket is also aware that there are a lot of ladies out there who want to the same reliability and comfort that the guys enjoy but in a jacket designed to fit a woman's body. The Ladies Atomic 5.0 offers all of that and at the same fantastic price as the men's jacket.
Both the ladies and the gentlemen will love the new and improved exterior of the 5.0.
The Rock Tex waterproofing and the Hitena outer shell keep you protected from the rain and anything else that is flying through the air towards you.
On cooler days you will appreciate the full sleeve liner which is removable and washable.
The Variable Flow ventilation makes this a great choice for even the hottest summer days.
Added comfort is ensured by the 6 point sure fit custom adjustment system and the comfort neoprene cuffs.
All of the great comfort features might be enough for other manufacturers but not Joe Rocket. They added a ton of great safety features as well.
The CE approved armor for the shoulders and elbows is super easy to access in the external pockets as is the removable spine pad.
There is also an additional pocket for an optional upgraded back armor plate.
You will be assured that drivers can see you coming and going thanks to the 360-degree reflective panels and logos.
A few other added benefits are the 2 big outside pockets for gloves and other items and the internal pocket that can hold a phone, glasses or even a wallet.
The 8-inch zipper makes this the perfect jacket to pair with pants to create a full race suit.
No rider, man or woman, can ask for a more versatile jacket for around $150. The comfort and safety features found on the 5.0 rival or even exceed the features on jackets costing almost twice as much, making the Atomic 5.0 our choice for the Best Value Sportbike Jacket.
Buy Joe Rocket Atomic 5.0
---
Fully Loaded


Dainese Racing 3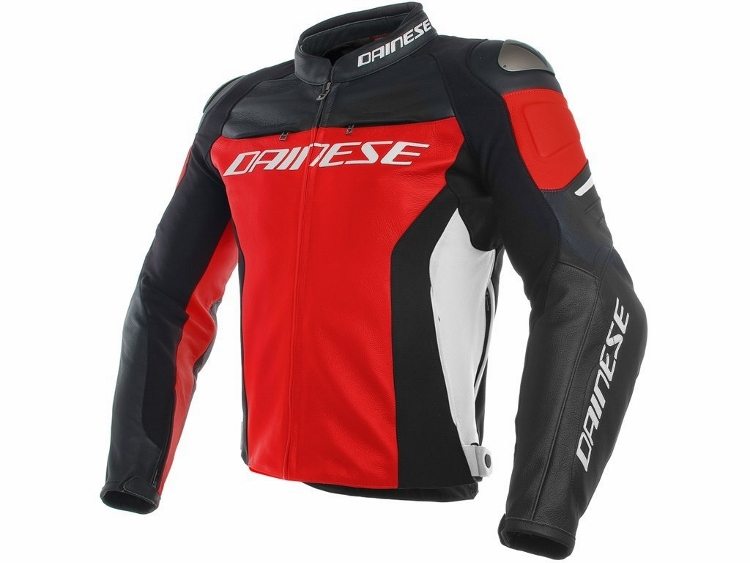 When you are committed to getting the best protection and comfort that money can buy, look no further than Dainese and in this case the Racing 3 jacket.
At almost $600, once you include tax, this is a pricey jacket. But can you really put a price on your skin and bones or the time and pain associated with healing up from a nasty trip across asphalt?
Starting right at the top this jacket offers co-injected shoulders with aluminum inserts and racing grade Tutu leather with strategically placed elastic inserts to provide maximum mobility. This is race day quality protection that is comfortable enough to wear every day.
This Racing 3 offers certified CE Category II – 89.686/EEC Directive protection and is constructed of the finest grade Tutu leather which is then finished using state of the art technology to provide exceptional comfort and safety.
All of the inserts are designed and constructed with elasticated fabrics for added comfort and a custom fit.
The waist is adjustable as well and offers a jacket to trouser fastening system to create a full racing suit.
No detail was overlooked as this jacket offers a Nanofeel liner with a silver ion treatment.
There are 2 outer storage pockets with zipper closures and pockets for additional chest and back protectors.
This jacket offers numerous ways to create a completely custom feel and level of safety to meet any riders demands. Even temperature is taken into consideration, as this leather jacket is available in a solid or perforated leather.
The final feature of this top of the line jacket is the fact that it is available in both men's and women's sizes. Features, choices and impeccable safety features are what makes the Dainese Racing 3 our choice for the best by far for a Fully Loaded Sportbike Jacket
Buy Dainese Racing 3
---
Other Great Sportbike Jackets
In Detail
Scorpion Clutch Leather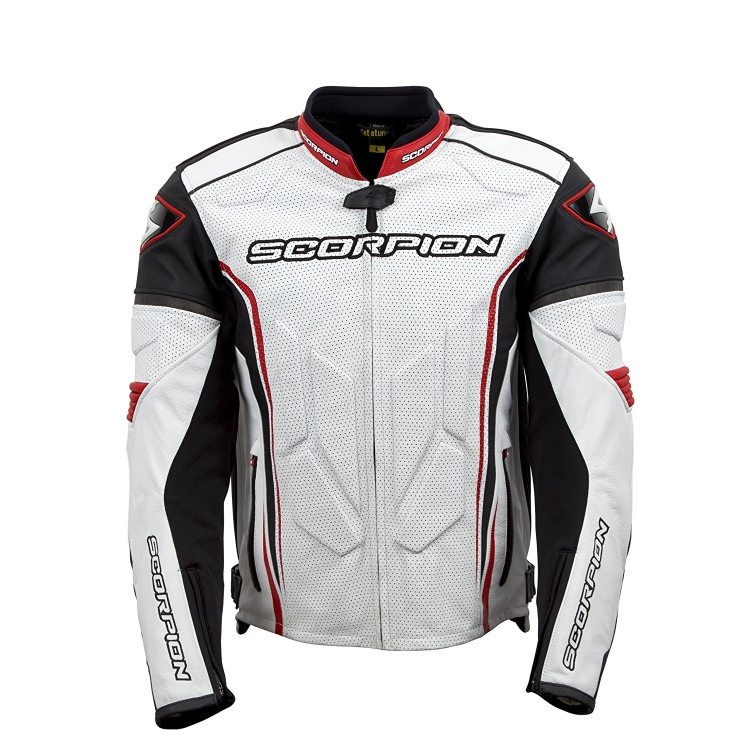 The Scorpion Clutch leather jacket is purpose-built for the most demanding true sports riders.  
Perforated panels in the front and back of the jacket allow for great airflow and make this the perfect leather jacket choice for warm climates like California and Arizona. Stretch panels in the sleeves and underarms allow for full motion without constriction in the race position. Molded shoulder protectors and Sas-Tec CE Level 2 approved removable armor at the shoulders and elbows provide great protection at critical areas without reducing mobility or comfort. The back protector compartment is designed to fit multiple levels of protection, which is sold separately, to meet the riders desired comfort, fit and safety choices. Padded panels are also a part of the torso construction.
Safety is the number one focus of this race style jacket but comfort and fit are a close second and were not sacrificed in any way to provide top quality protection.
In addition to the stretch panels and perforated leather, the Powertector GP Air Hump provides a hollow core which promotes airflow through its channels.
The removable and washable Everheat insulated liner with KwikWick II moisture wicking and antimicrobial features also adds to the comfort and function of this jacket.
Dual-adjustable waist belts, a neoprene collar, and spring-loaded zipper pull cuffs round out the comfort features.
The Scorpion Clutch is designed for racing and offers the protection needed for the track but it is comfortable enough to wear every day on your commute or out just out for a ride.
Buy Scorpion Clutch Leather
---
Cortech Latigo 2.0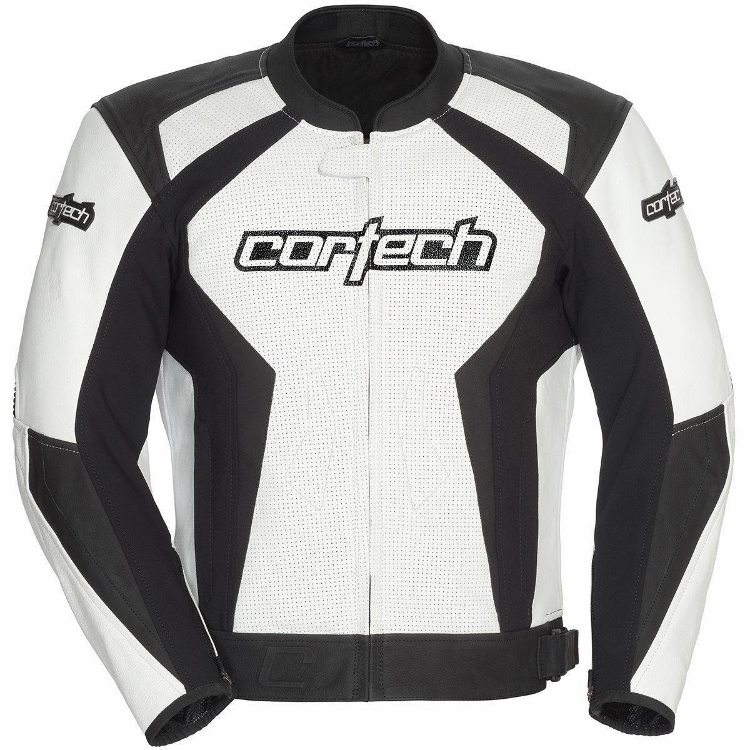 The Cortech Latigo 2.0 is the latest version of a successful design which offers superior leather protection and CE approved removable armor for the elbows and shoulders. The focus of this jacket is definitely sliding and abrasion protection without the added bulk of a lot of armor or additional padding.
The majority of the jacket is made of 1.2-1.4 mm cowhide which is perforated in the front and back of the jacket. Stretch-Tex on the sides, shoulders and shoulder blades allow for an unrestricted range of motion. On cooler rides, the insulated thermal vest can be added for extra warmth.
The biggest benefit of this jacket is the instant comfort and flexibility for riders who are looking for a quality leather race style jacket without the confinement of a great number of additional armor pads and panels.
Buy Cortech Latigo 2.0
---
Joe Rocket Resistor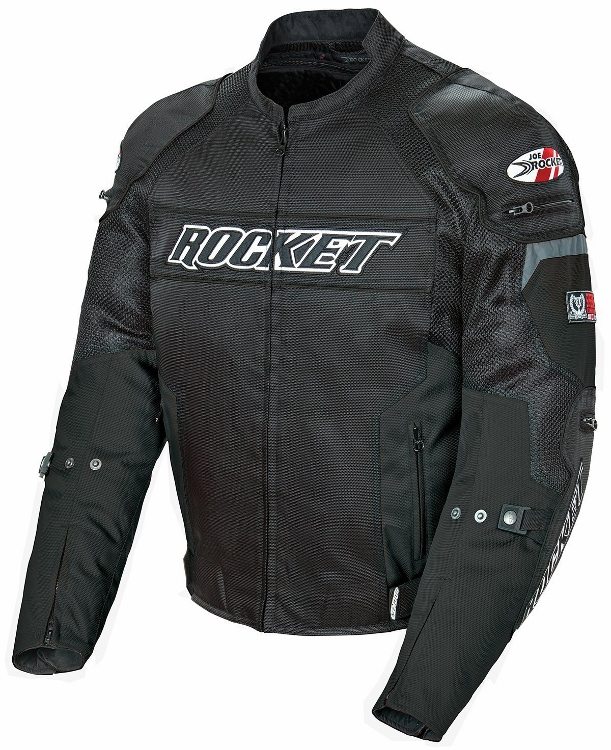 The Joe Rocket Resistor is a great compromise for dedicated sportbike riders who live in a hot climate but want as much protection as they can get without being shrouded in leather.
The combination of Hitena, RockTex 600 and Free Air mesh provide maximum airflow while still offering protection from abrasion and road rash. The Full Flex system allows for great arm and shoulder movement with pliable mesh in the underarm, shoulder and back areas.
This jacket will get you through the summer in Phoenix, Arizona even if you commute daily. Winter rides will require the removable insulated vest liner and possibly a base layer of something thermal but it is very doable.
The safety features are far superior to most other super lightweight and ventilation focused race jackets.
The CE approved shoulder and elbow armor are easily accessible via external pockets and the removable spine armor can easily be replaced with CE armor if you choose to go for the added safety.
A six-point SureFit system allows for very customized adjustments to keep the jacket secure and comfortable even in a tight race crouch.
Snap loops allow the rider to attach the jacket to a belt or the zipper allows for attachment to riding pants for a full race suit feel.
For less than $200 the Resistor is a solid selection if you are looking for abrasion and impact protection from a jacket that provides the airflow needed to survive on 100 degree plus days.
Buy Joe Rocket Resistor
---