February, 2018
Touring and adventure riding creates a unique and rather comprehensive set of parameters for riding boot requirements. The touring aspect implies, rightfully so, that the rides will likely be long so there is a definite need for comfort and mobility. A tight-fitting sport boot is great for a day at the track or shorter rides as it provides a sense of security and protection.
But after hours on a long ride, that snug fit becomes more of an annoyance than a reassurance. A more casual fit with a little bit of room to flex an ankle or wiggle toes is a welcome feature for touring boots.
But then you bring the adventure aspect into the mix and riders reaffirm their desire for great protection. Adventure rides can include some precarious terrain, obstacles such as tree branches or scrub growth or even loose material flying up at your feet and legs. All of these are a part of adventure riding and are not a big deal as long as you have the proper gear.
Solid touring and adventure boots are the first piece of gear that is likely to be between your body and all of these obstacles and projectiles that could cause you pain.
A reliable, name brand pair of touring and adventure boots is going to set you back a few hundred dollars or more but the benefits are priceless. And though your other options might at first appear to be more affordable, that can all change is a millisecond. The cost of a trip to the ER, crutches, loss of mobility and maybe even loss of your income as you recover and recuperate is going to be exponentially more than even the Fully Loaded options that we offer you for touring and adventure boots. Make the investment in your feet and ankles, it's a very reasonable insurance plan to avoid crutches.
Be sure to check back regularly with us here at wBW to read about our latest hands-on reviews of motorcycle boots and other great products for riders.
Recommendations
Our Top Picks
Best Overall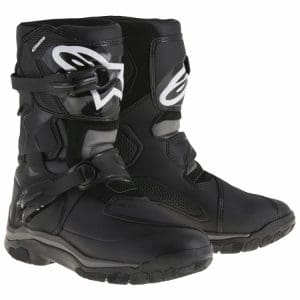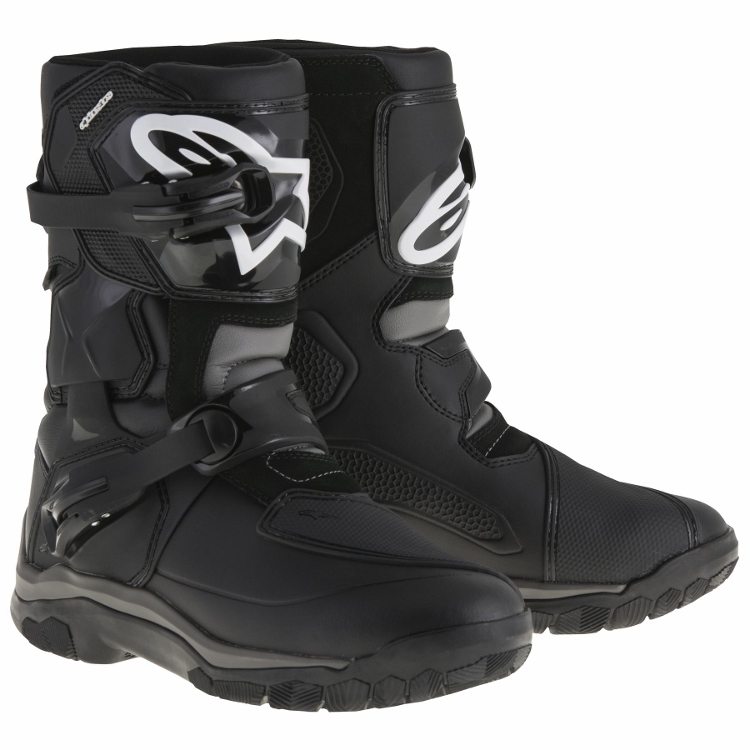 Best Value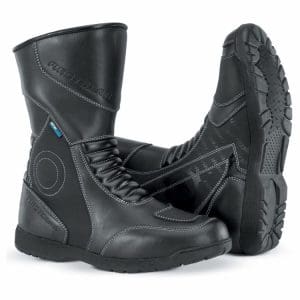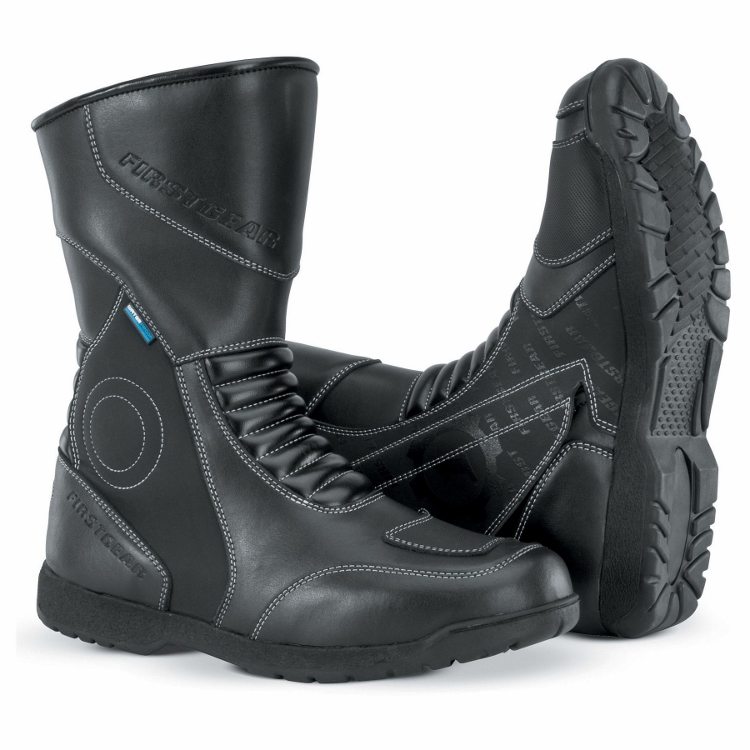 Fully Loaded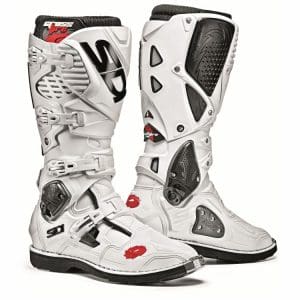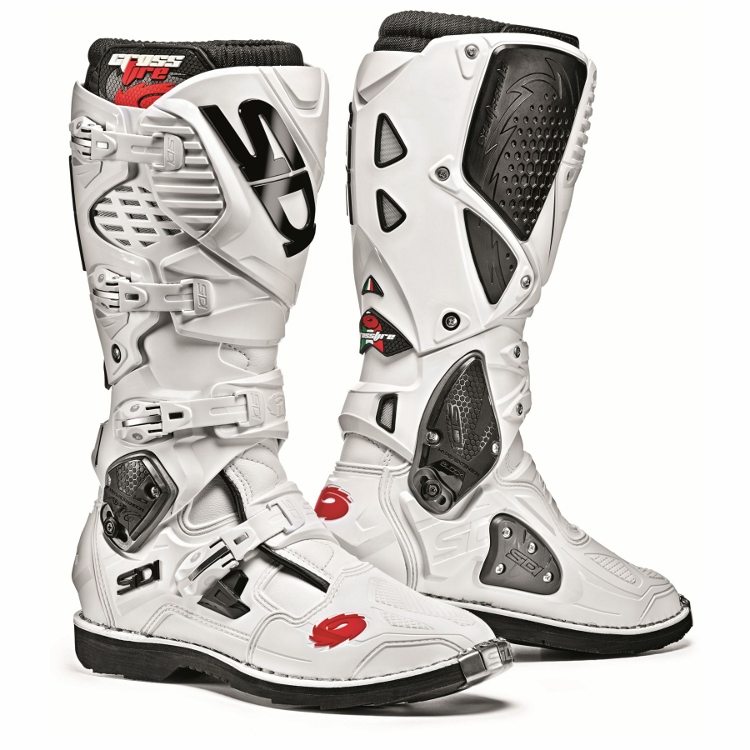 Other great options: Gaerne Balance, Sidi All Road Gore Tex, Dainese Centauri Gore Tex
Touring and Adventure Boots Buyers Guide
Selecting a boot that meets your needs for comfort and riding style is critical to your satisfaction and your safety. If your adventure rides never take you beyond fairly well-maintained roads then you will not need to worry about brushes or tree branches cracking your shins. But if your idea of adventure doesn't begin until the pavement ends then you need to seek out a more durable boot that provides more ankle and leg protection.
Be honest with yourself and find the boot that will meet your needs. Sure the super off-road adventure boots look cool but they might be less comfortable than you really want if you are cruising on the highway for 5 to 6 hours at a time. In the end, our information about features and comfort levels will serve as a great guide for you when you are selecting your next pair of touring and adventure boots.
The Winners
In Detail
Best Overall


Alpinestars Belize Drystar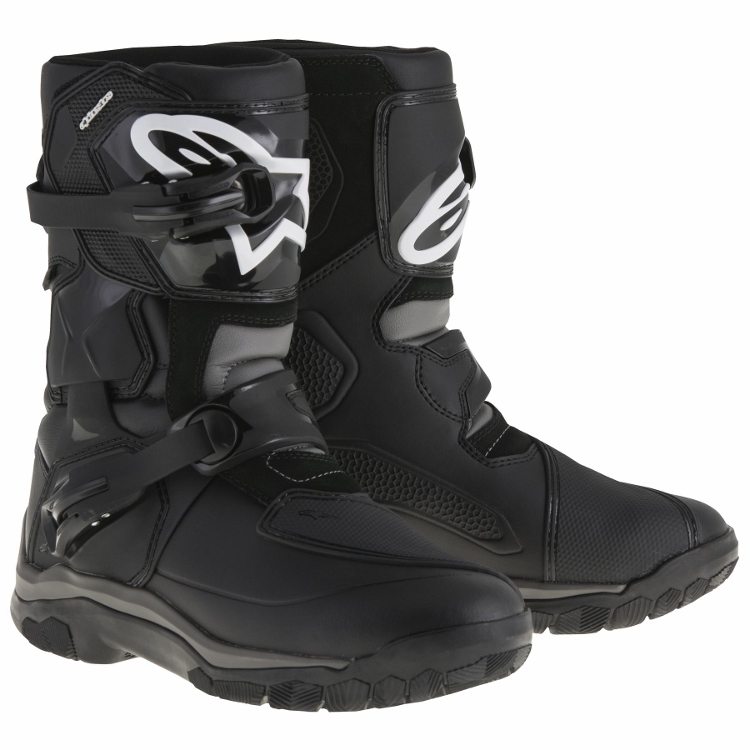 The Alpinestars Belize Drystar is a rare combination of a touring and adventure riding boot and a hiking boot.
Alpinestars took a step back and applied some logic to understand that a tour and adventure ride could end at a place that is really cool. They then went a step further to think that riders might want to explore the site on foot. So a boot that is safe and sturdy enough for a motorcycle ride was only meeting half of the adventurous heart of some riders.
So the Belize Drystar was born.
The upper of the boot is constructed of full grain leather and suede with imprinted texture to improve grip.
Front and rear bellows are made from a lightweight microfiber for added flexibility and comfort.
The shift pad offers additional grip and also is backed with foam for more comfort.
This mid-calf boot offers protection via ergonomic TPU plates and the biomechanical flex-blade ankle hinge system.
Soft poly-foam surrounds the ankle and the collar to increase comfort and absorb the shock of any possible impact.
The internal toe box and heel counter reinforcements are layered under the upper for added durability and protection while the drystar layer and lining provide protection from the elements when riding in bad weather.
The sole of the Belize Drystar is made of the exclusive Alpinestars vulcanized rubber plus an injected PU midsole for added comfort and grip.
The wide opening makes this boot very easy to put on and take off.
The lateral ankle closure system consists of 2 polymer buckles. One is located at the shin plate and the other is located on the instep.
Each closure buckle includes a ratchet with a memory and a quick release lock/release system.
The buckles are also self-aligning for easy and precise closing.
Because of the innovations and attention to detail of these boots as well as the functionality, the Alpinestars Belize Drystar is our selection for the Best Overall Touring and Adventure Boot.
Buy Alpinestars Belize Drystar
---
Best Value


Firstgear Kili Hi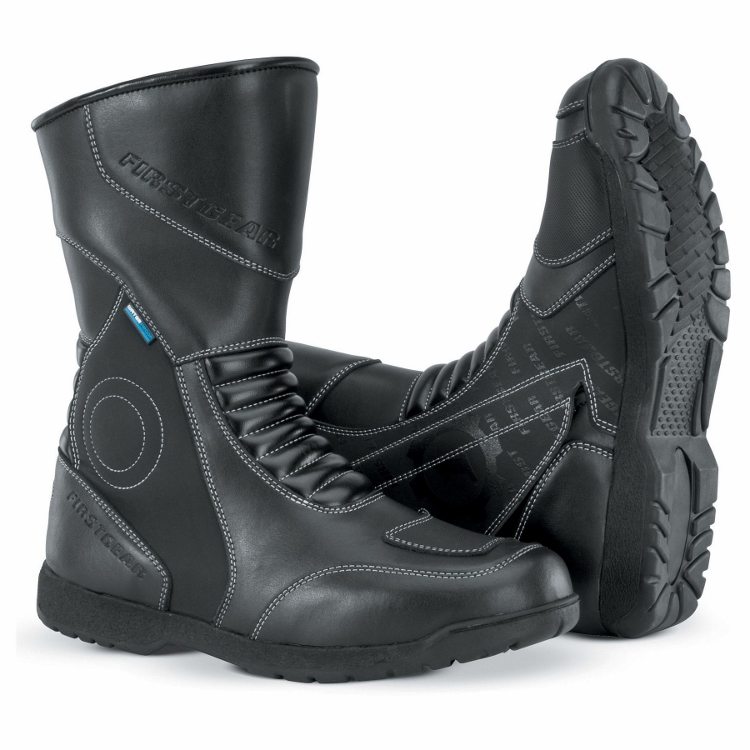 The Firstgear Kili Hi touring and adventure boot is a good choice for an economical boot that still provides the ankle and shin protection that riders need.
Riders also have the option to purchase the waterproof version or the mesh version depending on their riding conditions and preference. The mesh version is about $10 less and offers all of the same features as the waterproof model except for the waterproof liner.
The upper of the Kili Hi is constructed completely of leather.
The full liner is waterproof.
These boots offer a large opening making them easy to put on and take off.
The Kili Hi is secured by a large hook and loop closure at the top of the cuff which hits most riders about mid-calf.
Additional impact protection and abrasion protection is provided via the hard ankle protector and the foam padding at the shin.
For a very affordable touring and adventure boot, the Kili Hi offers riders good ankle support and foot protection for most riding on paved surfaces and even some light duty off-road.
The function, choices and reasonable cost make the Firstgear Kili Hi our selection for Best Value Touring and Adventure Boot.
Buy Firstgear Kili Hi
---
Fully Loaded


Sidi Crossfire 3 TA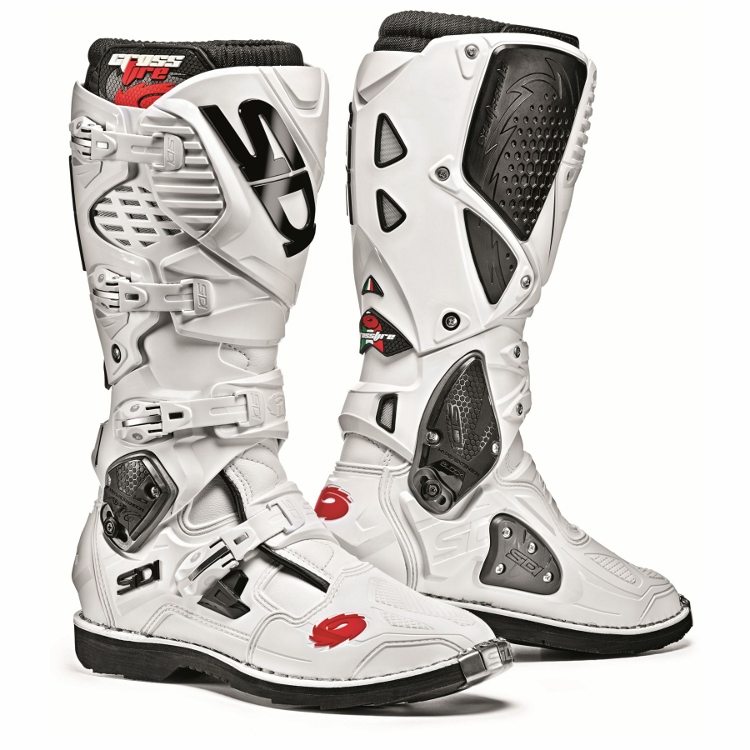 For riders who want the ultimate foot, ankle and lower leg protection regardless of the cost then the Sidi Crossfire 3 TA is the only touring and adventure boot to consider.
The white version of these boots could easily pass for a stage prop used by a stormtrooper. The entire boot leg is assembled with screws, is stitch free and is entirely replaceable. And at first thought, all of this armor might sound uncomfortable and feel confining but Sid has created a customization process that allows riders to tweak this exoskeleton to a perfect fit.
The calf plate system features an inner double adjustment that expands to fit even the largest calf or calf and a knee brace.
The ankle pivot system allows riders to set a hard limit for foot/ankle hypertension to eliminate potential injuries.
Laminated Technomicro is used as the base material throughout the boot so there are no booties involved. This decreases the heat and potential for slippage.
The inner boot gaiter is larger than in previous models to allow for a tight seal around the rider's leg even if a brace is worn.
In addition, the upper inside of the gaiter features heat resistant suede for added protection and grip.
The foot portion offers a removable arch support, protective plastic over the toe area, rigid, shock resistant heel which holds the riders foot in place to resist twisting injuries and a buckle system with memory retention nylon straps.
All buckles move independently and have just one fixed point for each closure. This also allows the rider to pivot the buckles to adapt the shape to their riding position.
The upgrade for the TA model of the Crossfire is the fact that the soles are hand sewn. This feature is a great benefit for riders who walk more in their boots.
The sole is made of anti-skid rubber and can also be replaced by a cobbler.
The look, the features and the level of protection offered by the Crossfire 3 TA are simply over the top. Riders who want the best and want it customized to their size, shape, and preferences will choose this boot. For all of these many features, the Sidi Crossfire 3 TA is our selection for the Best Fully Loaded Touring and Adventure Boot.
Buy Sidi Crossfire 3 TA
---
Other Great Touring & Adventure Boots
In Detail
Gaerne Balance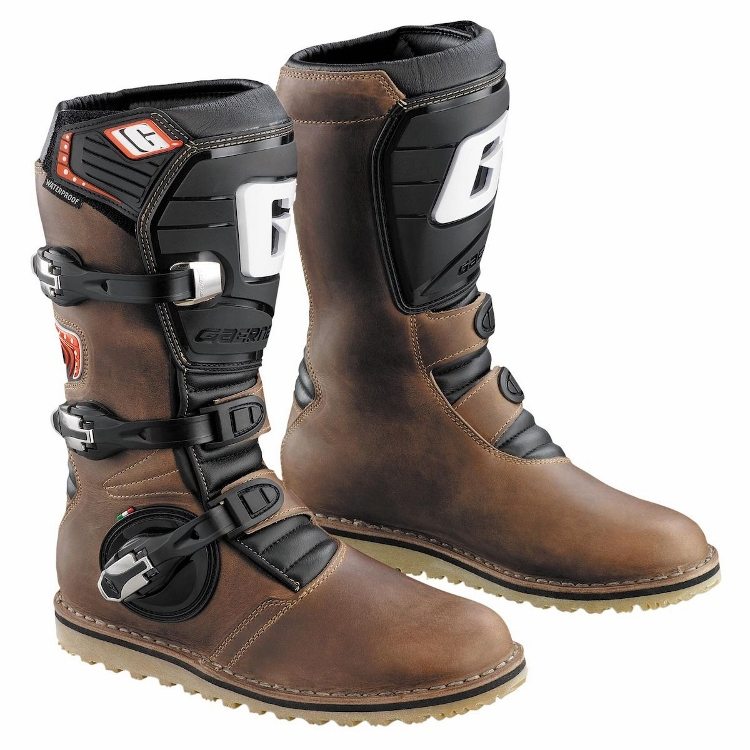 The Gaerne Balance Oiled Boot embodies the classic look of a full grain oiled leather boot.
The gum rubber sole completes this classic look and all of the comfort that comes with it. The oiled leather and gum sole might make many riders think that these are not serious touring and adventure boots but the full list of features will eliminate that misconception.
The gum sole on the Balance has a lug type tread pattern but the sole itself is flat, meaning that there is no heel. Some riders like that fact as it allows a variation on foot location on the pegs, while other riders dislike it because it eliminates the ability to "hang" a foot off of the peg using the heel.
But regardless of the heel, the gum sole offers a good touch and grip. In addition, it is a more flexible sole if you will be doing any walking. Many riders also like this boot because when worn under a pant leg the toe of the boot looks very simple and more stylish than many tour/adventure boots.
The closure system for the Gaerne Balance is a series of 3 alloy buckles. This allows for fast locking and releasing. One buckle is over the instep, one is just above the ankle and the other is mid-calf to provide a secure fit of the entire boot.
Added impact protection is provided for the foot and shin from the thick flap that attaches to the buckles. The Gaerne Drytech membrane liner provides the waterproof feature and additional warmth.
Riders who are looking for a quality full leather boot with safety features but a low key look will be more than satisfied with the Gaerne Balance Oiled Boot.
Buy Gaerne Balance
---
Sidi All Road Gore Tex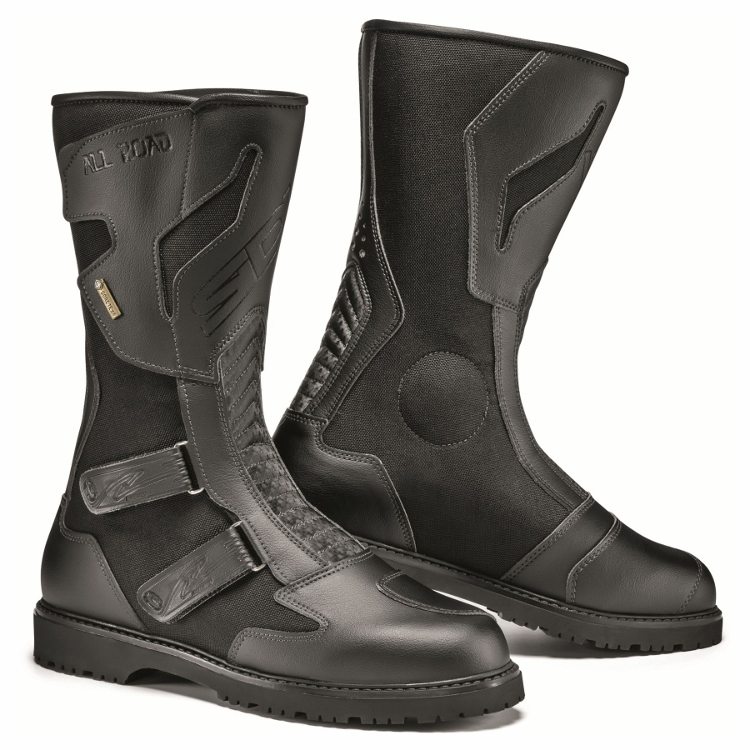 The Sidi All Road Gore Tex is a case of truth in advertising at its best.
This touring/adventure boot was created to handle anything that any road could dish out. This durable boot is made of Technomicro and Cordura and lined with highly breathable and waterproof Gore Tex.
The inner comfort liner is made of Cambrelle and aids in wicking moisture away from the skin.
The closure is a Velcro system starting at the instep and extending to the top of the cuff.
The upper of this boot is very simple and low profile with a reinforced toe for added durability and abrasion protection.
Internal protection includes coverage at the heel, ankle, and toe.
The shin plate is also lightly padded for comfort and protection without limiting the range of motion.
A nylon inner sole has a removable arch support.
A bonded non-slip sole offers a lug style tread pattern making this a boot that can handle bad weather equally as well as perfect weather.
For a somewhat covert touring and adventure boot, the All Road is a solid choice. Riders like the more casual appearance of the boot as well as the peace of mind of knowing that it offers good protection and support for the foot and ankle area.
Buy Sidi All Road Gore Tex
---
Dainese Centauri Gore Tex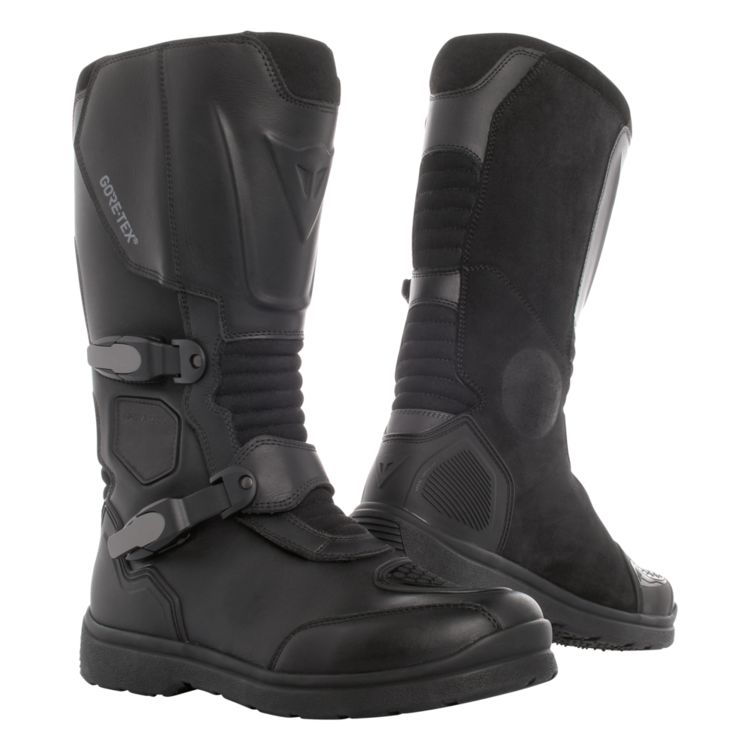 The Dainese Centauri Gore Tex boot is a blend of comfort and function that will carry you anywhere an adventure takes you.
The safety and durability will meet any riders need for touring or adventure riding and the comfort allows riders the ability to explore on foot once you reach your destination.
The full grain cowhide leather uppers provide great protection and durability in a boot that is casual enough for everyday wear.
Additional protection is provided by the rigid inserts at the ankle and the thermoformed insert at the shin.
External TPU ankle reinforcement and a TPU heel counter round out the abrasion and impact protection making the Centauri certified to CE – Cat. II – EN 13634 standards.
There are equally as many comfort features for riders to appreciate.
The nylon ankle guard, split leather inserts on the internal side and elasticated inserts all add to the comfort of these boots.
Breathable and waterproof Gore Tex provide comfort regardless of the weather conditions.
A padded upper collar ensures a great fit at the calf as well.
Finally, the rubber soles with differentiated sole pattern provide great grip when riding and extreme comfort for a walk.
At a price of over $400, the Dainese Centauri does cost more than many other options but it also offers many great features for a full leather waterproof touring and adventure boot.
Buy Dainese Centauri Gore Tex
Check Prices on RevZilla Check Prices on Amazon
---