Updated March, 2019
Our Top Picks
Best Overall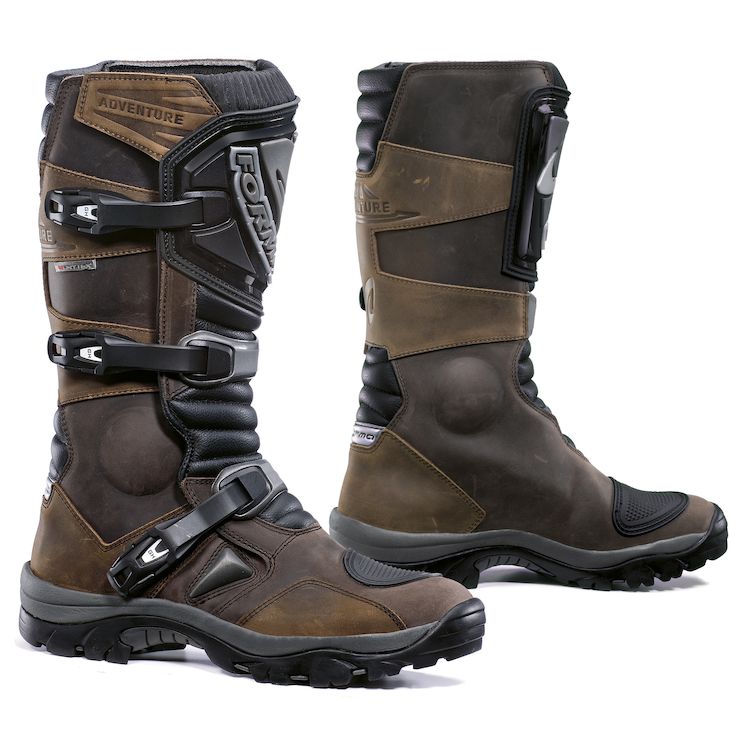 Best Value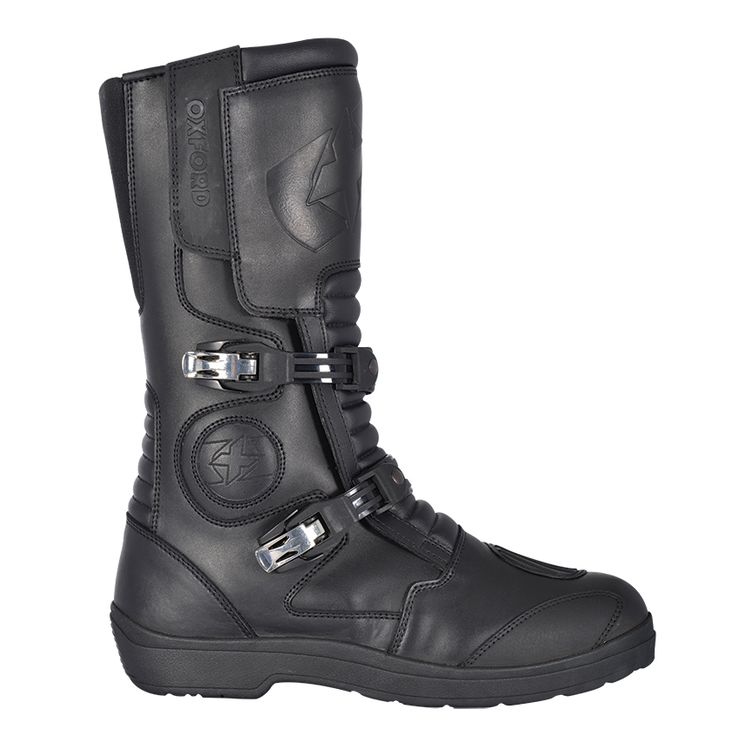 Fully Loaded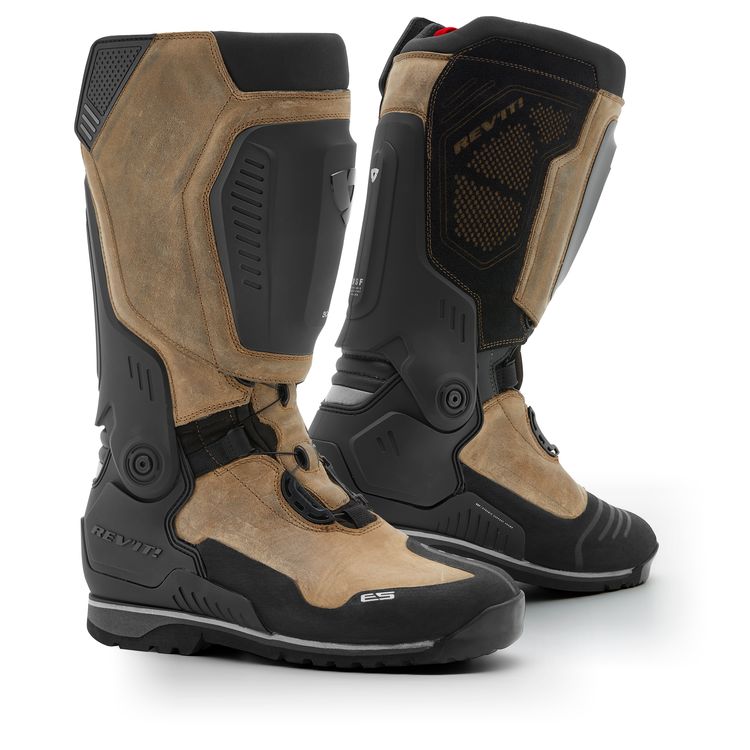 Other great options: SIDI Adventure 2 Gore-Tex, Dainese Centauri Gore-Tex, Gaerne Balance Oiled
---
A large part of the fun of touring and adventure riding is not knowing exactly what you are going to encounter around the next curve. But what rider do know is that these are normally some long rides, which means that the gear they select must be comfortable and reliable. A slightly relaxed fit for most garment and gear is a must so that riders can move and change positions to reduce fatigue and increase comfort and enjoyment of their adventure.
The touring aspect of this category normally implies that the ride will be on paved roads and that all of the normal dangers and hazards should be expected. Riders need to have protection from both abrasion injuries and impact injuries as those are both common when cruising on the pavement.
When you introduce the adventure side of this category, you tend to infer that there is a great possibility of some off-roading in your future. And this means that you could be facing more challenging and less stable terrain as well as other natural hazards such as branches or scrub plant material. All of these obstacles require some added durability for all gear but especially a riders footwear.
Solid touring/adventure boots are likely to be the gear that hits the ground first. And in many cases, reliable tour/adventure boots will be the only item that needs to hit the ground as they provide you with a little more balance and grip as your bike tires find a little more bite and grip as well. These purpose-built boots – when they do their job correctly – will save your feet and lower legs, the rest of your body and sometimes even your bike from a nasty slide or crash.
Knowing the important role that touring/adventure boots play in your safety as well as your ability to attack rugged terrain and win, investing in a quality pair of boots is also a sound investment in your own health and well-being.
Be sure to check back regularly with us here at wBW to read about our latest hands-on reviews of motorcycle boots and other great products for riders.
Touring/Adventure Boots Buyer's Guide
Selecting the best touring/adventure boots to meet your needs is really about evaluating the type of riding that you enjoy as well as your wants and needs when on those rides. Some riders will always err on the side of caution and wear super protective gear, while others tend to prefer a more streamlined, less is more approach.
The critical piece here is that you are honest about what you consider comfortable and what you will really wear. A $600 pair of touring/adventure boots will provide absolutely no benefits if they are at home in the closet when you are sliding around a curve on a trail and feel the bike start to slide out from under you. Your only hope is that the street shoes that you are wearing will rise to the occasion and withstand the strong foot plant and push and that you will not break your ankle with no support from your footwear.
So consider your likes and dislikes, as well as the terrain and conditions that you normally face. Then add in the safety benefits and the cost from our evaluations and select the touring/adventure boot that will best suit your needs.
Best Touring & Adventure Boots
In Detail
Best Overall
The Forma Adventure boots combine the comfort, function, and protection that riders need when touring and also when turning off the paved roads to take on an adventure.
Construction & Fit:
Full-grain oiled leather upper along with a Drytex waterproof and breathable lining with vintage leather finish creates a great balance between form and function.
The double density sole offers good grip on the pegs also provides great traction when off on a hike.
Added comfort features include the extra soft polymer padding with memory foam and the anti-bacterial replaceable footbed with APS.
Three unbreakable GH plastic buckles, one located at the ankle and two on the shin ensure that the Forma Adventure boots remain secure even if you do go down while on a trail.
Safety Features:
The protection offered by the Forma Adventure will definitely handle anything that riders encounter on or off-road.
Shin and ankle TPU molded plastic protection and ankle reinforcements protect against impact injuries and torsion injuries to the ankle.
Rigid nylon midsole with steel shank provides the protection for the bottom of the foot.
At under $300, the Forma Adventure boots offer riders the comfort needed for long rides as well as the protection that is required to ride safely off-road, making them the selection for the Best Overall Touring/Adventure Boots 2019.
Buy Forma Adventure
We receive a small commission when you purchase from one of our affiliate partners. Thank you for supporting us.
---
Best Value
The Oxford Explorer is offered at a price that is far below most touring/adventure boots. In fact, this full height boot is more affordable than most short boots which offer far less protection and comfort.
Construction & Fit:
Full leather upper for comfort as well as a waterproof membrane for added function.
The hook and loop storm strap and elastic inset at the calf ensure a custom fit and comfort on each ride.
Two adjustable reinforced buckles above and below the ankle ensure that riders always have a secure fit.
Safety Features:
Reinforced ankle protection along with the padded instep and heel area provides great protection and support for both the foot and ankle.
Steel shank reinforced sole adds the final protection to encapsulate the riders foot for complete protection.
Heavy-duty tread on the sole also provides sure footing on the pegs and when you are planting your foot for added stability.
At $150, the Oxford Explore is a very reasonably priced touring/adventure boot that offers many features you would only expect to find on a boot costing twice as much. The great price and abundant features make the Oxford Explorer the 2019 selection for Best Value Cruiser Boots.
Buy Oxford Explorer
We receive a small commission when you purchase from one of our affiliate partners. Thank you for supporting us.
---
Fully Loaded
The REV'IT Expedition H2O provides the comfort of a touring or cruiser boot with the protection of an off-road or dirt boot.
Construction & Fit:
Nubuck cowhide leather with Superfabric and a laminated layer Hydratex finish on the inside reduces the bulk of these boots while still offering riders a fully waterproof piece of footwear.
The adjustable hook and loop closure and the BOA closure system keeps the Expedition H2O boots secure and lock out the elements.
Silver-ion antibacterial 3D mesh lining helps promote moisture control.
Comfort along the leg is provided by the padded collar, which also has a double cuff closure to guard against moisture and the gusseted tongue.
Flex inserts at the back of the ankle provide great flexibility and range of motion allowing for a variety of foot positions.
Safety Features:
The Dynamic Support Frame (DSF) hinge system provides ankle support and protection without restricting a normal range of motion making the Expedition boots very comfortable to walk in when you are not on the road or a trail.
A stiff Vibram sole supports the foot along with a multi-density EVA shock absorbing midsole and an anatomically shaped footbed.
Reinforcements are also found at the toe, heel and at the gear shift area.
The shin is also protected by an external TPU Shin Plate.
At over $750, the REV'IT Expedition H2O is certainly an investment, but one that is worth making. This perfect blend of comfort, function, and protection is rarely found in a single piece of gear.
To have a single pair of touring/adventure boots that can handle the rough environment of an adventure ride but with the comfort of a casual cruise, is worth any price, making the REV'IT Expedition H2O the 2019 selection for Best Fully Loaded Touring/ Adventure Boots.
Buy REV'IT Expedition H2O
We receive a small commission when you purchase from one of our affiliate partners. Thank you for supporting us.
RevZilla
---
Other Great Touring & Adventure Boots
In Detail
The SIDI Adventure 2 Gore-Tex boots have undergone some major changes to get the badge as the second design.
Construction & Fit:
The Adventure 2 includes updated features not previously available in the original Adventure.
Most notable update is the full-height 14 inch Gore-Tex gaiter, which now extends 3 inches higher up the shaft for increased waterproofing in wet conditions.
There has also been an addition of a larger stretch insert at the back of the calf, allowing more space and flexibility in the shaft to accommodate a wider range of rider's calf-sizes.
Finally, the size of the split-grain leather grip panel on the side of the calf and at the instep have been increased for better grip capabilities.
All of the great features of the last iteration of the SIDI Adventure boots have not changed.
The upper is still constructed of Full Grain Microfiber material along with Cordura and Cambrelle lining.
The Gore-Tex highly breathable and waterproof membrane still keeps you dry and comfortable.
Bonded non-slip lug type sole still ensures great grip and footing on or off the bike.
Nylon inner sole with removable arch support pad and the rigid, shock resistant, anatomically shaped heel with hyperextension block still provide maximum protection and comfort for the feet.
Safety Features:
All of the great protection that riders expect from SIDI is still incorporated in the Adventure 2.
The ankle flex system is present but the annoying squeaking has been removed,
The tongue-in-groove Achilles protector and other TPUs on the SIDI Adventure 2 have been redesigned to provide a more sleek look and less bulk.
Strategically-placed flex zones allow for better flexibility right out of the box making the boots much more comfortable and easier to walk in, adding to the functionality.
At $500, the SIDI Adventure 2 is not in every riders budget, but for those who are willing to invest the money, the benefits of the revised version on the SIDI Adventure boot will quickly become apparent, making them a top choice for an awesome touring/adventure boot.
Buy SIDI Adventure 2 Gore-Tex
We receive a small commission when you purchase from one of our affiliate partners. Thank you for supporting us.
---
The Dainese Centauri Gore-Tex boots a great selection for riders who are looking for a little more subtle style but all the protection of a true motocross boot.
Construction & Fit:
Full grain cowhide leather upper with split leather inserts on the internal side and elastic inserts.
A nylon ankle guard is also added for extra safety and the breathable waterproof Gore-Tex membrane added to both the safety and the comfort of these boots.
Rubber sole with differentiated design, a TPU gear shifter guard to reduce wear on the top of the boot and two adjustable metal buckles to ensure a perfect fit.
Safety Features:
Certified to CE – Cat. II – EN 13634 standard, but look far less imposing than many touring/adventure boots that offer far less protection and support.
Rigid inserts on ankles, thermoformed inserts on the shin, TPU external ankle reinforcement, and a TPU heel counter.
At over $400, the Dainese Centauri boots are certainly an investment, but one that will reward riders with comfort and protection for years to come.
Buy Dainese Centauri Gore-Tex
We receive a small commission when you purchase from one of our affiliate partners. Thank you for supporting us.
---
The Gaerne Balance Oiled Boots are made of full grain leather and are waterproof and breathable thanks to the proprietary Gaerne Drytech membrane.
Construction & Fit:
A single piece of leather covers the entire toe and the interior side of the boot with no seams which decrease the chance of the boot seams failing on impact or in the event of a slide or other serious abrasion to the boots.
The gum rubber sole offers great traction and footing on the pegs while still being flexible enough to walk normally and to flex your foot when riding.
Note: The lack of a defined heel might be a drawback to some riders while others will appreciate a flat sole. Even with the lug patterned tread, the natural rubber sole provides great touch when shifting or braking.
Safety Features:
Poly shin plates add to the protection of the lower leg and gussets at the front and back of the ankle allow for a full range of motion and added comfort.
Padded collar and the hook and loop tab closure at the collar allow riders to customize the fit and comfort for each ride.
Three alloy buckles secure the Balance. One buckle is at the instep, one is just above the ankle and the third is mid-calf. This design offers riders the ability to have a great fit from the boot collar to the foot for security when riding as well as comfort.
The Gaerne Balance Oiled touring/adventure boot is certainly more lowkey than some models that are available, but for a rider who is looking for top quality leather in a comfortable boot with great protective benefits, the Balance is a top choice.
Buy Gaerne Balance Oiled
We receive a small commission when you purchase from one of our affiliate partners. Thank you for supporting us.
Download & Save Our Infographic!
Can't decide on your favorite Touring Adventure Boots? Acquire all the information you need with our handy infographic to decide later or on-the-go. Download and save all our top picks for best Touring Adventure Boots of 2019.
[Coming Soon]