Updated February, 2018
Motocross riders are a unique breed who seek the thrill of competition with other riders but also the invigoration of the purely philosophical battle of man versus nature. And this internal and external battle is played out from atop a lightweight, rugged bike with knobby tires, hard shocks, and an awesome little motor.
The tracks are dirt courses which are built to test not only the durability of the bikes but also the skill, endurance, and durability of the riders. Unlike the street rider who dreads the possibility of going down, the motocross rider barely even acknowledges being dumped from the bike. In a matter of seconds, the rider has jumped up, righted the bike and is launching back into the mix to regain valuable lost positions.
Tenacity is a word that aptly describes a motocross rider. They are willing to push themselves and their equipment to the ragged edge to complete a race. They demand both physical and mental toughness from themselves and extreme durability from their gear. For that reason, motocross pants need to be able to handle heat, sweat, dirt, abrasion, and impact without failure.
Be sure to check back regularly with us here at wBW to read about our latest hands-on reviews of motocross pants and other great products for riders.
Recommendations
Our Top Picks
Best Overall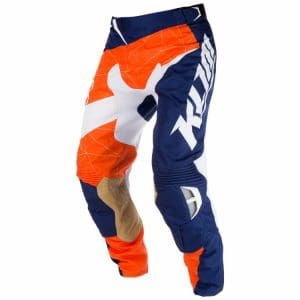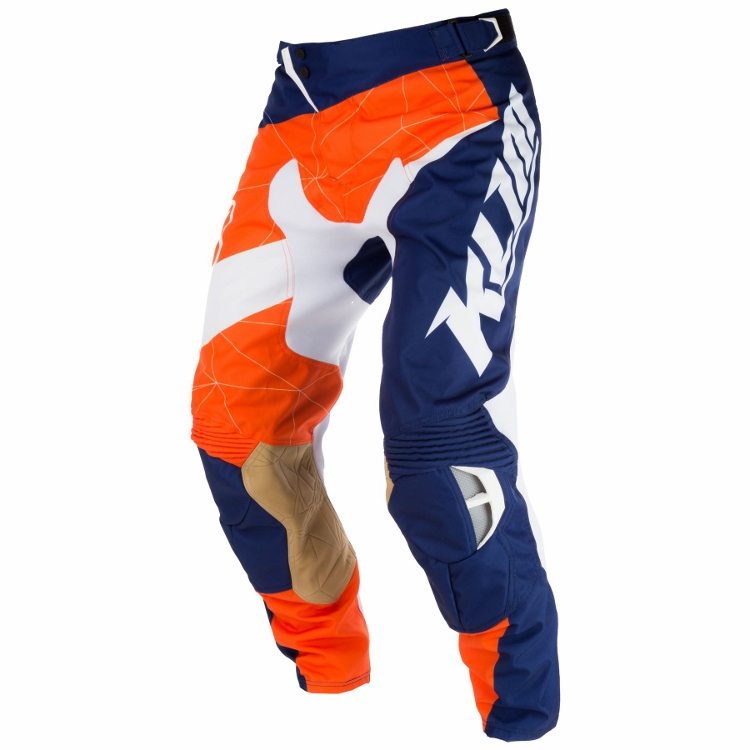 Best Value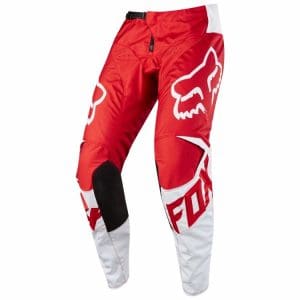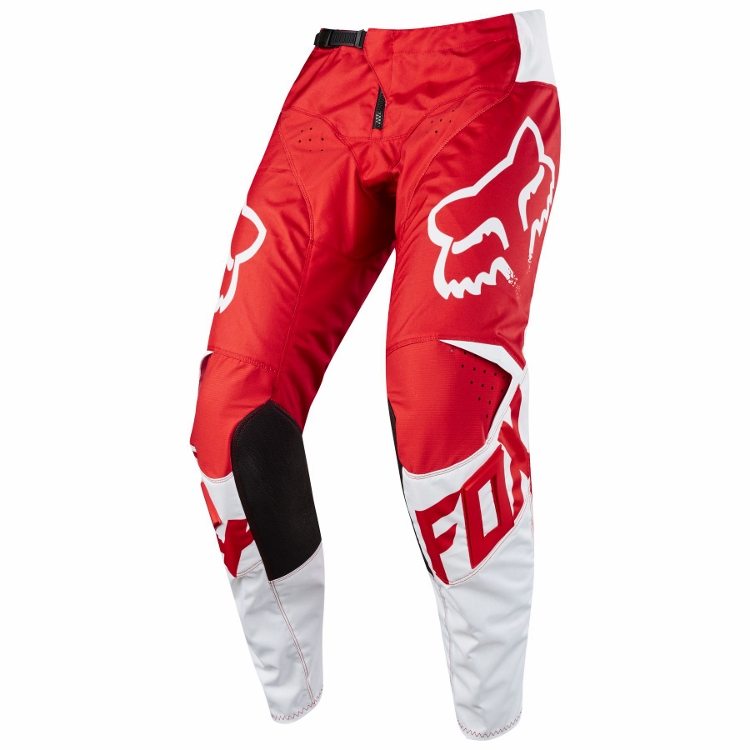 Fully Loaded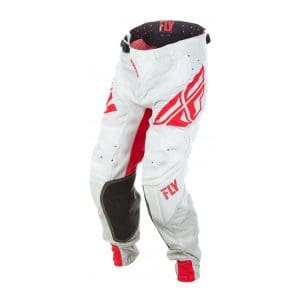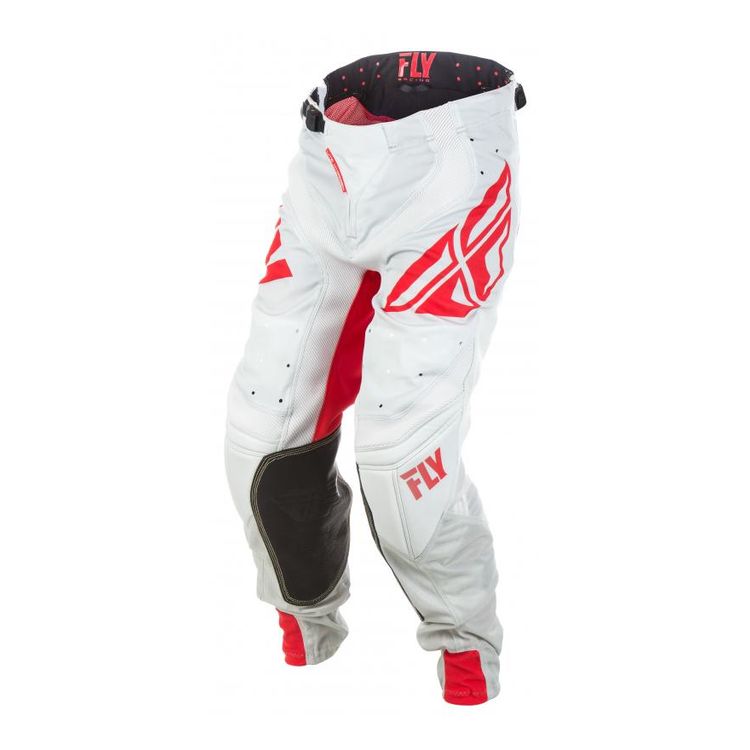 Other great options: Klim XC Lite, O'Neal Element Afterburner, Shift Faction
Motocross Pants Buyers Guide
Motocross pants are all about function and fit. Looking great is a nice added bonus but the primary goal of motocross pants is to provide abrasion protection and soften the blow of any major impact as much as possible. In the end, the rider simply wants to be able to jump up and get back in the race.
Durability is the attribute which will make or break motocross pants so our evaluations are focused on proving facts about the durability, material, and impact protection that riders can expect from these six products. Riders can then apply that information to their preferred style of riding, the look they are going for and the budget that they have to make the best investment possible in motocross pants.
The Winners
In Detail
Best Overall


Klim XC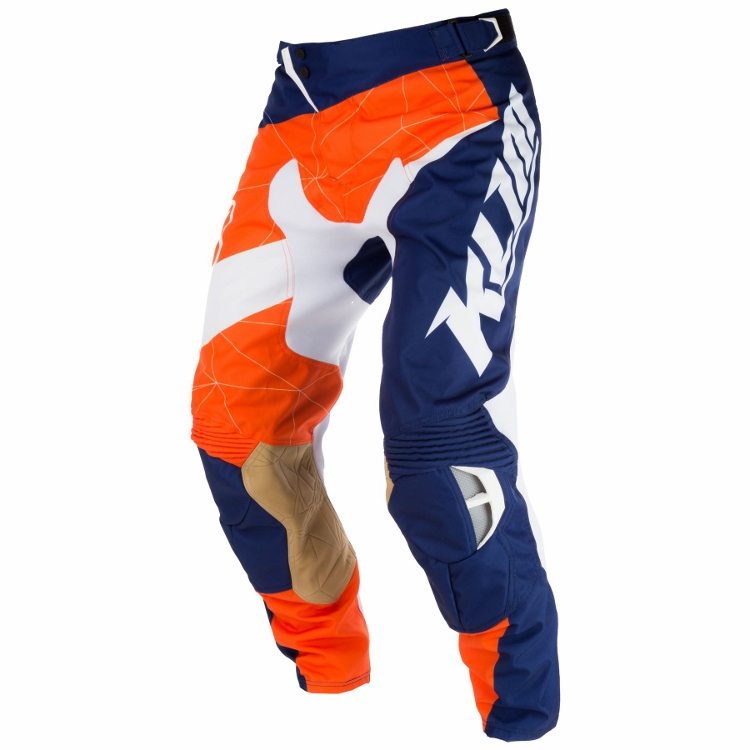 The latest version of the Klim XC pants offers a lighter weight design without compromising durability. The weight of these pants is not all that has been upgraded. The articulated race fit has been improved by adding multiple stretch panels to the leg, groin and upper seat area to provide improved mobility and comfort.
The improved shape and fit of the new XC also provides riders with better grip to improve bike control. Durable 420 Cordura is used to reinforce the seat and knees of the pants while ultra grip leather panels were added to the inner knee area.
The full mesh liner also increases rider comfort as it wicks moisture away from the skin and promotes natural cooling. Vent panels on the upper thigh and lower leg also promote improved ventilation over the previous design of the XC pants. Dual waist adjustments allow riders to create a custom fit at the waist for added comfort and to hold a jersey securely in place to protect the lower back.
Durability, comfort, and protection are all critical features that the Klim XC pants offer to motocross riders and for a very reasonable price. All of the benefits and a cost of less than many of the competitors makes the Klim XC our Best Overall Motocross Pants selection.
Buy Klim XC
---
Best Value


Fox Racing 180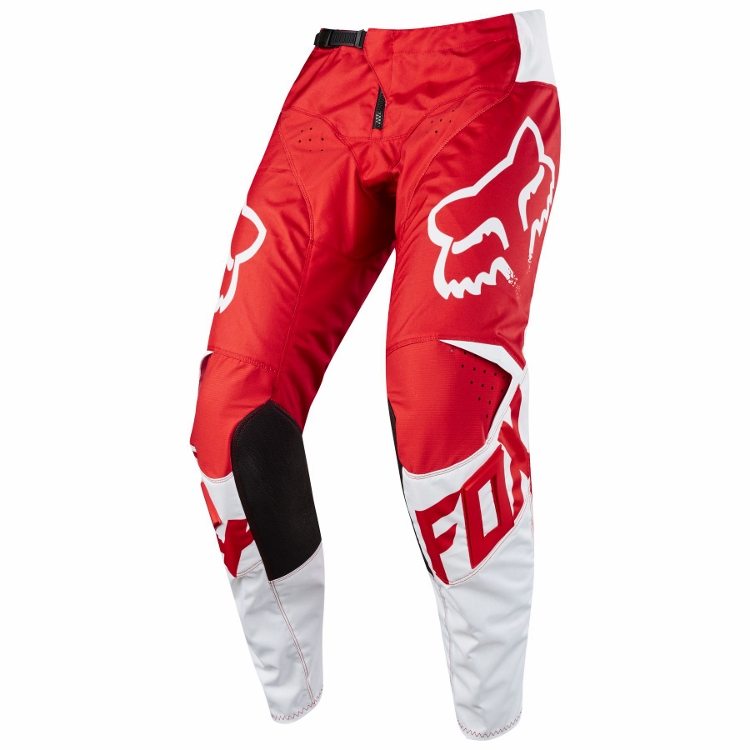 The Fox 180 racing pants offer riders a great blend of durability and affordability in a name brand pair of motocross pants.
The 600D polyester body and stretch panels at the knees, crotch, and back make the rider attack position comfortable without reducing mobility or range of motion. Added durability is provided by the leather knee panels which also offer protection from heat and abrasion.
Vented panels at the upper thighs and knees promote airflow and help to reduce skin irritation from abrasion and sweat. The adjustable waist allows riders to create a custom fit and to secure a jersey for added lower back protection.
At just over $100, the Fox Racing 180 Motocross pants are a great entry level selection at a very reasonable price making them our selection for Best Value Motocross Pants.
Buy Fox Racing 180
---
Fully Loaded


Fly Racing Lite Hydrogen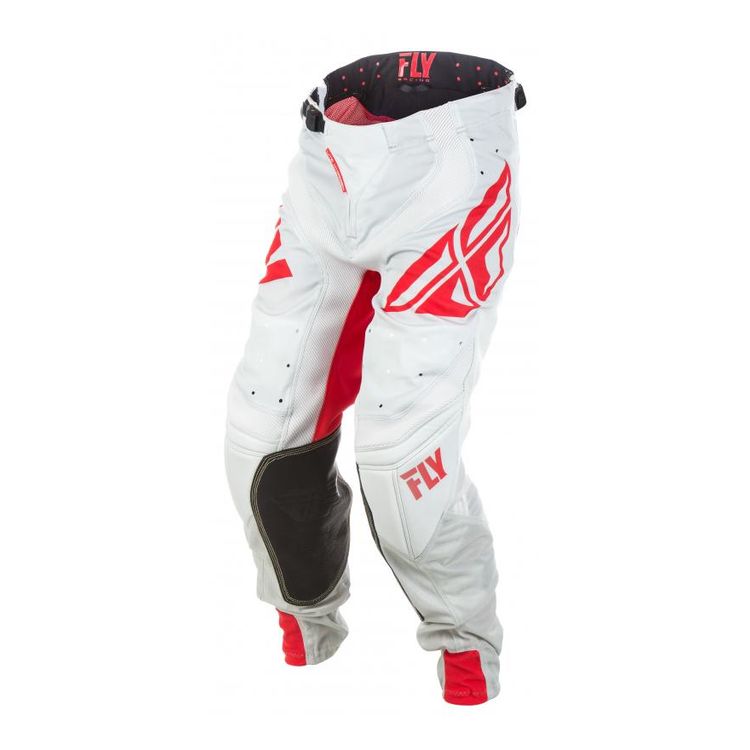 The Fly Racing Lite Hydrogen pants offer riders increased airflow and mobility while still providing comfort and safety. Fly has managed to get the weight of these pants down to less than three pounds using state of the art materials. The 90% stretch panel construction ensures that riders have a full range of motion and are not distracted by fabric that bunches or binds at the knees or waist.
The pre-curved knees are contoured but also are cut large enough to accommodate any type of armor that a rider might desire. Mesh panels in the back of the knee and lower leg promote airflow for added comfort as well. The customizable leg cuffs offer a low profile stretch material for less bulk and added comfort when inserted into boots. Leather panels are added to the inside of the legs using DuPont Kevlar stitching for added durability, grip and protection from heat and abrasion.
The Lite Hydrogen also features the Ratcheting Fly closure system which allows for a completely custom waist fit.
This feature is also critical to ensuring a snug fit of a jersey to protect the lower back area.
The floating seat design is surrounded by stretch-rib material to provide maximum comfort and range of motion, allowing riders better control of the bike using their legs.
Fly Racing has created a super lightweight pair of pants that offer riders an amazing number of comfort and function features without sacrificing durability. The price is a little bit more than many other motocross pants but the added features make the Fly Racing Lite Hydrogen our selection for Best Fully Loaded Motocross pants.
Buy Fly Racing Lite Hydrogen
---
Other Great Motocross Pants
In Detail
Klim XC Lite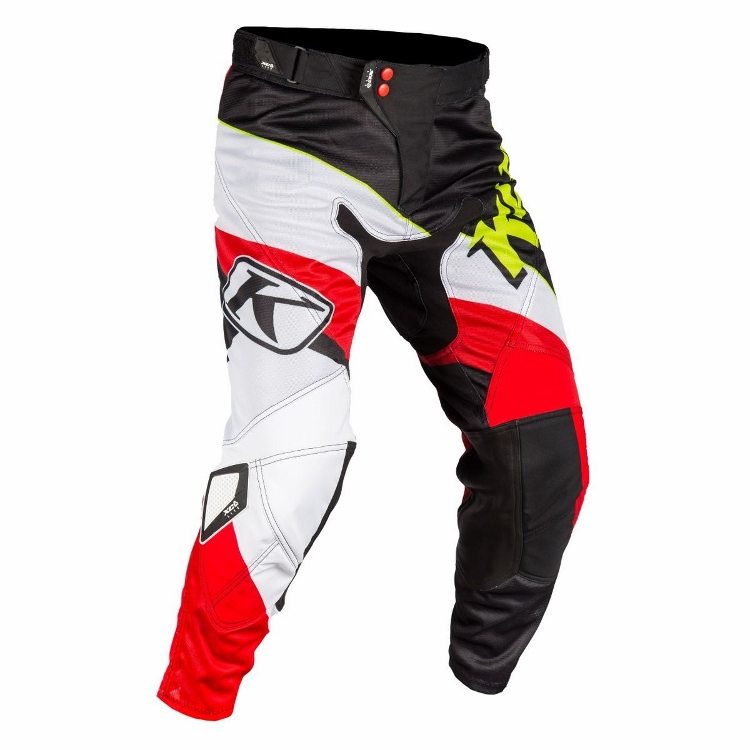 The Klim XC Lite is designed to provide riders with extreme comfort and mobility even in the hottest conditions.
The lightweight mesh body of these pants provided maximum ventilation while still offering protection and a great fit.
Starting at the waist, there is a band of silicone to hold pants secure and to keep a jersey tucked in for maximum protection of the rider's lower back. In addition, there is a side waist adjustment to fine tune the fit for additional rider comfort and security.
Vented TPU knees and articulated legs add to the comfort fit of these pants and help to reduce fatigue. The moisture-wicking mesh liner in these pants is also anchored in place at the knees to reduce bunching, increase comfort and eliminate issues of rubbing and abrasions on the skin.
Additional leather panels are placed on the inside of the knees for added grip, durability and rider protection. Finally, the lower leg of these pants is constructed of a low bulk material for added comfort when inserted into boots.
At less than $150, the Klim XC Lite offers riders a durable and comfortable choice for warm weather motocross pants.
Buy Klim XC Lite
---
O'Neal Element Afterburner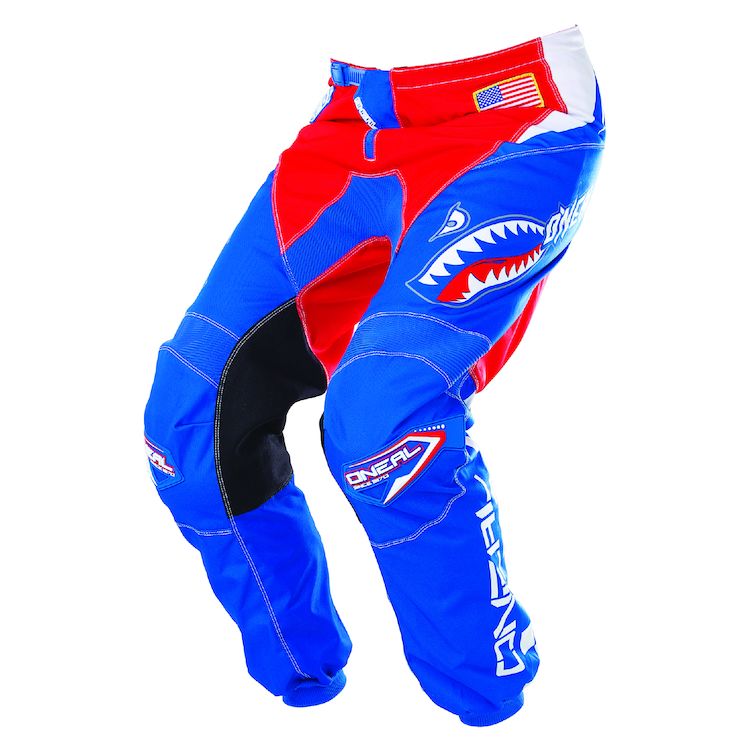 The O'Neal Element Afterburner is a great entry level selection for durability and comfort.
These pants are constructed of heavy denier fabric for great durability and rider protection. They feature an elastic waist and an adjustable ratchet closure system for a secure fit. This feature is also great to ensure that a jersey will remain tucked in to provide maximum protection to the lower back area. The tapered legs also add to the comfort and snugness of the fit under boots.
Additional wear-resistant panels are used to reinforce the seat, inside of the legs and the knees.
Protective rubber logoed panels also provide impact and abrasion protection for the knees.
Removable, internal EVA foam hip protectors are also included.
The stretch panels in the front, back and knees allow for full range of motion and enhanced comfort.
The full liner added to the comfort and wicking of moisture.
At less than $100, the Element Afterburner is a great option for lightweight motocross pants which offer durability and comfort at a price any rider can afford.
Buy O'Neal Element Afterburner
---
Shift Faction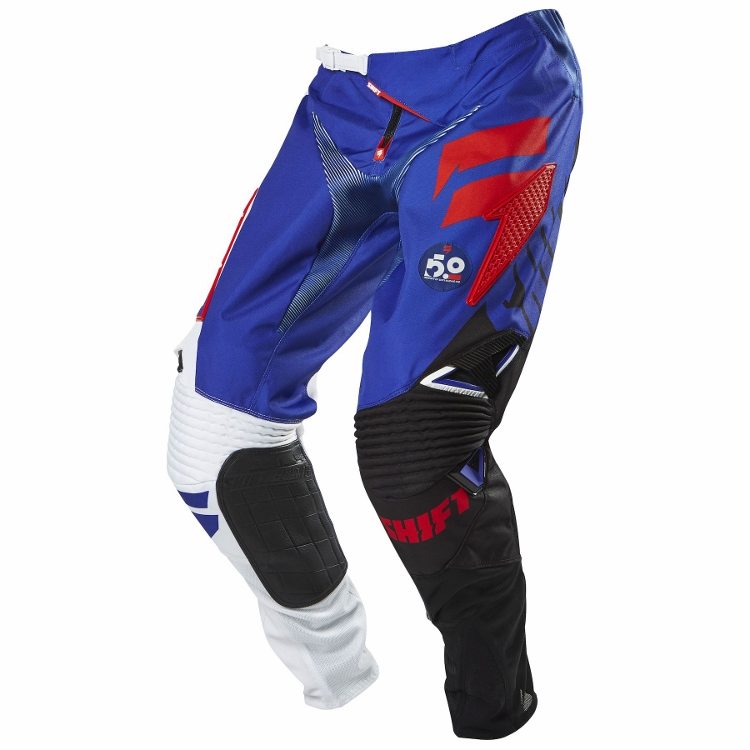 The Shift Faction pants are a super durable selection with an athletic cut and fit.
Made from 900D, the main body offers superior abrasion protection while the full grain leather inner knee panels provide extra protection and grip for riders. These pants are designed to be a slightly more snug fit than some relaxed cut pants but the contoured lower leg and cuff fit very comfortably inside a boot.
Riders appreciate the athletic fit of these pants and the aggressively articulated design. The adjustable waist belt allows riders to create a custom fit for both comfort and security. The rubber panels on the sides of the legs provide impact protection and an additional protection layer when sliding.
Multiple stretch panels at the back, crotch, and knees allow for full range of motion and help to reduce fatigue. The full lycra liner also offers gussets to move and stretch with the outer shell to increase the comfort.
At just about $100 a pair, the Faction motocross pants are a solid choice for riders looking for slightly more durability and an athletic style in their racing pants.
Buy Shift Faction
---