Gazi Suspension now comes in black to suit many "dark" models, customs and rat bikes where riders are seeking a less chromed look.
The Brisbane-based suspension system company is also expanding from its current twin-shock line-up to include mono shocks this year and company spokesman and suspension expert Paul Bushell says they may even progress to the front with fork springs and cartridges.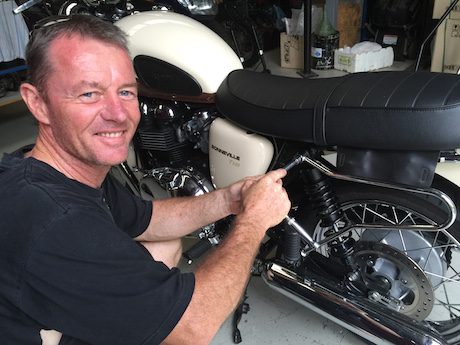 "We're currently still working on the mono shock, as well as an off-road shock, just for adventure bikes as most MX bikes already have decent shocks," says Paul.
"They're being tested now and will be available sometime this year. We're also working on front fork springs and cartridges, but the date for sale hasn't been set yet."
Meanwhile, the dark line of satin black twin shocks suit a lot of the new darker bikes such as the Triumph Bonnneville T100 Black and Harley Sportster 883 Iron.
Gazi still makes twin shocks with chrome springs and a classy titanium body.
Prices for the new black shocks are the same as before and range from the Sport Classics at $296 to $810 for the premium VMX Hyper X.
Their twin shocks cover a huge range of almost 90% of the market, including a lot of older models.
Paul says most of them just need a different set of springs or fittings and they are right to go.
"A lot of guys with Euro and UK bikes want them, but they suit a lot of different bikes," he says.