Today Harley-Davidson is expect to reveal a 500cc bike made in India for Asian and Western learner markets.
While the announcement is expected to be made at the EICMA show in Milan, there is a special press event being held in Melbourne at Gasolina which MotorbikeWriter will attend. Check back later today for the story.
Meanwhile, the Gasolina restaurant in Melbourne's trendy South Wharf area is fast becoming a Mecca for custom biker riders after opening in February.
The recent Distinguished Gentlemen's Ride finished there with an after-ride party.
It's an uber-cool cafe that brings together the culinary and automotive imaginings of Carl Cerra who had a creative hand in Monaro and Murcielago designs but has long had a passion for two wheels.
It all started for the industrial designer and master clay modeler in 1992 when he began working for Tickford, the Ford race team, designing front spoilers in wind tunnels.
He then worked for an independent company which had contracts with Ford and GM, eventually joining Holden at Fishermans Bend where he worked on updating the VT Monaro.
Working under wunderkind Mike Simcoe, he helped build the prototype in 1998/99 which eventually became the elegant VX Monaro muscle car.
"That was a golden era for Holden with Mike Simcoe at the helm," Carl says.
"He turned them (Holden) around and made them cool."
For his efforts, Simcoe was promoted to head up GM's North American designs in 2004 and is now back at Port Melbourne as executive director of General Motors International Operations Design.
Carl also moved overseas to further his career as a clay modeler at Audi in Ingolstadt, Germany, from 2001.
He stayed for a productive 18 months during which time he worked on the A4 cabriolet and A8 limo.
While he was there, Audi bought iconic Italian supercar brand Lamborghini and Carl had the opportunity to work on a concept that eventually led to the creation of the Murcielago.
Carl also spent six months in Germany withy Audi competitor, BMW, where he had some input into the design of the Z8 sports car and the 7 Series limo.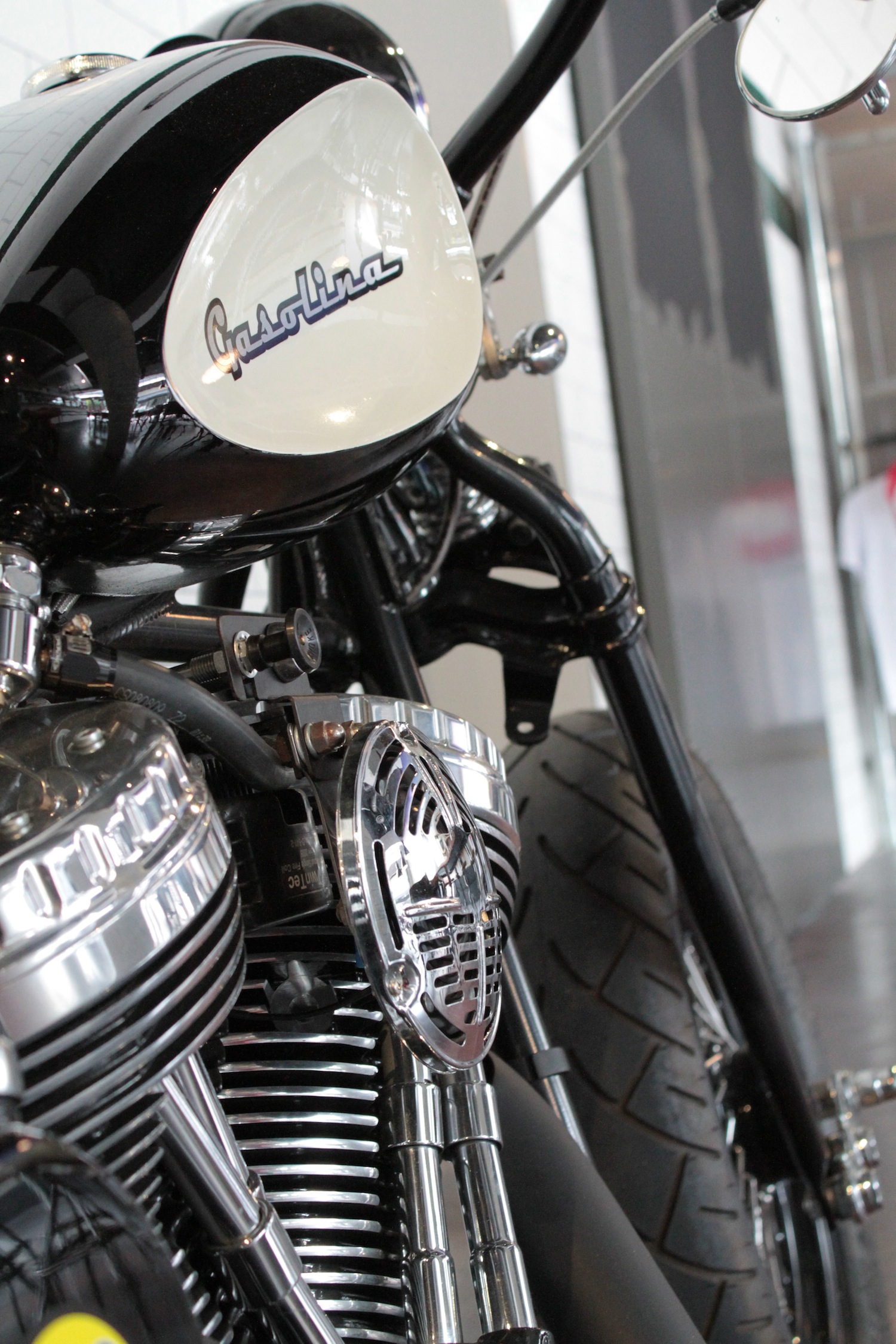 He returned for a short time to work under contract for Ford and Holden, then headed back  to Audi in 2002 for the Q7 SUV project which became the Pikes Peak show car.
Like a yo-yo, he bounced back to Australia again working for Ford at Broadmeadows and then a long stint from 2004 to 2012 with Toyota working on Hi-Lux and TRD production and concept models, with a six-month stint in Japan.
"It's a great company to work for but Japan is a tough gig because they don't want others to do anything," he says.
Around this time Carl began throwing a leg over motorcycles, mainly Ducatis and Hondas, and started hatching an idea that would lead to Gasolina.
"I always had a lot of interest in custom bikes and I had a bet with a guy at Toyota that I could make a better bike than Harley," he says.
The result was a striped-down '74 Sportster with a majority of handmade parts. It showed what he was capable of with two wheels and the germ of an idea began to grow.
"You get so lost in the design and from there it turned into a passion," he says.
"The last couple of years I've been planning Gasolina with my partner Dean Johnson who's in IT.
"I wanted to have a workshop and do my own thing.
"There's not a lot of money in it (custom bike shops), so we opened a cafe as well.
"It was only meant to be a small workshop with a small cafe but people said to go bigger with the cafe."
Now it's a full-blown restaurant with occasional rock, jazz and blues gigs with seating for about 160 among the custom bike examples of Carl's art and mechanical design.
Customers can also buy t-shirts, caps and other Gasolina merchandise. It's a small inventory at the moment, but Carl plans to grow this side of the business, much like the Deus shop.
"Deus is a good business model," he says. "I like their branding. It's a fashion label. But their bikes aren't my cup of tea."
He also isn't a fan of the American Choppers trend, which is a good thing since that phase seems to have passed with the axing of the once-popular TV series.
He says big fork rakes, oversized back tyres, ape hangers, flame paintwork and dragon heads are out.
Carl prefers modern/retro rat rods from the post war era, but really "everything's open" he says.
He lives by the dictum of "less is more".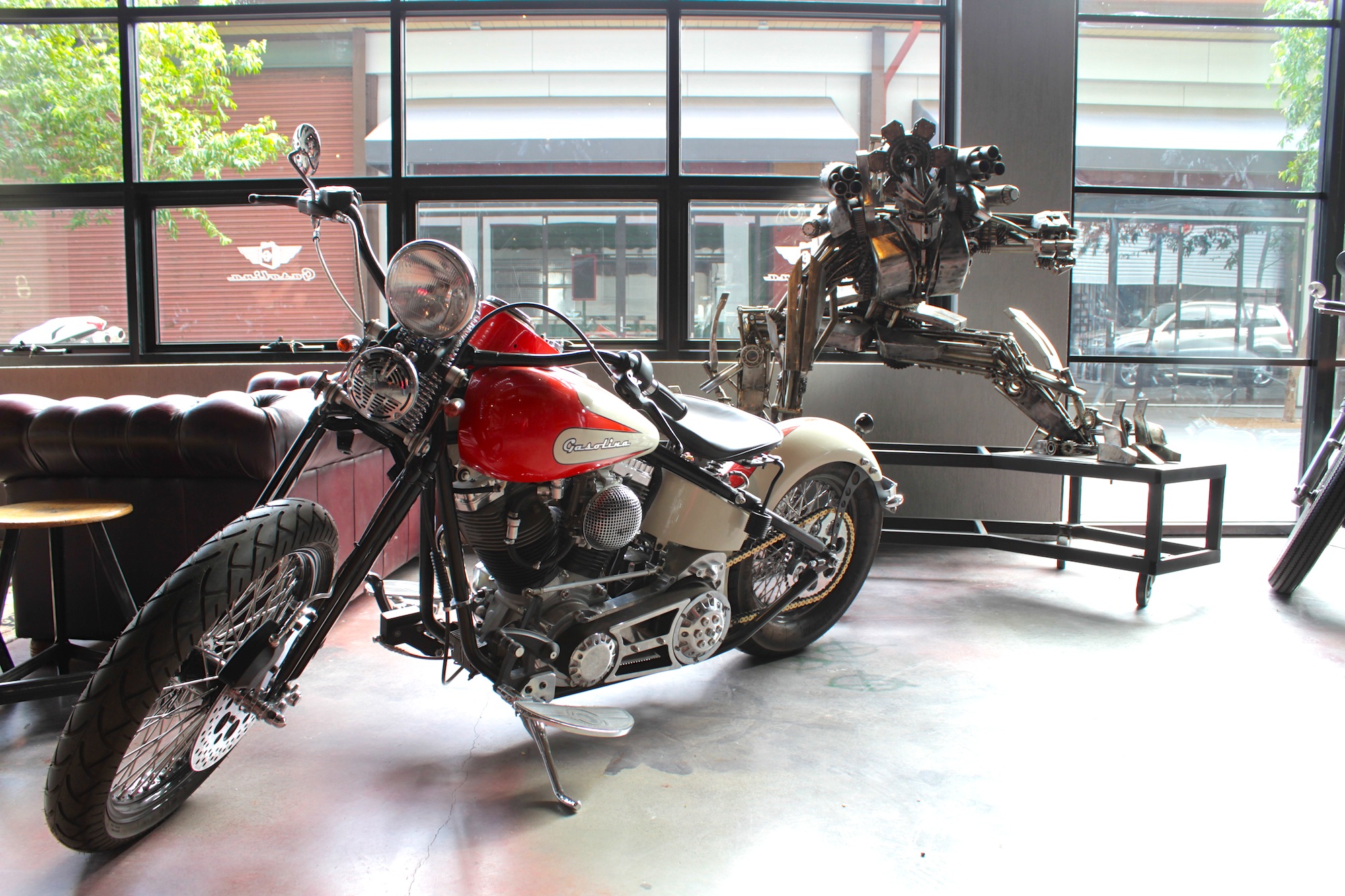 "I like using raw materials and having exposed mechanics. I don't think you should hide the cables,'' he says, although he has made one custom bike which uses a 1940 microphone to hide the coil.
Despite having been involved with some of the world's greatest four-wheeled eye candy, Carl says there is "more joy" in designing bikes than cars.
"You can be more creative and do whatever you want and then put it on the road," he says.
"I want to build a salt racer style bike with a drag car's front tyre on the back. It'll be nice and low and I might take it to Bonneville salt flats.
"Each bike has to be unique."
His bikes are mainly bobbers, powered by V-twins from Harley, S&S and Indian.
But he's not restricting himself to V-twins.
"I'd like to do a board tracker and eventually do a Ducati. I'm open to anything.
"I might even go back to cars.
"I'm going to do a concept car clay model in here (Gasolina) and might do a 1960s race car. Cars are still a passion."
He says he is inspired by Burt Munro after seeing the movie, "The World's Fastest Indian". "I like the concept of him developing something from nothing in his garage and then competing with the big boys.
"I'm much the same; I don't have fancy equipment."
His other love is food and it shows in the scrumptious Italian-influenced fare from his Gasolina kitchen.
Gasolina is nestled in trendy South Wharf on the southern side of the Yarra, next to DFO and cosseted among vogue coffee shops.
The shop and restaurant are open Tuesday to Friday from 11am until late and weekends from 8am till late.
"We want to be a destination for bikers, but we don't want to push the Harley thing," he says
"We want to create a network for collectors, motor enthusiasts, auto builders, auto electricians, painters and others."
The motto of Gasolina is best summed up in a t-shirt pinned to a wall: "Raw custom culture. Gasolina is a collective passion, a culture bred from the desire to create moving and culinary works of art that inspire and fuel the soul. The dream started in a suburban garage tickering and creating without much outside influence."
The restaurant staff of 12 can also care for private functions.