How do you encourage women to go from a reluctant pillion to a solo rider?
Women riders should be as common as women drivers, according to the American Motorcyclist Association's first female chair in its 94-year history, Maggie McNally.
Maggie's comment makes plenty of sense, yet women still only represent about 10-12% of the riding population in most Western countries.
Perhaps women need more role models to inspire them to ride solo.
Consumer Advocate has an excellent article on three American women who are worthy of celebration: Lois Pryce (pictured at the top of this page), Melissa Holbrook Pierson, and Bessie Stringfield. Click here to read the article. 
Here is another inspirational story of "Karma" Roberts, of Sale, Victoria, as sent to us by husband, Brian:
Karma's story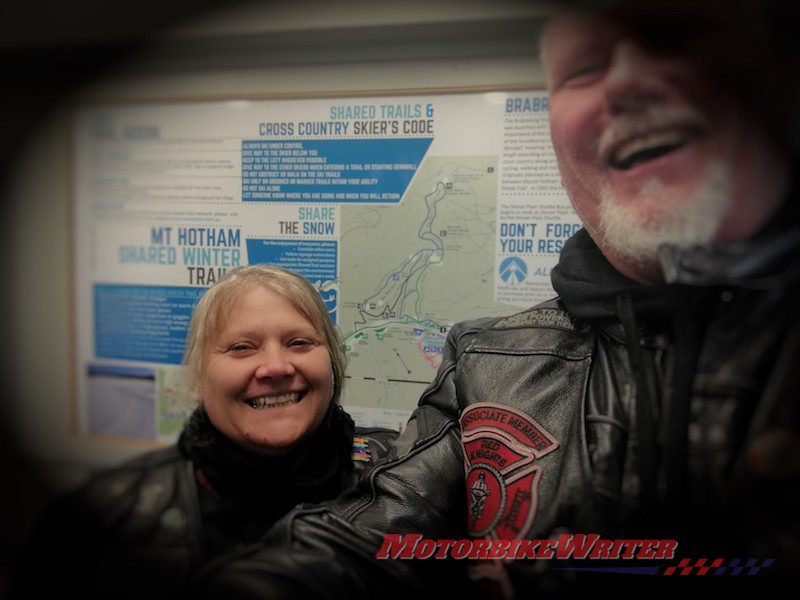 I am most fortunate that I am married to an amazing woman.
I am also most fortunate that this amazing woman supports and joins in with my riding.
When I first met 'Karma' (a radiographer), she was reluctant to get on my bike with me as she knew well the damage caused by coming off, having done many x-rays following accidents.
She did decide to trust me and — despite the first few rides generating the occasional scream —progressed to being a regular pillion passenger, much to my delight.
After a few years on the back of my trusty FJR1300, Karma decided she didn't like leaving our two English Staffies at home when we were out riding. To resolve this we looked for and bought a Suzuki GSX1100F outfit for her so the dogs could travel in the chair with us. Seen in this photo on the Sale Xmas Toy Run in 2015.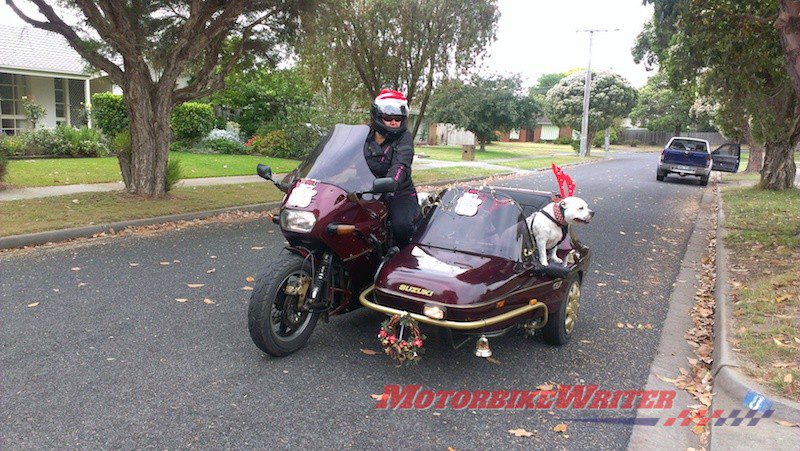 Solo rider
The wheel continued to turn, so to speak, and the desire to ride two wheels grew so we started looking for a cruiser, eventually buying her a 2009 Kawasaki Vulcan 900.
Having not ridden, as such, for too-many-years-for-me-to-safely-mention Karma took to this like a duck to water. After a bit of familiarisation in an empty car park we set off for her first solo ride. This turned out to be over 100km on the back roads between Sale and Briagolong in Victoria, including a flooded section of road! 
There has been no looking back since then and she has done several solo rides of hundreds of kilometres as her confidence grows. 
On the recent 'Ice Run' to Falls Gap in March this year we encountered amazingly inclement weather on both the ride there and back. The photo above of us at Mount Hotham on the return leg was after riding for some hours through torrential rain and gale-force cross-winds – still a smile on her face. 
Karma is now a CFA volunteer and an active member of Red Knights Motorcycle Club in Sale, a club for riding firefighters.