A new, free parking app has been launched to help riders find paid or even free motorcycle parking spaces in some of the world's busiest cities.
City parking for motorcycles is a problem in most major cities with high costs, low availability and lack of security.
It's a shame more cities aren't like Melbourne which recently extended its free footpath parking, making it easy for locals and tourists to find somewhere to secure their bike.
Meanwhile, the cutely named CurbNinja is similar to other community-based solutions, such as the Waze traffic app or Zimride car-pooling app, relying on users to accurately maintain its inventory of parking spots specific to motorbikes.
The free iPhone app currently has more than 3000 parking spots in San Francisco, Las Vegas and San Jose, and will add San Diego, Chicago and Boston in the next few weeks and be live in 10 US cities by August 1 with an Android version available soon.
But because it is community  based, it could easily be extended to Australia, the UK and other countries if users start sharing their spots, making it a truly worldwide motorcycle parking app.
CurbNinja co-founder Tim Hines has been riding for seven years in Chicago, the third most populous city in the US.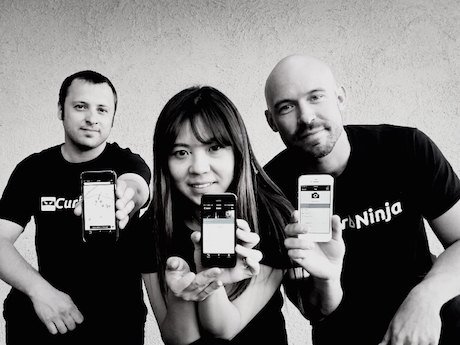 "There I started learning how difficult it was to park safely and securely as Chicago has no infrastructure to support motorbike parking," he says.
"I saw riders parking in unique hidden spots and I myself found a ton. I started pinning the spots in a Google map; that's where the idea for CurbNinja first popped in my head."
It's free because like other community-based apps, they rely on users to share and edit information.
"We're sharing parking on public streets so charging for it is just didn't feel right," says Tim.
"We do however charge motorbike-friendly businesses for listings in the app where they will be pinned along with our parking spots.
"The beauty of the app is that users can share their own spots, so CurbNinja can be live even in Sydney if Aussie users decide to start tagging spots there. After all, the app is in English."
There is also the Australian MCNetwork parking website that finds available parking spaces in most Australian cities. They also have a free iPhone and Android app that includes a directory of dealers, workshops, accessories, training, insurance, tours and most things to do with motorcycles and scooters.