An auction of Hollywood memorabilia is featuring motorbikes ridden by Evel Knievel in a movie and The Fonz in Happy Days as well as Fonzie's leather jacket.
These iconic bikes and jacket will be auctioned in the Profiles In History auction from September 30 to October 1.
Evel Knievel's Stratocycle from his 1977 feature film "Viva Knievel" cost just $500 but is expected to fetch up to $300,000 at auction.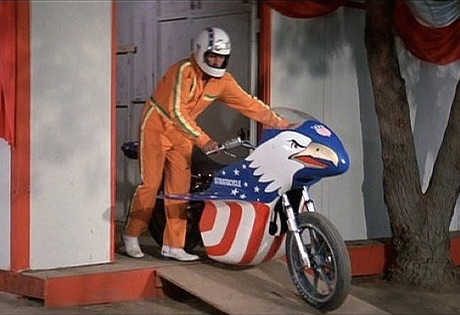 The 1976 Harley-Davidson XLCH 1000 Sportster Eagle "Stratocycle" features a fibreglass fairing with integral wings, custom exhaust ports, and a red, white and blue eagle-motif paint scheme.
It is ridden in the film by Knievel when he rescues his mechanic friend, played by Gene Kelly, from a mental hospital.
Ideal Toy Company made a toy version of the Stratocycle which became the most valuable and collectable of all Evel Knievel toys.
The bike comes with the original California registration card and the original invoice from Harley-Davidson Motor Co. on August 8, 1978, to the Rich Budelier Company, the Los Angeles Harley dealership which provided the motorcycles for the film.
The Fonz bike is a Triumph Trophy TR5 motorcycle ridden by Henry Winkler who played Arthur 'The Fonz' Fonzarelli in the TV show, Happy Days from 1974-84.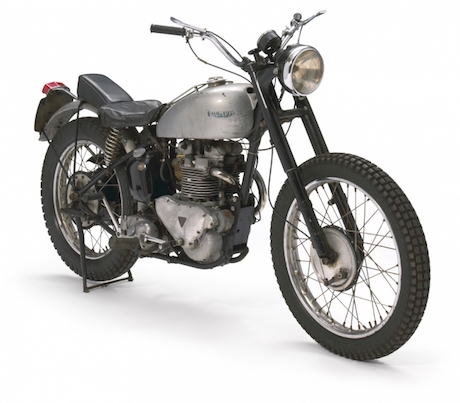 The early Fonzie bikes were actually Harleys. There was a Knucklehead, Panhead and possibly a Sportster. However, Winkler could not ride and found the Harleys too heavy to handle. He blamed his inability to co-ordinate clutch, brake and throttle on his dyslexia.
He admitted that he was frequently pushed on the bike by stage-hands.
So they switched to the much lighter 1949 Triumph Trophy 500 Custom (frame number TC11198T), one of three Triumph motorcycles "The Fonz" used during the show's 10-year run.
According to Bud Ekins, who did the famous Great Escape jump, all three Triumphs were 500cc Trophy models of various years – two of which went missing or were stolen, or raced to the ground and sold for parts.
Eventually, when the show ended, Ekins sold the third and only remaining "Fonzie" Triumph to friend and motorcycle collector Mean Marshall Ehlers where it resided since 1990.
Ekins supplied the beat-up Scrambler, removed the front fender, bolted on a set of buckhorn handle bars and spray painted the fuel tank silver.
Fonzie's silver Triumph became a pop culture icon, appearing on countless lunchboxes, posters, t-shirts, model kits and magazines. It is expected to fetch up to $150,000.
When Happy Days was cancelled, one of Fonzie's signature brown leather Brando-style motorcycle jackets was gifted to The Smithsonian Institution.
Another of his jackets is heading for the auction block and expected to fetch up to $50,000.
This jacket was manufactured by Ben Cooper for Paramount Pictures Corporation in 1978 and was most likely used in various stunt scenes as there is a tear at the inside right arm to this shell as well as a missing zipper pull.