FOBO Bike TPMS Review Summary
FOBO Bike TPMS Image Gallery
The FOBO Bike TPMS (Tire Pressure Monitoring System) sensors provide real-time tire pressure information and capture and report temperature.
The system is easy to setup and use and it connects via Bluetooth 4.0 to a smartphone.
The FOBO Bike system retails for $99.00 and it has more features than expected for the price.
[UPDATE: "FOBO" is "For Our Better World", according to the company.]
Tire pressure monitoring systems (TPMS) have been around for quite some time now, and have typically been the domain of cars and trucks.
These systems have taken longer to trickle down to motorcycles.
There are a handful of motorcycles that come from the factory with a TPMS system installed or which offer it as an option, but these are still a bit few and far between.
The aftermarket has a few options, such as the Doran TPMS reviewed on webBikeWorld not long ago and the "first generation" of motorcycle TPMS, the TireGard Wireless TPMS (review).
The FOBO Bike TPMS is one of the newest entries into this domain, with production versions ready for the January 2015 International Consumer Electronics Show held in Las Vegas.
Remember that motorcycles ride on a fairly small patch of a relatively narrow hoop of rubber compared to the average car.
That means low pressures in a motorcycle tire can quickly affect handling in a bad way and can cause a tire to get to hot due to the increased rolling resistance.
Thus, monitoring and maintaining tire pressure is crucial to performance and safety.
FOBO Bike TPMS
The FOBO Bike tire pressure monitoring system is part of a family of TPMS products from FOBO which includes the FOBO Tire and FOBO Tire Plus system for use in cars and trucks.
As one would expect, the car and truck versions come with four sensors while the Bike version comes with two.
For those who ride three wheeled vehicles such as Can-Am Spyders, or "trikes", FOBO's online store has extra sensors available for purchase.
The FOBO Bike kit we received included two sensors, four anti-theft lock nuts, two compact wrenches for those nuts, and a quick start guide as well as instructions on how to download the manual and FOBO mobile app.
The sensors themselves are 26 mm (just over 1 inch) in diameter and are about 19 mm in height. They are available in black or silver and they have the FOBO Bike logo on the top embossed in the plastic cover.
The TPMS sensors not only provide tire pressure information, they also capture and report temperature.
The sensors are water- and dust-resistant and are designed to take quite the beating — a good thing, considering where they are to be installed, which we'll get to in a minute.
CR2032 batteries are used to power the sensors and these are claimed to last up to two years. When it is time to change them it is relatively easy to unscrew the main cover from the sensor body.
These type of batteries are pretty common and one should be able to find them at most groceries and discount stores.
The FOBO Bike TPMS works with your existing mobile device and it does not come with any sort of display of its own.
The (Bluetooth) device being connected to the sensors must be running either Android 4.3 or later or iOS 4.7 or later and the device must support Bluetooth 4.0.
Sorry Windows Phone users, there is no joy for you at this time unfortunately!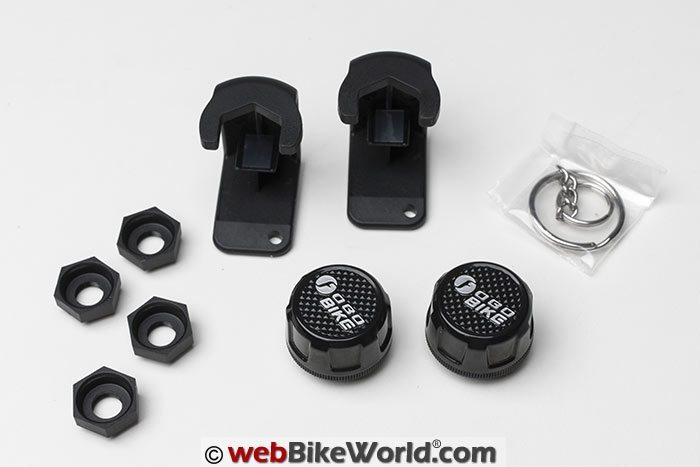 FOBO Bike Specifications
Operational Pressure Range: 0 to 600 kPa (87 PSI).
Operational Temperature Range: -40 to 85° C.
Tire Sensor Battery Life: Up to 2 years (at 25° C rated temperature).
Water and Dust Resistant: IP57.
Tire Sensor Weight: 10 g each (12 g with battery).
Certifications: FCC, CE, BQB and RoHS.
Sensor Structural Threshold: 350N ball pressure intensity test.
Mechanical and Environmental Reliability Testing Standards: IEC 60068-2-2, IEC 60068-2-1, ISO 21750, IEC 60068-2-29, IEC 60068-2-5, IEC 60068-2-32, ISO 15184, ISO 2409.
Bluetooth: 4.0
Compatibility: Android 4.3+ and iOS 7.1+
Monitors up to 19 wheels.
First Steps: Install the App
Before starting the process of physically installing the FOBO sensors on the bike, the FOBO Bike app must be downloaded and installed.
I have a Motorola Droid Turbo phone which is an Android device, so I quickly found the FOBO Bike app on the Google Play store and installed it.
The application itself runs about 12MB in size and took only a couple of minutes to download and install.
The first time the FOBO Bike app is started, you will be asked to enter your email address.
When you log in after entering the address, an activation link will be sent to the entered email address and clicking the link in the email will activate the app on your device.
You will be prompted again to login to the app with your email address and the app will be ready to use.
Login and Activation Notes
One important thing to note is that you must open the email and click the activation link from the device where the app is installed.
I happen to be sitting by my computer when I installed the app on the phone so when the email came in, I simply clicked on the link from my computer's email client, but this will not activate the app.
You'll need to open the email on the device (smartphone or tablet) and activate it from there.
This makes sense to me now but looking back at the FOBO Bike owner's manual (.pdf), I didn't see mention of this anywhere, so it might be something FOBO should note in future revisions of their otherwise rather detailed manual.
Configuring the FOBO Bike App
With the FOBO Bike app installed and activated, you'll be taken through a quick setup process to create a profile for your bike(s). There are seven choices that include motorcycle, bicycle, trike, reverse trike (think Can-Am Spyder), and quad bike.
There are even two choices available for motorcycles with sidecars; one for left and one for right.
That's a pretty comprehensive lineup and I think the only other configuration would be for motorcycles with trailers as used on larger touring bikes.
After selecting the configuration, you can choose a name for your motorcycle and then you can take a photo of it for the profile.
This image is displayed on the home screen of the app to make it easy to choose which motorcycle you want to monitor (especially handy if you own multiple motorcycles).
The FOBO Bike app lets you choose to display tire pressure in PSI, BAR, kPa, and even kgf/cm2, as well as selecting Fahrenheit or Celsius as the sensor read temperature.
FOBO mentions that the temperature accuracy may be a bit off because the air temperature at the end of a metal valve stem will likely be a little cooler than what is actually in the tire, due to the cooling effect of wind on the valve stem itself.
Next, you need to input the target tire pressures for the front and rear tires. Keep in mind this should be the bike manufacturer's recommendation and NOT the "Max Pressure" shown on the tire sidewall.
When setting the target pressures, the limits for over and under pressures are displayed.
These will adjust automatically as you change the targets but they can be overridden so you can set your own limits.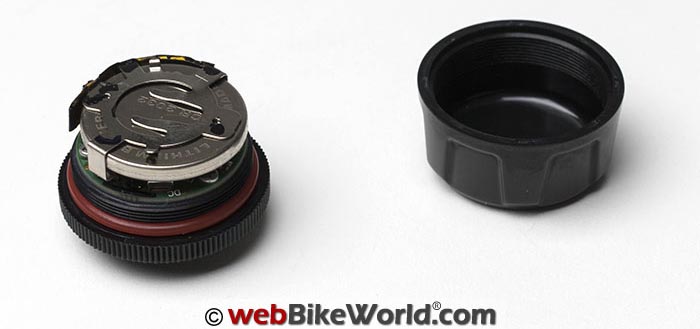 Installing the FOBO Bike Sensors
Installation of the sensors is rather easy, but installation does entail doing something I personally am not a fan of: replacing of the valve stem caps with the sensors.
For the sensor to work, a pin inside opens the valve in the valve stem as the sensor is tightened down on the stem.
This removes the valve in the valve stem from the "sealing" equation and now you are relying solely on the seal of the FOBO Bike sensor to maintain tire pressure.
Something to keep in mind also before proceeding is that as the sensor is screwed on to the threads of the valve stem,  some air will be released before it seals.
I recommend putting an extra pound or so of air in the tire before installing the sensor.
Adding an extra pound or so makes it easier to "adjust" the final pressure by slowly loosening the sensor to let a small amount of air out until the desired tire pressure has been reached.
In my testing, I found that I was losing about 0.2 to 0.3 PSI as I screwed on the sensor initially.
This is an estimate that I came up with after repeated installations and removals and comparing results from the TPMS with my Oxford tire pressure gauge.
It is important to note that the tire pressure should be set "cold"; do not adjust or check the tire pressures after having just ridden the bike.
The pressure will increase as the tires and the air inside heat up from rolling on the street and also from exposure to direct sunlight.
Pairing the App With the Sensors
After completing the profile, the app will guide you through the process of installing and connecting (pairing) each sensor.
During the process, FOBO Bike recommends that you place the phone very near to or even touching the sensor being paired.
The first sensor on the front wheel of my motorcycle paired very quickly as I held my phone up against the shell of the mounted FOBO Bike sensor. The second sensor on the rear wheel did not want to connect as easily.
I eventually discovered that I had to locate the sensor up against the back, upper-right portion of my phone. This may have something to do with the Bluetooth radio location in my own phone, so your experience and location may vary.
On an iPhone and Android tablet, the sensors installed without issue.
Once both sensors are connected, you'll be notified on the screen that you're ready to use the FOBO Bike app.
What is interesting is that unlike other Bluetooth accessories that I connect to my phone, there is no indication that a device is actually connected.
For example, when I connect an intercom headset, the Bluetooth icon brightens and a message will say "Connected".
Apparently, the protocol of the FOBO Bike sensors isn't as "chatty" when it comes to a connection to the device, perhaps as a way to reduce power consumption?
Also, earlier I stated "mobile device" instead of "smartphone". Even though FOBO specifically says "smartphones", I have been able to get the system to work with an Android tablet that met the OS and Bluetooth version specifications
This is good news for those who might have a tablet dedicated for use on their ride for GPS directions (see the webBikeWorld report "Using a Tablet as a Motorcycle GPS").
Rubber vs. Metal Valve Stems?
As a side note, some other tire pressure monitoring systems that use this style of sensor do not recommend using their systems with rubber valve stems (sometimes used in tubeless tires).
The FOBO Bike owner's manual doesn't specify that metal valve stems are required but it does provide some guidelines on clearance issues that could arise from use of their sensors on a flexible rubber valve stem.
In the case of my test mule, a 2006 Triumph Sprint, the wheels already have metal, 90-degree valve stems installed. Clearance with the FOBO Bike TPMS sensors was not an issue, even with the 90-degree angle of the stems making the sensors sit sideways.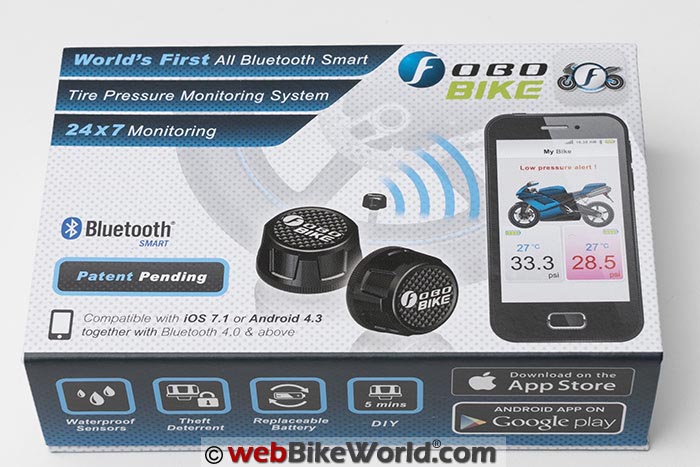 Using the FOBO Bike TPMS System
Since the FOBO Bike TPMS requires the use of your own mobile device, I thought the user experience may vary a bit.
However, I tried the system on both my Droid Turbo Android phone and on an Apple iPhone 5 and the interface is nearly identical.
The size of the display and how well your device pairs with the sensors might be the only place where the user experience differs.
To start using FOBO Bike, simply start the app on your device and then choose your motorcycle (a motorcycle must be chosen even if just one listed). It would be nice if the app allowed you to skip this screen when only one motorcycle has the FOBO sensors.
Once the app is started, you will be presented with the motorcycle graphic you chose in your profile and large numbers indicating the tire pressure are displayed under the image.
Above the tire pressure reading are smaller numbers that display the tire temperature and even further above the temperature is a battery graphic showing the condition of the sensor batteries.
You have the choice to display the target tire pressure that you set also on the screen. If this option is activated, the targe pressure will be displayed in smaller, black text underneath the actual tire pressure reading.
Both readings are prefaced with an "FT" or "RT" indicating front and rear tire and the data for each tire is displayed under the corresponding tire in the profile graphic.
FOBO has certainly made it easy to see at a glance the important information so one can keep their eyes on the road as much as possible.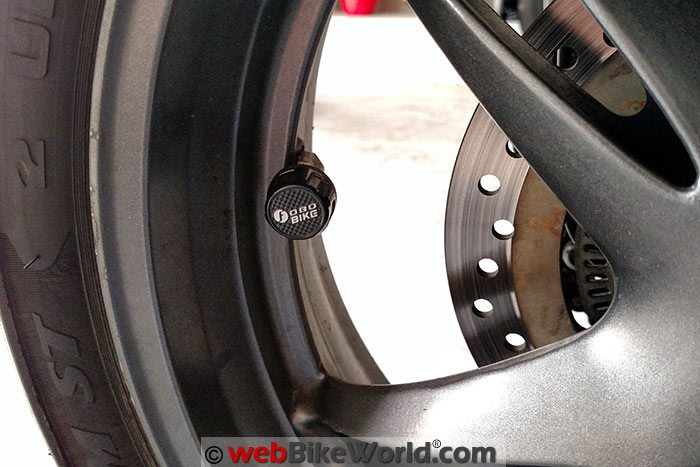 Viewing the Tire Pressures and Temperatures
It may take few seconds for the tire pressures to update to current but until it has, the app will display the last known reading and that reading will be covered by a semi-transparent overlay until it has updated to current readings.
Once it has updated to the current tire pressures and temperatures, the display will update every 15 seconds.
The interval will be overridden though if the sensor(s) see a 15 kPa (2.2 PSI) change, so if pressure starts dropping quickly, the rider is notified immediately.
Once underway, the system will update the display to show the changing pressures and temperatures as the tires heat up.
If the pressure and/or temperature exceeds the limits set in the app setup, a light red, gradated overlay will appear and pulsate over the block of data from the tire that is out of limits.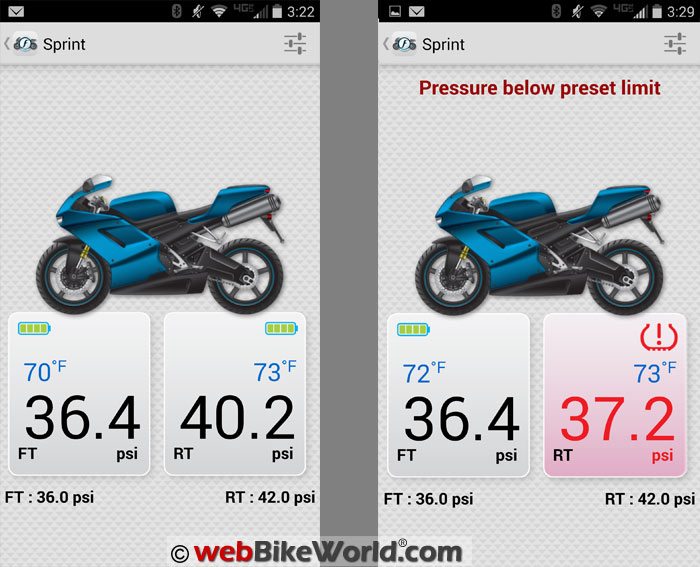 Alarms and Warnings
At the same time, a bell like sound will play to alert the rider that a limit has been reached. On the subject of audio alerts, the sounds will likely be difficult to hear using the speaker in the mobile device.
This will of course depend on the volume of speaker, the type of helmet you are wearing, current speed, etc. But if you have an intercom headset connected via Bluetooth to your smartphone or tablet, the alerts will play over the headset.
Using my own UClear HBC100 intercom (review), the FOBO Bike app alert tones played clearly and the FOBO app even lowers the volume of the currently playing music momentarily while the alert sounds.
This is very helpful if you don't have a paired phone or tablet visible (e.g., if it is stored in a tank bag or pocket).
The alert tones also sound if the app is running in the background, so the app doesn't have to be displayed all the time, even if the screen is locked.
There are multiple levels of alerts for over and under tire pressure limits:
Level 1 Alert is 8% below or 25% above the pressure that one setup in the app during installation. These are also customizable so you can adjust the targets for these Level 1 alerts.
Level 2 Alerts are set to 15% below and 35% above the set pressure and these are not customizable. Also a different alert tone plays in the form of a "Klaxon" type alarm sound and it will repeat every 90 seconds until turned off.
Level 3 Alerts Also have tek Klaxon horn sound and this alert can be set to 25% below and 45% above the set pressures.
Temperature Alerts: A warning alert will also be given if the temperature reaches 65 degrees C (or 149 degrees F), or if a sensor is suddenly missing.
These alerts use the same "Klaxon" alert tone to notify the rider of these condition. I would say it is a good idea for the rider to stop if this particular tone is played and check the status of the tires and sensors.
This emergency tone can be customized in the settings, so you can choose a different alert tone for Level 2 and 3 alerts. The Level 1 tone does not appear to be changeable.
My Alert Setup
When I set up the system on my bike, I set the Level 1 alert threshold for pressure lower than the preset limits to see how it worked.
After a few minutes of riding, I would get the Level 1 tone in my helmet and on the screen I could see the pressure had exceeded the limit I set for the rear tire.
A couple of minutes later I would receive a similar alert about the front tire. This has worked consistently for about three weeks and it is reassuring to know that the FOBO Bike system is working, monitoring the tire pressures.
I believe some systems will measure tire pressure and temperature and will not necessarily "throw an alert" if the change in pressure is commensurate with the change in tire temperature.
This system isn't quite that advanced but it still provides plenty of data for the concerned rider.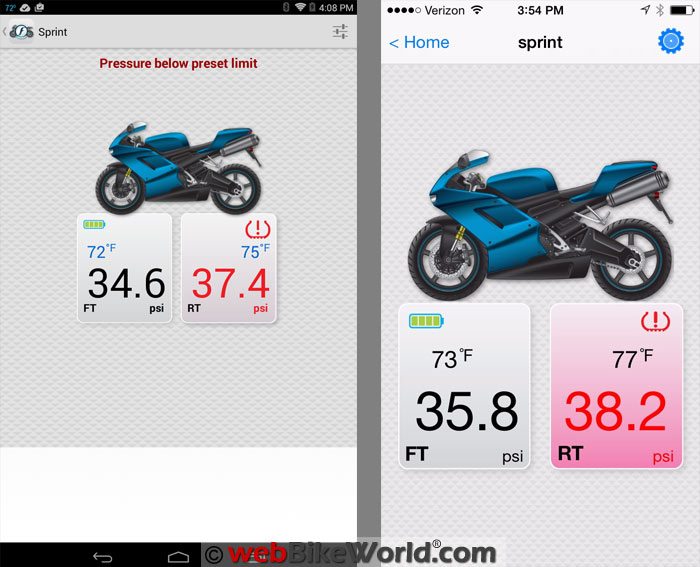 Other Features of the FOBO Bike TPMS
Included with the FOBO Bike TPMS are locknuts and specialized wrenches that can be used to add a bit of security to the sensors. These get threaded onto the valve stem before the sensor is installed.
Once the sensor is in place, the included wrench is used to tighten the locknut down against the sensor. For some reason, the kit includes 4 nuts and two wrenches; nothing wrong with redundancy I suppose.
If someone does steal the sensors from your bike, they will find it rather difficult to use them.
That's because the sensors will remain tied to the owner's paired smartphone or tablet and cannot be connected to another one until the original device is used to release them.
I tested this while swapping devices during my evaluation and sure enough, the FOBO Bike sensors were useless until I released them from the phone on which they were originally paired.
Since the sensors don't have any markings to indicate front, rear, etc., it could be easy to switch them by accident if they are removed and stored together.
The FOBO Bike app has a "Tire Rotation" function which lets you swap front and rear sensors without having to go through the setup again.
Sensor Range
The range of the sensors to the mobile device is something I need to note. Typical Bluetooth connections seem to drop after about 20 or 30 feet in my experience. Maybe a little more or less, depending on the location or obstacles.
I found that the FOBO Bike sensors would stay connected from about 40 feet away, even through two walls and a door.
That's a rather impressive feat considering they are "low power" and they don't even need to reach more than few feet to do their job.
Another interesting function is that the TPMS can be set to "Gauge Pressure" versus its default absolute pressure monitoring.
Gauge pressure and absolute pressure will show a difference when in higher elevations and this setting can be used to simulate using a gauge at those elevations if needed.
The FOBO Bike app also includes a feature for sharing the app with family or others who might share the same bike. It will actually allow for up to one hundred shared users, which should be more than adequate for most riders.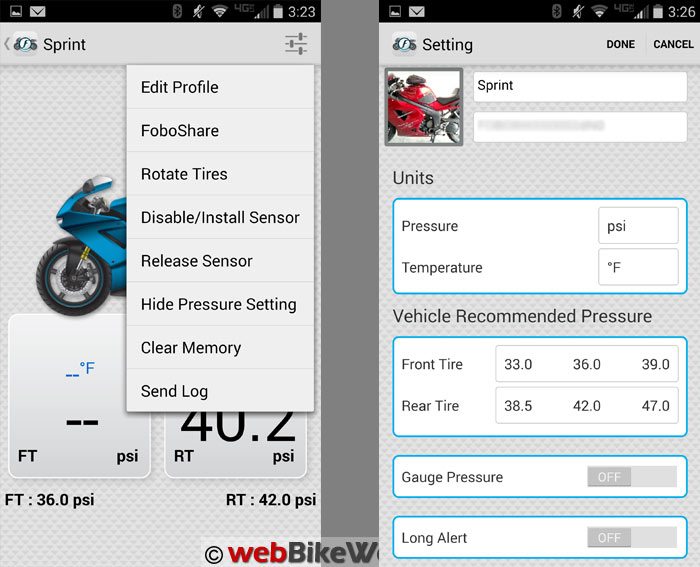 Final Thoughts on Using the FOBO Bike TPMS
My initial reaction to the FOBO Bike TPMS and other tire pressure monitoring systems that use the "sensor on valve stem" approach has always been one of apprehension.
I'm personally not thrilled with the idea of opening the valve and depending on one of these devices to provide an effective seal.
Since having had this system installed on my bike I have to say that I have not found any significant pressure loss after three weeks of riding.
My rear tire typically loses about 0.1-0.2 PSI per week and I didn't see that change during the time with the FOBO system installed.
For those who are skeptical like I was (or still am) FOBO does offer a solution to this issue though in the form of a "T" adapter metal valve stem replacement.
This "T" adapter allows you to keep the sensor attached at all times while still providing access to a standard Schrader valve for checking and adjusting the tire pressure.
This does come with a downside though — and which is my only other reservation about these types of tire pressure monitoring systems.
The FOBO Bike sensors weigh at 12 grams each on my scale and the manufacturer claims 10 grams. Giving them the benefit of the doubt, even 10 grams equals about 0.35 ounces.
A standard wheel weight used to balance a motorcycle wheel is 0.25 ounces, so I have a concern that these sensors have the potential to affect wheel balance.
Putting the wheel on a K&L wheel balancer demonstrated that the sensor did indeed require an additional ¼ ounce weight to balance the wheel correctly on my bike.
In actual riding conditions on the highway, I couldn't feel the difference, but smaller or lighter wheels or tires might be more susceptible to the additional weight of the FOBO Bike sensors.
Add in the optional "T" valve and it is probably a good idea to have a wheel rebalanced if you are planning on installing the system.
Conclusion
The FOBO Bike TPMS is rather an unassuming little package that offers a surprising amount of flexibility and detail.
The sensors are small-"ish" and apparently seal the valve stem rather effectively, despite my concerns about this.
FOBO has managed to stuff a lot of options into this product by primarily focusing on the software and relying on the user to bring the interface, in the form of an Android or iOS device, to the party themselves.
The app works well across the two platforms and the features and options are much better than one might expect at this price point.
While it is not required, I think the FOBO Bike system works best with a Bluetooth headset so you can receive the audio alerts.
Of course, newer cruisers and touring bikes are starting to include Bluetooth connectivity, so that could be another option.
Someday soon, on-wheel TPMS may be mandated or offered on every motorcycle, but until then, for the $99.00 (USD) price, the peace of mind provided by the FOBO Bike TMPS will likely be worth it to many riders.
w

BW

 Review: FOBO Bike TPMS
List Price (2015): $99.00 for two sensor system.
Note:
 For informational use only. All material and photographs are Copyright © webWorld International, LLC since 2000. All rights reserved. See the webBikeWorld® 
Site Info page
. Product specifications, features and details may change or differ from our descriptions. Always check before purchasing. Read the
Terms and Conditions
!
Owner  Comments and Feedback
---
From "B.P." (July 2017): "Last fall, I added a 2008 Burgman 650 Exec garage-mate to my Victory Cross Country Tour (review) and when spring rolled around, it was time for new skins for the used scooter.
Between the higher initial cost of the Doran 360M TPMS (review) I had on the Victory and the expensive annual (or nearly so) sensor replacements, I decided to go with the FOBO this time.
If you can't beat 'em, join 'em, as Brandon suggested, and especially so, given the small 14″ rear and 15″ front sizes.
When I had the tires mounted, I had them balanced with the FOBO sensors and the (optional, extra-cost) FOBO T-valves in place.
The T-valves are very handy for adding air, and I may buy another set of those valves for the Victory. The sensors are left alone, which also means that it is less onerous to use the provided security collars.
Also note that this also helps to conserve the batteries.
The FOBO manual states that one of the factors affecting battery life is "Removal & screw-on of sensors", so I've been using the FOBO for a couple of months now, and I like the system, and haven't encountered any problems.
Nor have I come across any reports of catastrophic failures on the 'net, which is usually vociferous about such matters, but I did have to replace one battery, and it was a painless experience.
Recall in that review (which I authored) that Doran voiced concern about O-ring seals and possible cross-threading, and hence opted for those completely sealed sensors.
Apparently FOBO has more confidence in the users.
And one item of note regarding battery replacement; right after you replace a battery, the FOBO app will still show that the battery needs replacing.
It turns out that the app takes some sort of running average of battery strength and so after a day or two the new battery will appear to have greater life than when you first replace it.
This isn't covered in the manual — it took an email exchange with FOBO for me to learn this.
I still maintain my reservations about the FOBO. You need a smartphone, and need to have the phone mounted or have a Bluetooth-equipped helmet for alert notifications, so I use the system for pre-ride pressure checking.
But given that we riders increasingly have smartphones and helmets equipped with wireless systems (perhaps even mine, some day), the FOBO is increasingly making more sense.
And if I understand the situation correctly, if I ever get a Bluetooth-equipped helmet, I can even keep the phone in a (waterproof) jacket pocket for the alerts.
Which means at that point, my concerns regarding having a phone constantly mounted will be moot, right?
Well, in a few years all bikes will have built-in TPMS and these will all be non-issues. In the meantime, I guess I'm switching my TPMS allegiance here."
---
From "H.F." (June 2016): "In marketing we use to say that a satisfied customer spread out and positively influences others 5-7 people. On the contrary, an unhappy customer usually communicates his frustration to 12-15 people.
I want to make my part here and tell to our biker friends about the remarkable technical support I received recently from FOBO's customer service.
After reading the article about the FOBO Bike TPMS Review at wBW, I decided to buy a kit for my Yamaha Super Teneré 1200.
The system worked pretty well since the first installation…and the functionality of the system is OK in fully accordance to the opinion given by wBW team in their review here.
The issue with me started when recently I changed my mobile for a new one (both of them iPhones) and I had to re-install the FOBO app. I confess I messed up a little bit the procedures to disable the sensors and re-install them again.
Because of that, my existing user registration name conflicted with the new app installed on the new mobile.
In short, it's good and important because it's all about the intrinsic safety procedures of FOBO's system that protects it against theft. I can say that it really works.
Facing the difficulty to make the new app installed on my new mobile to recognize the existing sensors, and unable to put it back in operation again by myself, I asked for help to FOBO's customer service and it worked pretty fine.
We exchanged several e-mails between Brazil and Malaysia, with procedures of troubleshooting, testing this and resetting that…and finally it worked fine.
I want to give my compliments to FOBO for the excellent after sales support and customer service.
And if you think it's not a big issue, try to get any service from CARDO SYSTEMS about any Scala Rider intercom for instance. Good product and good service = winner solution!!! Thanks FOBO's team!!"
---
From "B.P." (Author of the Doran 360M TPMS Review) (June 2015): "I think Brandon Jackson did an excellent job of describing the setup, usage, and other details of the FOBO TPMS. I have some comments on that review that you and your readers may be interested in, as well.
Rubber Valve Stems: As Brandon pointed out, FOBO doesn't specifically rule out the use of rubber valve stems.
In that, I think they are remiss — even with the very light-weight units — and they also seem to be alone. Doran, for instance, states (in the Doran 360 M Owner's Manual (.pdf), page 8) that "Replacing rubber valve stems with metal valve stems is highly recommended for either [i.e., internal or external] installation method."
Doran's "Sensor Information Tech Bulletin" (.pdf) goes farther: "The Doran 360M wireless tire pressure sensors should be installed only on tubeless tires with metal valve stems" and "The Doran 360M tire pressure monitoring system is NOT designed to be installed on motorcycles or trikes with rubber valve stems and/or tires with tubes".
(Although Doran told me that they are in the process of revising these materials, to state that tubes with metal valve stems would be acceptable).
And to drive home these warnings, Doran includes two pairs of metal replacement valve stems.
Similarly, the installation instructions for Big Bike Parts TireGard Wireless TPMS (Review) includes the following: "…rubber valve stems do not last as long as metal and depending on the age and quality of your rubber 90-degree valve stem you need to make sure they are in good shape. We do recommend the use of metal valve stems for better durability."
The instructions for Garmin's recently introduced TPMS (.pdf) open with this caveat: "The Tire Pressure Monitor System is for use with metal tire valve stems only. Installation of the Tire Pressure Sensors on non-metal valve stems may cause tire and/or tire valve stem damage which could result in serious injury or death."
The FOBO "T" Adapter: I read FOBO's web site two months ago, and at that time their T adapter was available only for rims that could accommodate its 10 mm diameter.
Now, FOBO notes that it is "Suitable for rim valve hole of diameter 10mm (Standard) or 8 mm (Custom Made)."
My Victory, for example, uses 8.3 mm rim openings, so folks should be careful to order the right one if they get that adapter. So I'll give FOBO credit for being responsive as they go along, although they still don't list the weight of that adapter.
Weight: Speaking of added mass, when I installed the 14 gram Doran sensors on my bike, I dismissed the need for rebalancing, since I had balance beads in my tires. Since then, I have switched to Centramatic motorcycle wheel balancers, so it is even less of an issue.
But, as Brandon pointed out, yep, users of any TPMS sensors may have to take balance into account.
Batteries: The CR2032 are certainly widely available in battery kiosks. What some readers may not know — and I just recently learned this — is that these button batteries are also available in a lithium version.
While you won't see the lithium version in typical battery displays, some drug stores carry them by the medical supplies, as they're used in some monitoring devices. And (CR2032 lithium batteries are) also available on Amazon, of course.
[
Brandon's Response: The CR2032 IS a lithium battery and has never been available in another chemistry. These started becoming popular in the late 80's for use in video cameras as a backup battery to save the date/time/ I remember because I used to photo and video gear at the time and we stocked those CR2032 batteries and they were always labeled as lithium.
After seeing this I did a little research and confirmed that while there are two variants of the 2032 (there is a BR2032 as well) the CR2032 has always been a lithium chemistry battery and the BR variant is also lithium, though a different mixture).]
Convenience: There are definitely some good aspects to the FOBO system. You have those user-replaceable batteries, light weight, and a nice app display — accurate and fine-grained. I think it makes a nice platform for checking pressures before a ride, particularly often hard-to-access rear tire valves.
However, as a full-time TPMS, I think it leaves a lot to be desired, unless you already meet some significant pre-conditions.
You need a smart phone. Next, as Brandon notes, for warning purposes you should be wearing helmet speakers or earbuds. Then, there's what seems to me to be some usage hassle. You have to turn on your phone before each ride, fire up an app, and then mount the phone in some cradle. And maybe plug in the phone to a power source, if you'll be riding all day.
And what do you do if it rains (and you don't have a rare-ish waterproof phone)?
So, yes, the FOBO seems like a reasonably priced TPMS with some nice capabilities, but to my thinking the convenience of a dedicated, stand-alone, TPMS seems like a better fit for most riders."
Other WebBikeWorld Accessory Posts