In the wake of a damning report that says one in five wooden bridges in Australia is in need of repair, we have compiled five tips on how riders should tackle these bridges safely.
Dangers for riders consist of rotting planks, exposed nails and spikes, and longitudinal planks that can knock a bike off course.
I saw a rider crash on the Eastern Mary River Rd bridge above when his bike slipped off the longitudinal plank wheel tracks.
The poor condition of our bridges and the backlog of repairs is highlighted in the 2018 National State of the Assets: Roads and Community Infrastructure Report.
You might find that our tips about riding these bridges are similar to our tips for riding through roadworks and gravel. Similar rules apply.
Five Tips for riding wooden bridges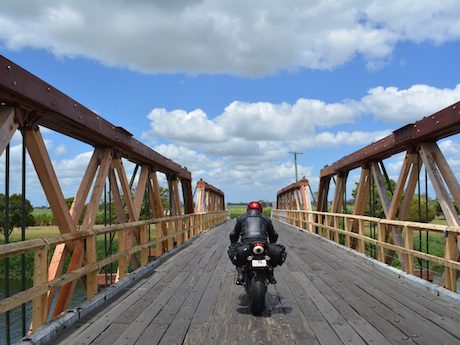 Slow down and approach all wooden bridges with caution. Don't hit them at top speed as wiping off speed on a wooden bridge can be another issue as wood is not as grippy as asphalt, especially when wet.

If it's in a remote area and looks very old, you might even consider hopping off the bike and walking the bridge first to see if there are any missing, loose or rotten planks. It's a bit like how you might walk a creek crossing first before venturing across.

When you start riding the bridge, keep your head and eyes up like on a gravel road, looking ahead for any hazards. This will also help with your balance if you have to ride between or on a longitudinal plank. Never look down or that's where you will end up!

If you're riding in a group, tackle the bridge one at a time. Watch where the other riders in front go and follow their line. If they made it across safely, then so should you.

Ride the bridge in a low gear at a constant throttle so you can quickly either stop or increase speed as needed.