Five RS4 Gloves Review Summary
Review Summary
The Five RS4 Gloves are designed and crafted for the 'Street – Urban' environment, but are, in many ways, capable of coping with almost any type of riding other than competitive or serious off-road activities. The RS4 transition between city, country, and trail environments with equal aplomb demonstrating great versatility. Good design, very good construct, extremely comfortable, & all at an attractive price point.
Pros
Durability
Solid, quality construct
Attractive and functional mix of materials
Good protective features including large palm slider
2XL sizing bang on
Ventilation adequate unless very warm/slow moving
Visibility and conspicuity bonuses
Great price
Cons
Ventilation could be better
Longer thumb depth or cut
Minor draw stitching wear and thread end observations – possible quality control issue for this pair
Five RS4 Gloves Image Gallery
Introduction
One never has enough riding gear, and this includes gloves, of all types and purpose. Gloves are, to degrees, like helmets in reflecting specific functionality and application along with a helping of personality and, hopefully, equal regard for personal protective gear safety.
In doing my usual scoping of the goodies in the accessory department of a local motorcycle dealer a couple of months ago and in having an ongoing requirement for another pair of good multi-purpose lightweight gloves, trying on a couple of pairs of in-brands not seen before paid off.
It was the fluorescent yellow inserts and layout of certain components that really drew my attention on the first pass – the varied pattern material construct including the bright yellow sections and a prominent wrap-around approach palm guard.
The second pass included a close inspection of everything followed by almost half an hour of wearing and flexing them and trying them on two different motorcycles for a few minutes each. The deal was sealed.
So with the Five RS4 gloves in 2XL paid for and all the usual marketing material removed, they were put to immediate use on a part-day mixed surface ride, one the best ways to assess a new pair of gloves… with an older pair taking a well-deserved break in the backbox – always there for the ride and just in case…
The Five Brand
I was not familiar with the brand, but after a bit of online snooping, some additional resellers were found in Canada and the US. And of course, two days after buying the Five RS4 gloves, I found more of the products carried by another local moto-dealer.
A bit of focused online time scoping out the main Five website provided some interesting history in how the company came to be and how it approaches both the motorcycle and bicycling communities that are its focus areas.
Protection – Fitting – Design
Their approach is specific and succinctly articulated under three primary goals in creating their products.
These are, and I quote, "Protection – your hands are precious; Fitting – your hands are the connection to your bike; and, Design – your hands are your personality". And I couldn't agree more.
Their moto-collection comprises Racing, Street Urban, Custom Urban, Mid-Season, Touring, Winter, Woman, and Off-Road categories. The products are available in 47 countries across five continents… including North America.
Design, Materials, & Construct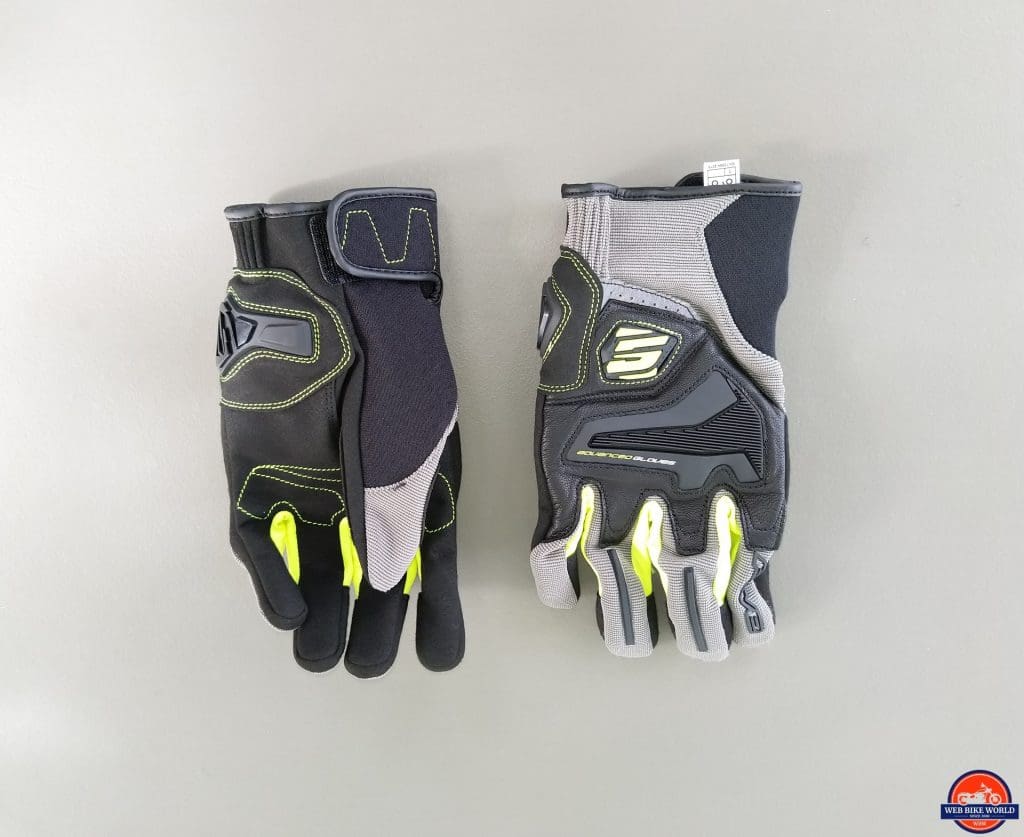 This pair of Five RS4 gloves in the (new) Grey/Fluo Yellow (Fluorescent Yellow) are from the Street Urban collection and are identified as lightweight spring or summer use gloves.
Available in Black, Brown, Grey and now Grey/Fluo Yellow, the RS4 are short-cuff gloves using a mix of leather, synthetic leather, and dimensional cushioning panels of Lycra and Spandex, along with thermoplastic rubber (TPR) protective pieces.
From my perspective, the Five RS4 hand-houses are great multi-purpose or multi-function gloves capable of handling a whole lot of riding while providing a whole lot of comfort with above-average protection.
They are indeed a lightweight glove, something that often results in less than adequate performance in other areas – like protection and grip; but with the RS4 gloves, not so much.
Five states that the RS4 gloves are designed to be lightweight, supple, and comfortable. And with the gloves now becoming well used after continued use for almost three months under varying conditions, their objectives appear validated.
Part of what originally attracted me to the RS4 gloves is their mix of synthetic leather and stretch materials along with the layout and coloration of the specific components.
Layered over the leather, synthetic leather, and stretch panels are protective hard and soft TPR (thermoplastic rubber) inserts, along with a reflective back panel.
The fourchettes (sides of finger sections) are made of Lycra – dimensionally stretchy and great for finger size diversity, flex, and airflow. The lower fourchette sections are fluorescent yellow while the upper wraparound sections are black.
Palm & Fingers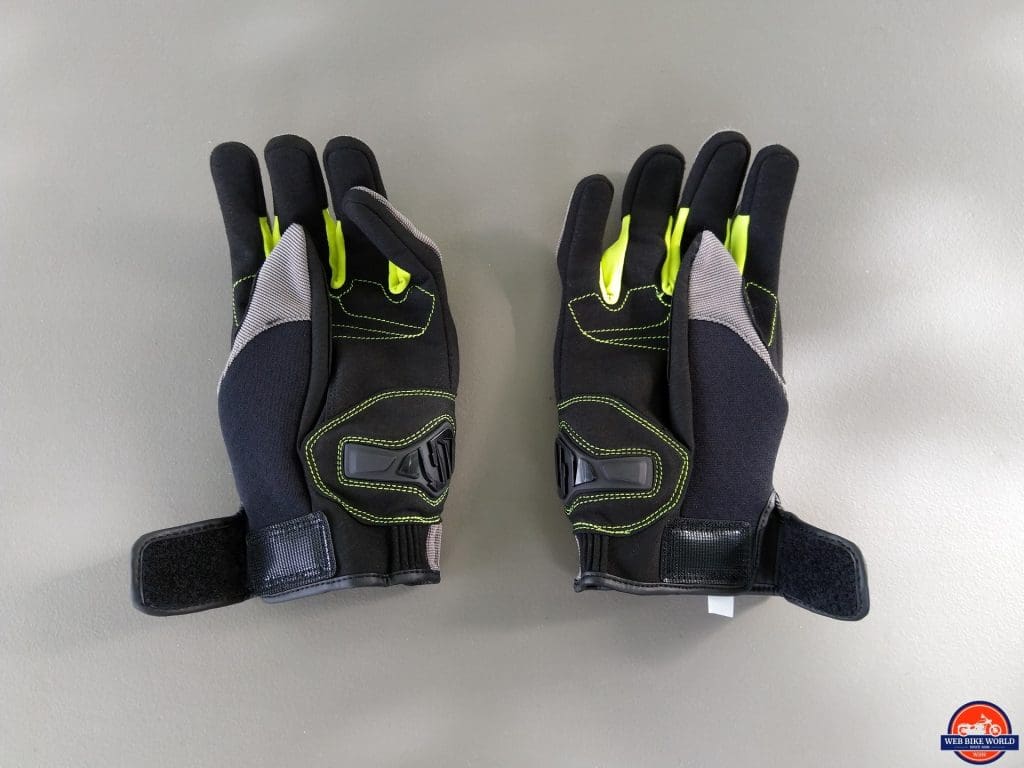 The palm side features synthetic leather with the top side featuring ribbed grey on black stretch material. The whole assembly forms a comfortable box construct – snug without discomfort for a conforming environment for the fingers.
Double-stitched synthetic leather overlay sections are found on the main palm area, inside of thumb and back of palm – all-important grip and protection areas.
Stitching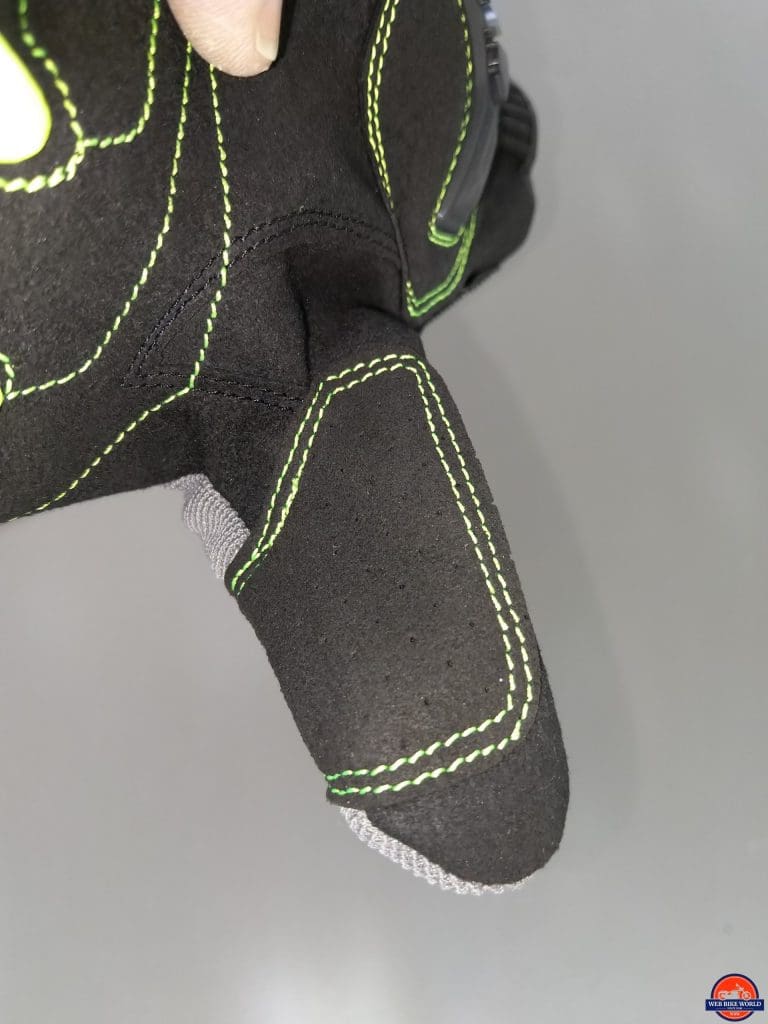 Extra draw stitching on the palm at the base of the fingers adds some additional feel and grip at a pressure or ridge area, without feeling obtrusive. This additional stitching is also likely intended to provide additional strength and tear resistance, although some of it is starting to show a bit of wear… something to keep an eye on.
Everything is double stitched and for the most part evenly done, although a couple of wandering stitch lines are visible, along with a couple of untrimmed ends. But this seems to be the exception rather than rule – other Five gloves products didn't exhibit these minor observations.
Back of Hand
A combination of synthetic leather and 4-Way Spandex forms the back of hand and base of finger layer with a large semi-rigid TPR overlay extending back almost to the wrist. The thumb-side section that wraps around to meet the palm-side synthetic section is the ribbed grey on black dimensional stretch material as used on the finger pieces.
Visibility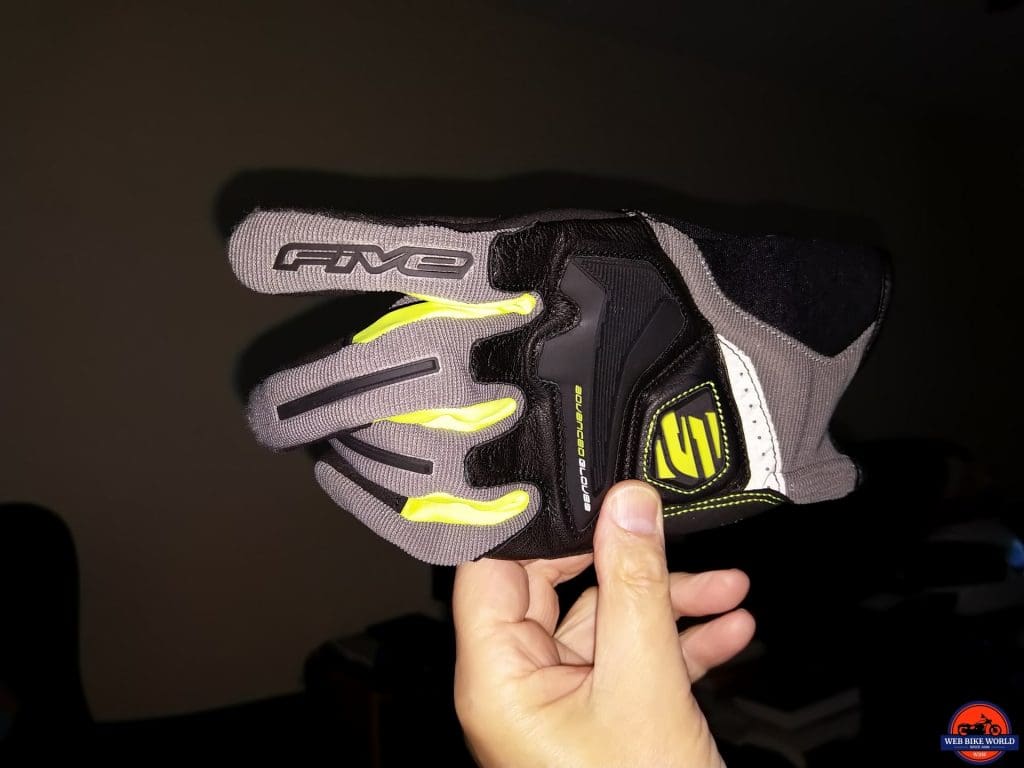 The reflective panel on the back of the glove and fluorescent inserts forming part of the finger housings adding distinctive coloration and more importantly, some visibility or conspicuity when in use – a big checkmark on the plus side of the list for this rider.
Tabs
A long broad Airprene tab and Velcro closure tab provide a comfortable and secure means to adjust and secure the cuff point; it is important to keep this feature in use as it adds protection to the wrist area while (hopefully) preventing the gloves from being pulled off if a 'situation' occurs.
Safety Label
The Five RS4 gloves bear a (Motorcycle) 1, EN 13594:2015 label.
Listed Material Composition
45% Synthetic Fabric
33% Nylon
10% Polyester airprene
9% Genuine Leather
3% Rubber
Fit & Comfort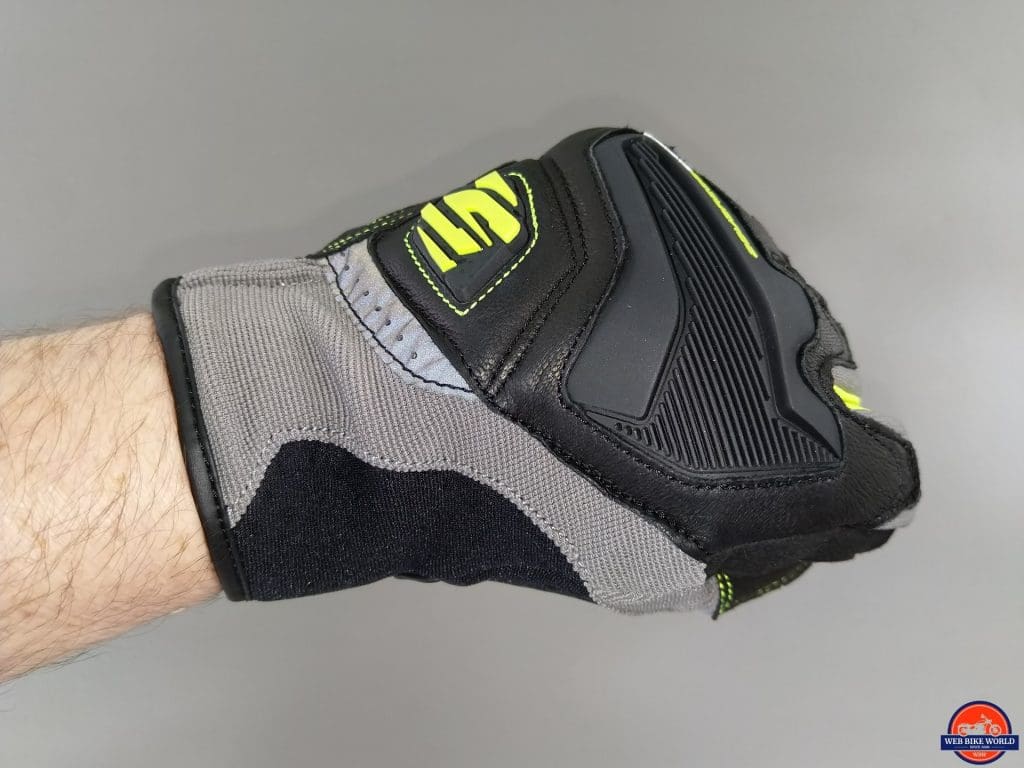 Fit and comfort of a motorcycling glove are important, for lots of reasons. Remember the statement, "Fitting – your hands are the connection to your bike". Those hands need to be wearing properly sized, fitted, comfortable gloves with the right amount of friction (for control).
In having used and worn out many a great pair of motorcycling gloves over the years, the pre-purchase time spent trying the RS4 gloves resulted in some good vibes about them. So in wanting to try something from a previously unknown brand, it was easy to get into a pair.
This decision remains a good one. Outside of about 5-7mm (~0.25in) of additional cut or depth desired between the thumb and forefinger the Five RS4 pieces fit just like the proverbial you-know-what.
The box layout for the fingers provides a comfortable snug housing for the digits and the Spandex and Lycra-based sections do a great job regarding conformity and comfort.
None of the overlaid TPR pieces, including the thin metacarpal-knuckle and larger padded expanding knuckle inserts, cause any discomfort regarding pressure points when the gloves are in use.
With the cuff of the glove properly adjusted, the larger TPR palm slider insert can be felt but, it's comforting and protective presence is never obtrusive, something that can also be said for the smaller back of hand TPR insert.
 Protective Features
The RS4 gloves are obviously not designed for competitive or vigorous off-road activities, but as part of the Urban/Street collection, and in knowing the riding conditions many of us cope with every day in and out of the city, basic protection is essential.
TPR Protection
In not using hard-shell pre-formed inserts or layers, a more discrete but functional approach is taken with the RS4 gloves with the use of soft and semi-rigid TPR strips and sections providing basic but essential finger and hand protection.
Thin TPR strips on the top of the finger boxes, along with the ribbed design of the overlying material is likely to provide basic protection for minor impacts, although I'm not sure how long the thin strips will last with continued use – so far, so good though.
Most noticeable is a fairly large TPR protective palm (slider) shell or layer with some additional foam padding underneath. This forms an encompassing section for the palm (high point extending to the outer edge) that is or can be a major impact or slide area; but, it is also a feature missing from a lot of gloves, no matter their intent or cost.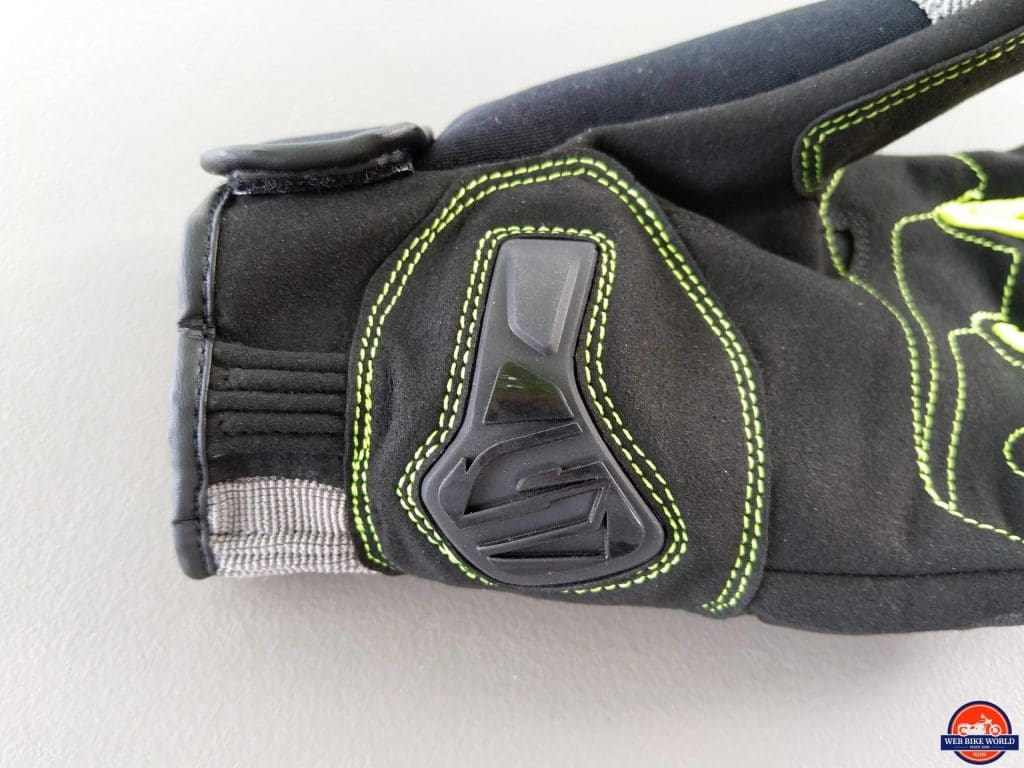 Relatedly, a smaller TPR layer is found on the rear right back of the glove, putting it in close proximity to the palm-placed slider. These two pieces should form a sort of 'roll-over' protection to the palm, back of the hand and (some) of the outer wrist structure.
Room for Safety
In looking at some other short and medium cuff gloves on hand, an additional one to 1.5in of the cuff and a matching change in the shape of the palm and back TPR pieces would add even more unobtrusive coverage to this critical area.
But in their current form and their current protective piece layout, the RS4 gloves should be more than capable of handling basic protection needs.
Five RS4 – Climate Control
The Five RS4 gloves aren't the lightest or coolest (temperature-wise) gloves currently in use, but they are an excellent compromise in that they are handling the riding duties of a cooler-early-morning through to a hotter heat-of-day without causing any discomfort. All good with me.
And given that I haven't used any of the other gloves sitting waiting or carried in the back day-ride box, the RS4 gloves are performing as well and indeed better than anticipated.
With the usual BMW handguards or other brand handguards in place, the fingers can get a little warm now and then, but lifting the fingers up slightly allows increased airflow for a period of time – resolving both the cooling and exercise requirements together. It is also part of my regular hand/finger exercising while riding (a decades-long activity that has paid off).
On the open-handlebar machines, even in traffic-heavy environments, the fingers and backs of hands can get a little warm from time to time, but for me, it is a minor issue vis-à-vis keeping the hands well-protected.
Grip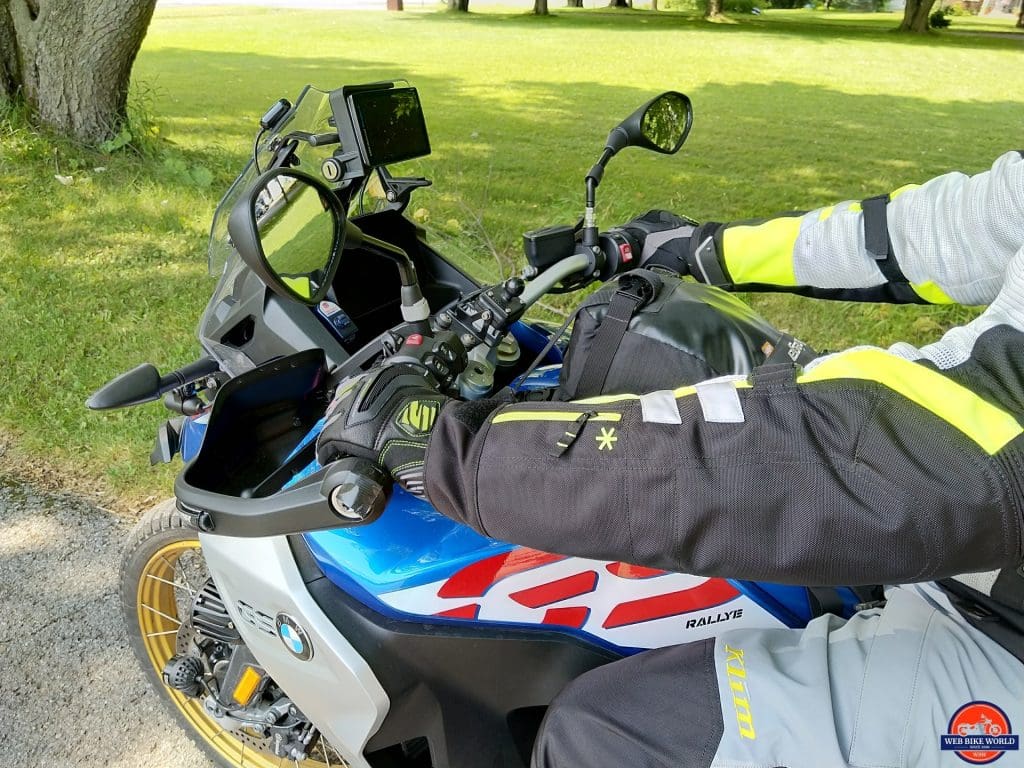 Remember, I said 'grip' not 'stick'. In wanting gloves that are comfortable and yet still conform readily to the control surfaces, e.g. – handlebars, the glove to surface features are important.
Remember, for the most part, a light hand prevails on the controls (something my flying and track instructors planted as an earworm long ago and the itch is still there). So be it leather, synthetic leather, or some form of textured man-made material, just the right amount of friction between the surfaces is desired.
In this regard, the RS4 gloves have the desired comfort, feel, friction and thus grip for around the town, trail riding. and day-long travel, without causing undue pressure anywhere or fatigue.
Friction Test
There is one reason why that's a good thing. When possible wear the gloves for a while and sit on a motorcycle, preferably something close to the favorite ride, for a few minutes with the gloves in their intended position. Relax them on the grips or controls and note if there are any slipping or pressure points (appreciating that the gloves are new and that breaking them in can improve some things).
And to use a favorite saying, "time spent in recce is seldom wasted".
Durability
It's only been just short of three months, although the RS4 gloves are in almost constant use on a variety of motorcycles. So far, outside of some wearing of the drawn stitching at the top part of the palm, admittedly a pressure point of sorts, nothing else is showing premature wear or tear.
Acknowledging that the RS4 gloves are meant for somewhat of a 'kinder, gentler' environment (hah) such as the Urban/Street realm, my feeling is that these gloves will last for a while, making the modest monetary investment an even better one.
Conclusion
Designed in France and made in China, the Five RS4 gloves are indeed light in weight but pack a good punch regarding quality, features, and value.
My typical glove sizing is (sometimes) an XL, but (normally) 2XL – and this size in the RS4 glove, and a couple of other models tried on since then show sizing is consistent, a positive trait when looking at other models or doing a test fit of sorts for sizing purposes.
Less some minor wear of the upper palm stitching and perhaps taking the overall protection approach up a notch or two (including increasing the size of and wrapping the palm slider piece further around and backward), nothing else has risen to the surface yet as a nit.
Finding the Five RS4 gloves is viewed as a good thing and the fact that they are pretty much the go-to pair and are almost being lived in seems testament to their abilities in being used for a little bit of everything.
And now in having found (better late than never) the brand and glove collections, planning is underway to add more of the Five gloves to the wBW review queue…
Bottom Line – well designed and constructed all-purpose glove with excellent comfort. Highly recommended. Well worth the modest investment.
Pros
Sound design features
Solid, quality construct
Attractive & functional mix of materials
Good protective features including large palm slider
2XL sizing bang on
Ventilation adequate unless very warm/slow moving
Visibility and conspicuity bonuses
Great price
Cons
Ventilation could be better
Longer thumb depth or cut
Minor draw stitching wear & thread end observations (QC?)
Specs
Manufacturer: Five
Price (when tested): Typically $45.99 USD or $76.99 CAD discounted to $69.29 CAD
Made In: China (Designed in France)
Sizing: S, M, L, XL, 2XL, 3XL
Colors: Black, Black/Blue, Black/Hi-Viz Yellow, and Black/Orange
Review Date: April to July 2019