A replica of the first motorcycle, which was made of wood, is being auctioned in the UK this weekend and expected to fetch up to $A24,000.
The first motorcycle was the 1885 Reitwagen made by German inventor Gottlieb Daimler, late of Mercedes-Benz fame.
An un-named craftsman used detailed drawings and photographs of the original to craft the wooden Reitwagen replica.
It is being offered at Bonham's Beaulieu Sale at the National Motor Museum in Hampshire on Saturday September 2.
Bonham's says the working replica is the "closest anyone will ever get to the Gottlieb Daimler's engineering accomplishment", as the original was destroyed in a workshop fire in 1903.
It was built in 2015 and is one of about 11 wooden replicas known to exist, but is one of the few that actually runs.
This wooden replica was offered by Bonham's at the 2014 Greenwich Concours D'Elegance for up to $32,000. There is no record of whether it was sold.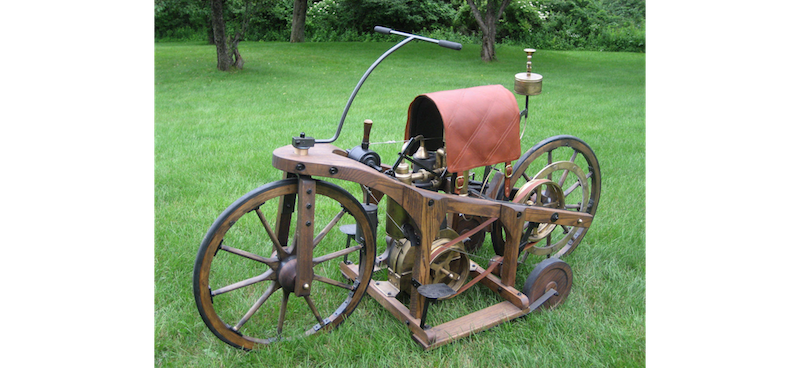 First motorcycle
Bonham's supplies an interesting history of the first motorcycle:
Daimler and his collaborator Wilhelm Maybach had both worked for the Deutz engine company, helping to develop a successful four-stroke stationary engine powered by mains-supplied coal gas. Daimler though, could see the potential of such an engine as a means of propulsion, providing it could be developed to run on an alternative fuel. Fortunately, there was one readily available: benzine (petrol), which hitherto had been used mainly as a cleaning fluid for clothing.

The first Daimler engine was an air-cooled single displacing 264cc, featuring an 'atmospheric' inlet valve and a mechanically operated side exhaust valve, an arrangement known as 'IOE'. It was capable at running at an unprecedented 750rpm, and produced around half of one horsepower. Other noteworthy features included a float carburettor (developed by Maybach), 'hot tube' ignition, and fan cooling, the cylinder barrel being devoid of fins. 

The engine was installed in a home-built, two-wheeled test-bed, as it was not yet powerful enough to propel the heavier four-wheeled vehicle that Daimler envisaged. His prototype employed a steel-reinforced timber frame bolted together, which carried the engine vertically between the wheels. The latter were iron-tyred cart wheels, and the rider sat on a horse-type saddle on top of the frame. Belt drive was used, with a tensioning jockey wheel serving as a crude clutch. Controls were mounted on the handlebars. 

Although called the 'einspur' (one track), Daimler's motorcycle was supported by 'stabiliser' wheels on either side, as the tall saddle meant that the rider's feet could not reach the ground. It is also known as the 'Reitwagen' (riding car). On 10th November 1885, Daimler's 17-year-old son Paul made history by completing the first journey by motorcycle when he rode the Reitwagen from his father's works in Canstatt to Unterturkheim and back, a distance of around 7.5 miles. 

The Reitwagen was soon improved by adding a two-speed transmission, but it was only ever a means to an end and having served its purpose was left to gather dust in the workshop. When the latter burned down in 1903, this priceless relic was destroyed.