Apart from riders being aware of rapidly changing bushfire conditions, we have also been warned about slippery fire retardant on roads and falling debris in ravaged areas.
A social media alert to riders from Sydney truck driver William Moncrieff carrying fire retardant to rural fire brigades says the substance can be slippery when wet.
He supplied the above photo of the red residue on the Princes Highway near Lake Conjola, south of Nowra, NSW.
Fire retardant
To verify if it really is an issue for riders, we contacted the fire service media centres in all states, but only South Australia and Victoria replied; with differing responses.
Simone from the South Australian Country Fire Service says there are a few different types of chemicals that can be dropped from planes on fires, but they all present hazards for all road users when they get wet.
"When it rains, any retardant will become slippery, the foam residue will re-expand and the gel also reactivates," she says.
"If motorbike riders are in an area where there have been bushfires, the CFS encourages them to take extra care when driving on the roads.
"The reactivated substances will cause the road to become slippery and create increased hazards.
"The substances are highly visible when they are wet, so motorbike riders should be able to see areas to avoid.
"After bushfires, roads can also be dangerous with debris, falling tree limbs and loose stock. Make sure you take care and always ride to the conditions."
The Victorian Country Fire Authority had a different response.
"Any road impacted by retardant would be subject to a safety assessment and any necessary maintenance before it is reopened to the public," they said.
We did not get a response form other authorities, but given the current situation, that's not surprising.
If they do respond, we will update this article.
Slippery when wet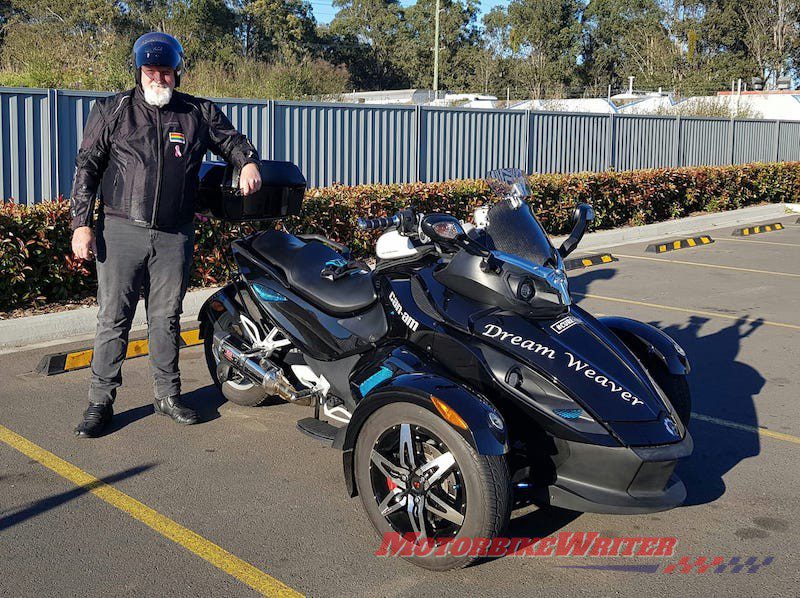 Truckie William, who also rides a Can-Am Spyder,  says he drove his truck over a road with red retardant near Moruya after some light rain and it caused the traction control to kick in several times.
"It feels like soapy water to touch, and indeed it's also known as 'Wetting Agent'," he says in his post.
"Note that the retardant I delivered was not red. It was opaque and will be invisible on a damp road surface.
"If you ride through firegrounds please take it easy on the twisties unless you're positive there has been no aerial water bombing during fire fighting operations."
Bushfire survival
The best advice is for riders to steer well clear of these areas.
If you are caught in a sudden bushfire alert, please click here and read our life-saving tips.
Once the alerts are over and the roads cleared of retardant and debris, as is the case now on the Oxley Highway, let's help the ravaged communities the best way we know how: travelling there and spending our cash in their towns on food, gifts and fuel.
Riders who have since ridden the Oxley Highway say one of the few positives form the bushfire crisis is that you can now safely see further around corners because of the cleared debris.