One lucky Ulysses member at the annual general meeting in Wodonga next week will win a free Tacos and Tequila motorcycle tour of Mexico with Ferris Wheels Motorcycle Safaris.
The inaugural Mexico/Guatemala/Belize tour starts on November 25 in Mexico City and ends on December 14 at the beach resort town of Cancun. Along the way riders may visit pristine beach locations, the famous Blue Hole, ancient Mayan and Aztec ruins and the Pyramids of the Sun and Moon.
Of course, there will be some great twisty roads over the Sierra Madre ranges and plenty of tacos, tequilas and cold Coronas at the end of each day.
Prices and exact itinerary are still being finalised and will be available soon on their website, but it certainly looks tempting!
To win, Ulysses members have to visit the Ferris Wheels expo stand at the AGM and fill in a slip. It's a two-for-one prize offer, where the lucky winner comes along for free provided they bring with them a full-paying friend.  Ulysses President Helena Gritton will draw the prize on stage at the Saturday night Mexican-themed dinner.
Like all Ferris Wheels tours, it will be guided by either Mike and/or Denise Ferris and include a luggage/support vehicle, all meals, fuel and accommodation.
Mike says they explored the route last year and the roads are generally sealed with no off-roading anticipated, although "some of the road surfacing is a bit dodgy"!
The bikes are all BMW, with a selection of G 650 GS, F 800 GS and R 1200 GS, so they should cope well with the occasional bumpy conditions.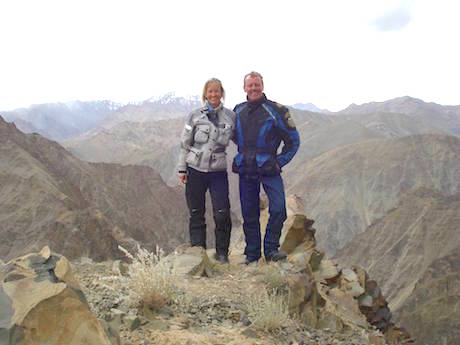 This year will by the biggest yet for Ferris Wheels with 13 tours including two tours of Turkey to help commemorate the Gallipoli Centenary.
Other Ferris Wheels tours in 2015: Nepal/Bhutan (March 10-30),Morocco (April 2-22), Iceland (June 1-15, June 17-July 1), Himalaya (July 19-August 8, July 22-August 11, August 12-September 2), Dalmatian coast (September 7-26) and the South American Andes (October 5-26, November 2-23).
Last year Mike and Denise celebrated their 20th anniversary in the business and in 2013 launched a six-part TV series on Channel Seven called World On Wheels. It is now available on DVD.