Fenix MC11 Flashlight Review Summary
Fenix MC11 Flashlight Image Gallery
The Fenix MC11 is a small "L" shaped mini-tactical style angle-head flashlight.
It's very well made and IP8 waterproof rated down to 2 meters.
It also has three brightness levels and two special modes: SOS and strobe.
The three levels provide a choice of illumination and the potential of longer life from the single AA battery.
For once, I wasn't looking for a blindingly bright LED flamethrower.
Actually, just the opposite was true — I wanted just enough light to see where I was going in a flashlight that took just a single AA battery.
So when it comes to small, well-made flashlights, Fenix is my usual source.
I found the MC11, which is the only flashlight in the Fenix MC series.
It looked cute enough; a mini-tactical light with a movable head and the IP8 rating.
Actually, Fenix lists it as IPX8, where the "X" means no rating for dust or dirt particle protection but the "8" is the 2 meter waterproof rating. It is also rated for a 1 meter drop.
Th Fenix MC11 looked interesting and different, so I figured I'd give it a try.
The price is stiff, however, at $45.95 and now that I've owned it and used it for a couple of months, I'm not sure I'd do it again. But, let's take a look…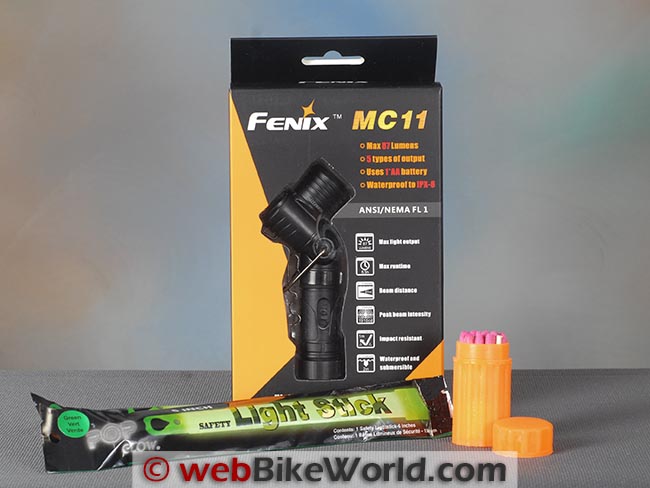 The Fenix MC11 LED Flashlight
The price was tempered somewhat by the freebies thrown in with a special deal when I bought the MC11: a free light stick and a container of waterproof matches. Worth, oh, maybe two bucks or so?
The MC11 is very nicely made, however, and that probably accounts for most of the cost.
It has a thick aluminum body with a hard rubber grip surface on the main battery compartment. Fenix calls it an aluminum alloy with "the premium Type III hard-anodized anti-abrasive finish", along with "high class" (!) plastic.
No doubt about it, the MC11 does not feel like a cheap toy. You're getting a rugged flashlight and that's why it costs so much.
The head rotates through 7 positions with a sharp click at each detent. I was surprised to find that the head doesn't rotate far enough to remain at 90 degrees to the battery compartment "handle", however.
This is the only rotating angle-head flashlight I've ever owned, so I'm not sure if this is normal or not.
But I would have preferred that the head rotated all the way up so I could hold the flashlight in the normal position and have the light beam pointing forward; perhaps others won't be bothered by this.
The MC11 also comes with a belt clip that can be rotated around the body of the flashlight or removed completely. It also has a "D" ring type bail to allow the light to be placed on a hook or perhaps from a neck lanyard that is included in the kit.
The base of the light at 22 mm is slightly wider than the 20 mm body.
On a flat and smooth surface, the flashlight will stand upright with the head rotated to any position. But on a rough or softer surface, moving the head throws off the center of gravity enough to make it difficult to stand the light up, which is another disappointment to me
I think they should have made the base wider or perhaps included a slip-on ring to increase the width of the base, which would help to make the flashlight more stable when placed upright nearby to illuminate a task.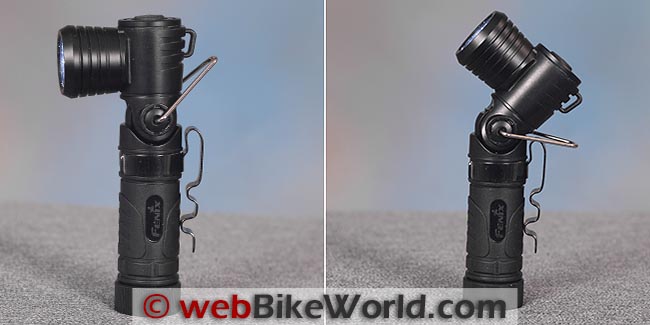 Fenix MC11 Operating Modes
The MC11 has three brightness levels and two additional modes.
Pressing the button turns the light on or off and pressing and holding the button when the light is on in any of the brightness modes cycles the light to the next level.
There are three brightness levels, rated at 3 lumens for low; 39 lumens for medium; and 87 lumens for high.
Battery life is estimated by Fenix at 53 hours on low; 6 hours and 14 minutes on medium; and 1 hour 43 minutes on high.
If the button is pressed twice quickly when the light is in any brightness level, it will turn to the medium brightness for the SOS mode or the high level of brightness for the strobe mode.
When the light is in either of these modes, it can be changed back and forth between SOS and strobe by pressing and holding the button.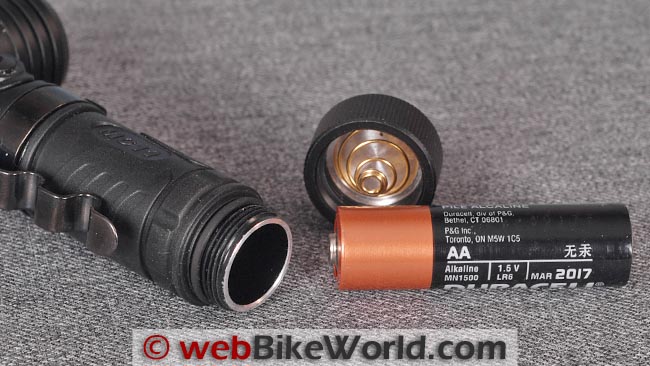 Replacing the Battery
The MC11 uses a single AA battery and that was one of my criteria for a small flashlight.
The AA batteries are easily found and very common and I have a pack of 40 Duracell double-A's I purchased on sale at Costco, which gives me enough power for years to come.
The cap unscrews from the bottom of the handle and the MC11 has a built-in polarity protection circuit to protect against incorrect battery orientation.
The O-ring on the flashlight body is very thick, which makes it difficult to screw on the battery cover/cap.
In fact, when I first installed a battery, I couldn't get the light to work and I thought it was defective.
I made a phone call to the retailer, which was quickly answered and they said I had to really bear down and screw it on tight because the O-ring is so thick.
Sure enough, that worked. So when you install the battery, just remember you'll need a lot of torque to get that cap tight. It will eventually stop when it hits the last thread.

More Fenix MC11 Details
The MC11 uses a Cree XP-E LED with a rated life of 50,000 hours.
The light is 99 mm long, not counting the 1-2 mm thick button. It has a 20 mm diameter body and a 25 mm head at the light end. It weighs exactly 85.0 grams with the single AA Duracell installed.
The lens is "toughened ultra-clear glass", according to Fenix, with an anti-reflective coating, also a rarity and a feature which no doubt results in that lofty price.
Using the Fenix MC11
The size and rugged build of the MC11, along with the shape, makes it handy for motorcycle storage and use.
If you can find a flat, smooth surface, the flashlight can be placed standing upright and for the most part, you should be able to find a position to angle the head to illuminate the task.
MC11 Light Patterns
I wanted a very low brightness level to light up the path while I walk without overpowering my eyes, and the 3 lumen first position of the MC11 is perfect for that, so I'm not disappointed.
The 39 lumen medium level is about as bright as you'd expect from a small-to-medium sized LED flashlight with a roughly 20 mm exit point, while the brightest level is surprisingly bright for this size light.
The light pattern in each of the three levels consists of a concentrated circle of light that is approximately 150 mm wide. In the low setting, only the 150 mm wide circle of light is visible with a very light outer ring beyond that, barely seen only in the darkest conditions.
In the medium 39 lumen brightness level, the 150 mm central pattern is brighter and there is a larger circle of light of approximately 2 meters that surrounds it.
The highest 87 lumen level of course has the brightest central concentrated light with a 2 meter wide circle of light around that.
This "concentrated center with very light outer ring" type of light pattern of the MC11 flashlight was a surprise to me.
I was expecting more of a solid light output without the very focused central core, so I'm a bit disappointed with this also.
w

BW

 Video: Fenix MC11 Flashlight
Conclusion
The Fenix MC11 is very nicely made and it feels solid and rugged. Like other Fenix flashlights, this is not a toy; it's a professional tool.
If you want a basic Cheap Charlie LED flashlight, you can find plenty of 'em at your local Big Box store. But flashlight freaks like me wouldn't be caught dead with one of those! Yep, we're flashlight snobs. You gotta problem wid dat?
However, I'm not overwhelmed by the MC11.
I wish it had a larger base; I wish the button pushing routine wasn't so fussy to switch into the SOS or strobe modes; and I wish the head rotated so the light could be pointed 90 degrees from the body. I also would have preferred the light pattern to be more diffuse.
Otherwise, this is an interesting light and perhaps others won't have my fussy criteria.
So if you're looking for a high-quality LED flashlight for the tank bag, the Fenix MC11 may be the one for you.
More wBW Flashlight Reviews
w

BW

 Review: Fenix MC11 LED Flashlight
Manufacturer: Fenix Light Ltd.
List Price: $45.95 USD
Colors: Black.
Made In: China
Review Date: April 2013
Note:
 For informational use only. All material and photographs are Copyright © webWorld International, LLC since 2000. All rights reserved. See the webBikeWorld® 
Site Info page
. Product specifications, features and details may change or differ from our descriptions. Always check before purchasing. Read the
Terms and Conditions
!
Owner Comments and Feedback
---
From "D.H." (April 2013): "No experience with the MC-11, but a Fenix LD20
(purchased on Amazon) has been living in my tank bag for the last couple of years after reading a comparo of LED flashlights in the Iron Butt Association's magazine.
I suspect the MC-11 shares the LD-20's amazing build quality, fit and finish; it may be the best Chinese-made item I've ever seen.
My LD-20 has been bullet-proof, though it does eat AAs fairly quickly when using the higher of two output settings. BTW, Fenix models with a "tail switch" share a propensity for the switch to loosen in the housing, causing the light to quick working. Several YouTube videos show the easy fix, for instance (here)."
---
From "N.P." (April 2013): "As always, I appreciate your website; you offer lots of good info. Like you, I am also a flashlight aficionado and think you paid way too much for that Fenix flashlight, but that's just my humble opinion.
Since you mentioned the batteries from Costco, I assume you are a member. If you are, you should hurry back to your local store to see if they have the FEIT Electric 500 Lumen Flashlight 2-Pack
. I picked these up a couple of months ago at my Costco – I think they were $29.99 and they had an instant $5 off coupon – so they were $12.50 each, including 6 Duracells.
I realize they are not the same as the Fenix – the FEITs use 3 'C' cells, but they are nicely made of quality materials and are BRIGHT as heck and the price/value cannot be beat. I got tired of the $3-$5 cheapies and these are a serious piece of equipment that I think will last a long time.
FWIW, I was at my Costco in Michigan about a week and a half ago and they still had these for sale but without the $5 off coupon. Still a great deal. Here is a YouTube review."
Editor's Note: Actually, "Mad Dog" was looking specifically for a flashlight that took a single AA battery, as noted in his review.
Other WebBikeWorld Motorcycle Flashlight Review
wBW Flashlight Review  Info