Imagine doing a wheelie at more than 180km/h … on ice!
Swedish racer Robert Gull has done it and, in the process, broken the Guinness World Records' record for the Fastest motorcycle wheelie on ice with an overall speed of 183.8km/h over 100m.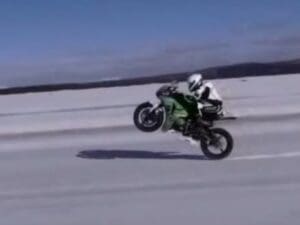 Robert was riding a standard Honda CBR 1000RR fitted with a race fairing and special Dunlop tyres with studs to break the ice and gain grip.
The World Record Academy says the record is even more amazing since Robert had a "horrendous" super bike crash a year ago which landed him in a wheelchair for a short time.
The 23-year-old racer broke the record in March in freezing temperatures at Lake Kakel on Nåtti, Arjeplog, in northern Sweden and his feat has this week been confirmed by the Guinness Book of Records.
The record for the fastest wheelie is 307.86km/h set by Patrick Fürstenhoff on a turbocharged Honda Blackbird CBR1100XX at Bruntingthorpe Proving Ground in England, on April 18, 1999.
The Guinness World Records also lists the world record for the fastest motorcycle wheelie over 1km at 251.86km/h by Brit Terry Calcott at Elvington Airfield, Yorkshire, UK on September 12, 2005.