The three-wheeled roadster is a rare sighting on the road, but when this extended family goes for a ride, there is a whole web of them.
Jason Woodward, of Penrith, says he started the Spyder family phenomenon with a test ride one rainy day after being inspired by his father Kevin and father-in-law Terry Mansfield to try them.
Family rivalries
He says the Woodwards and the Mansfields had been riding motorcycles all their lives with the usual friendly brand rivalries.
The Woodwards were in the red corner with a love of Hondas while his Mansfield in-laws were in the Yamaha blue corner, except for his Triumph-loving father-in-law.
"So we have interesting discussions around the camp fires," he says.
When Terry and his wife Audrey developed health problems that made it difficult to ride their Goldwing with a trailer, they started discussing the option of buying a Can-Am Spyder roadster.
Jason was skeptical and thought Can-Am Spyders were ugly.
"I, along with the majority of motorcycle enthusiasts put them down constantly," he says.
"They are unattractive, unnatural and impractically slow. Why would you even bother?
"If you get to a point in your life when it's time to buy a Spyder then just buy a car. It's over.
"I thought to myself he has lost the plot."
However, Jason thought that at least his father-in-law was still riding, so he spoke to his father about it and found that he was also considering a shift to three wheels.
Spyder web begins
So Jason started researching Spyders for them and headed down to Western Motorcycles in Penrith one fateful rainy day to have a look for himself.
The salesman said their policy was not to allow test rides in the rain.
"But hang, it's a Spyder that has so much tech you can't get into any real trouble," the salesman told Jason.
The salesman then gave Jason a short carpark lesson on the unfamiliar controls such as the single brake foot pedal.
"He asked me to accelerate just like a normal motorcycle by turning the throttle and jump on the brake as hard as I can when he put his hand up, just like an emergency stop," he says.
"So I did that and the bike stopped on a dime. I was shocked on how well the machine accelerated and stopped. That big Rotax 1330cc motor was better that I expected.
"We did this a few times until I was comfortable. After that I rode around the carpark just so I could feel what it was like.
"The flat turns and the way your body moves to the outside of a corner was weird at first but I was getting comfortable each minute I was in the saddle."
After a short familiarisation lesson, Jason took the 2017 Can Am Spyder RT big touring model for "a decent ride".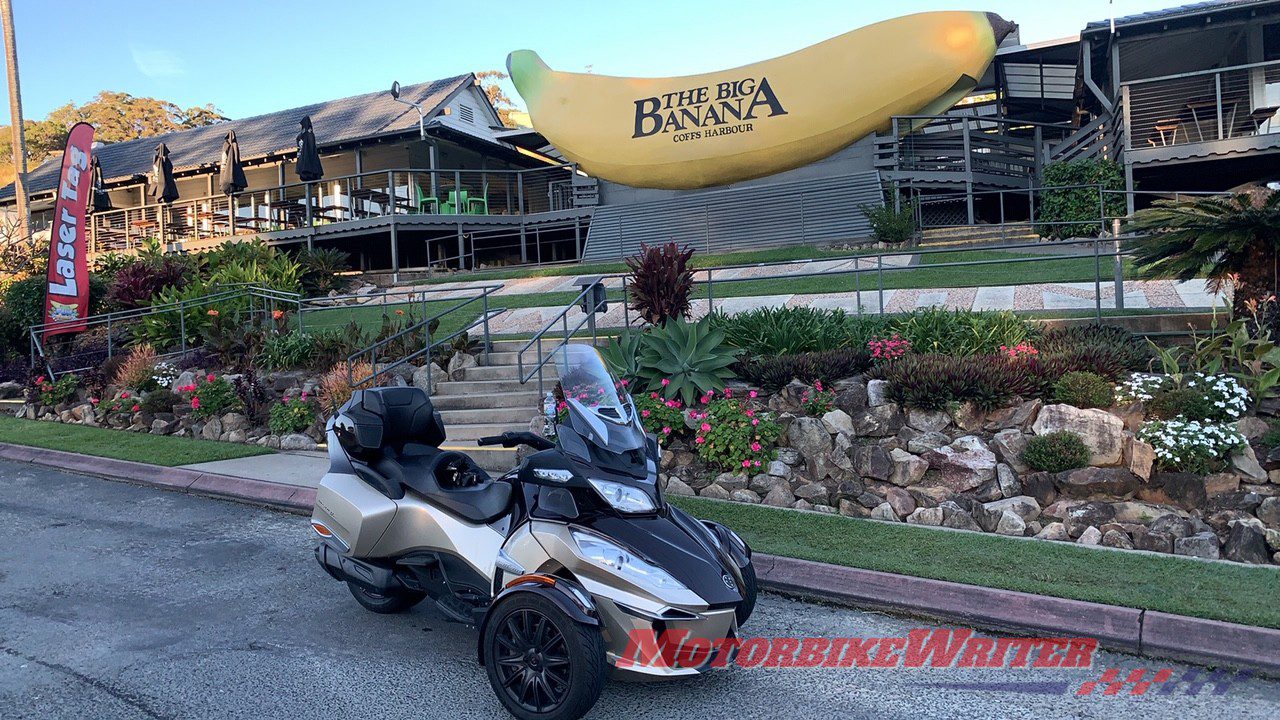 "I took off and rode it up the Blue Mountains for about 30 minutes and went into some twisty bends and also the open highway," he says.
"This machine is fast and manoeuvrable. It had a radio so I turned it up; I was really enjoying myself."
Jason also took the roadster to his parents' house to give them a short spin around the block.
"I was riding back to the dealership with a huge smile and decided right then I was buying a Spyder for myself," he says.
Jason says his wife, Julie, questioned why he would need a three-wheeler when he was still capable of riding a normal motorcycle.
"I had put crap on these things for years but had never given the machine a chance. They are awesome," Jason told Julie.
On the day he took delivery of his new Spyder, he rode a couple of hundred kilometres to Callala Beach, near Nowra, to show his in-laws.
"I get a message on the phone and this picture comes up from my dad," Jason says.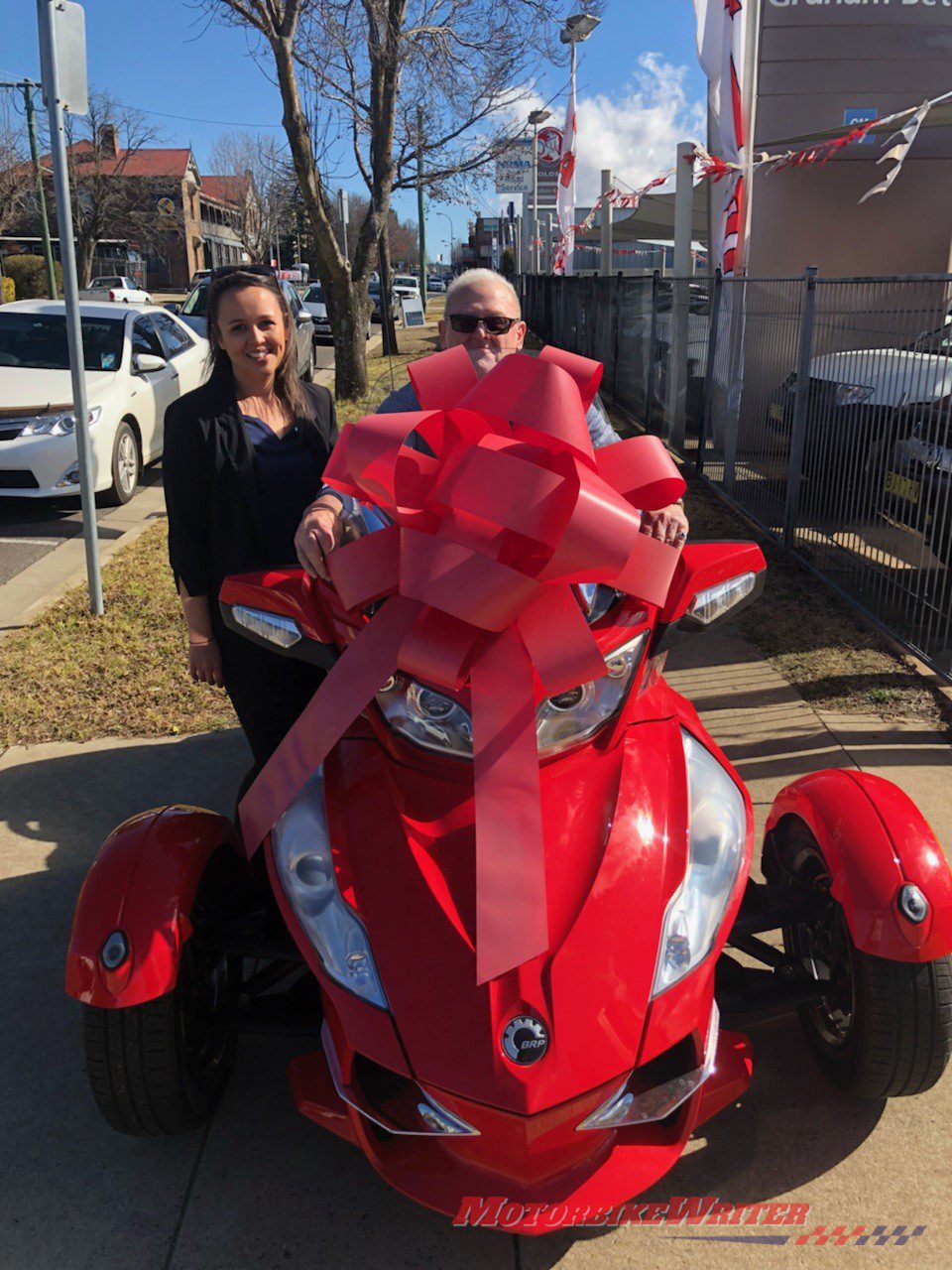 "At this stage I have tears in my eyes. He just bought one as well. I couldn't believe it.
"This man — a life member of the Goldwing Club, has ridden Goldwing since the early '80s, has owned every model, is a very active member, and lives and breaths Goldwings — has just bought a Spyder!
"I showed the picture to my father in-law and he says, 'Cool, I am getting one as well so we can ride together like we did a few years ago'."
But wait, there's more.
Jason's sportsbike-riding brother, Darrin, drove their father to Armidale to pick up his Spyder and took the opportunity to have a test ride.
"A few months later my brother sends me a text: 'I have just bought a Spyder. I need a lift to go pick it up'," Jason says.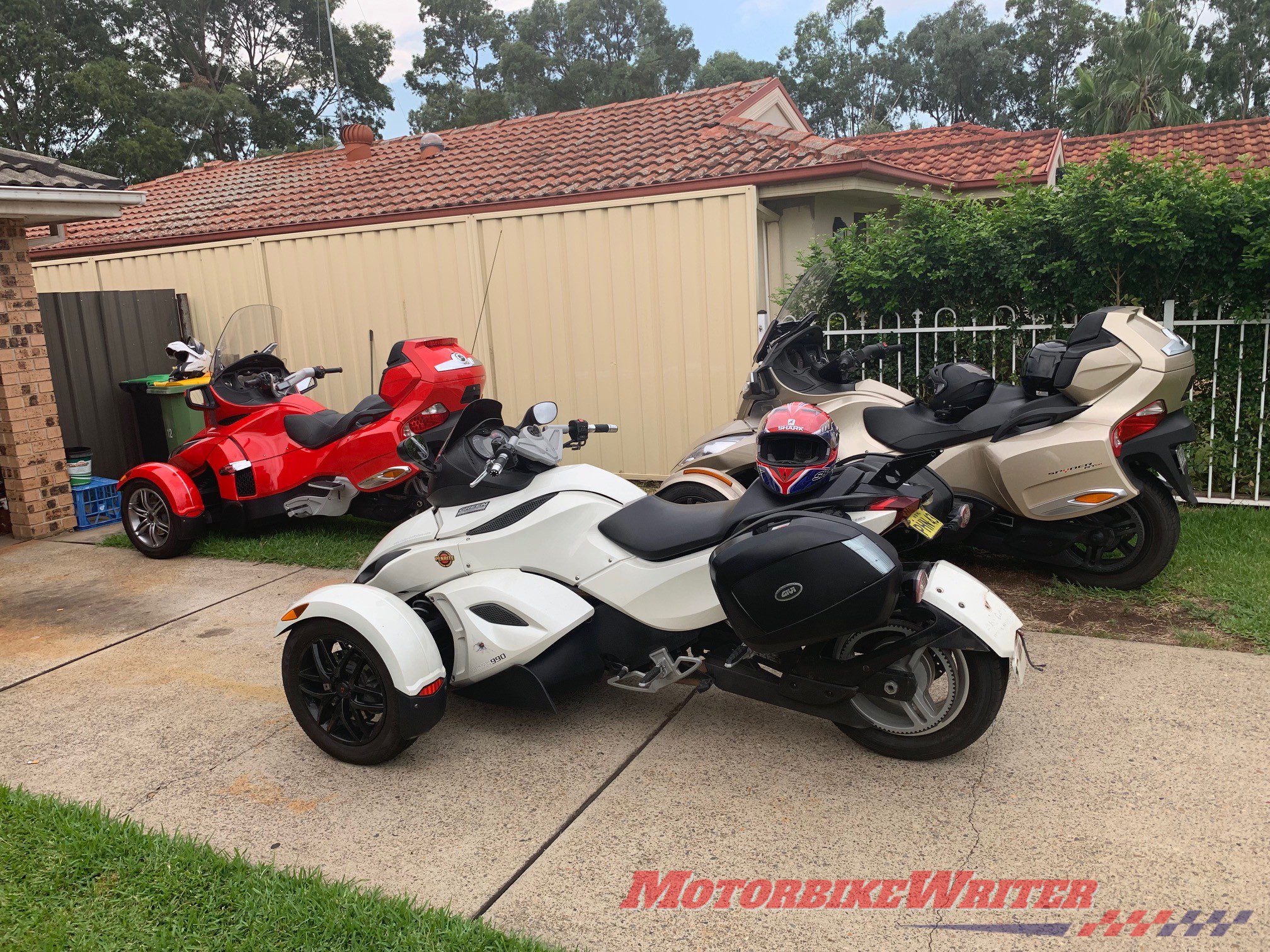 Then Terry texts Jason with a photo of his Spyder.
"Out of the blue, my nephew Sean (Darrin's son) sends me a message: 'I love dad's Spyder. I am getting one'."
Sean bought the new learner-legal 600cc Can-Am Ryker."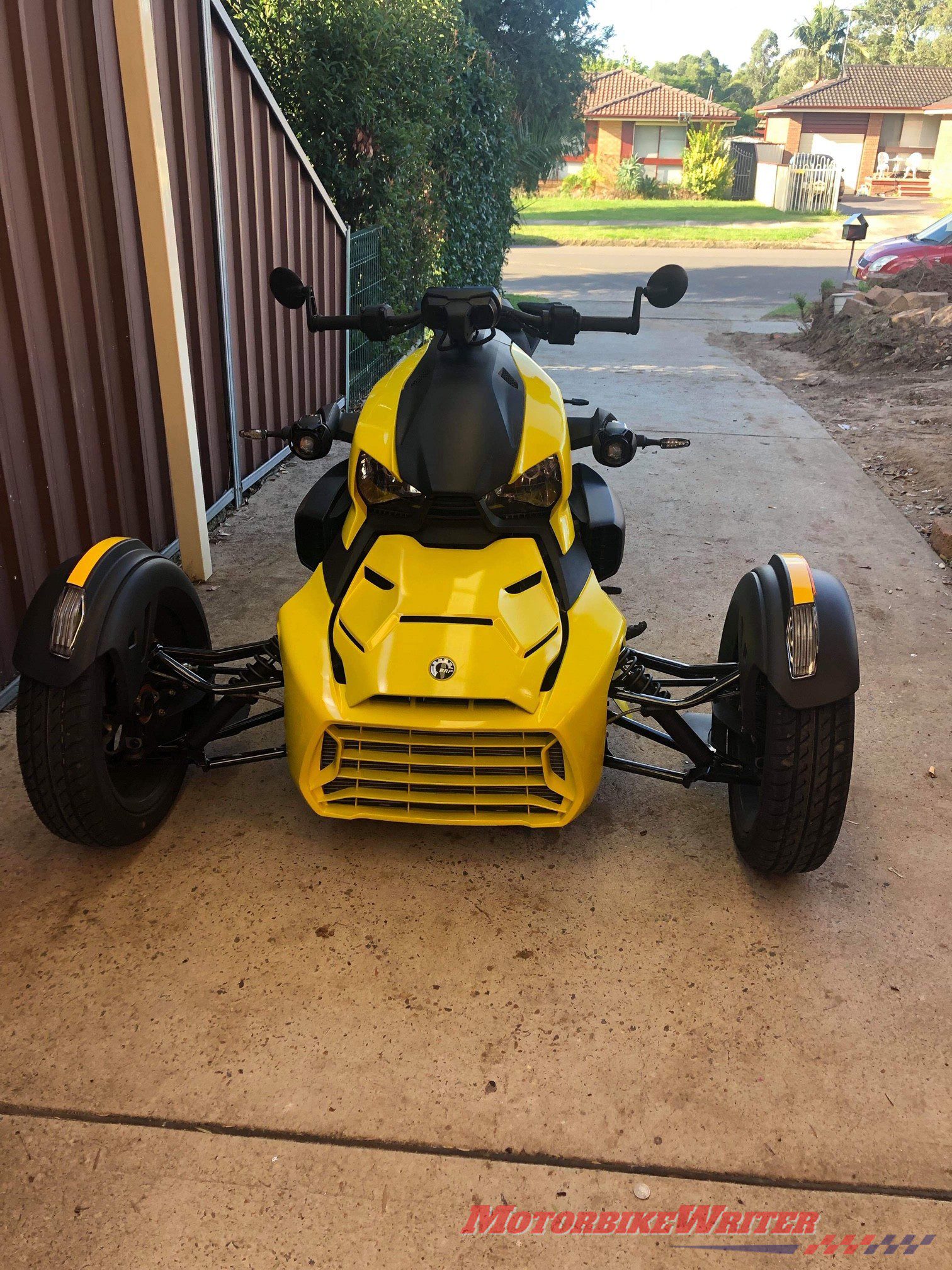 Over the past 12 months, the extended Spyder family has been riding their web of Spyders together "as much as we can".
Jason has even traded up to the sporty F3 Daytona.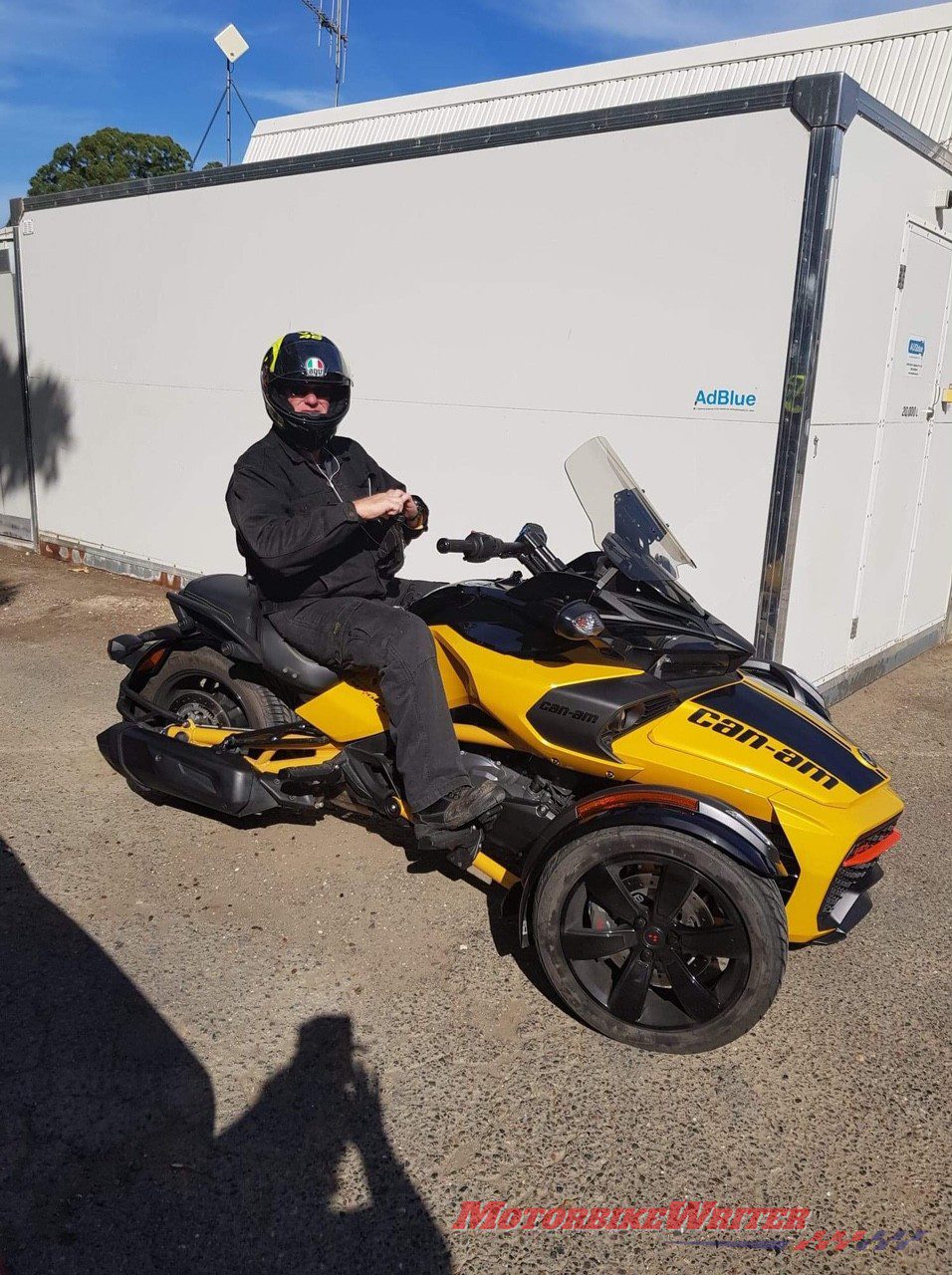 "We are enjoying the machines and having a lot of fun," Jason says.
If you want to check out the community of Spyder fans, go to the Spyder Buddies Facebook page which is a great source of information, and photos of social events.