How would you like to buy not just a motorcycle, but the whole Excelsior-Henderson motorcycle company?
That's what's on offer at the annual Mecum motorcycle auction in Las Vegas in January 2018 when the intellectual property of the historic American motorcycle company goes up for sale.
The brand history goes back to the early 1900s from the marriage of historic Excelsior and Henderson brands.
Many of these old bikes fetch huge prices at auction, including a 1914 Henderson 1068cc Model C Four fetching £113,500 ($A190k) at Bonhams Stafford auction last weekend.
Production of the 1386cc V-twin Super-X models ended in 1999, but the brand still exists to sell merchandise and offer service to owners.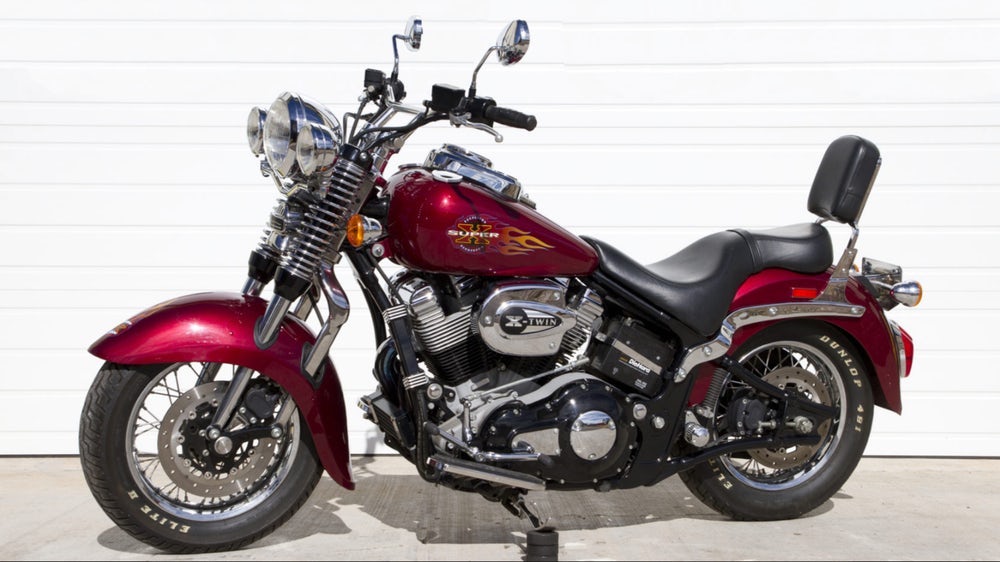 They are now offering their intellectual property at the January 27 auction, including frame and engine designs, logos, branding, website and expired patents.
It could be a good start for an aspiring new motorcycle company or for entrepreneurs who want to revive the stalled brand.
Rich Excelsior-Henderson history
The brand's motorcycles history starts in January 16, 1876 with the launch of the Excelsior Supply Company by George T. Robie in Chicago.
Bicycle magnate Ignatz Schwinn of Chicago bought the company, along with the Henderson Motorcycle Company of Detroit, merging the brands into Excelsior-Henderson motorcycles.
It ceased production at the height of the great depression in 1931.
The brand was revived by entrepreneur Daniel Hanlon in 1993 as Hanlon Motorcycles. It changed its name to Excelsior-Henderson in 1996.
Only a couple of thousand Super-X bikes were built before production stopped in 1999, although the company still exists online and on paper.
Auction items
Other interesting items at the Mecum motorcycle auction include a weird-looking 1980 Kawasaki SPCNS Mystery Ship (number five of 10 built), a 1970 Kawasaki H1, a 1941 Harley-Davidson WL 45, a 1950 Indian Roadmaster, a 1964 DKW Hummel 115 and a Captain America replica Haley-Davidson.