Report Overview
With an estimated market size of 18.6 billion USD in 2019, its no surprise that electric scooters are showing up more & more. With a rising need for fuel-efficiency & increasing carbon and greenhouse gas emissions, many are turning to electric alternatives, such as e-scooters. Many of these models feature regenerative braking, low maintenance cost, vastly reduced noise levels & minimal emissions; just a few examples as to why these eScooters have exploded in popularity. Furthermore, electric scooter sharing services have also taken off, with companies such as Razor, Lime, Bird, Spin, Jump, etc. all offering these services.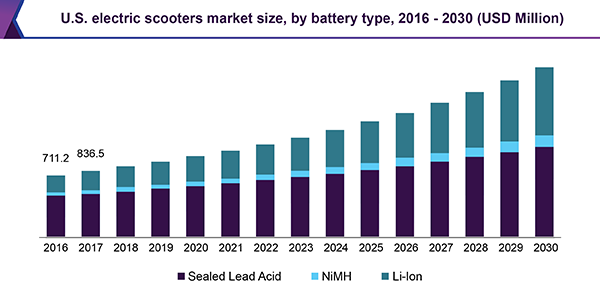 Typically, the models used for these services source from leading manufacturers such as Xiaomi, Segway, etc. Surprisingly, these services experienced a positive reception by the public; with an increasingly high participation rate since 2016. Over 90 cities & various colleges throughout the world use these services; alongside the other tens of thousands of pedestrians benefitting. As such a clean energy alternative, urban environments should expect an increase in air quality & energy security should these undergo adoption en-masse.
Such participation of governments & vehicle suppliers in these zero-emissions standards clearly contributes in reducing the carbon emission gap in 2020. This really does offer a great incentive for companies & pedestrians alike, whilst improving quality of life for all. Many of these companies have also pushed for other technological advances, such as solar-power charged vehicles, grid technologies and more. Governments over the world have put forward several policies intended to increase the adoption of electric scooters by the public. These policies offer a variety of benefits to both consumers & manufacturers with subsidies and research & development initiatives; creating an incredible encouraging environment for growth.
Product Insights
In terms of model production, the global eScooter market mainly consists of retro, folding & standing scooters. In 2019, retro models dominated the market, thanks to a big push towards eco-friendly commuting vehicles. Not only has this reduced emissions, it also reduces costs for commuters across the globe. Recently however, an increasing amount of commuters & casual riders have opted for compact, convenient & lightweight folding models.  Market analysts predict these folding models to exhibit a compound annual growth rate (CAGR) of 10.1% within 10 years. These folding variants undergo constant improvements, with each generation offering more features & better performance; driving the demand for folding electric scooters. This demand seems set only to increase in demand between 2020 to 3030 as applications for these models further increase.
Regional Insights
In 2019, Asia Pacific took a tight grip on the global eScooters market & officially valued 13.9 billion USD. The majority of manufacturers come from China, Taiwan & Japan, controlling the largest share worldwide. China takes the top spot as leading consumer of electric scooters, alongside both leading producer and exporter. Such vendors of these scooters include AIMA Group, Niu International, Xiaomi and even Segway; after being aquired by Beijing based Ninebot Inc. This regional market is further fueled from a growing concern among consumers to switch to clean energy, low emission transportation. This, coupled with increasing affordability and R&D activity will continue to boost this market over the coming decade.
However, North America is predicted to see the highest growth, with a CAGR of 13.1% over the forecasted period. Increasing investment towards electric vehicle charging infrastructure, alongside R&D support for high-density batteries is expected to further remedy regional growth. Furthermore, after witnessing a drastic increase of international electric scooter suppliers, North American vendors have started focusing on releasing multiple eScooter variants; predominantly to attract a younger demographic and also expected to boost overall growth of their market.
Battery Insights
For batteries, most eScooter models use Lithium-ion (Li-ion), Sealed Lead Acid (SLA) or Nickel Metal Hydride (NiMH). In 2019, SLA batteries commanded the market thanks to their durability, strength and cost-effectiveness. However recently, experts expect SLA batteries to decline in following years; predominantly due to their bulky size & rapid discharge rate, regardless of load weight. On the other hand, Li-ion batteries are estimated to exhibit a CAGR of 10.4%; with costs of lithium-ion batteries also predicted to decrease in coming years.
In fact, experts also predict the cost of these batteries to fall by approx. 70% by 2030. In turn, this also decreases the price of many electric scooters; with most manufacturers already deciding to utilise Li-ion batteries in their models. High charge density, greater discharge/charging efficiency and a light weight include a few primary benefits offered by these batteries. Thanks to advancement in environmentally conductive and a growing demand for better performing batteries, we should expect to see a rise in battery operated eScooters.
Voltage Insights
Based on voltage, most models are classified into 24, 36, 48 & 48V. In 2019, the 36V proportion of eScooters accounted for 62.4% of total revenue. Advanced batteries possessing enhanced compatibility with models & providing greater power outputs also boost segment growth. However, increasing amounts of consumers look towards 48V batteries; on account of their long battery range & also reduced charging frequency. Although, the 48V+ segment is also predicted to significantly grow over the years, especially as batteries become more efficient; with a CAGR of 11.5% between 2020-2030. High voltage batteries are also starting undergoing upgrades, utilising start-stop features to reduce CO2 emissions.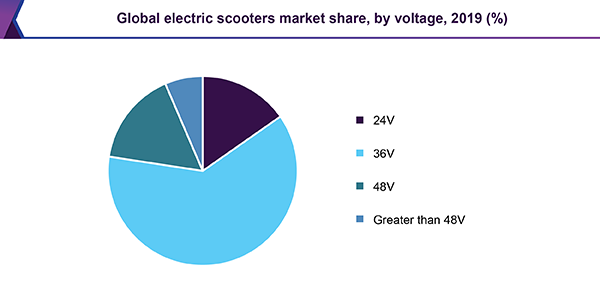 Market Share Insights
Lastly, a collection of companies have shown interest in launching last-mile electric scooter rental services throughout a number of countries & cities; all in a joint venture strategy in an attempt to expand their influence & industry globally. Such companies include Bird Rides, Lime, Vmoto and many more. In China, most key market players have focused towards product level strategies and R&D activity, also to expand market share. For Taiwan, Gogoro's swappable battery eScooter remixed the market, with a variety of Asian vendors collaborating with Gogoro to integrate swappable batteries in their own models. Furthermore, a number of high-profile Japanese companies such as Suzuki, Honda & Yamaha have released their own eScooter variants; adding to market competition in Asia.
Electric Scooters Market Report Scope
| | |
| --- | --- |
| Market size value in 2020: | USD 20.0 billion |
| Revenue forecast in 2030: | USD 42.0 billion |
| | CAGR of 7.7% from 2020 to 2030 |
| Base year for estimation: | 2019 |
| | 2016 – 2018 |
| | 2020 – 2030 |
| | Revenue in USD million/billion and CAGR from 2020 to 2030 |
| | Revenue forecast, company ranking, competitive landscape, growth factors, and trends |
| | Product, battery, voltage, region |
| | North America; Europe; Asia Pacific; Latin America; Middle East & Africa |
| | U.S.; Canada; Mexico; Germany; France; China; India; Japan; Brazil |
Thanks for reading our market report, feel free to return to our news section; or read some reviews for electric scooters, hoverboards, eBikes & more.