With summer in full swing, PEVs such as eBikes and eScooters are out in force as they've become an increasingly popular method of commuting for both short and long distances. Each scooter segment comes with its merits and today we're going to dive into a brand that's been making its name in the PEV industry for the past several years: Varla Scooter.
Varla has a presence in North America, Asia, and Europe, with the company being founded in 2019. In 2020, they launched their flagship product, the Eagle One Offroad Scooter. Following its success, Varla followed up with the Pegasus in 2021, a commuter-style offering that became one of their best-sellers.
As of August 2023, their collection has expanded to 6 different e-scooters all with their own strengths and merits. We're going to dive into each one to provide a brief overview.
Not sure which e-scooter to get for your first? We've got you covered.
Entry-Level / Commuter Scooters
As the segment suggests, Varla's entry-level and commuter scooters are an affordable introduction to the world of PEV's.
Perfect for shorter trips within urban areas, they're great for commuting to work, exploring the city, running errands, or reaching transportation hubs so you can access public transportation.
The compact size allows riders to navigate through traffic, access narrower pathways, and have the convenience of easy storage.
Varla Wasp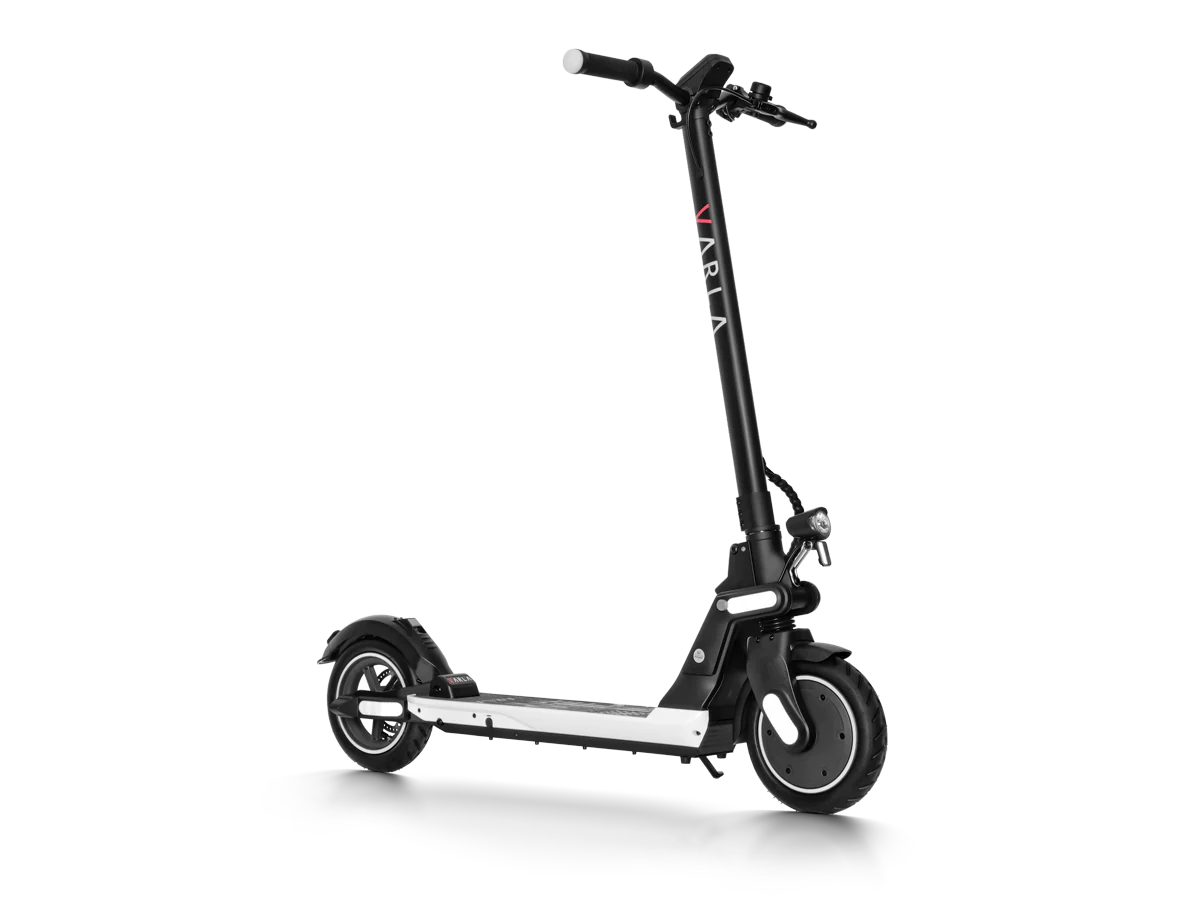 The Wasp is a new release in Q1/Q2 of 2023. As the lowest-priced scooter in their collection, it's exactly what an urban rider is looking for. Weighing in at 15kg (33lb), it's compact and extremely easy to store. Features also include safety turn signals, a fast-folding stem, and 8.5" pneumatic tires for comfort.
Motor: 350w rear hub
Battery: 36v 7.5 Ah
Suspension: Rear spring
Range: 19 miles / 30km
Top Speed: 16 mph / 26kmh
Charge Time: 4-5 hours
Weight: 15kg (33lb)
Price: $599 USD (currently on sale for $549)
Buy it here: Varla Wasp
Our take: If you don't want to break the bank but want something with decent range and speed, the Wasp is a great choice.
Varla Falcon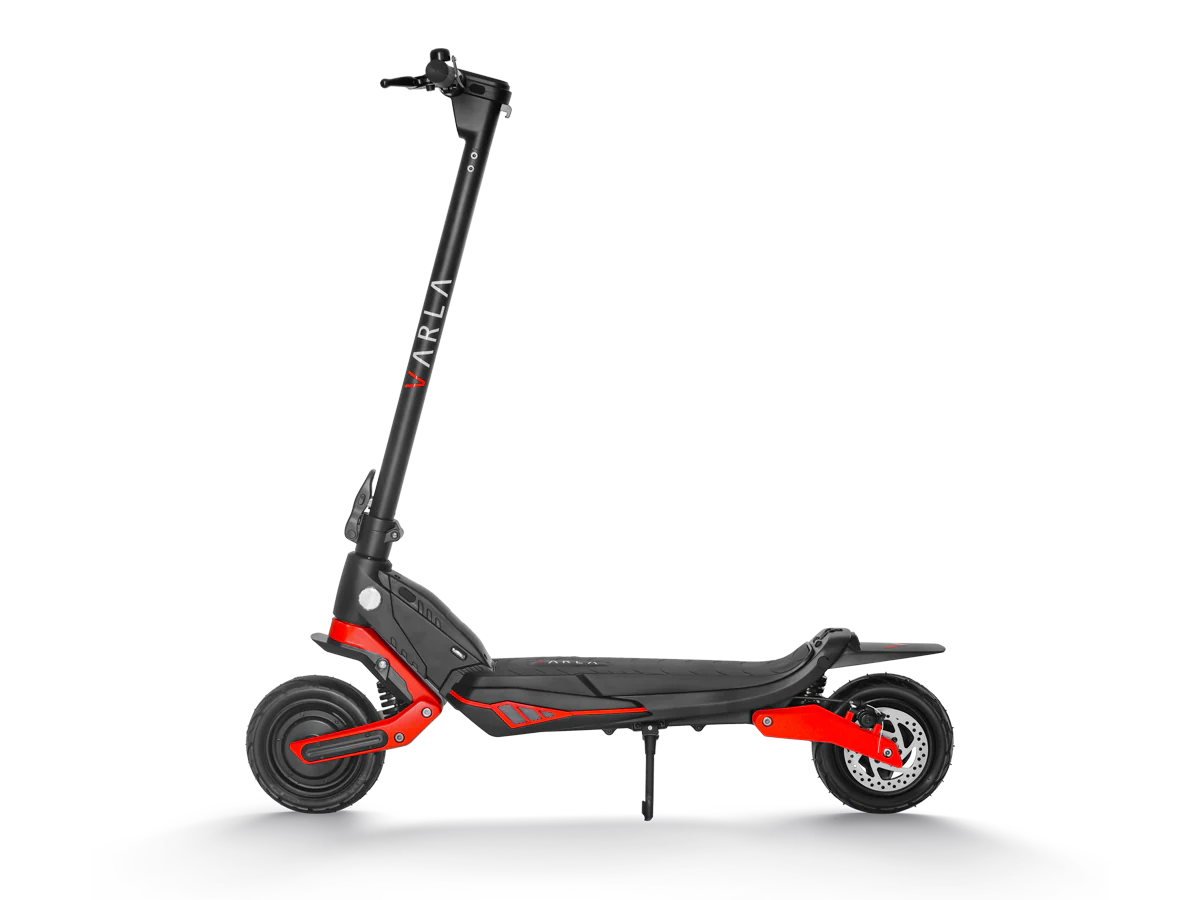 Moving into their commuter line, the Falcon is also a new release for 2023 and what would be considered the Pegasus' younger sibling. With a 500w rear hub motor, and slightly better range, it's a tad heavier weighing in at 23kg (50lb). It'll handle rougher terrain with its dual spring suspension and 8" air-filled tires, yet retains a reasonable charge time of 4 hours.
Unlike the Wasp though, it doesn't come with turn signals but opts for ambient LED lights to increase visibility on the road.
Motor: 500w rear hub
Battery: 48v 10.4 Ah
Suspension: Dual spring
Range: 25 miles / 40km
Top Speed: 22mph / 35km
Charge Time: 4 hours
Weight: 23kg (50lb)
Price: $1049 USD (currently on sale for $899)
Buy it here: Varla Falcon
Our take: The Falcon's sleek aesthetic is appealing and may be a good choice if you want just a little bit more oomph in your daily riding. However, at $1049 USD (on sale for $899 USD at time of writing), you may want to consider the Pegasus.
Varla Pegasus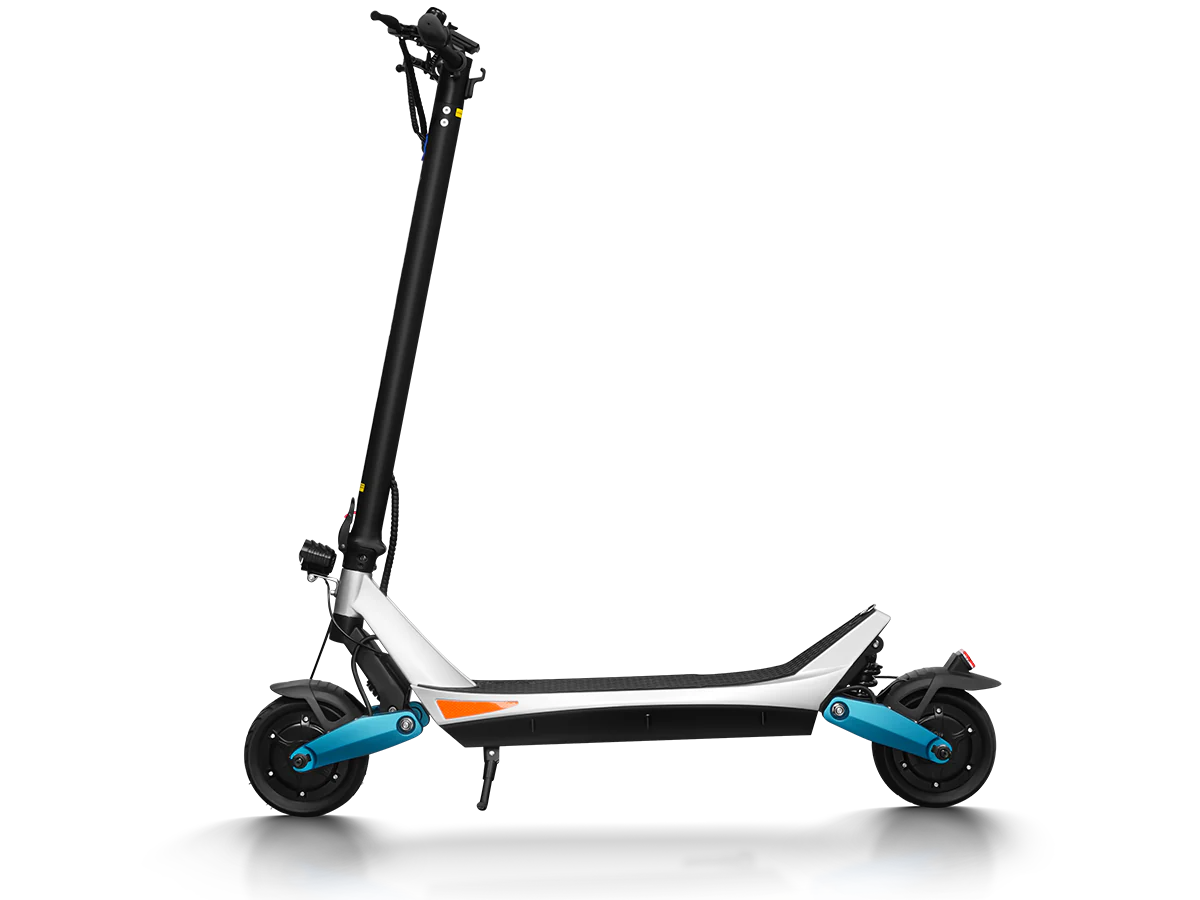 The Pegasus is a high flyer (pun fully intended) for the rider that wants speed, long range, and enough juice to go quicker than most e-bikes on the road. This e-scooter has a 500w dual hub motor that will handle inclines with ease. The max payload capacity is 280lb which makes this a very good commuter option for heavier riders.
The first iteration of the Pegasus featured 8" solid rubber tires and they've since included options for 9" vacuum tires, giving consumers a choice between durability and comfort but not fully sacrificing either.
Motor: 500w dual hub motor
Battery: 48v 15.6 Ah
Suspension: Dual spring
Range: 28 miles / 45 km
Top Speed: 28mph / 45kmh
Charge Time: 7-8 hours
Weight: 66lb
Price: $1299 USD (currently on sale for $999)
Buy it here: Varla Pegasus
Our take: At the sub-$1000 price range, the Pegasus is great value in the commuter segment, offering plenty of riding power and a best-seller within Varla's collection. Read our review to learn more.
Offroad Scooters
Varla Eagle One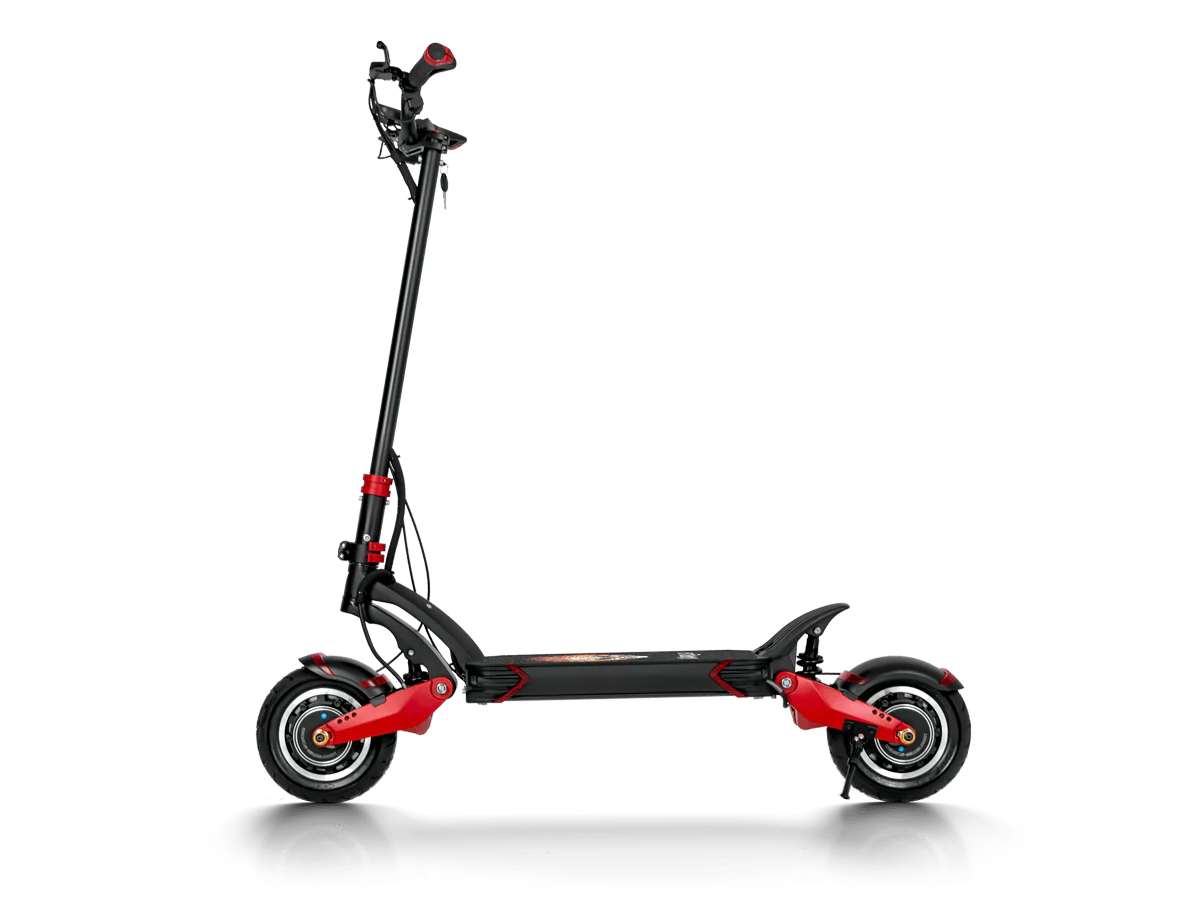 The Eagle One was Varla's OG flagship model with a great bang-for-buck ratio. It delivers 36 Nm of torque which will easily take you up 30-degree inclines. Customizability features include single/dual motor and eco/turbo mode, allowing for 4 combinations of speed and power.
Short on time? Pick up a second charge and lower your charging time from 8-9 hours to 4-5 hours. For an offroad scooter, that's not bad at all.
While the parts are ubiquitous and many other brands use the same parts (i.e., it looks exactly the same), it has earned a place in Varla's collection as a solid offroad option.
Motor: 1000w dual hub motor
Top Speed: 40 mph / 64kmh
Charge Time: 8 to 9 hours (single charger ) / 4 to 5 hours (double chargers)
Price: $1699 USD (currently on sale for $1399)
Buy it here: Varla Pegasus
Our take: Fantastic performance for the price and one of the best e-scooters available for entry-level offroading. If you're a weekend warrior and want to take your scooter off the beaten path, do some light dirt riding, and get dusty. Read our review to learn more.
Varla Eagle One 2.0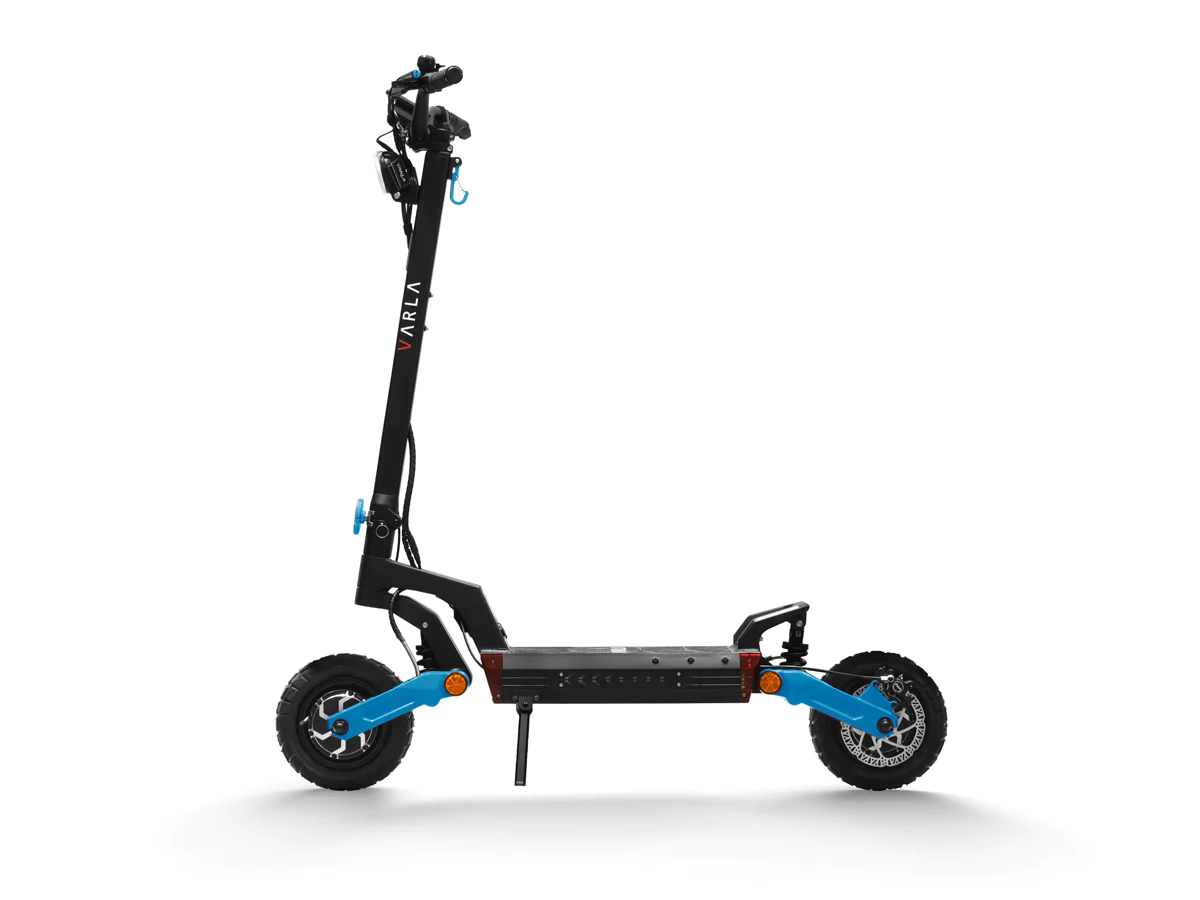 Varla released the 2.0 version of the Eagle One in Q2 2023, incorporating feedback from the community. Changes include a slightly different aesthetic but still using the same aluminum alloy frame, slightly larger battery capacity, and 5 speed settings compared to 3 on the Eagle One 1.0.
Other improvements include the use of an NFC card as opposed to key ignition, and Varla's R&D team has opted for a new folding stem clamp system.
It has retained features such as the dual spring suspension and continues to allow the use of two charges to significantly reduce charging time.
Motor: 1000w dual hub motor
Top Speed: 40 mph / 64kmh
Charge Time: 9 to 10 hours (single charger) / 5 to 6 hours (dual chargers)
Our take: The Eagle One 2.0 is well-received with some much-needed improvements compared to its first iteration. It is priced fairly at $1699 USD, although at that price range, options for other entry-level offroad scooters become available.
Varla Eagle One Pro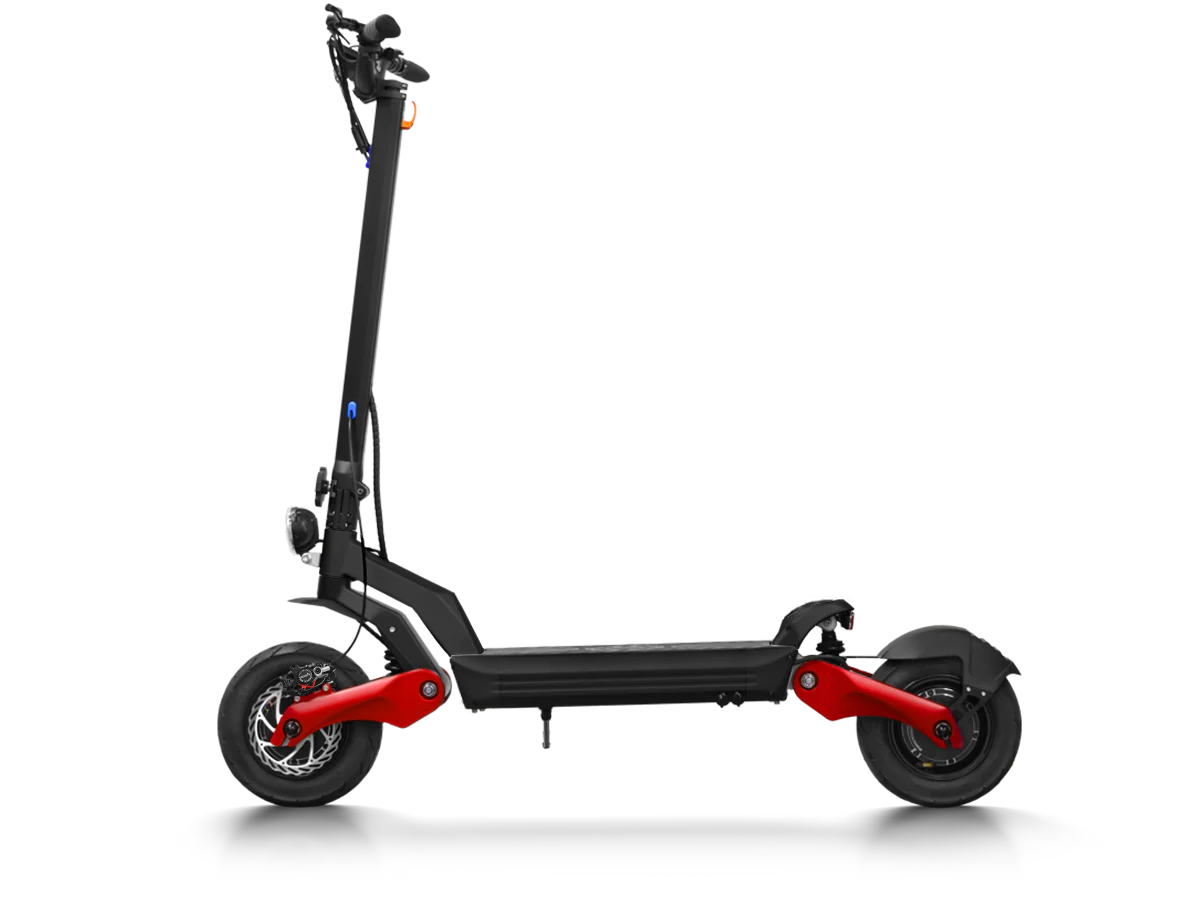 The creme-de-la-creme of Varla's collection, this beefy powerhouse is the culmination of Varla's efforts that began with their Eagle One. With a top speed of 45 mph (72kmh), there's no shortage of power with the Pro version.
This scooter will tackle any terrain from rugged dirt trails to city asphalt, you'll find that it's up to the task while maintaining a smooth ride. The 11" tubeless tires offer plenty of clearance as you take this beast offroad.
Like the Eagle One 2.0, it also utilizes an NFC feature but carries forward all the same components such as hydraulic brakes, dual suspension, and pneumatic tires.
Motor: 1000w dual hub motor
Top Speed: 45 mph / 72kmh
Charge Time: 13 to 14 hours (single charger) / 6 to 7 hours (dual chargers)
Our take: The Eagle One Pro fits in the mid-range beast scooter segment and is an excellent option for weekend warriors who wish to test their mettle. For $2099 USD, it is an extremely strong competitor as high-end beast scooters can start at the $3000+ range. Read our review to learn more.