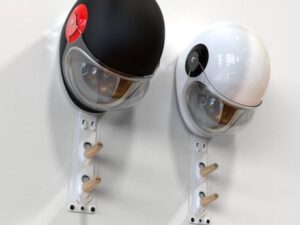 Custom motorcycle company Ellaspede has turned its mechanical and design brilliance to solving the problem of where to safely hang your helmet, gloves and jacket when you finish your ride.
The Brisbane workshop has just launched a Kickstarter crowd funding campaign for their ingenious Helmet and Gear Hanger, a purpose-designed and versatile device for riders, drivers and racers to hang their essential gear like helmets, jackets, keys and gloves.
"We grew tired of balancing helmets on handlebars and throwing jackets across seats, so we used our experience in industrial and furniture design to spec up the perfect hanger for the modern home, man cave or work shop," says online and marketing manager Hughan Seary.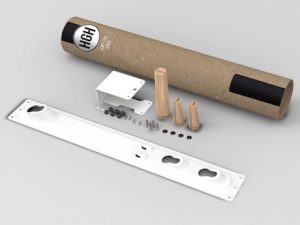 They have produced some test models and have fine-tuned the design for production of the second version. If it's anything like their custom motorcycle projects, it should be top-shelf design and construction.
Hugh says they hope the 28-day crowd funding campaign will raise $25,000 to allow them to set up tooling for production. So far they have 14 backers who have pledged a total of $1755 with 22 days to go. Pledges can be any amount from a minimum of $1.
If they don't reach the goal, no money is withdrawn from your account and you will receive an email notification. If it goes ahead, then your pledge goes toward the hanger which will cost $70 each.
"It's a good way for people to support new products without having to outlay anything until it goes ahead," he says.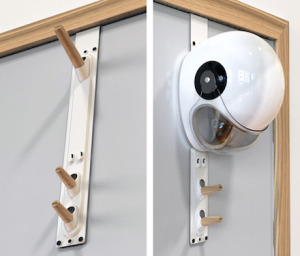 Ellaspede claims the unit is strong enough to hold your gear and can be adjusted to suit. It can be mounted permanently on the wall, or hung over a door without scratching it.
Ellaspede plans to sell and ship the unit internationally.
"With your Kickstarter help we're hoping to produce one of the most useful products for the riding or driving enthusiast, keeping gear organised and helmets damage free," he says.
"We know that this product will be useful for all riders, especially those with an eye for product aesthetic. With design cues taken from modern furniture, these hangers are also ideal for showing off prized helmets and riding gear in an interior environment."