Not many electric bikes enthuse us with their whisper-quiet power and ungainly looks, but this handmade retro electric moped is an exception.
The Kosynier moped, built by Polish brothers Marcin and Michal Bielawski, won the gold medal at the recent international trade fair for "Ideas – Inventions – New Products" in Germany.
There are cruiser, boardtracker and DeLux models priced from $US2500 and they plan a Kosynier cafe racer and streamliner model called the "Speed" costing up to $US15,000 in May.
Check out the wave e bike review.
Right now, they are seeking crowd-funding through an Indiegogo project which requires $100,000USD to go into production. So far they have received 3% backing with a month to go.
Marcin and Michal, grew up around their farrier grandfather's century-old forge and are keen to carry on his craftsmanship, using high-quality materials such as chrome moly tubing for the frame and hi-grade leather.
"As children we became interested in historical motorsports," says Marcin. "We admired motorbikes of older friends. These were the Panonia, M-72 and Polish model of Junak. Once, a friend came over on a Harley, this became our god."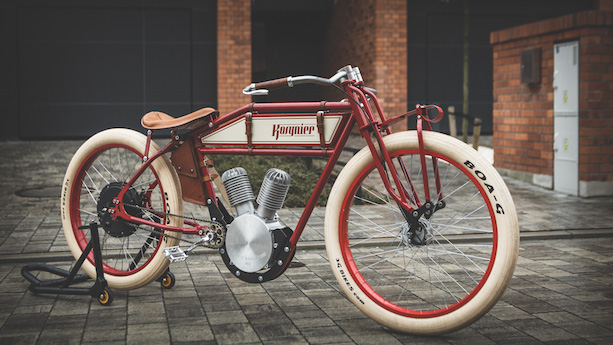 The V-twin engine is actually a cast alloy imitation that houses the 48V/25 Ah lithium-ion battery and controllers. Charge time for the battery is 4.5 hours and charge levels and other data will be available on special smartphone app.
The electric drive is in the rear hub. You start by pedalling pedal and then the 250W engine kicks in.
There is no word on top speed, but here is a video of the Kosynier being tested in one of the most secluded places in Poland,  the Bieszczady mountains.
While it's just a moped and not a real motorcycle, it would certainly be fun and a real head-turner in urban areas or on the daily commute.
Their plans to progress to electric motorcycles include a frame designed by new member of Team Kosynier, Mateusz Przystal who took part in the design of the interior of the latest Ferrari.
"Team Kosynier are people with an enormous passion and a desire to create, who I have watched them from the beginning," says Mateusz. "When they offered me the chance to work on the project, I had no doubt what decision I should make."
Here is a teaser video of the Kosyiner Speed streamliner model.