American company CSC Motorcycles is considering exporting its Chinese-made City Slicker electric motorcycle costing just $US2500.
Landed here the City Slicker would cost closer to $4000, but would still be one of the cheapest full-sized electric motorcycles available.
The bike will be available in the US in September.
It's built as an urban commuter and fun machine with a top speed of 46.6mph (75km/h) and  range of 37 miles (60km) at 37mph.
CSC Motorcycles, which also makes fuel-powered bikes, currently only sells in the USA and says they are not looking for an overseas distributor for the bikes.
However, they have made initial requests for information about exporting to Australia.
The world's biggest electric motorcycle company, Zero Motorcycles, couldn't make a go of importing into Australia and pulled out last year.
They were substantially more expensive than the City Slicker, although they did have substantially better range.
The Zero fleet ranged in price from $18,000 to $25,000 on the road. You could also buy an optional $4790 Power Tank battery which extended range up to 320km.
City Slicker
The City Slicker has a mid-drive motor mounted at the start of the swingarm with belt-drive so it is even quieter than most other electric motorcycles using hub motors.
It features traditional motorcycle controls except for the absence of a clutch lever and gear shifter.
City Slicker comes with inverted forks, a lockable storage compartment in the "fuel tank area" and hydraulic disk brakes.
A unique feature is reverse drive. We can understand that on large motorcycles such as the Honda Gold Wing, BMW K 1600 GTL and Yamaha Star Venture, but not on a bike weighing only 97kg.
However, some riders might enjoy the facility for easier parking in unusual uphill situations.
City Slicker is built for CSC Motorcycles in China by Zongshen who make more than 1 million bikes a year and competes in the China Superbike Championship.
2019 the electric year?
While Australian commuters may not be ready for the City Slicker, it won't be long before electric motorcycles do start making inroads here.
Next year could be a crucial year in electric motorcycles.
In 2019 Harley-Davidson launches its electric motorcycle and Italian electric motorcycle company Energica will provide the race bike for the 2019 MotoE World Cup series to be run at select MotoGP rounds.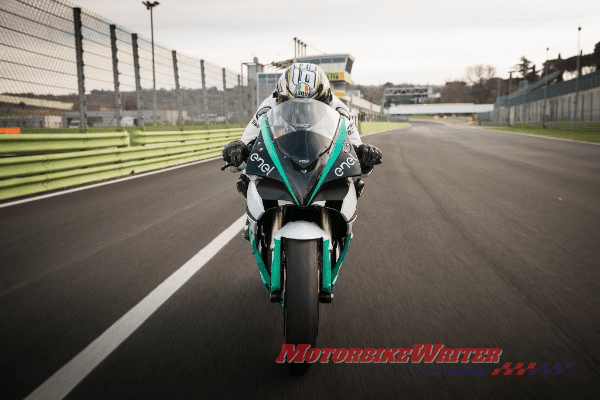 Other companies with electric motorcycles or scooters available or in planning include Honda, BMW, Yamaha, AIMA, Sunra, KTM, Amego Electric, Amper Vehicles, Terra Motors Corp, Lightning Motorcycles, Alta Motors, Suzuki and Govecs Group.
Li, 72V30AH
6-8 Hours
180V~250V
72 vector motor
71″ (1803mm)
30″ (762mm)
41″ (1041mm)
49.2″ (1249mm)
7.1″ (180mm)
216lb (97kg)
Is Australia ready for the coming wave of electric motorcycles? Leave your comments below.