Chargefox will build Australia's first ultra-fast charging stations powered by renewable energy on interstate highways connecting capital cities. The sites will be no more than 200km apart.
But electric motorcycle fans shouldn't get too excited just yet.
While electric motorcycles have up to 350+km range, that is on a "city cycle". On the highway, even the best of them still fall short of 200km range.
Long and constant power heat up and drain a battery faster than short bursts of power.
So riders interested in buying an electric motorcycle still have a long wait for decent charging infrastructure.
Besides, these are only on major highways which many riders avoid out of boredom.
Clean charging?
However, it is a good start and the use of clean energy is important.
Currently ('scuse the pun), electricity from coal-fire stations isn't such an environmentally friendly solution.
Instead, Chargefox stations will be powered by renewable solar and battery energy. 
The first two sites are at Euroa, Victoria, and Barnawartha North on the Victorian/NSW border near Albury-Wodonga.
Chargefox, of North Melbourne, says the $15 million national roll out will include 21 sites on interstate highways across the east coast of the nation.
They will connect major capital cities including Adelaide, Melbourne, Sydney, Canberra, Brisbane and separately north and south of Perth. 
Riders will be able to use the stations via a special app that finds stations and handles payment.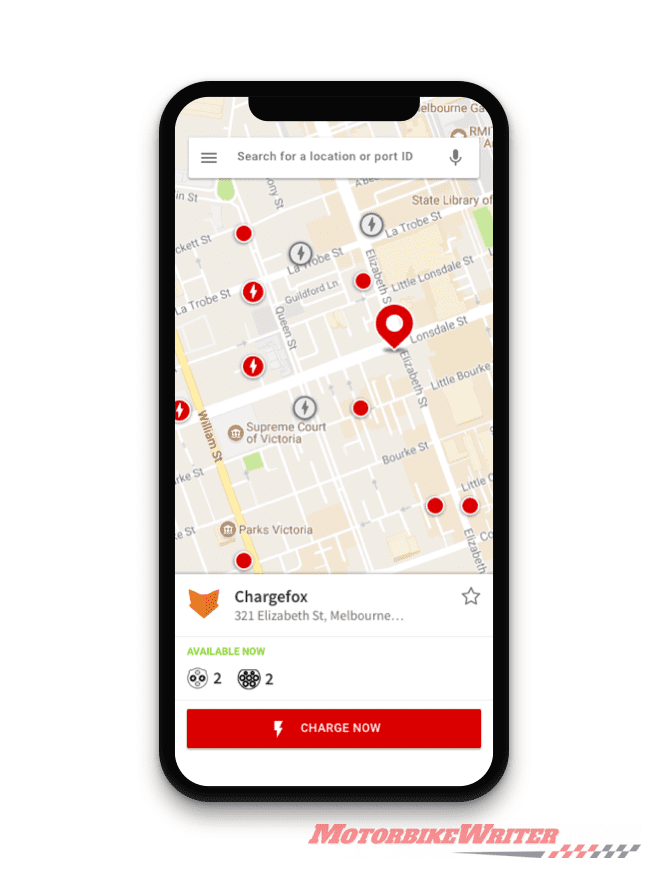 Electric hurdles
Electric motorcycles and other electric vehicles face several hurdles including high purchase price, low range, slow charging times and questionable environmental impact when sourced from coal-powered stations.
Prices are now starting to come down as range goes up.
And apart from using renewable energy, Chargefox says their fast-charging points will lower charging times by about 15 times.
They have a power output of 150kW and should top up an electric bike to 80% capacity in about 15 minutes.
It's still a longer wait than fuelling up your tank with petrol.
Chargefox has received $6m in Federal Government funding and $1m in funding from the Victoria Government.
Australian motoring clubs (NRMA, RACV, RACQ, RAC, RAA and RACT) are the biggest collective investors in Chargefox.