DuPont Chain Lube Review Review Summary
DuPont Chain Lube Review Image Gallery
Very interesting product that is claimed safe for O-ring chains.
Sprays out as a liquid, then dries to a waxy touch. Repels water and dirt.
Claimed to last 3-5 times longer in friction testing than competitors.
NOTE: This product is no longer made in this form.
See our updated DuPont Teflon Multi-Use Lubricant review for more information!
See Also: DuPont Teflon Chain Saver review
I've always maintained a high regard for DuPont's incredible run of products that have, quite frankly, made motorcycling more fun for all of us.
Many people probably don't realize that products like Cellophane, Nylon, Freon, Teflon, Lycra, Kevlar, Nomex and the motorcyclist's favorite, Cordura, were all invented and developed by DuPont.
Of those, Teflon is probably one of the most widely known and most used products. So when we received a press release announcing DuPont's Teflon Multi-Use Lubricant, I paid attention.
I never considered that DuPont would develop a motorcycle chain lube, but the fine print claims that the lubricant "lasts 3 to 5 times longer in friction testing against other leading brands" and that it's recommended for use on chains, as it is "O-Ring Safe". When I read that, I figured we had to give it a try.
It took a while for the DuPont Teflon Multi-Use Lubricant to work its way through the national retail distribution system, but it's now readily available at hardware stores and bicycle shops.
The DuPont division that markets the product is called DuPont Performance Lubricants, which is also responsible for DuPont Krytox, an interesting heavy lubricant available in many forms which, some say, works very well on motorcycle splines.
 DuPont Teflon Multi-Use Dry Wax Lubricant
DuPont released the Teflon Multi-Use Lubricant (which I'll refer to as Teflon chain lube from now on) along with a Teflon silicone spray that includes both Teflon and Krytox and Teflon White Lithium grease, which also reads like it would work nicely for lubing those pesky splines.
We've reviewed several different chain lubes recently on webBikeWorld, probably owing to what seems to be a recent preference for chain-driven motorcycles over shaft drive.
There are plenty of choices when it comes to chain lubes, and there are nearly as many opinions on which one works best as there are for tires or oil. I think we can now add one more to the list with DuPont's latest entry.
No other motorcycle chain lube that I'm familiar with also states on the can that it's useful for freeing up rusted bolts, zippers, skate bearings, garage doors and RC vehicles, among others.
I suppose any decent chain lube could be used for those purposes, but not many of them would want to admit it.
The Teflon chain lube is mass-marketed as a "do it all" multi-purpose lubricant, but don't pass it by on the shelf just because it doesn't have an astronomical price or a chic label (UPDATE: See photo of new label).
An 11 oz. can of the stuff retails at around $6.95 and can be found cheaper if you try, which is a pretty good deal for an all-purpose lubricant and chain lube. Our can is 8 oz. and cost $4.95, but I have not seen an 8 oz. can for sale again, so I'm not sure if we ended up with some type of promotional quantity or what.
In any case, the Teflon chain lube is very different than other chain lubes we've used. The can has a nice spray top and a separate spray tube.
The top of the can has a molded-in clip to hold the spray tube, which is a nice feature, because these things are forever getting lost.

The spray comes out relatively clear and, strange as it may sound, smells to me exactly like a cross between WD-40 and coconut, if you can imagine. It's very liquid as it comes out, but within seconds the liquid evaporates, leaving a waxy, slippery feeling residue that is supposed to repel water and last a long time.
See the photo of my fingers (above), taken within about 20 seconds of spraying the lubricant on my hand. The liquid is gone and all that's left is a waxy sheen on my fingers.
As I mentioned, DuPont makes some incredible products, so I have no doubt their claims are tested and true. The label does say that the product is a patented blend of "wax based lubricant", and it is designed to go on wet to penetrate and then to dry and leave the lubricating film. DuPont also claims that it will not attract dirt and grime, which is key to long chain life.
This is a very interesting product, seemingly perfect for lubricating motorcycle chains. We noticed no residue, and since it dries soon after it's applied, there's nothing to fling off the chain and all over the back of the bike.
The May 2005 issue of Motorcycle Consumer News ran a short article on DuPont Teflon Multi-Use Lubricant and they also raved about it. So next time you're in the local hardware store or bicycle shop, grab a can and check it out. I think it's just become my favorite chain lube.
UPDATE (May 2012): DuPont Teflon Multi-Use Dry, Wax Lubricant is no longer being made. See our updated DuPont Teflon Multi-Use Lubricant review for more information!
w
BW
Review: DuPont Teflon Chain Lube
List Price (2005): $6.95 for 11 oz. can
Note:
 For informational use only. All material and photographs are Copyright © webWorld International, LLC since 2000. All rights reserved. See the webBikeWorld® 
Site Info page
. Product specifications, features and details may change or differ from our descriptions. Always check before purchasing. Read the
Terms and Conditions
!
Owner Comments and Feedback
---
From "B" (May 2012): "I love this stuff. I switched from gunky dirty lubes to DuPont Teflon Chain Saver when I finally found some at (the only store) in the entire area. I just found out that Lowes carries them all, including both variants in a small 4oz portable container, good for road trips!
I recently bought the blue canned variant Multi-Use Lubricant just to try it out, see the difference. However, my observation is opposite of yours, the Multi-Use is definitely thicker than the Chain Saver. Maybe things have changed in the last few years since your review was written. Either way, both are great! My chain, tire, etc. stays a lot more clean.
Editor's Reply: We just got a new batch, apparently they did change the formula and we'll report on it soon.
---
From "M.D." (5/10):  "A friend sent me your review of the DuPont general purpose lube (blue can) about the time I was replacing my chain. I ride a 2002 FZ1 that had developed some stiff links at only 15,000 miles.
I ordered a 520 conversion chain with new sprockets, steel front and aluminum rear. And thoroughly cleaned everything with kerosene before installing. I then thoroughly coated the entire chain initially with DuPont general purpose lube and have just applied a periodic light coat since. I have been very pleased at how clean the chain has stayed and has required minimal chain adjustments.
I typically turn the chain adjuster 1/6th of a turn every 6,000 miles+ to maintain optimum chain slack since changing chain lubes.
I currently have over 35,000 miles on the chain and more impressively on the aluminum rear sprocket. I ride in rain, winter salt and the occasional dirt roads. The chain is nowhere near its where limits, and I still have no stiff links.
I changed the front sprocket at 30,000 miles for a gearing change, but It was beginning to show some wear. I have attached a picture (below) of the aluminum rear sprocket that I took after 30,000 miles. As you can see it is showing almost no wear at all. I expect at least 50,000 miles from this chain and aluminum sprocket. If anyone had made a claim like that earlier I would have laughed at them.
After reading your review of the new DuPont Chain Saver (review) I bought a can to try. The chain did not stay as clean as with the general purpose lube so I switched back. I saved the Chain Saver for longer trips (over 400 miles)."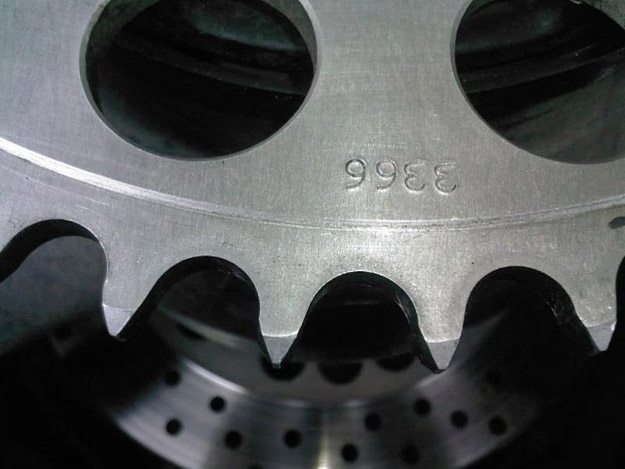 ---
From "J.G." (23/10):  "Further to your evaluation of Dupont Teflon Multi-use Dry Wax Lubricant. I have used it here in New Zealand on my Suzuki DR650, and have been thoroughly happy with its performance, both on-road and off-road. In fact in just over 14000 kms of use, with judicious application after most rides, the chain has never required adjustment.
However the downside is that the can that retails for U.S.$6.95 your way sells for N.Z.$32 over here or $23 in your money!  Trying to get a satisfactory response regarding the price differential from DuPont or the importer/distributors over here is like extracting teeth or pushing the proverbial uphill! I guess we at the bottom of the world down here are regarded as " ripe for the plucking ".
DuPont also put out another chain lube incorporating lithium grease. It's supposed to be for lubing chains as well. Are you gentlemen familiar with the product?
Anyway, keep up the good work."
Editor's Reply:  Some countries have duties and taxes on imported products and this may be the case with this product. Or, perhaps it is being unofficially imported and the distributor has to charge higher fees to make up for shipping costs. Bottom line is that there may be many reasons why the product is so expensive in New Zealand, so I wouldn't blame it totally on DuPont.
---
From "BJC" (9/09):  "I've been using the DuPont lube exclusively on the most recent chain on my 80,000-mile V-Strom DL1000, and there are finally a couple stiff links, so I checked my records to find I have over 28,000 miles on it. At home I use the spray can; on trips I carry the small blue squeeze bottle. Very good stuff!"
---
From "B" (4/09):  "I first started using white lithium grease spray which is a big mess, now I use the DuPont multi use on my 08 Vulcan 500 no mess does not attract dirt and if some gets on the rim it polishes off nicely."
Other WebBikeWorld Chain Lube Posts