The Ducati XDiavel raises the bar on how serious a relaxed-position cruiser can be in terms of performance, writes motorcycle journalist James Pralija.
I was one of the sceptics when the original Diavel was first unveiled – it didn't seem quite right and appeared as enticing as a Trump campaign policy.
Beneath the toupee though, was an utterly phenomenal engine that laid darkies at will and kept my bum on the seat long enough to learn to love its looks. The long-term Diavel Carbon loaner taught me that Ducati can make a cruiser and do it incredibly well, which brings me to the XDiavel and I was not a sceptic this time.
I should also preface this by saying that while I don't mind a bike with forward controls now and then, they aren't really my cup of tea … except the XDiavel. Ducati have pinned the tail on the hog, so to speak.
Ducati gave the bike its moniker because the intention was to blend two wholly different worlds – Ducati's performance and style, with the long, loping and comfortable cruiser, doing so undeniably well. Blending particular elements of motorcycle design often hasn't worked out well in many cases but this certainly isn't one of them. Ducati have blended the best elements of both worlds into a cruiser I adored riding – quite a feat.
The first day I had the XDiavel, I had a long list of errands to run which meant ducking in and out of the city on many of Sydney's well-known rat runs.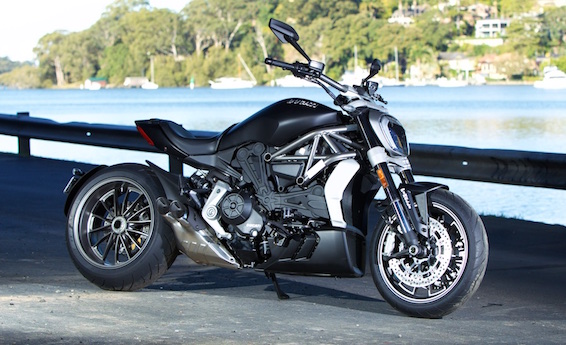 For a bike with a bloody long, 30-degree rake and 250kg-wet weight, it's surprisingly nimble. It was a bit of a squeeze in places due to the wide bars but aside from that, it worked a treat.
I did initially try the lower power "Urban" mode for this but when you've got 129Nm of torque a button press away … well, I couldn't help myself. Sport mode was my usual choice!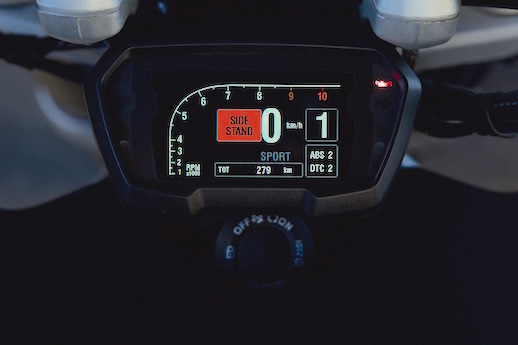 A little later on in the week, I had some time to get properly acquainted with the XDiavel, away from traffic lights and school zones, where the bike really began to shine.
The initial highway stretch was punctuated only by me spending all of about five seconds figuring out how the cruise control worked, then toying with my speed by pressing the up and down buttons on the left switch block. Yes, I know, small things amuse me but when you put a lot of miles beneath your tyres on a bike without cruise control, letting your right arm dangle at 100km/h is a novelty. On that note, the cruise control is simple to use, obvious and maintains your set speed effortlessly.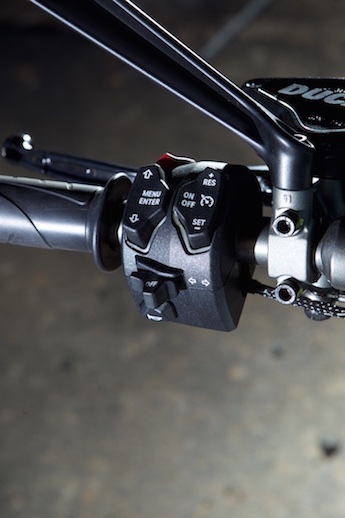 The ergonomics are similarly good – the standard seat is comfortable and locks you in place, the bars fall to hand and all the controls are laid out sensibly. There are multiple seat options (slightly higher or lower, a more plush version and a comfort version for the passenger, which includes a small backrest) but personally, the rider's perch was more than fine for me, though I can't say I'd be willing to give the XDiavel a fistful with a pillion and no backrest.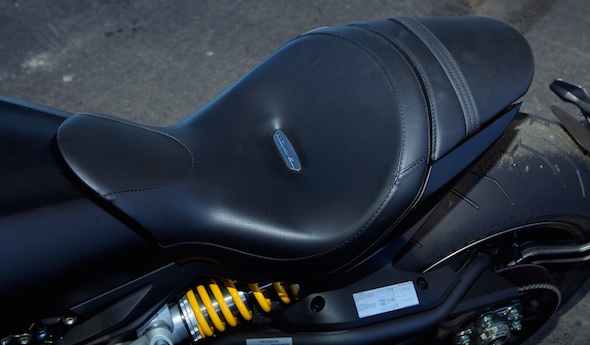 The forward controls are also adjustable (22.5mm forward or back) but again, I didn't feel the inclination to move them.
Out in the hills, the XDiavel really came into its own. The ergonomics combined with the sensational donk proved an awesome combination.
Courtesy of the engine redesign, maximum torque comes on at 5000rpm (2100rpm lower than the Diavel), making it very easy to keep the engine in its sweet spot all the time. Ducati's variable valve timing system (DVT) changes the engine's characteristics quite significantly over the standard Diavel. The bike has lost none of its soulful, throaty growl but has gained a much more tractable power curve, providing significantly more torque at low revs but not running out of puff as the revs rise (peak power arrives at 9500rpm).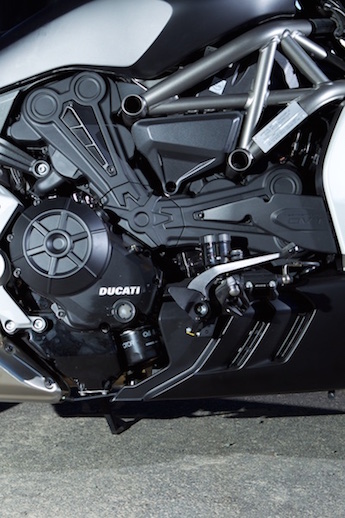 Firing it from corner to corner was fabulously effortless but what actually won me over was the suspension.
The thing that grates on me when it comes to cruisers is the suspension. More often than not, they're woefully inadequate and I spend half the time trying to avoid potholes to save the jarring impacts from being transferred straight up my spine.
Not so on the XDiavel. Not once did I find myself chasing the smoothest tar or trying to avoid shoddy roads, nor did it bottom out or cause me to pull over and add more preload. The Marzocchi forks are fully adjustable, while the Sachs shock is preload and rebound adjustable. It didn't wallow, pogo or do anything else silly and, for the first time, I returned from a ride on a cruiser wanting to bugger off on it again.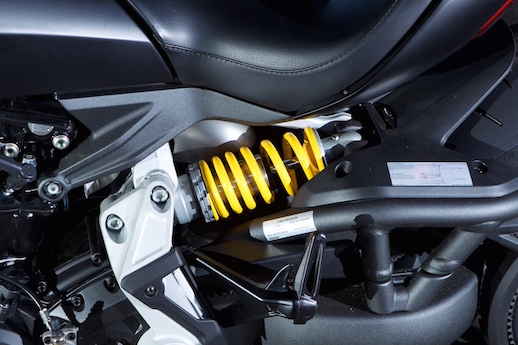 By successfully crossing over two motorcycle design methodologies, Ducati have raised the bar in what can be expected of a cruiser. A cruiser doesn't need to lack serious performance, nor do you need to have your legs tucked beneath you to ride a bike with this level of performance.
The suspension is dynamic, the ergonomics relaxed, the engine awesome and it can all be had for $27,490 (+ORC), a cheeky $5 less than H-D's V-Rod Muscle.
Ducati deserve to be congratulated for producing a sensational bike, but what's more, it will win over many riders who ordinarily would never even consider a Ducati.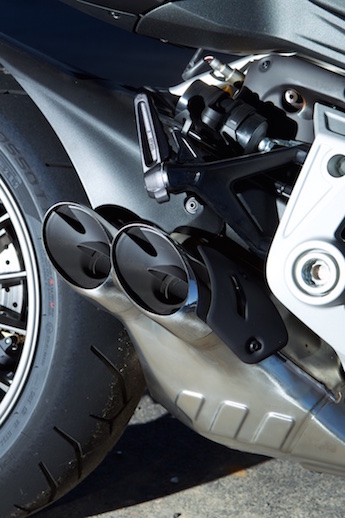 Ducati XDiavel tech specs
Engine: Testastretta DVT L-twin, 4 desmodromic valves per cylinder, twin spark, liquid-cooled
Bore x Stroke: 106mm x 71.5mm (1262cc)
Compression Ratio: 13:1
Power: 114.7kW at 9500rpm
Torque: 128.9Nm at 5000rpm
Fueling: Bosch EFI, Ride by Wire
Gearbox: 6 speed (primary reduction 1.84:1)
Final Drive: Belt, 28/80 (chain equivalent 15/44)
Clutch: Slipper, self-servo wet multiplate, hydraulic control
Frame: Tubular steel trellis
Wheelbase: 1615mm
Rake/Trail: 30°/130mm
Front Suspension: Adjustable 50mm USD Marzocchi forks, 120mm travel
Rear Suspension: Adjustable Sachs monoshock,
Wheels: Cast alloy, 3.5"x17"/8"x17"
Tyres: Pirellia Diablo Rosso II (120/70-17, 240/45-17)
Front Brakes: Dual radial Brembo Monobloc M4 calipers, 320mm rotors, radial M/C, ABS
Rear Brake: Two piston floating caliper, 265mm rotor, ABS
Fuel Capacity: 18L
Wet Weight: 247kg
Seat Height: 755mm
Electronics: Riding modes, Bosch Cornering ABS, Ducati Traction Control, Ducati Power Launch, Ride by Wire, Cruise Control.
Warranty: Two years
Service Intervals: Minor – 15,000km, Major – 30,000km
ABOUT THE AUTHOR
James is a Sydney-based photographer and motorcycle writer, with an undying love of anything with two wheels and a motor. Formerly the assistant editor of Two Wheels magazine, James is now freelancing for various publications, both nationally and abroad. You can contact him via email or check out his instagram site.