Ducati unleashes its 2020 model line-up including the Streetfighter V4, more aerodynamic Panigale V4, Scrambler Dark, Multistrada 1260 S Grand Tour, all-red Diavel S and Panigale V2.
There is nothing new for Monster, Supersport or Hypermotard.
Despite talking about the importance of the Panigale V4 and race wins in the MotoGP, WSBK and BSB, boss Claudio Domenicali started his presentation with the launch of three e-bikes.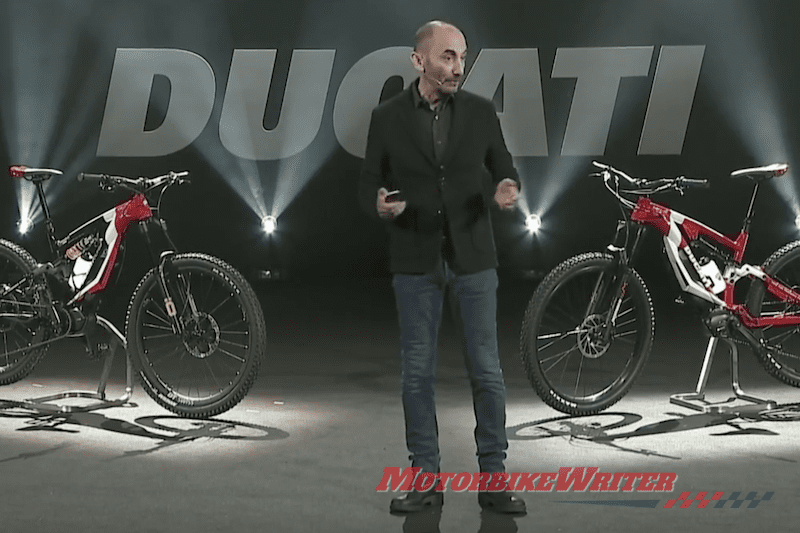 This stresses the future focus of the company on electric mobility.
The e-bikes are the MIG-RR limited edition on which you can have your name printed on the frame, the MIG-S mountain bike and the e-Scrambler for riding in the city.
Ducati Dark Scrambler cheapest yet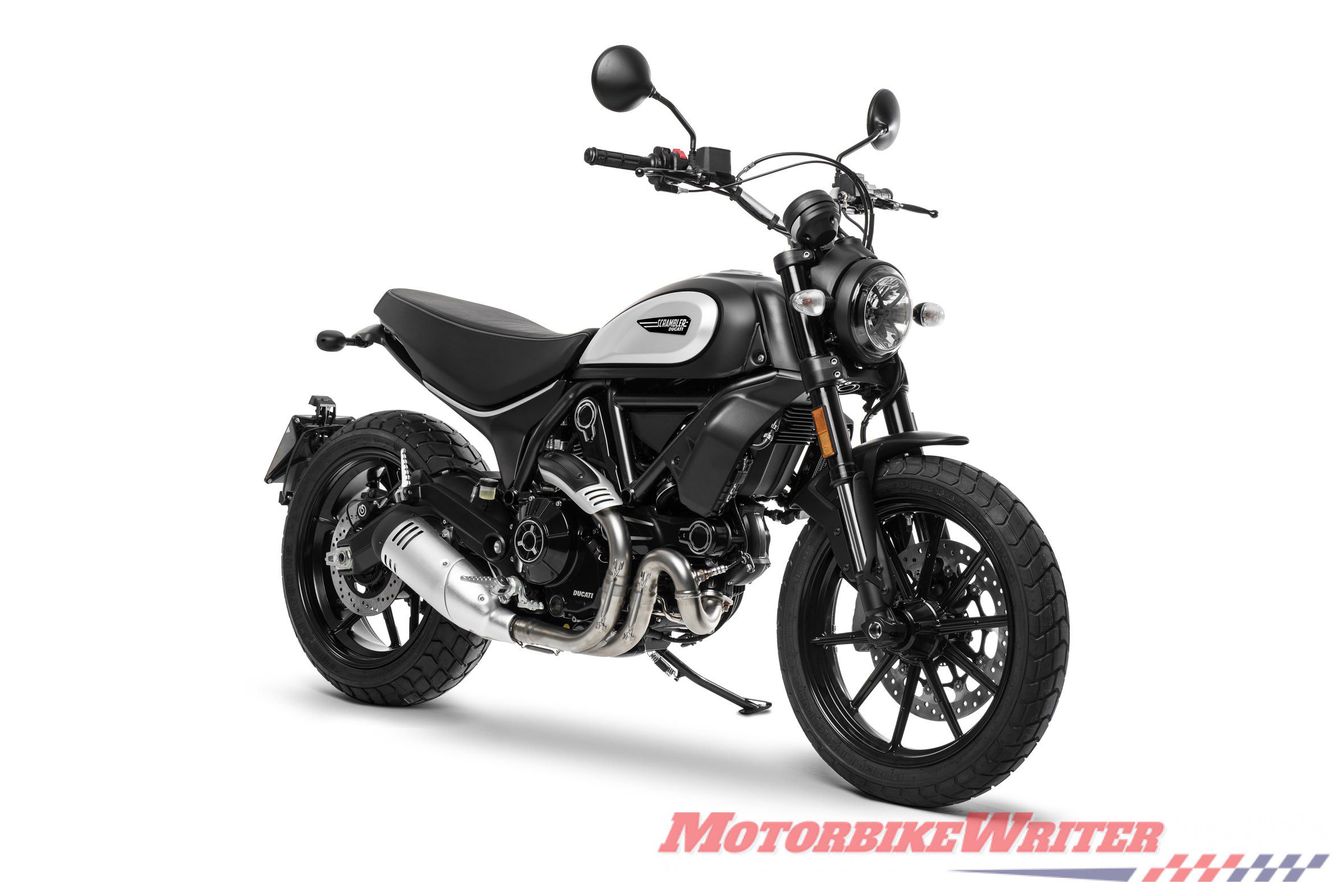 Speaking of Scramblers, which are now the company's biggest seller with more than 70,000 sales since launch in 2015, Claudio unveiled their cheapest yet, the Scrambler Icon Dark.
I fact, it will be €800 cheaper than the Icon on which is is based. That means it should be at least $A1000 less than the current price of $A13,990 (plus on-road costs).
Like previous Ducati Dark models, it has a blacked out engine and is a cheaper model.
'It strips away what was not necessary for the product," Claudio says.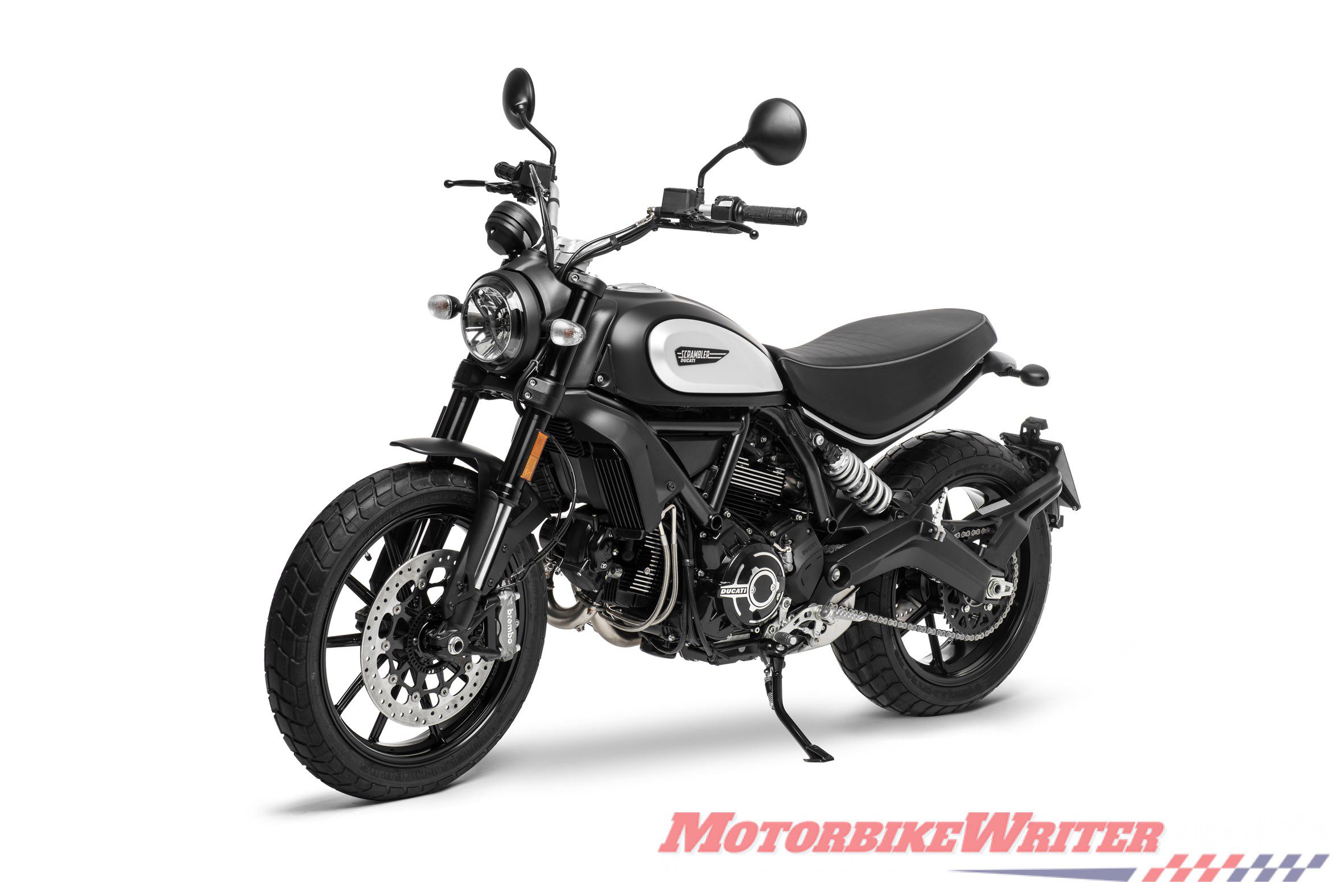 Yet it still features cornering ABS which was introduced last year, plus round rear mirrors and bulb blinkers.
Claudio also showed a future direction for Scrambler with two artist impressions for a Motard version and a Desert X with Dakar Rally styling and powered by the 1100ss engine.
While on the topic of black he also unveiled a Diavel 1260 matt black as well as an all-red 1260 S Red available from February 2020.
Multistrada 1260 S Grand Tour
One of the highlights of the Multistrada 1260 S Grand Tour, according to Claudio, is that it has an electric fuel cap with no need to use your key.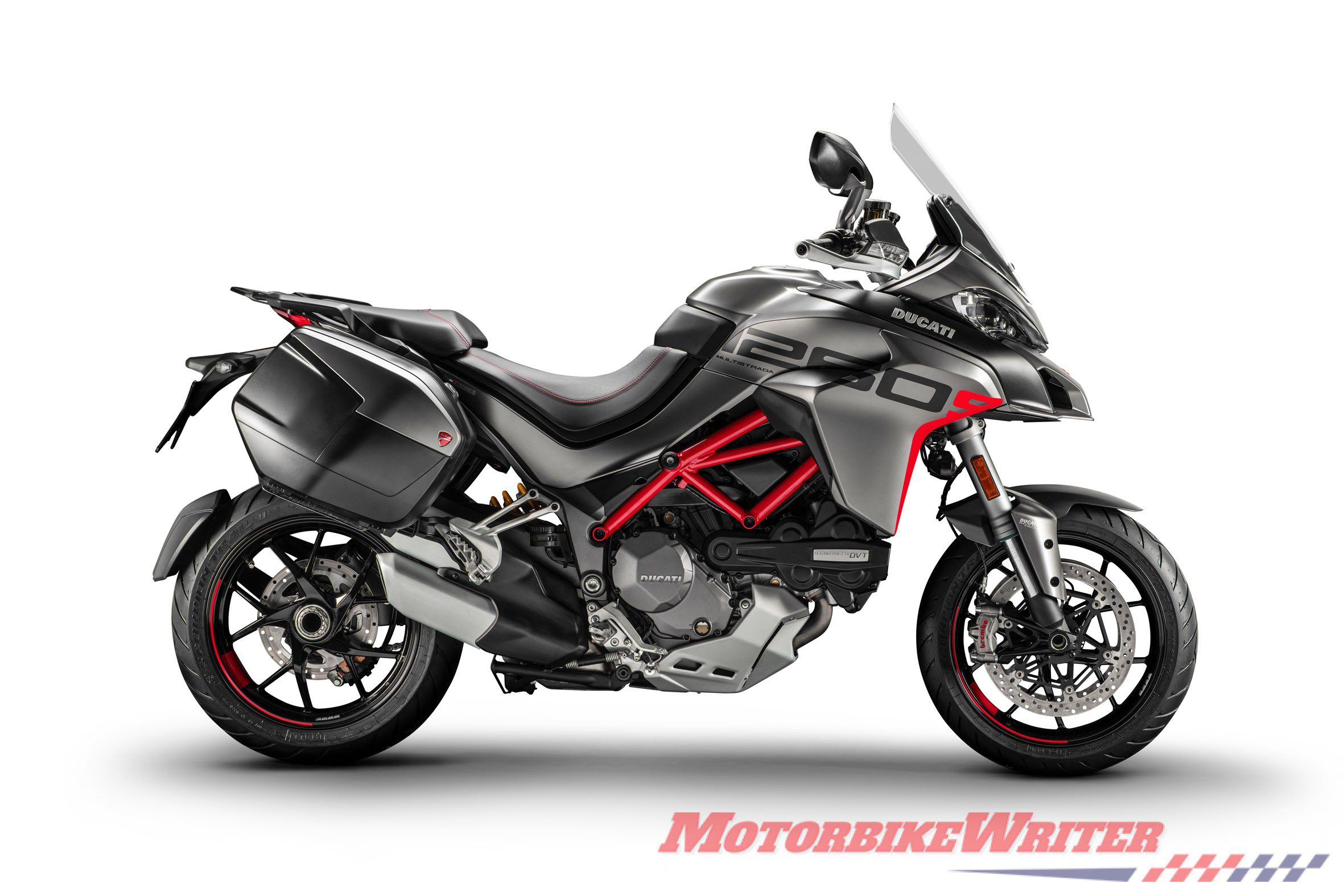 It also comes with new styling features and creature comforts for the long haul.
Claudio says that in the past 16 years they have sold more than 100,00 Multistradas.
Ducati unleashes Panigale V2
Claudio stressed the mid-weight sports bike section with the unveiling of the Panigale V2 in all red.
"You can see how lean and pure this bike is," he says.
It features a low and short muffler, single sided swingarm and is powered by the V2 Superquadro engine with 115kW at 10,750rpm and 104Nm @ 9000rpm.
It also has the same electronics as the top Panigale, TFT colour dashboard, up and down quickshifter, engine brake control, traction control, ABS cornering control and wheelie control.
"It is the safety package that is the most developed we have in Ducati," Claudio says.
Among the tech is "DTC Evo 2 with predictive strategy" which apparently regulates revs so you have better stability out of a corner even when aggressive on the throttle.
"It's the perfect first track bike for young people; a springboard bike," he says.
Panigale V4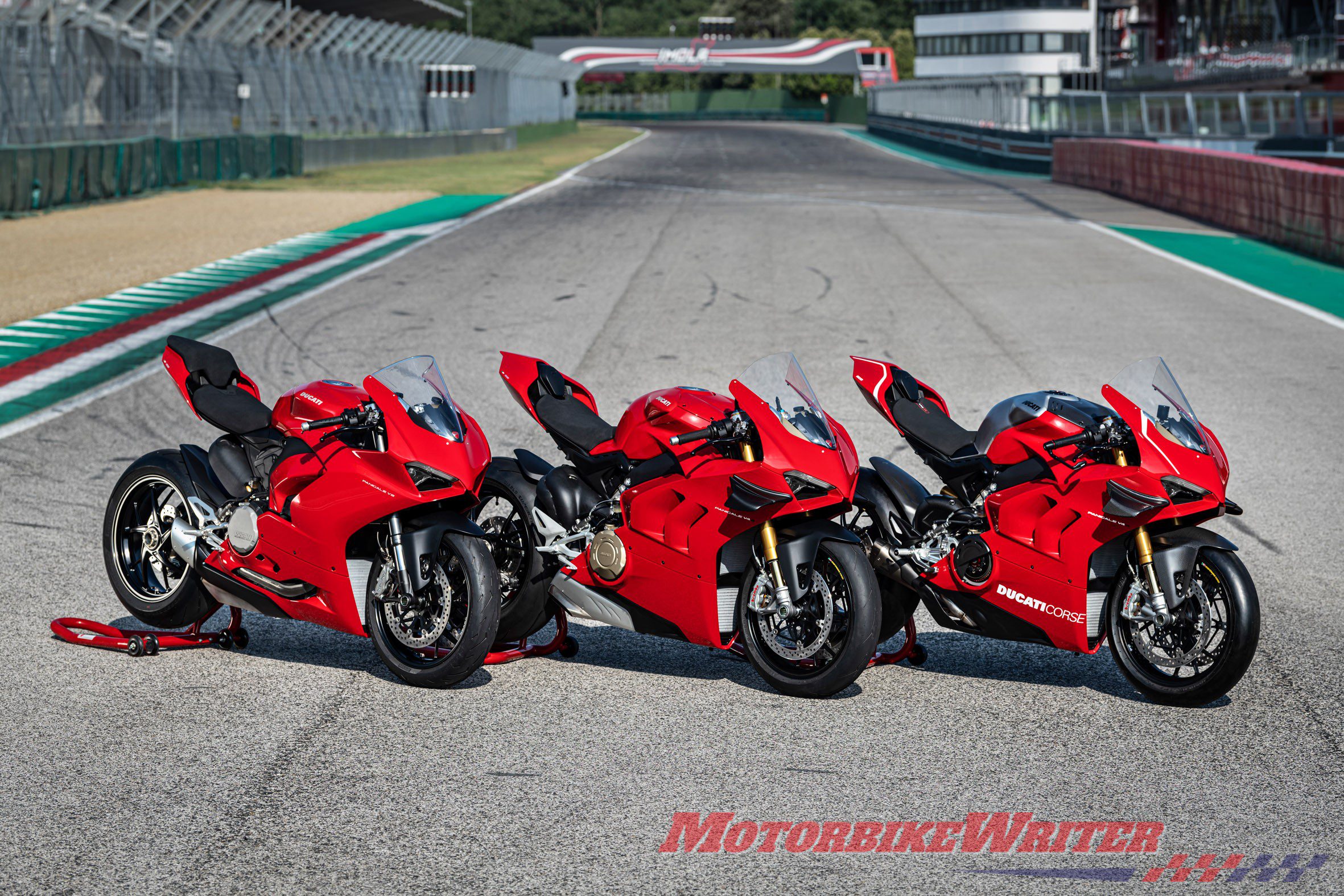 The updated V4 is now lighter and has upgraded aerodynamics with a wider side fairing, wider front fairing, racing screen and winglets.
The result is 30kg of downforce at 270km/h on the front wheel to reduce wheelie tendency and improve high-speed stability.
Claudio then went very techno as he rambled on about the "science of speed", mentioning "higher centre of gravity", "higher chain force angle" and the "new torque correlation law".
And hallelujah, it now has softer springs to handle bumpy roads like a normal bike!
Streetfighter V4 and V4S
The highlight was the Streetfighter V4 and V4S which was unleashed the same day as Kawasaki unveiled their Z H2 with 147.1kW of power.
Ducati's Steetfighter is only slightly detuned from the Panigale V4's 211 (157kW) to 208hp (155kW).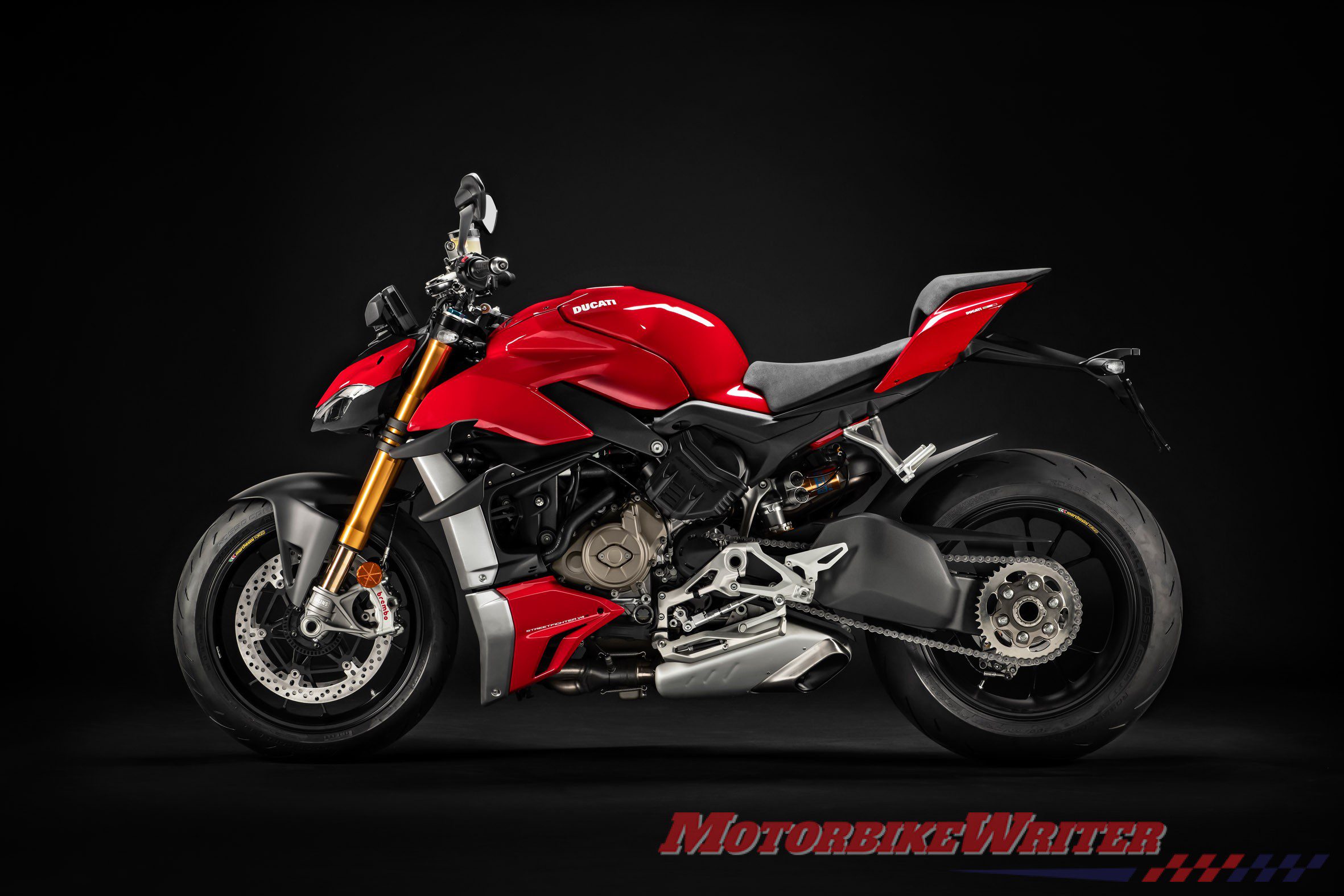 To control all that power and keep the front wheel on the ground, it has an aero package that creates 28kg of downforce at 270km/h.
They will be available from March 2020 in a "base model" at €19,990 and an S version at €22,990 (about $A37,500).