The Ducati Scrambler will return in 2015, satisfying persistent rumours about the bike.
The teaser video doesn't show much, yet there is still a fair bit we can surmise. For a start, it has high, flat and wide bars with twin instrument pods sitting up high. It's very early motocross in style.
It is difficult to see what sort of engine it has, although the early shots in the video show their old Scrambler engines which are all single cylinder. We doubt it would be a single. Probably a small-capacity air-cooled L-twin engine from the Monster range. There doesn't appear to be a radiator or even an oil cooler.
We suspected it would have long-travel suspension, but it doesn't seem to be any higher than a Monster. This is really a flat tracker rather than a conventional off-road scrambler.
Wheels are 11-spoke mags, not spokes like the old Ducati Scramblers and they are shod with special semi-knobby tyres much like the Triumph Scrambler. However, the Ducati Scrambler appears to have more road-oriented 17-inch tyre sizes.
It has very short front and rear fenders with a mud deflector on the rear wheel like the BMW R 1200 GS. That may negate the need for Australian authorities to demand a longer rear end.
The Ducati Scrambler is a twin-seater, with a single headlight featuring a broken ring of LEDs, a single-side swingarm and 45-degree rear shock.
It is difficult to see the exhaust configuration, but it doesn't seem to be a high single-sided pipe like the Triumph Scrambler. It may be a shorty muffler ending near the rear footpeg.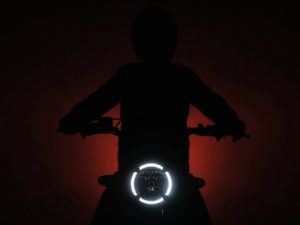 There is no word on when it will be revealed or produced, let alone when we will see it in Australia. However, we expect to see it revealed at the Milan motorcycle show in November and since they say it is a 2015 model it will possibly be here in the first half of next year.
Rumours that Ducati would revive the Scrambler name surfaced last year when the company registered the trademark name, Scrambler. This year a heavily disguised Scrambler has been photographed around the Bolonga factory.
Ducati used to make single-pot scramblers back in the '60s to '70s. Like the SportClassic, it could be a great way to entice old fans and returned riders.