This electric pedal-assisted moped has been made under licence and painted in the Ducati Scrambler Urban Enduro colours, but it's not the "baby Scrambler" we are expecting from the Italian manufacturer.
Ducati has promised to release nine new models at the EICMA Motorcycle show in Milan on November 17.
They include a new 959 Panigale, 2016 Hypermotard 939 family (Hypermotard 939, Hypermotard 939 SP and Hyperstrada 939), a Monster 1200R, the Diavel Carbon and it is believed a 400cc Scrambler.
Ducati CEO Claudio Domenicali says two of the new models will "take us into segments in which we're currently not present", but we don't think he means electric mopeds!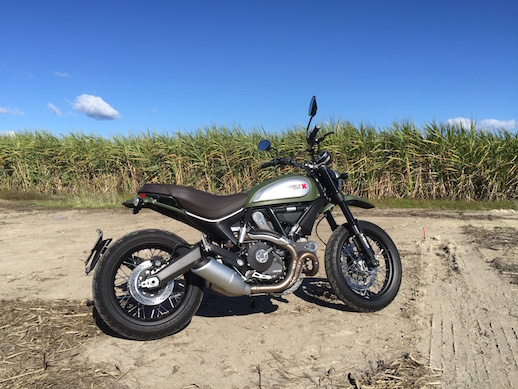 This e-Scrambler has been made under licence to Ducati by Italwin, an Italian company specialising in pedal-assisted electric bicycles.
It's the latest in a number of joint projects with Ducati.
It features fat four-inch tyres and is powered by a 250W motor with a range of 50km, although you can extend that by pushing the pedals.
On electric power only it has a maximum speed of 25kmph and you can choose from six different levels of power assistance.
There is no word on cost or whether it will be available in Australia.