Ducati has recalled the 2017-2018 Supersport S over melting fuel tank overfill hoses which may be too close to the horizontal exhaust manifold.
The recall has so far only affected Canada, but it could extend worldwide.
Canada was recently the first to recall the Panigale V4 after a Canadian rider's new bike burst into flame.
The bike was then official recalled throughout the world, including Australia.
Supersport S
In this case, there are no incidents we have heard of the Supersport S models bursting into flame.
However, it must be a concern with the overfill hose meting on the exhaust.
Stay tuned for more information on further recalls.
The fix for the Supersport S is to re-route the hoses to move them away from the exhaust manifold.
Canadian fire
In the Canadian incident, the rider, known only as Nitrouz, noticed a "weird burning smell" as he was riding the new motorcycle.
He looked down and saw the flames and pulled over.
The bike was destroyed and the rider posted photos on a Ducati forum.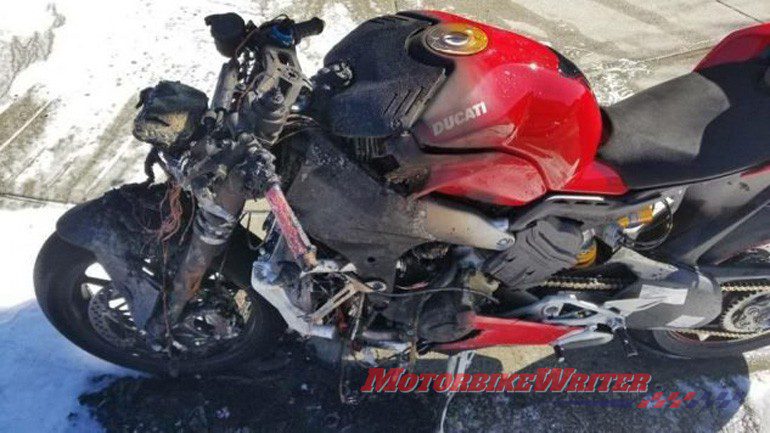 Ducati North America contacted the rider and a replacement was immediately issued. They also gave him an extended warranty on the new V4.
The Vehicle Identification Numbers (VINs) of the 90 affected motorcycles in Australia are listed at the end of this article.
Owners should contact their local authorised Ducati Service Centre as soon as possible to make an appointment to have the motorcycle inspected and repaired.
For further information on the recall, consumers can contact an authorised Ducati dealer or email info@ducati.com.au
Even though manufacturers and importers contact owners when a recall is issued, the bike may have been sold privately to a rider unknown to the company.
Therefore, Motorbike Writer publishes all motorcycle recalls as a service to all riders.
In Australia, recall notices are issued by the manufacturer and the Department of Infrastructure through a voluntary industry code under the Australian Competition and Consumer Commission.
While any recall is not good news for the manufacturer, it shows that they are largely diligent in fixing problems.
If you believe there is an endemic problem with your bike that should be recalled, contact the ACCC on 1300 302 502.
To check whether your motorcycle has been recalled, click on these sites:
• USA
• UK
• Canada
PINs of affected V4 bikes
RCL18-002 ZDMDA00AAJB000757 RCL18-002 ZDMDA00AAJB000761 RCL18-002 ZDMDA00AAJB000851 RCL18-002 ZDMDA00AAJB000989 RCL18-002 ZDMDA00AAJB000990 RCL18-002 ZDMDA00AAJB000995 RCL18-002 ZDMDA00AAJB001024 RCL18-002 ZDMDA00AAJB001049 RCL18-002 ZDMDA00AAJB001050 RCL18-002 ZDMDA00AAJB001051 RCL18-002 ZDMDA00AAJB001052 RCL18-002 ZDMDA00AAJB001436 RCL18-002 ZDMDA00AAJB001437 RCL18-002 ZDMDA00AAJB001438 RCL18-002 ZDMDA00AAJB001439 RCL18-002 ZDMDA00AAJB001672 RCL18-002 ZDMDA00AAJB001673 RCL18-002 ZDMDA00AAJB001679 RCL18-002 ZDMDA00AAJB001680 RCL18-002 ZDMDA00AAJB001681 RCL18-002 ZDMDA00AAJB001684 RCL18-002 ZDMDA00AAJB001685 RCL18-002 ZDMDA00AAJB001686 RCL18-002 ZDMDA00AAJB001726 RCL18-002 ZDMDA00AAJB001730 RCL18-002 ZDMDA00AAJB001780 RCL18-002 ZDMDA00AAJB001781 RCL18-002 ZDMDA00AAJB001782 RCL18-002 ZDMDA00AAJB001783 RCL18-002 ZDMDA00AAJB001784 RCL18-002 ZDMDA00AAJB002144 RCL18-002 ZDMDA00AAJB002177 RCL18-002 ZDMDA00AAJB002178 RCL18-002 ZDMDA00AAJB002214 RCL18-002 ZDMDA00AAJB002302 RCL18-002 ZDMDA00AAJB002303 RCL18-002 ZDMDA00AAJB002323 RCL18-002 ZDMDA00AAJB002324 RCL18-002 ZDMDA00AAJB002325 RCL18-002 ZDMDA00AAJB002326 RCL18-002 ZDMDA00AAJB002327 RCL18-002 ZDMDA00AAJB002328 RCL18-002 ZDMDA00AAJB002329 RCL18-002 ZDMDA00AAJB002330 RCL18-002 ZDMDA00AAJB002446 RCL18-002 ZDMDA00AAJB002529 RCL18-002 ZDMDA00AAJB002570 RCL18-002 ZDMDA00AAJB002670 RCL18-002 ZDMDA00AAJB002775 RCL18-002 ZDMDA00AAJB002776 RCL18-002 ZDMDA00AAJB002868 RCL18-002 ZDMDA00AAJB002869 RCL18-002 ZDMDA00AAJB002870 RCL18-002 ZDMDA00AAJB002871 RCL18-002 ZDMDA00AAJB002872 RCL18-002 ZDMDA02AAJB002824 RCL18-002 ZDMDA00AAJB000759 RCL18-002 ZDMDA00AAJB000758 RCL18-002 ZDMDA00AAJB001729 RCL18-002 ZDMDA00AAJB001098 RCL18-002 ZDMDA00AAJB001683 RCL18-002 ZDMDA00AAJB001026 RCL18-002 ZDMDA00AAJB000795 RCL18-002 ZDMDA00AAJB001054 RCL18-002 ZDMDA00AAJB001725 RCL18-002 ZDMDA00AAJB000764 RCL18-002 ZDMDA00AAJB001053 RCL18-002 ZDMDA00AAJB001027 RCL18-002 ZDMDA00AAJB000763 RCL18-002 ZDMDA00AAJB000765 RCL18-002 ZDMDA00AAJB001724 RCL18-002 ZDMDA00AAJB000994 RCL18-002 ZDMDA00AAJB001682 RCL18-002 ZDMDA00AAJB001097 RCL18-002 ZDMDA00AAJB000796 RCL18-002 ZDMDA00AAJB000760 RCL18-002 ZDMDA00AAJB000766 RCL18-002 ZDMDA00AAJB000852 RCL18-002 ZDMDA00AAJB001025 RCL18-002 ZDMDA00AAJB000762 RCL18-002 ZDMDA00AAJB000850 RCL18-002 ZDMDA00AAJB001671 RCL18-002 ZDMDA00AAJB001728 RCL18-002 ZDMDA00AAJB000991 RCL18-002 ZDMDA00AAJB000992 RCL18-002 ZDMDA00AAJB000993 RCL18-002 ZDMDA00AAJB001727 RCL18-002 ZDMDA00AAJB001785 RCL18-002 ZDMDA00AAJB001096 RCL18-002 ZDMDA00AAJB001779