The Ducati Panigale S has won a red dot "best of the best" design award.
It beat out the BMW HP4 and R 1200 GS, Yamaha's FJR1300A and WR450F and KTM's Freeride, 125 and 690 Dukes and the 1990 Adventure in the automobiles, transport, commercial and water vehicles section.
The red dot awards have been going since 1955, rewarding products on their design merits.
The jury of 37 experts said the Ducati Panigale S "showcases solid but agile dynamics that convey elegance and power at the same time".
"Combining all elements into a harmoniously matched unity, this motorcycle possesses fascinating dynamics and elegance. It is professionally designed to the last detail with a form that is accurately reduced to necessary elements only – sophisticated purism."
The 2013 red dot awards were held on July 1 in Essen, Germany, and included 4662 products in 19 categories.
Ducati's award-winning Superbike will be exhibited for four weeks at the red dot design museum in Germany, at an exhibition in Taiwan and, for one year, at the red dot design museum in Singapore.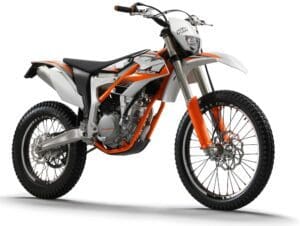 Ducati will also be able to display the coveted red dot award symbol on its bike.
Ducati Design Centre director Andrea Ferraresi says every component of the bike has been designed to be "performance-oriented and function-specific".
"Together, all these components form a harmonious, light, visually stunning product. Which is just how a Ducati should be," he says.
Red dot CEO Peter Zec says a single detail can sometimes make the difference in winning an award.