American exotic motorcycle manufacturer Confederate has enlisted the help of a former Ducati designer to create a very special and beautiful edition of their X132 Hellcat.
The Confederate X132 Hellcat Speedster is a billet aluminium and carbonfibre masterpiece that will cost $US65,000 … that's if you can get one as only 65 units are being produced.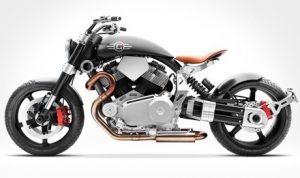 The Alabama-built power-cruiser features adjustable WP forks, dual-caliper Beringer brakes, 18-inch BST carbon fibre wheels, and a leather tractor seat. The hand-built bike is the third generation of Confederate's Hellcat range and is powered by a 2163cc V-twin that produces 90kW of power and 190Nm of torque through a five-speed transmission and weighs only 227kg.
There is no word yet from Australian importers, Urban Moto Imports, about price or whether they will import the Hellcat Speedster, but it will probably be on special order only.
Meanwhile, the company has introduced an Urban Moto Premium Assist program which extends to all brands they import, including Benelli, Bimota, Erik Buell Racing and Viper.
It covers everything from running out of fuel or a flat battery to motorcycle towing, arranging a rental vehicle and even overnight accommodation.