A boyhood dream to one day own classic Japanese motorcycles from the 1980s and 1990 is now going up for auction.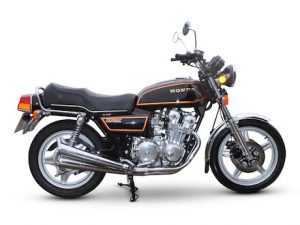 The single-owner collection of 17 iconic Japanese classic motorbikes will be offered at the Bonhams Harrogate sale on November 12 at the Yorkshire Event Centre. Each bike has been comprehensively restored to original specification, says James Stensel, head of Bonhams Motorcycle Department.
"Stripped and rebuilt to factory standard, with original parts carefully sourced from all over the world, the collection is a great example of an enthusiast's passion for collecting and restoration," he says.
The collection is part of 50 bikes up for sale, including a 1962 BSA 172cc D7 Bantam Super (£600-1000), a 1956 Matchless 593cc Model G11 Project (£700-900), circa1969 Sprite 405 Trials (£1800-2,800) and a 1936 Excelsior 350cc Manxman Racing Motorcycle (£9,500-10,500). 
A British pound is currently worth about $A1.85 and $US1.6.
Heading the collection is a 1984 Kawasaki GPz750 Turbo (£5000-6000), one of the most exciting superbikes of the 1980s. It boasts 100-plus horsepower at the rear wheel and a top speed of around 140mph. 
The unidentified owner's personal favourite is a 1989 Yamaha FZX750 Fazer (£4,000-5,000) is a capable "sports cruiser" and scaled-down version of Yamaha's outrageous V-Max street dragster.  
Click here for the full online catalogue.
The single-owner collection of classic Japanese motorcycles comprises:
1984 Kawasaki GPz750 Turbo, £5000-6000

1986 Kawasaki GPz750R, £4,500-5,500

1986 Kawasaki 997cc GPz1000RX, £3500-4500

1985 Kawasaki GPZ600R, £4000-5000

1989 Kawasaki GPX600R, £3000-4000

1988 Kawasaki 997cc ZX10, £3000-4000

1991 Kawasaki GPz900R Ninja, £3200-4000

1991 Kawasaki ZR750 Zephyr, £2500-3500

1993 Kawasaki ZZ-R600, £2500-3500

1990 Suzuki GSX-R750L 'Slingshot', £3500-4500

1982 Suzuki GS650 Katana

1982 Suzuki GS650 Katana, £2500-3500

1984 Suzuki 673cc XN85 Turbo, £3500-4500

1979 Suzuki GS550, £2500-3500

1980 Honda CB650Z, £2000-3000

1981 Honda CB750K-Z, £2800-3800

1986 Honda VF1000F-II Bol D-Or, £4000-5000

1989 Yamaha FZX750 Fazer, £4000-500