If you are in the market for a classic Ducati, a rare Honda Dream or a pristine 90th anniversary Harley-Davidson, you should check out the Shannons Sydney Spring Auction on November 5.
It features is a trio of iconic and rare Ducatis, a unique Honda CE71 Dream Super Sport 250cc and a Harley 90th Anniversary cruiser with no reserve.
Ducati trio
The trio of Ducatis is led by an iconic 'Square Case' 1977 Ducati 900 Super Sport (pictured at top).
It was previously owned by well-known Ducati collector Brian Wilson.
For the past four years current owner and Sydney mechanic with 30 years' experience restoring classic cars has been restoring it to high mechanical and cosmetic standard.
Shannons expects it to sell in the $68,000-$78,000 range.
Also on many Ducati collectors' short list is a 1978 Ducati 750 Sport coming from long-term ownership.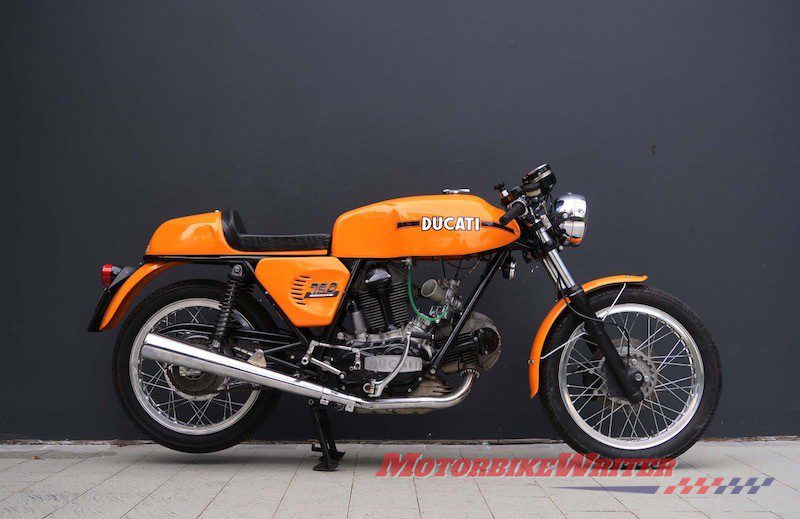 It was specially ordered for Frasers Motorcycles in Australia and finished in Ducati yellow.
The 750 Sport is believed to be a two-owner bike. It is one of just 23 'Round Case' examples of this sought-after Ducati model built for Australia in 1978.
It features Dellorto PHF32A carburettors, a steel fuel tank, Conti pipes, Borrani wheels and a Scarab front brake. 
Although stored for some time, the bike has been started and runs well, but requires some minor recommissioning before use.
Shannons believe this rare Ducati will sell for $42,000-$48,000.
The one-owner 1994 Ducati 916 is believed to have covered just over 9000km from new.
It is believed to be one of the first 30 imported into Australia.
This bike from the model's first year of production has had just one owner and is being sold with its original Ducati jacket. Offered with 'no reserve', it is expected to sell in the $15,000-$20,000 range.
Unique Dream
Japanese bike collectors should check out the 250cc 1959 Honda CE71 Dream Super Sport which is one of a handful of surviving examples.
The restored Honda CE 71 Super Sport has been owned by its current Japanese motorcycle collector/owner for the past nine years.
Shannons tips $22,000 – $26,000.
No-reserve Harley
The 1993 Harley-Davidson FLHTCU Ultra Classic Electra Glide 90th Anniversary model has always been garaged and serviced regularly by Harley mechanics.
It has never dropped or damaged, according to the vendor.
The Harley is being offered for sale with 'no reserve and is expected to sell for $7000 – $10,000.
To view all Shannons November 5 Sydney Spring Auction lots, visit www.shannons.com.au
For more auction information contact: Stuart Roberts (02) 8019 4179, or Damien Duigan (02) 8019 4180
For media information and publication-quality photos, please contact:  Michael Browning 0418 324 328
For access to all the latest industry news, market and auction trends, please enrol to receive Shannons eNews directly