A drier-than-normal autumn is not the best time to test the Draggin Hydro waterproof jacket and pants, but I found a simple way to show they are watertight.
READ THE JUNE 2016 UPDATE AT THE END OF THIS STORY FOR RESULTS IN REAL-WORLD CONDITIONS!
Draggin is an Australian company which invented the world's first abrasion-resistant jeans and has gone on to become one of the leading producers of textile motorcycle riding gear.
Now they have added the Hydro jacket and pants to their range which they claim are comfortable, breathable and waterproof.
The Hydro gear is lined with Roomoto with no visible seams. Draggin claims the lining is made with genuine DuPont Kevlar and has 4.4 seconds of abrasion resistance.
While we didn't crash test the outfit, you don't have to take Draggin's word for it as researchers at Deakin University and the Neuroscience Research Australia in Sydney have actually shown it achieves even better results.
As shown on a recent ABC Catalyst program, they put the material to an abrasion test and found it had the highest resistance of 6.67 seconds, out-performing textiles at 0.25 seconds and leathers at 3.64 seconds.
It's important to have the jacket and pants zipped together so they don't come apart in a crash and expose your body to road rash. While the Hydro pants and jacket don't zip together, they come with a rear jacket zipper and material flap with holes matching the loops on the pants so you can use the belt to keep them together.
It's a bit awkward, time-consuming and clumsy to fit and the pants then ride a little too low. And if you want to take the jacket off, you either have to remove your belt or unzip and have that strange-looking flap above your pants.
For impact protection, they come with CE-approved back, shoulder, and elbow protectors in the jacket, and knee and hip armour in the pants. I found the knee pads rode up over my knees when I bent my legs on the bike as shown in this photo.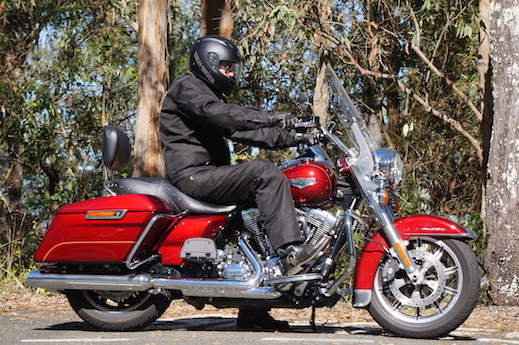 As for Draggin's other claims about being comfortable, waterproof and breathable, we have been riding with them for a while now and can attest to all their claims.
They look like a slightly shiny mix of Cordura and black denim and they feel stiffer than most textile suits but it softens with wear and machine washing.
The jacket cut sits up high around the throat and when you lean forward on a sports bike, it feels a little uncomfortable.
The pants feature two pockets in the front and back like normal jeans and the jeans-style jacket has two "hand-warmer" pockets and two breast pockets.
While there is only one internal pocket, all outside pockets have "waterproof" zippers.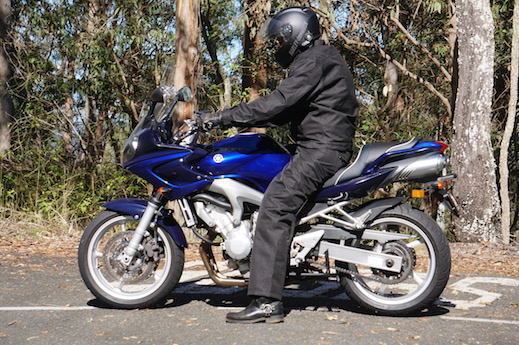 As for being breathable, they certainly are, but only at speed. In fact, on the highway, they blow up like a balloon and you feel like the Michelin man.
However, at low speeds, they get quite hot because the wind doesn't penetrate easily and as they are black, they absorb the sun's rays. Maybe a lighter grey, beige or khaki would be good for summer riding.
We are very skeptical about anything claimed to be both breathable and waterproof and so far we haven't been able to test the Hydro outfit in the rain.
However, I have stood under the hose for several minutes and sprayed water directly at the pocket zippers and close to the material with very positive results.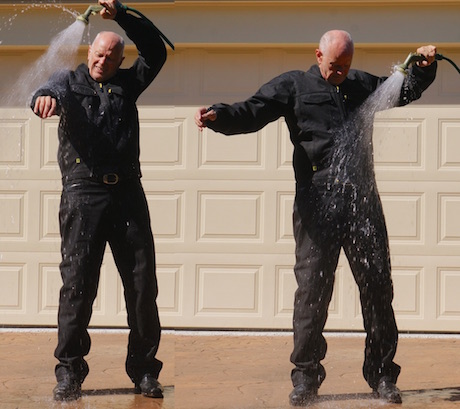 Water simply beads off and you stay dry. Even tissues in my pockets were still dry after a good dousing.
I've found most waterproof gear usually lets water in up the sleeves and down the back of your neck, but the Hydro gear has that covered, too.
The jacket comes with a waterproof thumbhole cuff like a lot of thermal tops, so the water doesn't leak into the join between your glove and sleeve.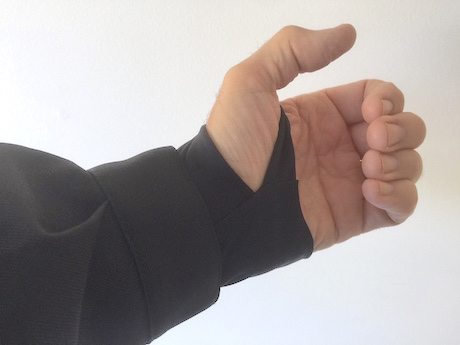 The high neck on the jacket may be uncomfortable, but it does serve the purpose of forming a better link with the helmet to keep water out.
So now there is no longer any need to stop at the side of the road to put on wet weather gear when the heavens open up. Just keep riding in comfort and style.
The Hydro Jacket comes in sizes S-#XL for $349 and the Hydro Jeans in sizes 30-42 for $329.
UPDATE: Draggin CEO and founder Grant Mackintosh read this review and replied: "

Thanks for the Hydro feedback….on to fixing those matters now."

JUNE 2016 UPDATE: I've now taken the suit out in drenching weather conditions and the results are slightly different to my static hose test. The four outside pockets get damp despite the "waterproof" zippers and the water seeps in between the jacket and pants making your tummy wet. Otherwise, I stayed perfectly dry.