The Budget Adventure Tourer
I purchased this slightly used 2009 Suzuki DR650SE in the winter of 2011 for the Budget Adventure Touring series and as the next webBikeWorld.com project bike.
Winter isn't the best time to buy a new motorcycle, of course, and the weather just didn't cooperate.
But when the snow finally melted, it was time to take it for a spin.
It had been quite some time since I last rode a dual-sport motorcycle, and I didn't quite know what to expect.
In fact, I agonized over this purchase for much longer than it usually takes to decide on the next new bike.
Sure, I had read all the DR650 and KLR650 blogs, forums and reviews while doing my research, but let's face it — a 650 cc, single-cylinder motorcycle is generally considered kid stuff nowadays by many riders.
Of course, DR650 owners know better, having completely ignored the naysayers whilst going merrily on their way, enjoying a wonderful bike and much fatter wallets.
But still…I couldn't shake that nagging feeling that maybe this was a mistake.
Like most modern motorcyclists, I've been brainwashed into believing that any engine with less than 90 or so horsepower is worthy only of contempt.
An Almost New DR650
My new DR650 had just 400 miles on it when I handed over the check.
The previous owner bought it brand-new from the same dealer, installed a jet kit, an FMF slip-on and a K&N air filter.
Apparently, that didn't quite do it for him and after only 400 miles (exactly), he brought it back and traded it in on a KTM.
I was concerned about the slip-on, because when we started it up (in the showroom, no less), it sounded loud. Very loud.
But the dealer still had the original muffler, so I figured what the heck, I could always swap out the FMF if it proved to be too much for the neighbors.
Then the bike sat in the garage for a few weeks while winter did its thing, and the battery went dead.
This was just about the time when we were looking for a victim for a lithium-iron (LFP) battery replacement, so the DR650, with its dead OE battery, was chosen.
The results are detailed in our Shorai vs. Ballistic LFP Battery Comparison.
It's an interesting story, but the bottom line is that the Shorai LFP battery saves 5 lbs. and gives a noticeable boost to the DR650's starter motor when it brings that big 650 cc thumper to life.
The bike literally jumps out of its slumber with much more alacrity than the barely-capable BikeMaster lead-acid battery originally installed by Suzuki.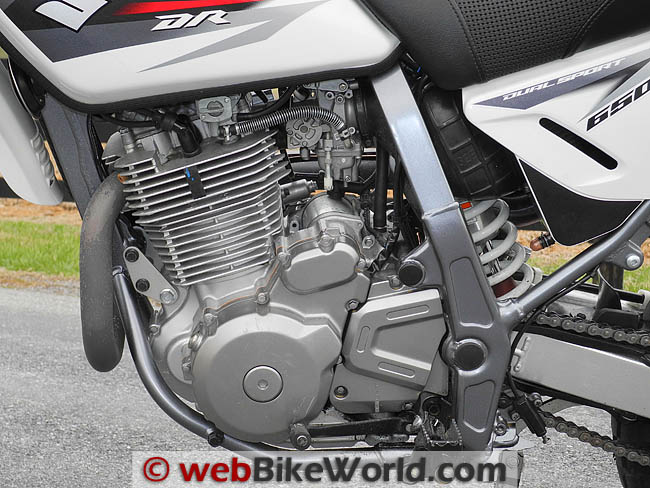 First Ride
The battery was installed and the day finally arrived when the weather cooperated. It was cool but dry and sunny and time to go.
After reading the owner's manual and familiarizing myself with the bike (which doesn't take long, another benefit of owning such a simple machine), I suited up, turned the key and was ready to go.
First of all, I noticed that even wearing my full riding outfit and with my 30.5″ street pants inseam, I had no trouble climbing aboard and touching the ground.
OK, so I can't flat-foot it, but I can't do that on my Ducati Multistrada 620 either. In fact, the Multistrada may be just a touch more difficult because of its wider seat.
The DR650 is also much lighter and narrower and the clutch is way better than the on/off switch of the Ducati, because the DR650 cable-operated clutch has a real "friction zone" that can be felt.
This makes it much easier to handle the bike and would be a real benefit for beginners.
Also, the DR650 has a wide range of steering lock, which means the handlebars can be swung side-to-side without hitting the stop. This makes slow-speed maneuvers a no-sweat proposition.
The Multistrada isn't all that bad either, but the GT1000 and my Thunderbird Sport were terrible in this regard, something for beginners to note.
The new Shorai battery quickly brought the engine to life and the sound of the FMF slip-on dissipates once I'm out of the garage, although it definitely barks when I give it throttle.
In normal cruising, it isn't bad at all and overall, it's a great sound, so it's definitely staying on.
First Impressions
Three things struck me on that first ride. The DR650 feels more "of a piece" than I expected. It does not feel like a toy, but a real motorcycle with a solid countenance.
Although the narrow profile feels different from most modern (and bloated) motorcycles, it's not that different, at least when compared to the Multistrada.
Maybe someone jumping on the DR650 from a Harley would be shocked, but not me.
But the real first surprise was how much power that single-cylinder produces. I couldn't tell you the rated horsepower, but it's plenty for me — yet one more confirmation that you don't need 100 HP to have fun.
Crack open the throttle and the bike jumps. Part of it is surely due to the strong torque from the big single cylinder, but at speeds up to anything that is street legal in the U.S., I think the power is more than adequate.
I have no problem pulling up a hill or accelerating as fast as necessary, with plenty in reserve.
Maybe I'm not a hyper-insane rider (I'm not), but honestly, the DR650 doesn't feel all that much different from the two-cylinder Multistrada 620, another bike that has all the power anyone should need.
I haven't tried it with a passenger, and don't intend to, because I always ride solo.
And I'll see what happens when I load it up with a set of full panniers, but I'm not anticipating any problems in the power department.
The third surprise, and perhaps the biggest, is the way the bike handles.
I thought those skinny, semi-knobby tires would give a squirrely ride and I read some horror stories about the Bridgestone Trail Wings.
Now, I'm scratching my head, wondering what they're talking about, because this DR650 really handles. Score one for modern tire technology.
I can whip it through the corners like a Supermoto and I bet with a set of good street tires (conversion kits are available), this thing would be fantastic.
It actually feels more solid than the Multistrada, which has always been a bit twitchy in the corners.
The 90 mm wide, 21″ front tire on the DR650 is the limitation, but not anywhere near as bad as I thought it might be. I can feel it push a bit, but it gives plenty of warning.
I'm also amazed at the Trail Wing tires; I don't have much experience with dual-sport tires, but these have so far exceeded my expectations.
I took the bike off road once so far and the biggest shock to me was how well it handled, compared to the Multistrada which, of course, is not an off-road bike at all (not that I haven't tried).
But even a semi-improved (gravel and dirt) road on the Multistrada means tip-toeing it through, while on the DR650, I barely notice a difference from asphalt.
The brakes on the DR650 are adequate, limited more by the narrow front tire than anything else.
The single front disc is easily powerful enough to overwhelm the traction that the front tire has to offer, so why anyone would spend money trying to upgrade the brakes is beyond me.
Updates
Suspension
I guess I'm used to a "plush" ride with my 1986 BMW R65, so the equally plush shocks on the DR650 are fine.
In fact, I'm used to compensating for dive when braking and the DR650 floats over dips and potholes like a butterfly compared to the rock-hard sportbikes I've ridden or even my Ducati GT1000. Or the Multistrada, for that matter.
So I have no plans at this time to upgrade the forks or replace the rear shock.
Riding Position
The riding position is a bit of the old "sit up and beg" style and I'm fine with that, other than the foot pegs, which seem a bit too far forward.
It's a bit crowded; that is, my body feels closer to my arms and the headstock than on the Multistrada or any other street bike I've tried.
I'm constantly trying to move my feet back on the DR650 like I often do on the Multistrada and BMW, where I rest my feet on the passenger pegs during long rides.
I ordered a set of the lowered pegs for the DR650 so we'll see how that goes.
Vibration
The counterbalanced 644 cc engine is pretty smooth for a single — exceptionally so at lower speeds. But I'm used to feeling an engine beneath me from riding the R65 and the Multistrada 620.
The DR650 doesn't feel much different actually; it's smoother than the R65 up to about 100 KPH or so, when the vibration kicks in, apparently overwhelming the counterbalancer.
The BMW is just the opposite, vibey at lower RPMs and smoothing out (as most BMWs do) at 100 KPH and around 4,000 RPM for all-day cruising.
I can't tell you at what RPM the vibrations kick on on the DR650, because it doesn't have the tachometer it doesn't need.
Gearing
It's somewhat ironic that the DR650 feels like it needs a 6th gear; I never know when I'm in 5th, and I seem to be constantly trying to click up another gear with my toe.
I think this is a bike that could actually use a 6th gear, unlike the GT1000, where you have to be doing about 80 MPH to even get it into 6th without bogging.
Maybe when it comes time to replace the chain and sprockets, I'll revise the ratio and see what happens.
Conclusion
I've put about 1,000 miles on the bike since that first ride, and my initial impressions haven't changed. I have noticed some fueling problems on trailing throttle or light/neutral throttle when going slightly downhill at highway speeds.
It was startling at first; I thought I was running out of gas. As soon as I get on the throttle, the feeling disappears. I'm not sure if this is a common problem or not, so I'll have to research it some more.
Otherwise, the DR650 has exceeded my expectations in all regards.
I'm not saying it's a replacement for a BMW GS or Multistrada 1200, but it positively confirms my initial feeling that a smaller, lighter, cheaper and less complex bike can be as much or more fun than just about anything out there.
One other thing to note: it's incredibly easy to work on the DR650, compared to any other motorcycle I have owned. All of the parts are right there out in the open. The fuel tank can be easily removed in a few seconds.
The wiring is accessible, ready to be tapped for auxiliary lights, horns and the rest.
There is a huge aftermarket accessory industry for this bike, and of course I'll be taking full advantage of that in future updates.
So if you've been bored with the same old motorcycles or you're ready to forget the nonsense printed in the magazines about having to own the fastest, most radical boy-racer superbike, try a DR650.
You can pick one up for a song, farkle the heck out of it and probably not lose a penny when it comes time to sell.
Note:
 For informational use only. All material and photographs are Copyright © webWorld International, LLC since 2000. All rights reserved. See the webBikeWorld® 
Site Info page
. Product specifications, features and details may change or differ from our descriptions. Always check before purchasing. Read the
Terms and Conditions
!
Other WebBikeWorld Articles Posts