As much as we like the idea of wire-free vibration technology to introduce sound into a helmet, we just don't think it works very well in the Domio Moto or Headwave Tag bluetooth units.
Both stick to the outside of your helmet and pump the sound into your helmet via vibrations. At $A264, the Domio Moto is cheaper than the Headwave Tag ($A329).
Our 2016 review of the Headwave system found it was too quiet, had poor sound quality, there was no stereo effect and the sound was drowned out by wind noise at anything over about 60-70km/h.
In June we published an article about Domio launching a Kickstarter crowd-funding campaign for their similar unit.
Not only did we express some concern about the sound quality based on our Headwave experience, but also the complaints about delivery from annoyed customers.
Audio experts at musiccritic.com did not expect a great sounding device for a helmet speaker given the acoustic limitations but stated there is still a lot of improvement to be done on the drivers. A software update might also fix the audio.
The Canadian company contacted us and said they had since updated the product, production had started and they were satisfying orders.
They also offered us one for review, but it has taken about five months to arrive.
Domio Moto review
Let's start with the positives.
The advantages are that you have no messy wires and there are no speakers uncomfortably pressing against your ears.
Sadly, the Domio Moto audio system isn't any better than the Headwave system.
Sound quality is dull and mono only, there is little bass, and the sound is drowned out by wind noise at speeds over 60km/h on a bike without a windscreen and 80km/h on bikes with screens.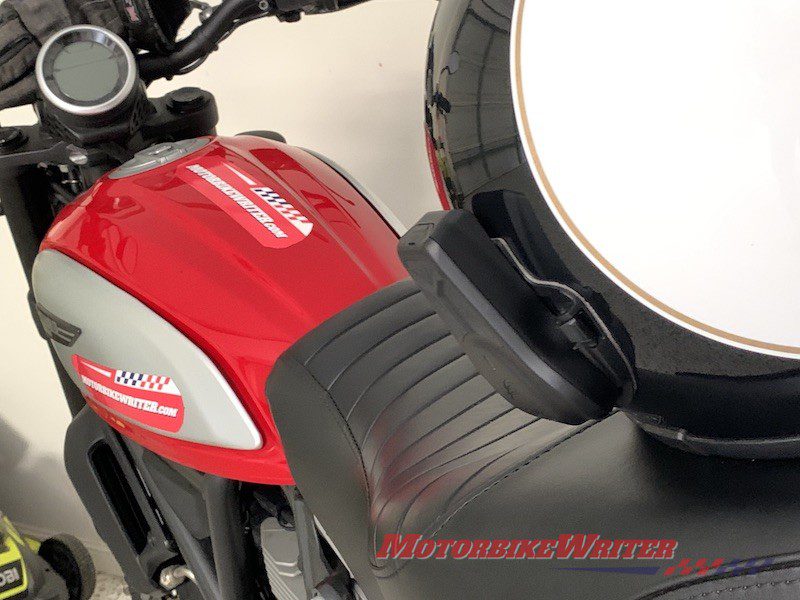 I also tried them with filtered earplugs to drown out the wind noise. These are very effective with traditional Bluetooth units where the speakers are next to your ears as the filters are directional.
However, in this case, the sound is non-directional, so with the earplugs in I could hardly hear the music even at slow speeds.
Domio sits in a cradle and they provide you with two so you can swap from helmet to helmet, while the Headwave unit sticks directly to the helmet, so it will only go on one helmet.
After my Headwave review, the makers accused me of not sticking it on properly, yet I had followed all their instructions.
Again, I followed the instructions this time to the letter: I found a smooth surface on the helmet with no joins or vents; I cleaned it carefully; and I firmly stuck it on with the supplied cradle.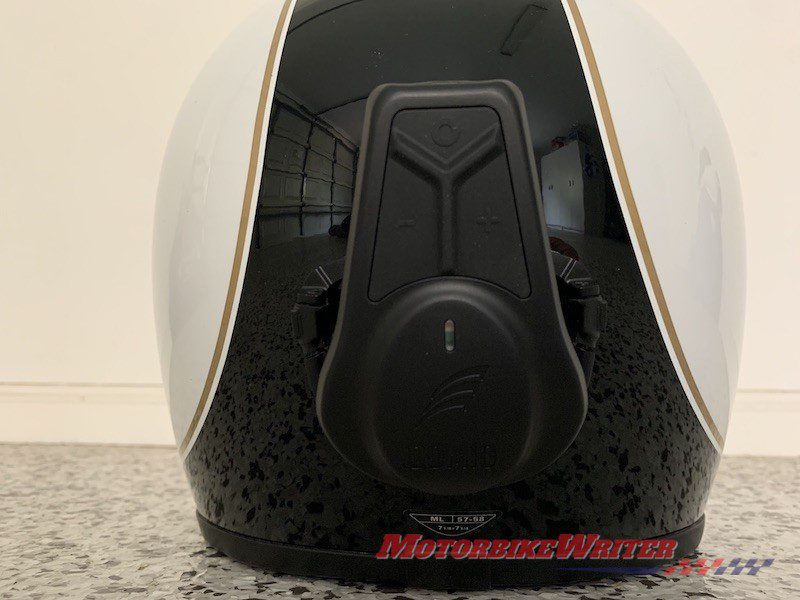 Since it comes with two cradle fittings, I was able to trial it on two full-face helmets.
You can stick it anywhere on the helmet, they say. I tried one on the top and one on the back, but you could also put it on the side.
The poor sound results were the same for both helmets.
The legality of stick-on attachments is still up in the air. Also, there is some concern that stick-on units could cause head rotation and subsequent spinal injury in an accident. However, test results on such attachments will not be available until next year.
Click here to read more on these legal and safety issues.
The Domio at least has a lower profile than the Headwave.
Good vibrations
While both systems use vibration to send the sound into your helmet, they call them different terms.
Domio say they use "micro-vibration technology" and Headwave Tag call it "surface transduction". It's basically the same thing.
It's difficult to explain, but the sound certainly surrounds your head because there is no discernible source such as from speakers next to your ears like in conventional Bluetooth helmet systems.
So it doesn't really matter whether you put it on the back or one side.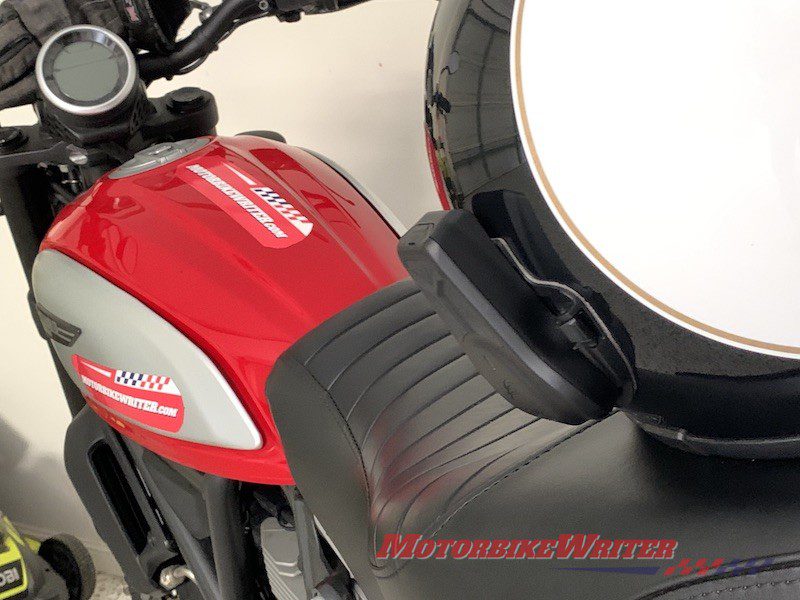 However, it does not have any spatial or stereo effect because it's coming from one source which is transmitted throughout the helmet via vibration.
The simple controls only allow switching on/off, pause/play and volume up/down. To select, advance or replay tracks, you would need your music source or phone within reach on the handlebars.
Like the Headwave Tag, the Domio Moto doesn't have a microphone, so it is speakers only. That limits its use to listening to music and satnav instructions.
However, Domio Moto Pro ($A338), scheduled to ship in January, includes a wireless, noise-canceling "air mic" that, like the sound unit, sticks to the outside of the helmet. It uses "beamforming" technology which is a process that focusses a WiFi signal.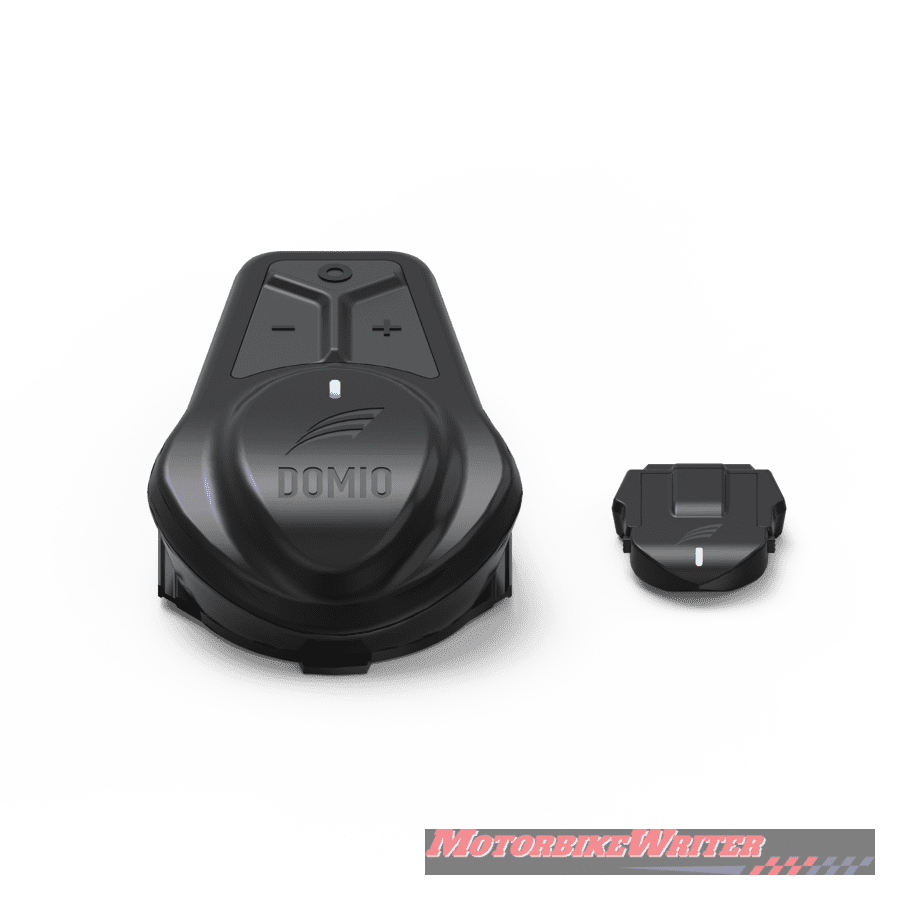 Verdict
While traditional bluetooth systems have lots of messy wires and uncomfortable speakers next to your ears, sound quality is usually pretty good.
Domio and Headwave may be tidy and comfortable, with reasonable sound, but they are almost useless once over 60-80km/h, depending on whether you have a windscreen.
Commuters may love them!