Some riders have a partner who chides them for their passion, while others (like me) are more fortunate to have a supporting spouse. Gold Coast rider Todd Parkes, 45, who started riding 10 years ago, seems to have a bit of both!
Here is Todd's story
"You're not getting a bike, they are a death weapon and you have 3 kids!!!" These were the words of my wife ten years ago. This morning she looked out the window, saw the sunny stunner of a day, slipped back between the sheets and whispered in a loving tone, "It is a gorgeous day, you should go for a ride today." So how did we get to this moment?
I have always loved bikes from when my Dad took me on his A100 to when I was convinced I would follow Punch and Jon from CHiPs and be a motorcycle cop. The GSX1100EF (the new superbike of 84) was my pinup bike. By high school I'd discovered muscle cars, street machines and Bathurst.
Bikes faded into the background. Years went by, uni, girlfriends, marriage and kids. Living at the Gold Coast, I discovered Canungra one day and saw bikes by the mile. Not long after "Wild Hogs" came out which I saw with my Dad and lo and behold came the mid-life crisis edged in on the horizon. I so wanted a bike but my wife would have none of it.
Time passed some more, and I kept drooling to the sound of a V Twin and slobbering at the sight of an R1. We had one car and a pushbike and sometimes I needed to go further afield. Mopeds exist by the squillion on the coast so I passed the idea to my wife assuring her that I do 30-40kph on my pushie so 50 is speed limited on a scooter so it really isn't that much more. It would save us a second car, help me get further afield and generally be a good thing. As she signed me on for a scooter I secretly looked out the corner of my eye at the sports bike with twin discs, radial brakes and USD forks thinking … 
Scary first ride
That first ride home in peak hour Southport traffic was scary, 4WD's in that moped's mirror looked like the front of B doubles as I was stuck at. She saw that night the speed difference and urged me to get the bike derestricted to get some extra speed just to 'keep up with the flow'. So I did. That thing sounded like a dirtbike and went well but could not do short sprints up the M1. She understood that and a month after the moped came a QRide course and with it a 125-scooter rolled into the garage.
That desire for a motorbike kept eating at me. I told her I just wanted to learn the skills of riding a 'true' bike with gears and a clutch and feel that same feeling of those guys I saw at Canungra. I floated the idea and it sunk, she threw out the anchor and fired the trip ropes on that dream saying (screeching?) how motorbikes kill and she didn't want to lose me. Some sweet talking, loving promises, practical training and defensive courses later (as well as a revision of our life insurance), a fresh new Suzuki twin rolled in to the garage. 
Partner is a blessing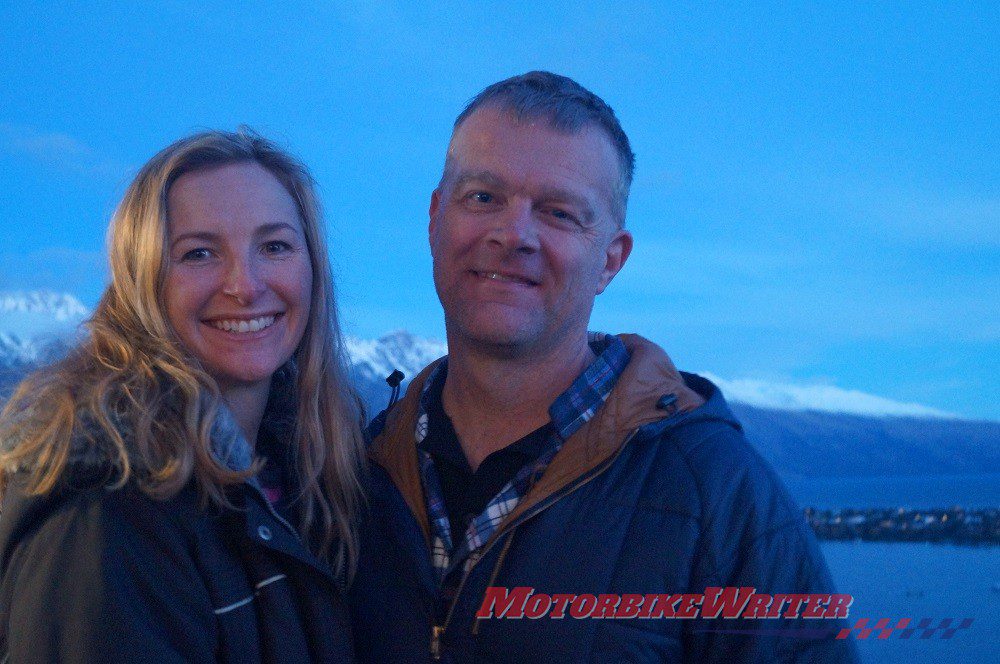 That was eight years ago. She is a blessing my wife as she encourages me often to take some time out and go for a ride. She won't pillion with me (she doesn't want to orphan the kids) nor can the kids come along but she has hinted that she would like to get a license and a bike when the kids are older….What a gem!  She even bought me a bike 2 years ago and she didn't rouse on me when I sent it in to a guard rail and called her afterwards; nor did she stand in my way as I signed up for the next bike. It's one of her favourite stories she relates to other wives who shake their heads tsk tsk'ing when they find out we have 3 kids and yet I ride (as if I am morally bankrupt). She wonders if I set it up so that I eased her into the thought of me motorcycling as we got a moped. I smile and state how in my simple state, I couldn't have premeditated a scheme like that. Then I turn and look at the kids with a smile on my face and out of the corner of my eye peering at the latest 2-wheeled creature in the garage.
About the author
Todd started riding a moped 10 years ago but has been cycling for 25 years. 
He has ridden about 50,000km in the past 10 years mostly in South East Queensland, mostly for leisure.
He has owned a Benelli 50cc, Aprilia125 sports City, Suzuki GS500F, Suzuki Boulevard M50, Honda CTX700, Suzuki V-Strom 650, Yamaha Bolt 950 and a Honda CBR500.
He has also ridden many other bikes on test ride days, or as loans from friends.
Todd says he has had only one low-speed accident in early 2018 when he hit a guard rail in the wet on Mt Tamborine. 
"My fault. Possible road surface issue complication," he admits.
Todd has completed several courses including Stay upright intermediate, GCCC SMART level one, two, three and GCCC SMART V2 level one and advanced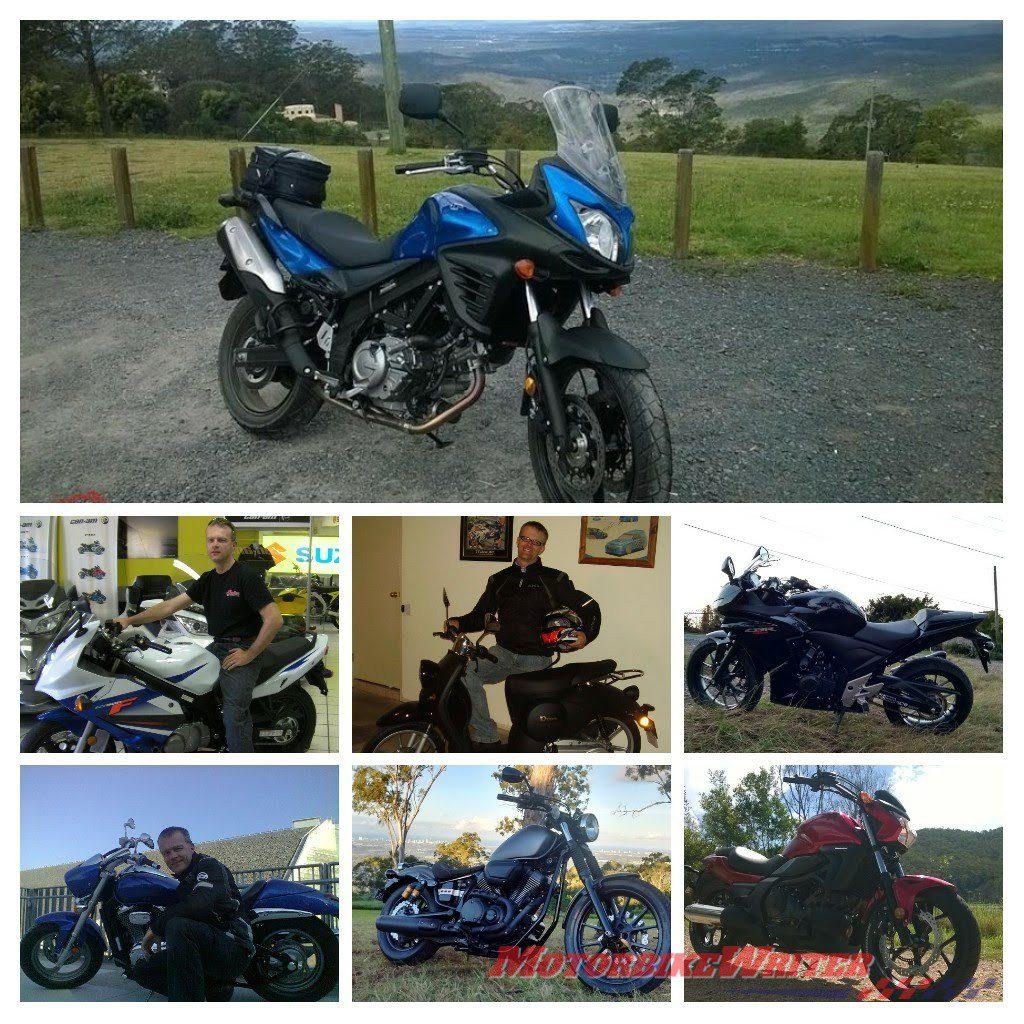 Tell us you story
Now it's your turn to tell us about your riding story. Does your partner support you? Does your partner ride as well or pillion with you? Click here to send your story and photos to us via email.