Motorcycle gear is becoming cheaper and cheaper, but there is still a lot of expensive gear that may not offer protection commensurate with the cost.
While we don't endorse inferior products, companies such as Aldi seem to be able to bring bargain-priced quality items to market.
Senior research project officer at the Neuroscience Research Australia, Randwick, Dr Liz De Rome, herself a rider since 1969, recently told the NSW Parliament's Motorcycle Safety Inquiry that there "is no association between the cost of garments and their protective value, when you look across the spectrum of what is available".
"Cost and brand name is no indicator of whether the garment is fit for purpose," she told he Inquiry.
"We have to find a market mechanism to force the manufacturers to improve their products, and to enable that through what the riders buy.
"The best quality product in the market in Australia today is probably the stuff in Aldi. I am serious; I have tested it."
However, that doesn't mean all cheap motorcycle gear has good protection.
Discount motorcycle gear company GearBest recently sent sent Motorbike Writer a mesh armoured motocross jacket and summer gloves at prices that seem too cheap to believe.
The MX jacket is only $US19.59 and the gloves are $US10.79.
However, riders should be warned that these products have no official safety certification.
The armour in the MX jacket is claimed to be made of "high-density wear-resistant" polyethylene-vinyl acetate which is a non-recyclable plastic. It is also made from lycra and PVC.
While it looks like some of the more expensive armour with all the adjusting straps and padding, without a certification standard it is difficult to know if it will protect you in a crash and I'm not about to test it out.
I lightly dragged a hacksaw blade across the plastic back protector section and it easily bit in, leaving a deep cut mark.
It may be suitable for a low-speed impact on dirt or sand, but nothing more.
Similarly, the gloves look the part with hard knuckle protectors, but they are not certified, so the risk is yours.
Their website claims the knuckle protectors are "carbon fiber hard shell protection", however they feel like plastic.
I again tried the hacksaw blade on them and got the same result. They are for dirt only and might be suitable for a trials rider.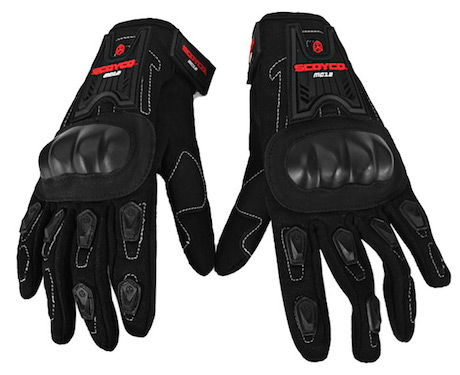 We've tested a wide range of gear here at MotorBikeWriter.com and found well-known brands such as DriRider a good balance of cost and protection.
On the other hand, we have tested some expensive brands and found that some cheaper brands work just as well.
Just make sure that they are a reputable brand and have proper safety certification such as CE approval.
So, while you don't need to spend exorbitant amounts on a brand name, remember that real cheap is cheap for a reason. How much do you value your life and limbs?