If you've ever wanted to tour the world's emptiest country, Mongolia, like Charley Boorman and Ewan McGregor in Long Way Round, now is your chance.
Extreme Bike Tours is offering US$585 savings if you book for their May or September 2016 tours by September 30, 2015.
READ ABOUT THE EXTREME CUBA TOUR
The sparse country is 1.6 million square kilometres (Australia is 7.692 million square kilometres) but only has a population of three million, making it the least densely populated country in the world with two people per square kilometre.
This compares with the world's most densely populated country, Monaco, with 18,000 people per square kilometre, the UK with 262 people per square kilometre and Australia with three people per square kilometre.
No traffic for more than 100km is common in the vast and empty horizons of western Mongolia, where Extreme Bike Tours will run four 15-day guided adventure tours on May 9-25 and September 12-26, 2016. 
The country is one of the world's last, true frontiers with few foreign visitors. Mongolia straddles ancient, cultural crossroads between east and west.
Extreme Bike Tours runs tours on classic Royal Enfield 500cc bullet motorbikes with licensed riders and pillions.
"We're called Extreme Bike Tours because of the locations we go to, not the way we ride or anything else," he says. "Anyone who is a confident rider on a licence can come on our tours. It's about the location rather than riding around trying to kill ourselves."
Riders travel between the remote, frontier towns of Uliastai and Ulgii, eating around campfires and sleeping in traditional Mongolian yurts at 'ger' camps.
The all-inclusive, off-the-beaten-track tour stretches through the Gobi Desert and the Altai Mountains where riders can meet nomadic herders, gold prospectors and traditional Kazakh eagle hunters who ride horses and train golden eagles to hunt fox and hare.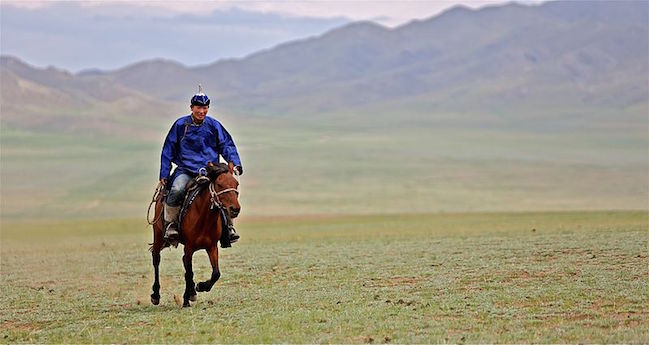 The 15-day expedition departs the Mongolian capital of Ulaanbaatar on May 9 and 23, 2016, and September 12 and 26, 2016.
Cost is US$5265 per person, twin-share or for solo travellers with a discount of US$585 if booked before September 30, 2015. Pillion passengers riding behind friends or crew or in the support vehicle can also travel for US$4455, a discount of US$495, if booked by the same date.
Fares include connecting domestic flights within Mongolia, hotel accommodation at the start and end of the tour in Ulaanbaatar, ger camp accommodation on the road, all meals, use of new Royal Enfield 500cc bullet motorbikes and fuel. International flights to Mongolia are extra.
Extreme Bike Tours was featured on Top Gear in 2011 and offers itineraries to the Himalayas, Tibet, Bhutan, Rajasthan and southern India, and from 2016, Cuba and Sri Lanka.