Adventure seekers have a new destination to explore on two wheels, with motorcycle tour company Extreme Bike Tours launching its first tour of Cuba in 2016.
It will be the first tour outside Asia offered by the company since it was started by motorcycle fan Zander Combe in 2011.
His company will offer 13-day tours from February 21 and March 6, 2016, with small groups of about 10 riders on Harley-Davidsons, Suzuki V-Stroms and BMW 800s.
The exotic Caribbean island has recently eased relations with the US, so now is the perfect time to explore the time-warped country with its colonial buildings, cigar factories, salsa clubs and 1950s American classic motorbikes and automobiles before it s spoiled by tourists.
"It has about five years left before it becomes Disneyland and we wanted to get in there now before it's destroyed form a tourism point of view," Zander says. "It's the most magical country and it will change rapidly."
The Extreme Bike Tours groups will visit rural villages, the museum at the Bay of Pigs and the mausoleum of executed Marxist revolutionary, Che Guevara, with an optional ride to Guantanamo also available.
The tour will begin in Havana, where riders and pillion passengers will be able to walk the cobblestoned streets of Cuba's colourful capital and see the Spanish colonial architecture, before picking up the bikes and riding out to the former residence of author Ernest Hemingway and passing through Revolution Square.
Riders then head along the coastal roads to the National Park at Las Terazzas where they can have a swim in the river and ponds. After returning to Havana, bikers will ride to the World Heritage City of Trinidad, visiting the Bay of Pigs museum on the way. From Trinidad, bikers will journey to Santiago de Cuba and Santa Clara, before finally returning to Havana.
The guided, 13-day trip will include about four to six hours of riding each day, and is open to licensed motorcyclists as well as pillion passengers riding on a bike or in the support vehicle.
The tour costs US$5975 per rider or US$4250 per pillion passenger and includes accommodation, seven dinners, three lunches, fuel and motorbike hire, but not international flights.
Extreme Bike Tours was featured on Top Gear in 2011 and offers itineraries to the Himalayas, Tibet, Bhutan, Rajasthan, southern India and Mongolia.
Zander says they will also offer tours of Sir Lanka in July and August 2016.
"We've purchased the bikes and have a hell of a tour planned, not just on the highway but a lot of back roads," he says. "We've got some very cool other countries that we want to do tours in."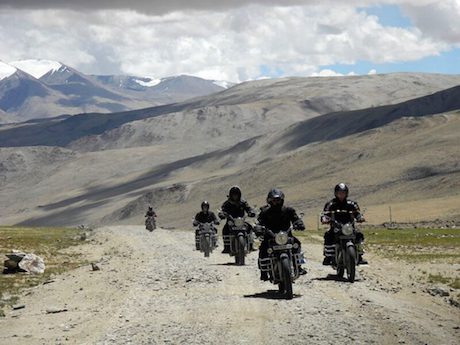 Their customers are aged 45-75 and 80% come from Australian and New Zealand "because they're more adventurous and don't whinge like Poms" says the Pom expat who has been living in India for the past seven years with his collection of bikes (a 1942 Matchless which he rides when it's not monsoon season; two 1991 Royal Enfield 500 Bullets with kick start and gears on the wrong side, of of which is his original tour bike; and a Ducati 1299 in England).
"We're called Extreme Bike Tours because of the locations we go to, not the way we ride or anything else," he says. "Anyone who is a confident rider on a licence can come on our tours. It's about the location rather than riding around trying to kill ourselves."
He says they also have a lot of pillions on their rides with the five-star tours having about 60% of riders with a passenger.
"We also have a lot of support vehicles – up to four in the Himalayas with cooks, camping crews etc. So there is always room in the support vehicle for a passenger if the riding gets too rough."