Classic Leather Motorcycle Jacket Review Summary
Review Summary
If you're into retro, vintage or classic styles this jacket is a nice choice. The quality is decent for the price; there are a few minor nags like extra thread lengths here and there that you might want to carefully trim, but overall this is a very serviceable garment that should last a while and will definitely improve with age.
Pros
Made nicely
quality leather
good value for money
Cons
Extra thread lengths here
Extra thread lengths here Image Gallery
Remember the Mods and the Rockers? No, not a rock group, but the young British rebel gangs of the 1960's. For some reason, as soon as I saw this jacket I thought it would be just what a modern-day Rocker would wear. For those of you not old enough to remember Gene Vincent, here's an interesting history of theMods and Rockers movement.
Many of today's designers seem to be looking to the past for inspiration. You can see it in cars, clothes and even appliances. There's a certain motorcycle clothing style from the past that has never gone out of style.
The various iterations of the classic motorcycle jacket from the '50's, made popular by Marlon Brando in "The Wild One". In fact, authentic vintage leather jackets are currently all the rage, and can go for big money in chic Manhattan vintage thrift shops.
But if you'd like to stand out from the crowd with a touch of "post modern industrial retro" (or something like that), this "Diamond Plate" buffalo hide leather jacket from AKA Motorcycle Accessories may be just the ticket. Now I'm not really your typical cruiser guy, but I am fascinated with the Rocker look.
Grab any copy of The Classic Motorcycle or Classic Bike magazine off your local Border's bookshelf and take a look at the wonderful photos of classic bikes and their riders to see what I mean.
The owners take great pride in their period garb, complete with "pudding bowl" helmets, goggles, engineer boots and rolled-up jean legs to set the mood for the reviews of vintage equipment.
Everyone has their own favorite look, but the '50's and '60's low bar, goggles up style does it for me.
And as an owner of a modern Triumph classic (a '99 Triumph Thunderbird Sport (Blog)), I figured I needed a slightly modern version of Rocker style, and this jacket fits the bill.
The Diamond Plate Jacket
The Diamond Plate jacket offers a sort of "Mad Max" take on the classic leather motorcycle jacket by adding a few details that give it some extra flair.
The most obvious of these is that the jacket is made up of hundreds of patches of gen-u-winebuffalo hide (water, that is) .
This gives the jacket both its unique look and its "Diamond Plate" moniker.
The Patchwork
Each leather patch is sewn to its neighbor using a zigzag stitching method that's unobtrusive but also adds a bit of zing to the mix.
Wear this baby down to the local pub and you'll get lots of comments like "whoa!", "cool", "wow" and you'll likely get lots of fingerprints from touching hands.
People seem fascinated by the look and want to know more.
The jacket has some other styling touches that help give it a "modern retro" feel.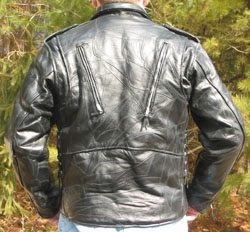 The obligatory zippered slash pocket over the left hand breast is cool but also very functional. It opens to hand width at about 130 mm (5-1/8″) wide, and is a useful 20 cm (~7-7/8″) deep.
Two front hand pockets have 120 mm (~4-3/4″) wide openings and are about 150 mm (~5-7/8″) deep (Here's a tip: in playing the part of a Rocker, do yourself a favor and don't be caught with your hands in your jacket pockets!
A slouching glare and hands in your jean pockets is de rigueur). All zipper ends have leather pulls on them, making it easy to find the zippers and open 'em up.
Zippers and Pockets
The zippers themselves seem to have come from the factory with a bit of an edge to each of the zipper "teeth" (here's a glossary of zipper parts) that mesh together.
All of the zippers were a bit balky at first pull, but after stroking them back and forth a few times, the edges wore in, making them much easier to use. All of the hardware, including the zippers, have a matte finish that also adds to the vintage look.
There's an extra pocket down on the front left-hand side that I'd guess I'd call a coin pocket.
It adds some style, but it's not really designed for use with gloved hands. This pocket has a flap which includes a snap closure, and it has about a 70mm (~2-3/4″) opening and is 120mm (~4-3/4″) deep.
Two more zippered openings in the back of the jacket add more style, but they're for looks, not function. The zippers work, but directly underneath lies the jacket's taffeta liner, so the openings don't really work as jacket vents.
The back of the jacket is longer than the front to provide some extra kidney protection when leaned over those club racer handlebars, and the two epaulets finish the look.
The right side of the jacket has a wide flap that tapers from about 60 mm wide (~2-3/8″) at the bottom up to 150 mm (~5-78″) wide at the top.
This flap serves to block the ingress of air through the slightly canted zipper.
But since this style jacket is usually worn with an open collar, the width of the flap also helps to protect against the breeze when you're stylin'.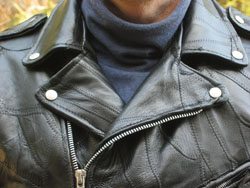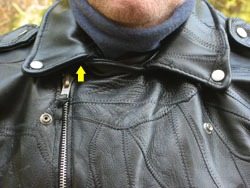 Collar Look
The collar looks great and works fine when it's open.
There are collarbone snaps to hold down each of the two collar "points",  and two more snaps for the lapels.
The jacket can be zipped up with the collar fastened, but there's no provision for securing the outer jacket flap (yellow arrow, photo left).
It can be tucked up under the collar and stays put via friction only.
The solution is to make sure you bring along a scarf (not Burberry, please!) for your "ton up" tryouts after dark. But hard-core Rockers don't zip up their collars anyway, right?
Leather Quality
The jacket was a bit stiff when it first came out of the box. I'm guessing that this was due to the leather finishing process.
The Diamond Plate model has a shiny finish, and the method of leather processing that leaves it this way probably accounts for the initial stiffness.
I was a bit worried that it wouldn't get that nice leather feel (aka "hand"), but my worries were unfounded. After wearing the jacket for just a couple of outings, the leather quickly became much softer.
This jacket also has that cool leather crunchy sound as you move around in it, which is part of leather's mystique.
Buffalo hide seems to have a slightly different feel than cow hide; it's hard to describe, but it feels a touch softer and more delicate and it apparently is quick to develop a nice broken in feeling.
The jacket has a thin zip-in vest liner; I'm not sure that it adds much insulation, but it does add some cushioning and comfort, and it can be easily removed to add a small amount of extra room if necessary.
A full-length taffeta lining makes it easy to slide the jacket on and off.
Sizing and Fit
We weren't sure what size to order at first, but this "Giovanni Navarre" styled jacket (AKA Motorcycle Accessories model # GFMOT) apparently runs exactly true to size.
I take a men's U.S. size 43/44 dress jacket, and the size large Diamond Plate fits perfectly. It was just a touch tight at first, but it fits great now that it's broken in.
There are 5-hole string adjustments on each external side of the jacket, which add some style but also serve to adjust the waist.
Unlike the '50's originals, the shoulders on the Diamond Plate are articulated, and this provides some nice stretch room and also helps improve the overall comfort.
I'll never figure out why the jacket designers of the past never thought of this essential feature!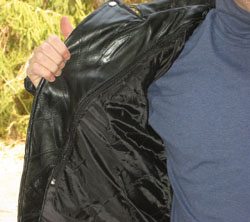 Liner Notes
If you do remove the liner, there's one more right side internal breast pocket that's about 130 mm (~5-1/8″) wide and a huge 20 cm deep.
Unfortunately, it doesn't have any type of closure, but it should be deep enough to hold just about any size wallet.
When worn, the jacket doesn't feel cumbersome or too heavy; although the AKA Motorcycle Accessories website lists it at 8 pounds, the weight seems to be well distributed.
Many people who haven't owned or worn a leather jacket of any type are sometimes surprised at how heavy the leather can seem compared to fabric equivalents.
But the leather's heft correlates to some degree with its level of protection.
Some of the thick leather clothing designed for motorcycle racing can feel downright ponderous, and if not properly designed, the weight can end up stretching the leather towards the bottom, resulting in a wilted look.
We're guessing that the puzzle-like Diamond Plate leather patches will distribute the load and help this jacket keep its shape, which is an added benefit.
Conclusion
If you're into retro, vintage or classic styles, AKA Motorcycle Accessories has a ton of jackets, clothing and other accessories that you may want to check out.
The prices are reasonable — this jacket lists for only $104.95, which is a real bargain.
The quality is decent for the price; there are a few minor nags like extra thread lengths here and there that you might want to carefully trim, but overall this is a very serviceable garment that should last a while and will definitely improve with age.
Now all you need is a '54 AJS Porcupine, a pair of engineer boots, a "pudding bowl" helmet and you're ready to take on the Mods on their wimpy scooters!
w

BW

 Review: Buffalo Leather Motorcycle Jacket
Manufacturer: AKA Motorcycle Accessories
List Price (2004): $104.95
Colors: Black
Made In: China
Review Date: April 2004
Note: Item provided by a retailer, distributor or manufacturer with these Terms and Conditions.
Note:
 For informational use only. All material and photographs are Copyright © webWorld International, LLC since 2000. All rights reserved. See the webBikeWorld® 
Site Info page
. Product specifications, features and details may change or differ from our descriptions. Always check before purchasing. Read the
Terms and Conditions
!
Owner Comments and Feedback