Desert Fox 3L Trail Review Summary
Review Summary
The Desert Fox 3L Trail Fuel Cell or Gas Bag is a great piece of valuable gear. 3L of fuel, or water, might not seem like much, but in an emergency, it can make a big (big) difference. This 3L Fuel Cell or Gas Bag is small, lightweight (empty or full), foldable and packable for easy storage or packed in case some extra fuel might need to be carried…as when perhaps taking a detour? It is easily fitted to or carried on a motorcycle using flat or bungee style straps, thanks to its end and centre stitched daisy-chain pass-through strapping and six large D-rings. A simple carry strap is also provided on the spout end. Easy to fill, the fuel cell is leakproof, fume free, and easy to use, thanks to its flex nozzle piece that goes along for the ride nestled in its own protective sleeve pouch. Small is good and with the Desert Fox 3L Trail Fuel Cell, it's very good and is very much a worthwhile investment whether travelling and exploring full time or part time.
Build Materials & Quality
Pros
3L capacity well balanced between weight, size, and packability
Durable canvas outer bag
Heavy-duty non-porous plastic inner bladder
Lightweight, foldable, packable to carry for emergency use or storage
Outer bag features daisy-chain flat strap pass-throughs and sturdy D-rings
Flex spout is securely stored in own housing on the exterior
Usable as dedicated fuel or water container
Inexpensive safety and security investment.
Cons
Filler
Spout neck could be longer (15-20mm) to minimize spillage
No detachable strap or keeper for the cap
Protective canvas outer bag can become dirty & fuel-stained (washing helps)
Inexpensive investment considering worst-case scenarios…
Introduction
Having a 2020 BMW F 850 GS Adventure, aka the 'tanker' as the primary multi-purpose ride tends to spoil one regarding the requirement to carry additional fuel on an ongoing basis, especially in our current restricted travel environment.
Although, as experienced during past travels, one never knows when one will need a bit of the combustible stuff, and I'm not talking about using it to get a roaring fire going either! So, the requirement to (safely) carry, extra fuel, even a wee bit, is always on the mental checklist, if not on the physical one.
Without getting into a long dissertation of the pros and cons regarding portable fuel container use for motorcycling and as to what form is best, it is sufficient to say that in having seen my share of military (surplus or not) style Jerry cans or knockoffs mounted in some manner…we are indeed in a far better place today than we once were.
Some of the 'temporary' and 'permanent' solutions seen on so many motorcycles (two and three wheeled) over so many years still conjure up unsettling mental pictures; although, on the other hand, there are a lot of home-design custom fabricated solutions that have been and continue to be well executed and very functional.
A favoured solution for the longer-term road or ADV-related travel (we'll get there again someday) are the valued RotopaX containers, with separate dedicated pieces (Red for fuel and White for water) utilized. These containers have done some significant time and distance and despite having done the odd combat-roll onto the ground they remain fully functional.
But sometimes, just sometimes, something catches the eye and won't move out of the line of sight until it is sourced and subsequently held in the hands; such is the sequence experienced in knowing about, but not having seen the product until a listing on the Twisted Throttle website revealed the product one day.
The product is the Desert Fox 3L Trail Fuel Cell, also identified as the Desert Fox Trail Gas Bag 3L. Small, collapsible, foldable, and very packable with a durable outer housing and an equally durable inner plastic bladder. It is simply designed using a trusted outer material and a technology-based and approved material to contain the fuel (or water or whatever).
And in pursuing the provision of the DrySpec D78 Modular Packing System from the good folks at Twisted Throttle for the now completed wBW review, a request to have one of the Desert Fox 3L Trail Fuel Cell bags included with the shipment was made, so it could also be reviewed at some point in time.
Unfortunately, this some point in time became a bit dynamic due to the disappearance of cool fall riding weather and the emergence of snow, crap, and cold temperatures that terminated another riding season – so this review got pushed off to the spring of 2021 and, here we are.
The Lowdown on Desert Fox
Desert Fox is a registered brand of Bike Gear, a South African company with a definite focus on the travelling and adventure aspects of motorcycling. The Bike Gear site lists a wide array of products and services, many of which are also grouped by category on the main menu of the Desert Fox site.
The Desert Fox listing includes camping gear, helmets, motorcycle tool kits, power points (information about and power outlet products), rider aids and touring essentials.
Their helmet line alone looks interesting, as do a few more pieces, so efforts are underway to see if other products can be provided for wBW review – the fingers are crossed.
Listed under the Touring Essentials section are the Desert Fox Fuel Cells, Jerry Cans and Fuel Bladders – all providing light weight fuel storage solutions for motorcycles and other powersports vehicles.
The Desert Fox Fuel Cells are available in the 3L Trail, 6L Overland and 20L XTreme versions. All can be folded, rolled up or packed flat to save space and many of the Desert Fox products, especially the Fuel Cell products are available from many resellers.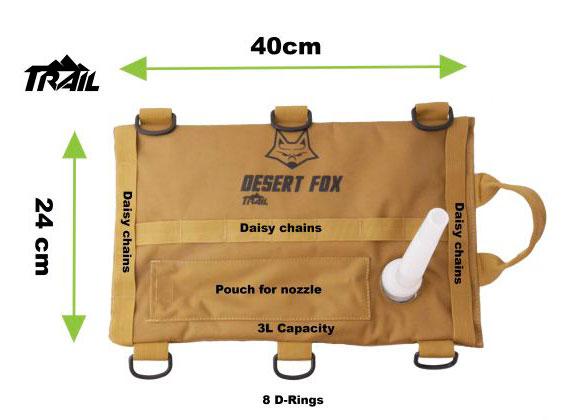 The Desert Fox 3L Trail Fuel Cell
Designed for off-road or touring ADV riders, the Desert Fox 3L Trail Fuel Cell is a convenient way to carry extra fuel as it can be strapped on securely (and safely) at many luggage points and does not require an additional mounting frame or bracket as hard container solutions do.
And the 3L is indeed right-sized to be carried or mounted on almost any motorcycle – racks, rear seats, panniers, top boxes, etc., wherever (safe) carrying space is available, including it being a nice snug but not too tight fit inside the beaver-style overflap used on many soft or semi-rigid luggage systems as well.
The internal bladder itself is made of a heavy-duty clear plastic inner liner with filler spout, securely housed in a tough canvas outer bag. The inner plastic bladder is non-porous so that fuel odours are not (typically) present.
Only the filler spout and cap components of the bladder are visible. The spout or neck sits quite low vis-à-vis the outer bag and could be a bit higher (taller) to facilitate use and minimize spillage (see Using the Fuel Cell section below).
The translucent plastic lid or cap is seemingly short with minimal threading, but it is easy to use and the integrated compression seal on the inside is effective – no leaks, no fumes. A tether or short replaceable strap of some sort would be good to have though for keeping the cap close at hand.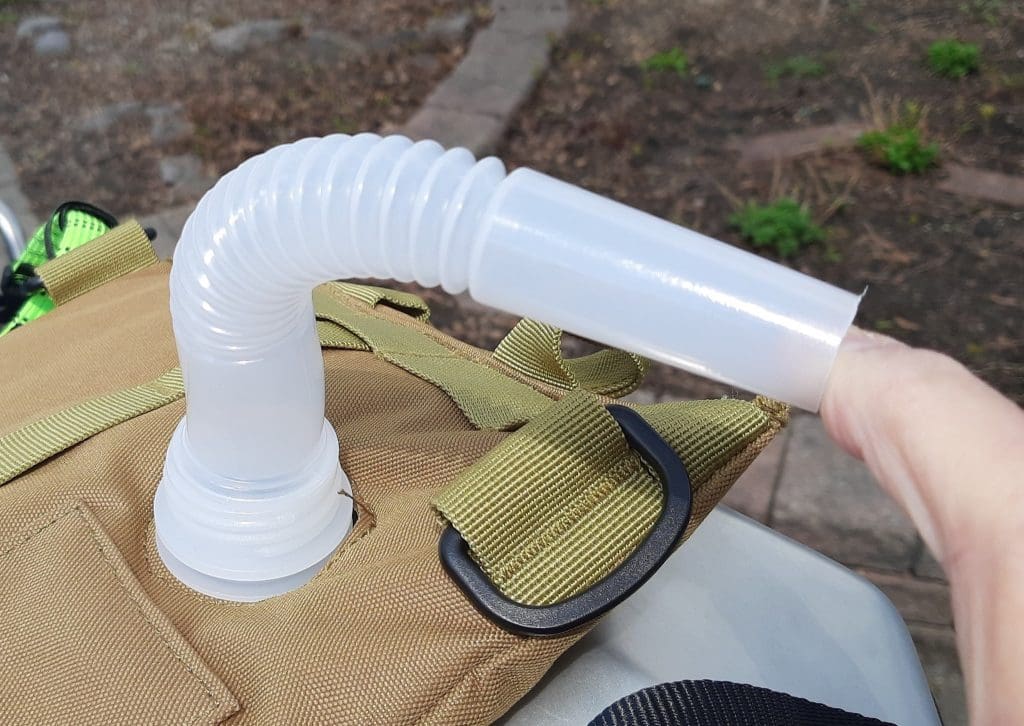 Equally easy to use and effective is the separate flex nozzle that resides in its own narrow pouch on the outside of the canvas shell, kept in place and protected to a degree with a small hook-n-loop fastener. A very tidy and low-profile setup.
For mounting, the Desert Fox 3L Trail Fuel Cell uses three lengths of stitched daisy-chain strapping securely stitched onto the face of the outer shell. There is a length on each of the short sides (ends) and a centre strip positioned in the middle of the long side. An easy to us carry handle is stitched into the end closest to the spout/cap.
Additional mounting options are provided by six well stitched 40mm (ID) plastic D-rings positioned on the outer long edges of the face, three per side.
Features
Rugged canvas outer bag and thick plastic inner container with integrated filler spout
Three (3) Litre or 0.80 US Gal or 0.66 Imp Gal capacity
Measures 40cm x 24cm (15.7in x 9.45in) and is approximately xx cm or xx thick filled
Stitched running straps and D-Rings facilitate secure carrying of bladder
Lightweight – 300g or 10.6oz empty
Flexible fuel nozzle stores inside a dust-proof integrated outer sleeve
Easy to store when not in use, packs flat, easy to carry for emergency use
Can be used as dedicated Fuel or Water container, but NOT both.
Desert Fox 3L Trail Fuel Cell Use
Portable fuel containers – hard, semi-rigid or collapsible can be used safely, but there are some basic rules and procedures that need to be clearly known, understood, and followed, particularly if one is off travelling alone or without other support or emergency services available.
Safe Use Insights & Guidelines
Fuel expands – more-so in warm or hot temperatures, with or without direct sunlight and with motion; never put more than 3L (0.80USG or 0.66ImpG) in the cell – less is always good
Never insert the filling nozzle more than 40mm or 1.5in into the cell to avoid damaging the inner liner
Given fuel expansion, do not strap the fuel cell down hard at its tie-down points or overtighten if secured using straps across its main surface (face)
As the fuel load expands and the outer bag takes on more shape, release the expansion pressure by opening the cap slightly, allow the pressure to ease and then re-tighten the cap
Do not over tighten the cap – it seals with minimal force, once you feel resistance tighten only a bit more; over tightening just makes it more difficult to loosen off
The cell is suitable as a water container if NOT previously used for fuel – never violate this rule for obvious health reasons
Adhere to the warning signs and information printed on the back of the bladder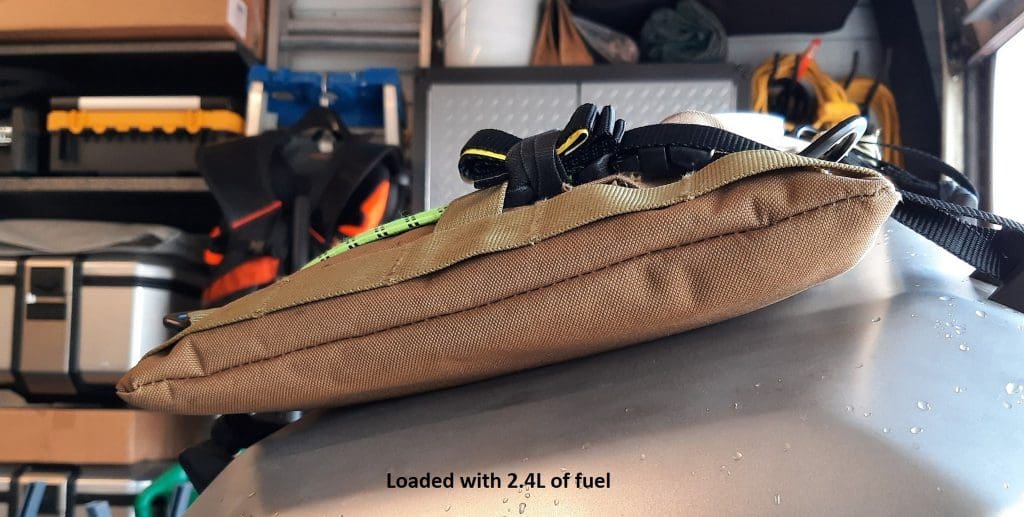 The Twisted Throttle product pages for the Desert Fox Fuel Cell products, and other related products, provide a Terms and Conditions: Please Read section as well, typically found towards the bottom of the respective product page.
Using the Fuel Cell
The fuel cell can be filled up when it is off the motorcycle or when it is mounted, as long, as safe access to and positioning of the filler spout allows and, only after the mounting straps have been loosened off somewhat to allow for the filling process and then (normal) subsequent expansion of the fuel – frequent checks are good.
There is a tendency to tighten up the mounting straps when the fuel cell is empty and more collapsible but then its easy to forget to loosen the straps when refilling the fuel cell.
In using the bladder, especially if on a continuing basis, the filler cap should be checked for proper function as damage and dirt will seriously deteriorate effectiveness of the cap, allowing leakage or ingress of unwanted matter.
To fill the bladder, which seems to be easiest when it's not secured to anything, remove the cap (keep it close), and add fuel. Be sure to keep the filler nozzle no more than 40mm or 1.5in inside the neck piece to prevent damage to the bladder itself; this where some additional height or length of the neck piece would be good.
Once the desired amount of fluid is put in, inspect the cap again and if all is good, thread it on (a couple of short twists) and make sure it is sealed. Do not force things – the pressure-fit piece on the inside of the cap does its job.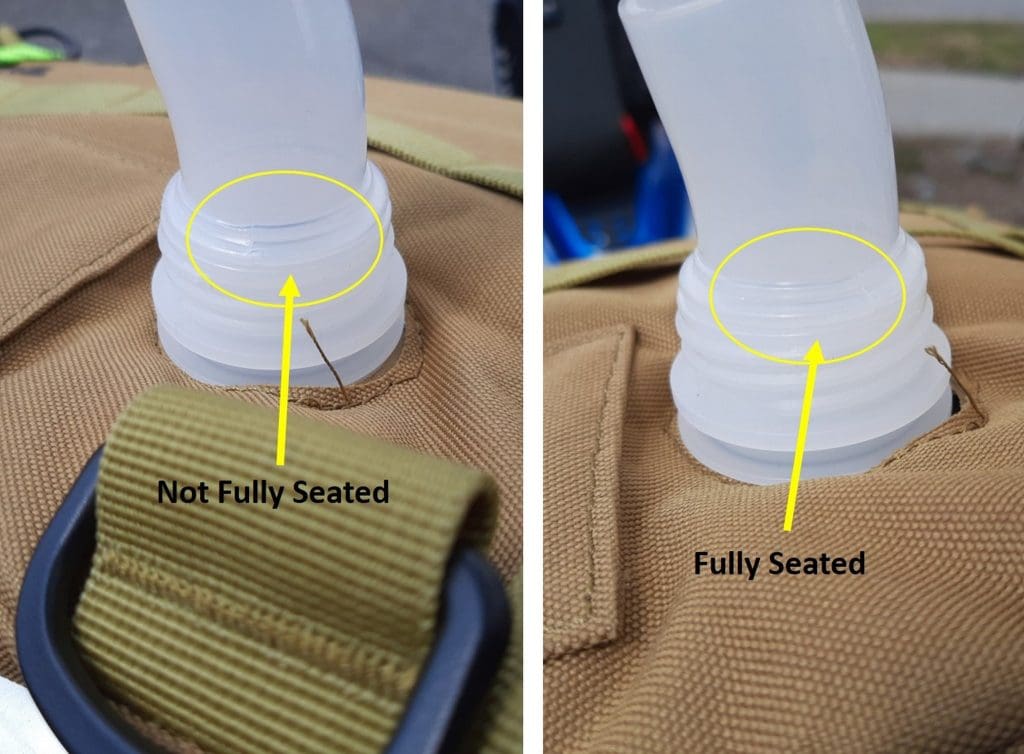 In preparing to use the contents of the bladder, open the small tab of hook-n-loop located on the outer end and push against the other end of the nozzle – as positioned in its narrow pouch, the piece should push out and become accessible.
Remove the cap and holding the area around the filler neck securely, align and push the flex nozzle piece onto the neck until it is engaged and then push it down firmly to fully seat the plastic stopper ring – it is now completely secure and will not come loose even when fully flexed; this was a lesson learned during initial discovery regarding the fuel cell.
When finished, hole the filler neck area again and pull the nozzle off with a firm pull, clean it as needed and make sure to put it back into its sleeve pouch and secure the end tab.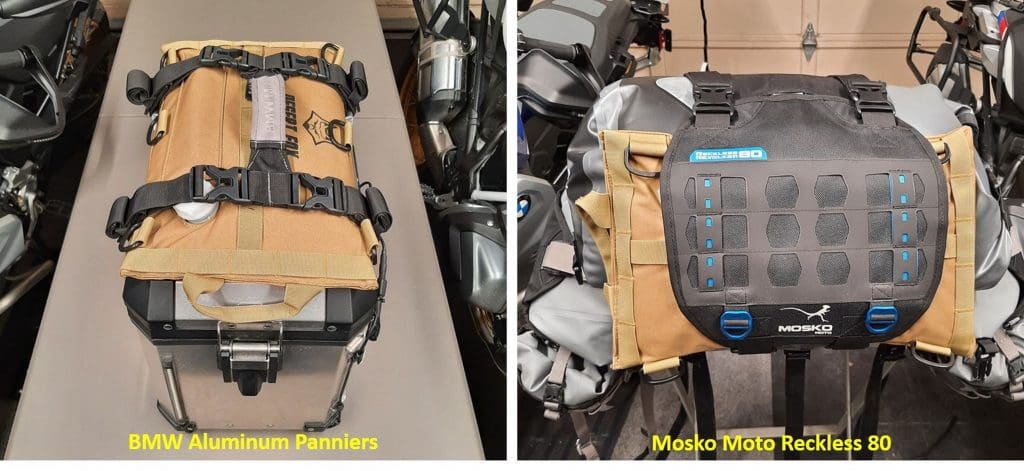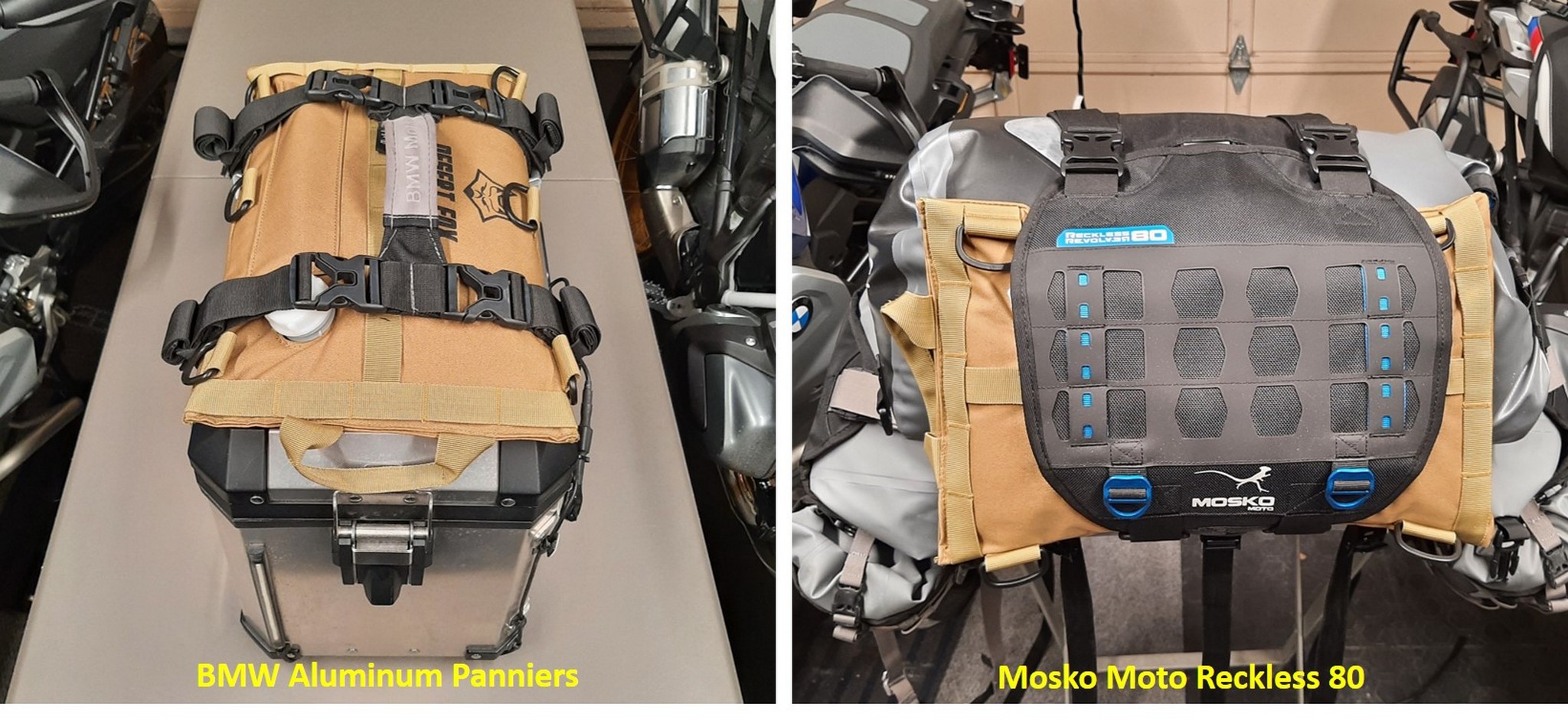 Mounting/Securing the Fuel Cell
The daisy-chained flat strap pass-throughs accommodate straps up to 40+ mm or 1.5in I width, so small or large ROK-Strap connectors pass through easily, so most other buckle connectors or smaller hooks should pass through without much issue as well.
The use of flat straps is good, but the use of bungee style flat straps is even better as they can provide the needed strength and security and, a bit of stretch to accommodate fuel expansion without (totally) compressing the piece as a standard tight flat strap might do.
Products like ROK Straps with their elastic sections are great solutions – either the narrow 5/8ths inch (16mm) or the wider one-inch (25.4mm) straps have enough load and burst strength to handle the size and weight of the 3L Fuel Cell.
One or multiple sets of ROK Straps are either mounted on or carried with all the home fleet motorcycles, in both the Reflective wide and Hi-Vis narrow sets; more 'don't leave home without them' gear.
A variety of mountable surfaces were used with the Desert Fox 3L Trail Fuel Cell to both see just how versatile this smaller fuel cell is and validate its use with some of the different hard and soft luggage solutions used on/with the home fleet motorcycles. The masthead photo of the fuel cell securely fitted onto the top of the SHAD TERRA TR37 top case is one example.
The 3L fuel cell and the BMW Adventure aluminum pannier lids seem made for each other – the existing lift handle straps are an expedient and effective solution as the wide flat strap loops can be passed through the D-Rings and resecured – done.
Another easy fitment is provided with the Mosko Moto Reckless 80 (v3.0) that Jim and I co-reviewed using two systems (one provided, one purchased) The top back beaver-tail positions and securely holds the 3L fuel cell up against the large top duffle. With a bit of slack left in the top straps and less direct pressure of this sandwiched layout, expansion isn't an issue.
The Wolfman Luggage B-Base, currently under wBW review, provides another easy solution with the fuel cell strapped flat on the back surface of the B-Base nestled, between the two large Rolie bags mounted on each side. And if another waterproof or drybag is mounted on top, the fuel cell can still be strapped upright (spout up) easily.
With the BMW Adventure pannier frames or the SHAD 4P system fitted on the F 850 GSA or R1250GS and the Kriega OS-Platform pieces mounted, the Desert Fox 3L Trail Fuel Cell can be strapped to the inner left (non-exhaust) side without infringing on the outside real estate used for a set of side bags, like the Wolfman Luggage Expedition Saddle Bags.
And a final mounting had the fuel cell laid out on the lid of a (economical) DEWALT T-Box that is used as the off-road day box. This well-priced and easily replaced study plastic piece has some bottom mount modifications for a two-minute On or Off task, small brackets on the corners of the lid and a quick-connect wired Clearwater Light Billie Jr. Brake light.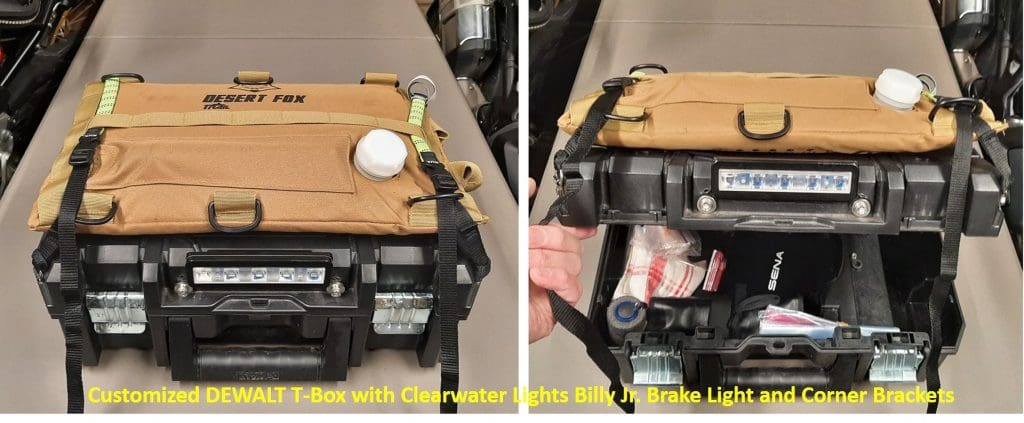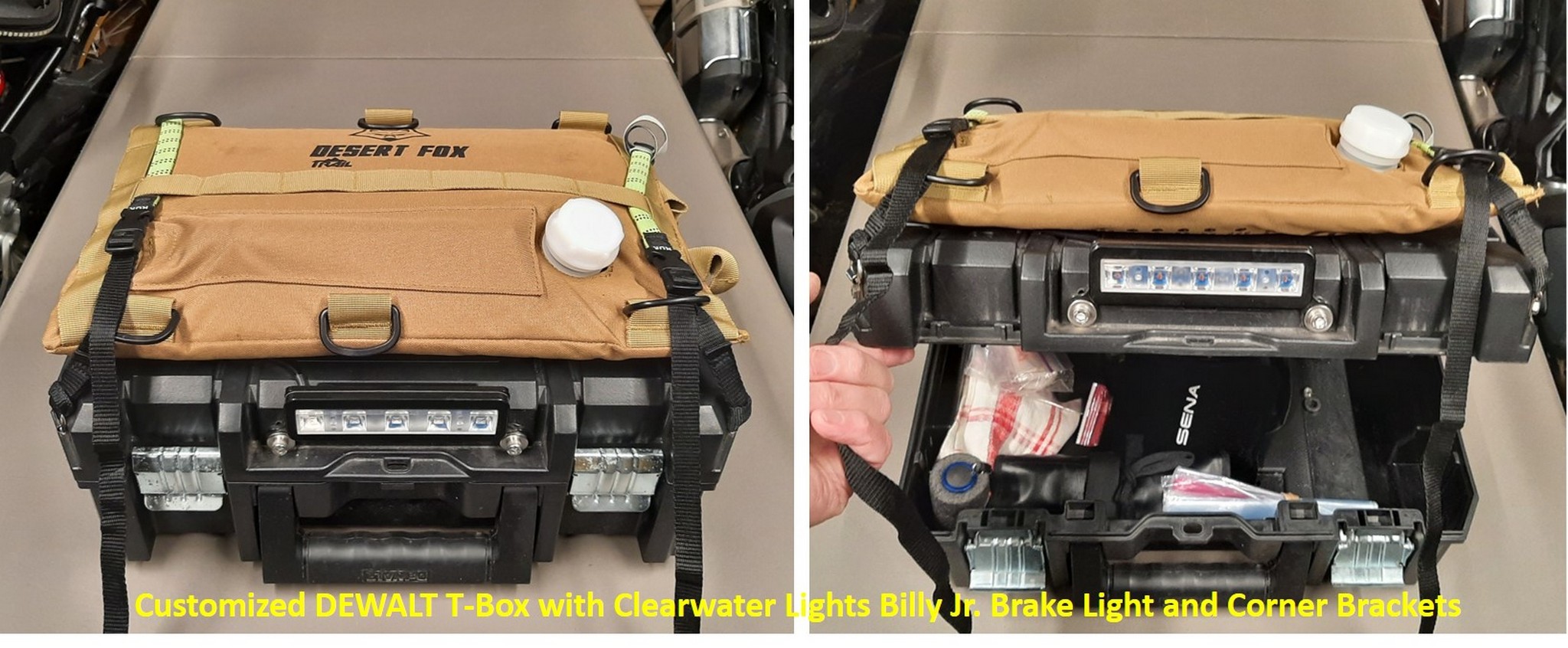 End Notes
The Desert Fox 3L Trail Fuel Cell is starting its first full season of use even though it was initially filled and carried last fall as the fall temperatures kept falling; but ongoing COVID-19 restrictions did not allow much long term, long distance use of the fuel cell at the time.
It did get borrowed on occasion for use by some sled riders who wanted to try the small easily loaded 3L fuel cell for some weekend (distanced) exercise in the snow and while here, it got used as the readily transported fuel container for the (infrequently used) snowblower; no matter its use, it works.
And here we are cranked up for a new riding season and yep, COVID-19 restrictions are still with us and currently, more restrictive than what we went through last fall. Riding is viable but it's more exploration of the local back roads and hard packed stuff, at least until later in the spring when it should be safe to resume riding the groomed and (un)groomed trails in the areas.
And with restrictions in place, our 'exercising' (mental and physical) riding activities are done following the local protocols and rules and making sure none of us get into a situation that might require the care of first responders or health care services providers – their enduring devotion gets a BIG THANK-YOU shoutout from us.
There are lots of 'picks' with the Desert Fox 3L Trail Fuel Cell; it is small, lightweight (empty or full), seals well and is fumes free, easy to handle, carry and mount. On the short 'nits' side of things – a slightly longer neck to make filling the bladder a little easier with less spillage (practise) would be good, as would a tether for the cap.
The Desert Fox 3L Trail Fuel Cell is now part of the going wandering load list. It truly is a versatile and valuable piece – it can be strapped on or packed almost anywhere and even with say 2.5 to 3.0L of fuel in the bladder, its weight is around 2.2kgs or 5lbs, an easily managed burden.
The hard RotopaX pieces will still be used when/if the side pannier frame kits are reinstalled, which then facilitates mounting of the RotopaX mounts. Alternatively, the Alt Rider rear luggage plate with the SHAD TERRA top case adapter removed can host the RotopaX pieces or, the Desert Fox 3L Trial Fuel Cell could be secured directly this versatile luggage plate.
But for now, and for the shorter distances being covered, the Desert Fox 3L Trail Fuel Cell fills the bill nicely and if the smaller dirt-oriented machine magically appears (sometime) this season, the fuel cell will be a perfect companion piece.
Bottom Line
There are lots of fuel cell and basic bladder products available for motorcycle use and some of them have been used in the past and others given a hard look but the investment in them was never made and I'm not sure why. But live and learn – using the Desert Fox 3L Trail Fuel Cell, even for a short period of time has been a good teacher. Any of the Desert Fox 3L, 6L or 20L fuel cell bags can be a great solution and a wise investment, 'cause if Murphy's Law becomes reality at some point in the travels, having one of these fuel cells, even the smallest one will be a good thing. The Desert Fox 3L Trail Fuel Cell is highly recommended.
Pros
3L capacity well balanced between weight, size, and packability
Durable canvas outer housing
Heavy-duty non-porous plastic inner bladder
Lightweight, foldable, packable to carry for emergency use or storage
Outer bag features daisy-chain flat strap pass-throughs and sturdy D-rings
Flex nozzle securely stored in own housing on the exterior
Usable as dedicated fuel or water container
Inexpensive safety and security investment.
Cons
Filler/Spout neck could be longer (15-20mm) for use and minimize spillage
No detachable strap or keeper for the cap
Protective canvas outer bag can become dirty & fuel-stained (washing helps)
wBW Specifications:
Where to buy: Twisted Throttle or Desert Fox
Designed In: South Africa
Manufactured In: China
Price when tested: $99.99 USD for the 3L, and 134.99 USD and 189.99 USD for the 6L and 20L pieces (respectively)
Warranty: (unknown)
Review Period: November 2020 to April 2021
Review Submission: 20 April 2021