Review Summary
Daytona has always been one step ahead of the competition and remains ahead by maintaining its manufacturing process, the choice of materials, and the technical processes. After riding over 6,000 miles in this pair of boots, I couldn't be more pleased with them. The attention to detail is evident as is the quality, they still look great and most importantly, work as new, too! They are still waterproof, the soles show little wear and the zips are as smooth as when new.
Pros
Hydrophobic full cowhide construction and GORE-TEX membrane means the boots are tough and repels water
Double velcro closure fastener and dual zip fasteners provide optimal adjustability
Wide shinbone padding gives extra protection to your shins while reinforced gear change cushion keep your toes comfy.
Visibility via 3M-Scotchlite heel reflectors
Non-slip rubber touring sole means your feet won't slip off the pegs in the rain.
Cons
Expensive to buy at the start but you do get your money's worth over the miles ridden.
Wide footbed—may need to size down
Not for extremely hot conditions
Review Summary:
The Daytona Travel Star PRO GTX Boots are waterproof touring boots and even after a full day's riding in heavy rain, my feet were completely dry.
The boots are handmade in Germany which means the level of quality is second to none and this shows in the way they age and feel after a full season of riding.
The boots are lined with Gore-Tex climatic membrane meaning they are breathable even in hot weather.
The Daytona Travel Star PRO GTX Boots: For that epic ride and beyond.
Last August (2022) I went on an epic trip from North Wales (UK) to Nordkapp (Norway), the most northern bit of Europe you can reach by road. Typically the weather in Norway this far north is a bit on the cold side and can be rainy. I also knew I would be covering well over 5,000 miles on this trip alone and needed a pair of boots that were up to the job. I have since added another 2,500 miles to the boots and here is the verdict. One word – brilliant!
Having worn these motorcycle boots continuously for three weeks on the trip, I think I have given them a fair test. I have ridden on the road, walked short distances in them from the bike to viewpoints, and have taken on some of the TET roads in Sweden. TET stands for Trans Euro Trail which is a roughly 38,000 km GPX adventure motorcycle backpacking route through Europe. The Trail contains all kinds of unpaved trails which are officially allowed according to the local laws and regulations of the relevant countries.

About Daytona
Daytona manufactures bikers' boots with a perfect fit, first-class finish, maximum safety and extraordinary long life.
The company was formed in 1962 in Germany and is still family owned by Reinhard and Helmut Frey.
Each Daytona boot is made from 120 individual parts, it takes 80 working steps to process the pieces into a motorcycle boot. Only the best raw materials are used and the boots are handcrafted in Germany with the most modern techniques.
Daytona boots are made to last and Daytona will generally re-sole the boots, replace membranes and generally fix any aspect of the boot for as long as you own them. This makes them stand out from the rest and adds value to the purchase price. Knowing you will be able to ride many miles in a pair of boots that are super comfortable, safe and fit perfectly.
First Impressions of the Daytona Road Star GTX Boots
Having mostly used racing-style boots before the first impression of the Daytona Travel Star PRO GTX was that they weren't very appealing to look at. The chunky sole and the very rounded design reminded me more of my primary school shoes and not a motorcycling boot. I wasn't keen.
But then I took a closer look and holding the boots in my hand, I immediately noticed the unmistakable quality of the leather, the stitching, and the detail. The leather feels soft and thick. The sole is thick and clearly has many miles of walking in it, not the thin ones I was used to previously.
There are two zips at the front, one on each side which is just fantastic. This means you can slip your foot in and out with ease. And the genius of this boot is the velcro adjustment at the back for those with bigger calves or for when you want to tuck your trousers inside the boot. I have worn mine with Rukka Comfornina textiles and they fit over the boot. But for day trips I wore a pair of motorcycling jeans and those fitted inside the boot. The velcro adjustment at the back was very much needed to ensure the boot wasn't too tight and that there was no unnecessary pressure on the zips.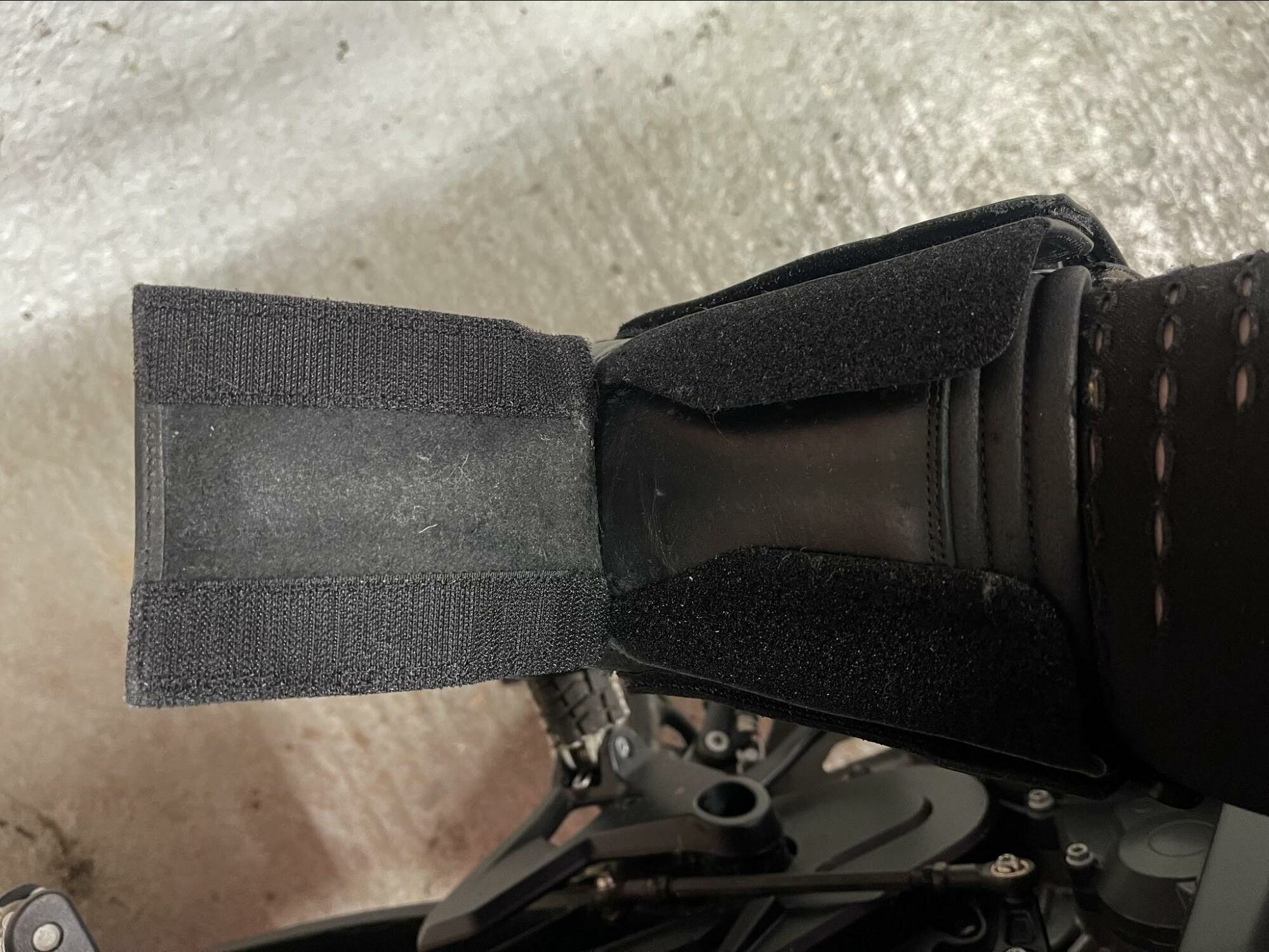 Daytona Travel Star PRO GTX Boots Build Quality
Daytona is a synonym for quality in the motorcycling world. Having tested the Daytona Travel Star PRO GTX boots extensively in the last four months, covering some 8,000 miles in them I'd say they stand the test of the miles.
My feet never felt uncomfortable or achy from the boots. Having worn them for three weeks solid, I still reached for them on my return home for the next trip to Ireland. The rest of the boots I own are being neglected. I have a couple of touring boots but with them, I always develop some discomfort after 5 days of wear. These are mostly negligible pressures that build up over a few days and my little toes start to hurt, or my ankles.
I regularly ride 15,000 miles a year and am on the road for at least 4 days in a row as a minimum. To have a pair of boots that still have plenty of tread on the sole after 8,000 miles is great and quite clearly, they'll last for at least twice as long again.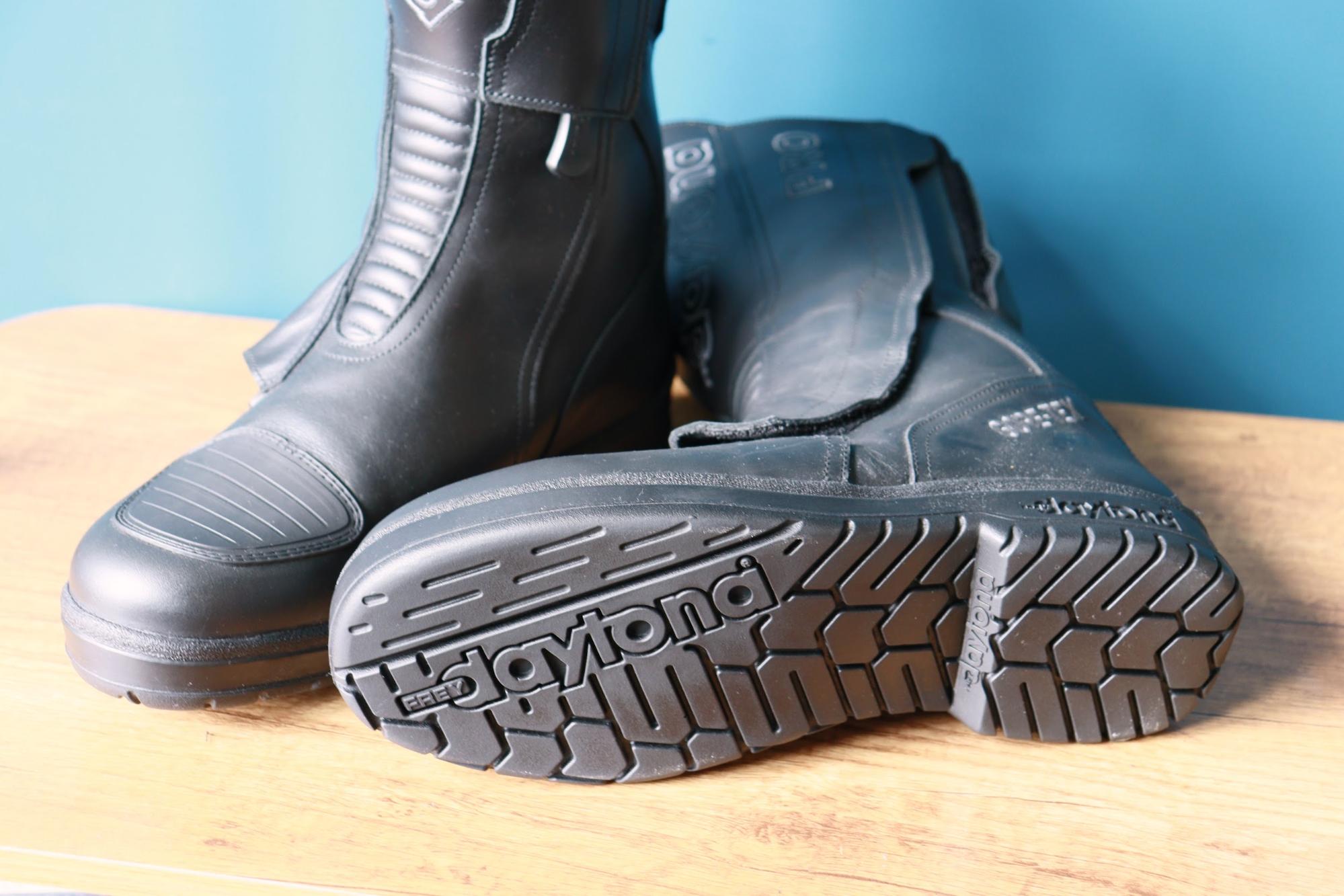 Photo above: Boots brand new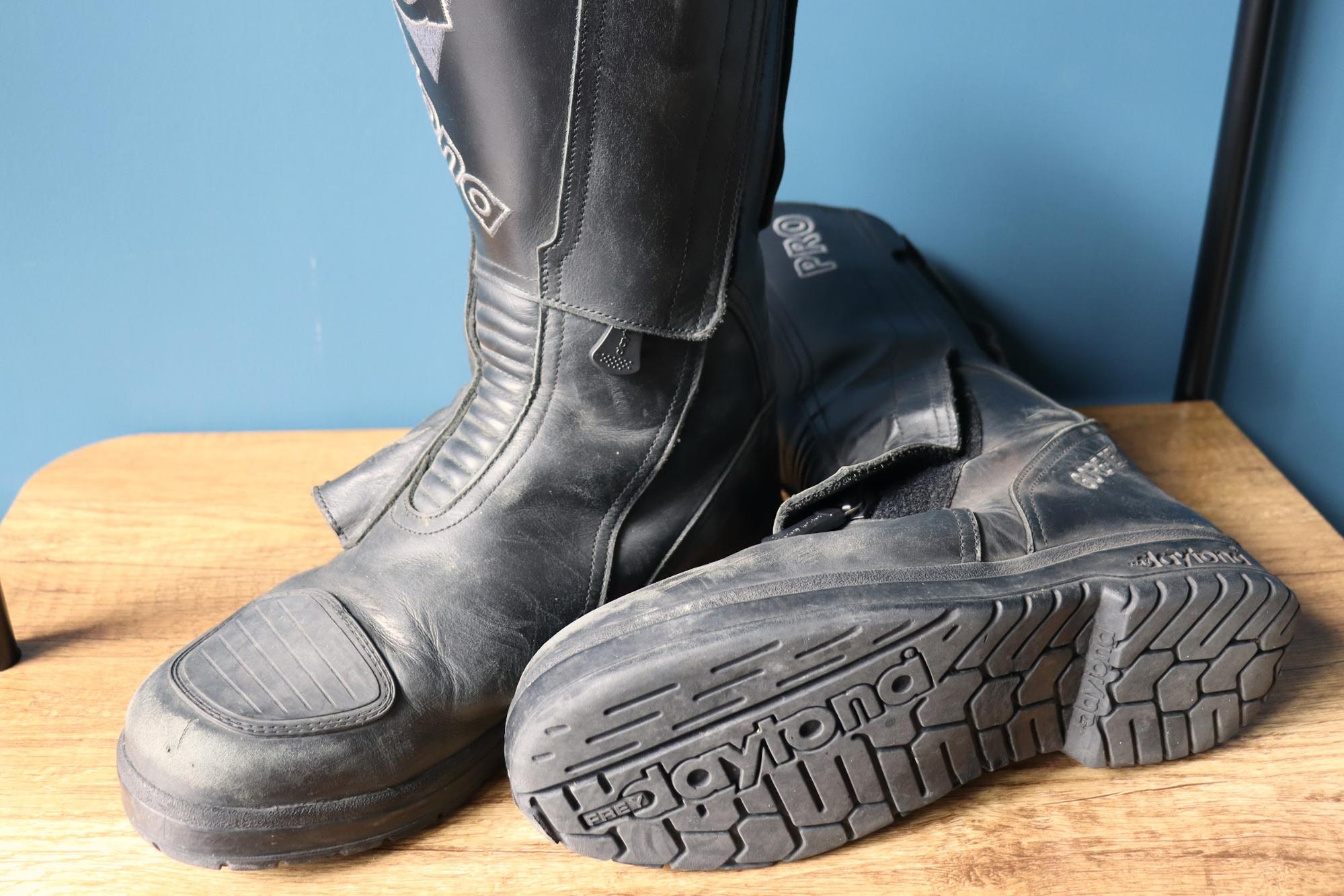 Photo above: Boots after 6,000 miles of some serious riding.
Materials
Materials used are of high quality and you can tell this just by holding the boot in your hand. The leather is thick and lush whilst soft to the touch and easy to wear from day one. The inside of the boot is soft to the touch and super comfortable.
There are several layers that include Gore-Tex liner to ensure a breathable and dry boot for your feet.

Assembly & Stitching
Daytona not only uses top quality materials but also takes care in assembling each boot with quality, craftsmanship and an eye for detail. The stitching is strong and neat, with no fraying at the edges even after all the miles I've covered.
The way the materials are used demonstrates even further value for money. These boots will stay as they are intended for many, many miles. The protective aspects of the boots such as the steel toe, ankle and shin protectors are wrapped in foam padding for comfort.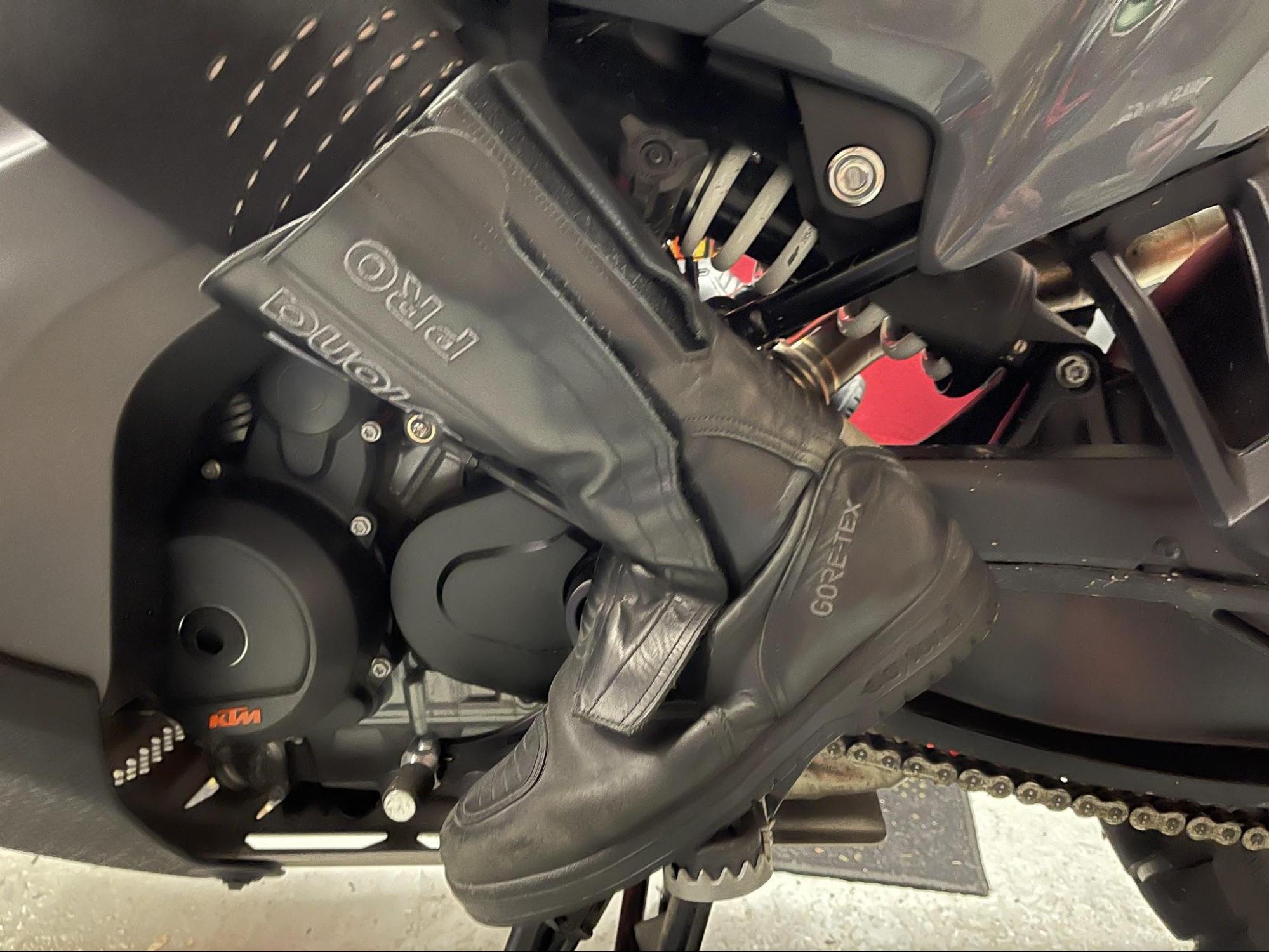 Zippers & Fasteners
The zips are sturdy and chunky whilst they run very smoothly. You are not afraid to tug on them if needed as they will not break. The Velcro fasteners are strong and wide, again, ensuring a tight closing for safety and waterproofness.
The whole feel of the boot, including the smallest of details, gives you a feeling of wearing something a little bit special.
Daytona Road Star GTX Boots Fit & Comfort
The Daytona Travel Start PRO GTX Boots come in sizes 38 – 51 (European)
I am a size 41 (European) and all of my boots, including the Daytona are the same. They are true to size. I find the toe box a little wider than most boots which I like as this means my toes are free to move and there is no discomfort as I've experienced in some boots. My little toe starts to hurt after 5 or 6 days on the road in some boots.
Women's Options
The women's version of the boot is Daytona Lady Star GTX which has a raised heel. The reason I went for a men's version is the sizing. The women's boot comes in sizes from European 35 – 39 where I am a size 41.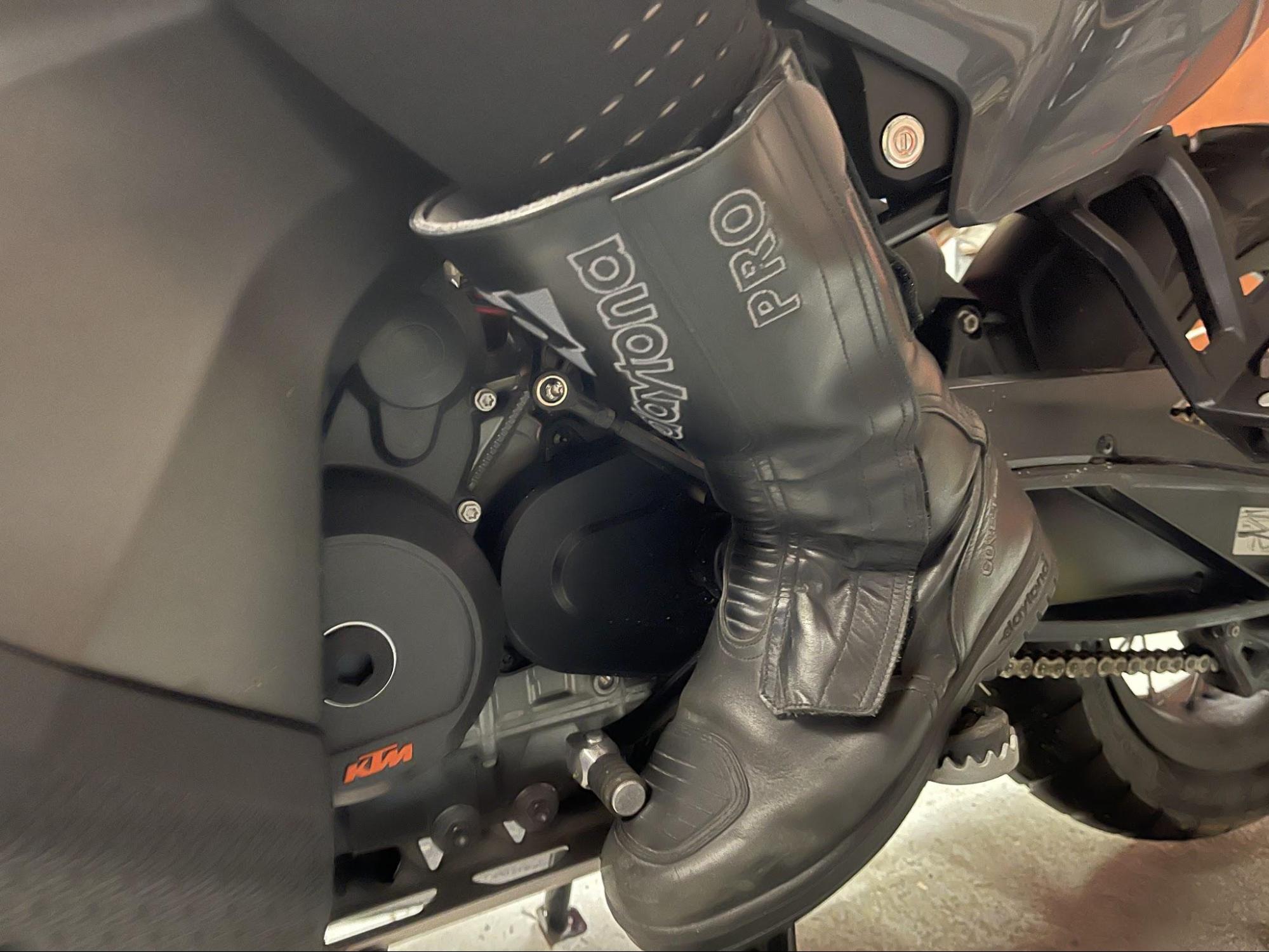 Adjusting the Fit
A twin zip at the front of the boot means putting the boot on and taking it off is really easy regardless of how many pairs of socks you are wearing (in winter). The inside of the boot is roomy which gives your toes space to move and there is room for extra layers. This, however, does not mean any loss of control when walking around and when controlling the gear change shifter or the brake. The zips are glove-friendly, very strong and sturdy and covered by a leather flap that velcro to the boot.
On the back of the boot, there are two vertical Velcro panels in the calf area which means most riders will be able to adjust the fit perfectly for their comfort.
Comfort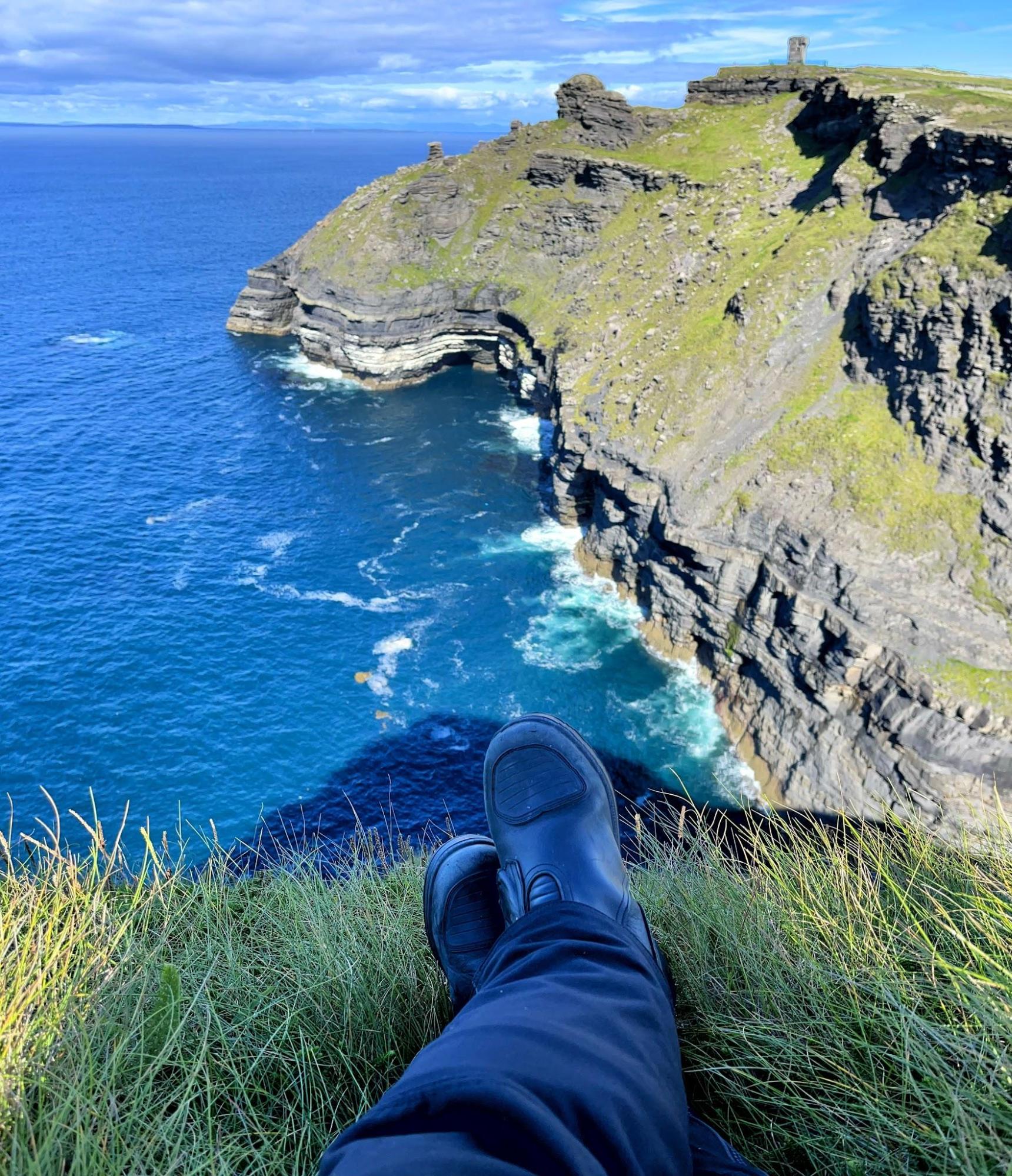 The Daytona Travel Star PRO GTX Boots are extremely comfortable from the moment you put them on brand new. There was no need to 'wear them in' and whilst I didn't think it possible, they do get even more comfortable with wear as they mould around your foot and your way of riding/walking.
Having worn them for three weeks non stop, I never once wished I had another pair to give my feet a break. In the past, on long tours, I always craved a change of boots because they would eventually start to get uncomfortable and hurt my feet. Quite the opposite with these, I have continued wearing them ever since and my other boots are now just left on the shelf.
The Daytona Travel Start PRO GTX are waterproof and breathable. They have robust and non-slip rubber touring sole. All this adds to the comfort and and confidence in wet weather, too.
Non-Slip Sole
As mentioned in the comfort section, the boots have a non-sip rubber sole. This gives great confidence in wet weather riding as the foot won't slip off the pegs and it keeps you steady when walking around. The boots are quite heavy due to the rubber but you really don't notice it when you're off the bike. They just feel sturdy and protective and you know they will remain dry regardless of how heavy the rain is.
Warmth & Breathability
The boots are very warm, indeed. Living in the UK, there probably isn't an occasion where I'd say it's too hot to wear them. However, they are not a pair of boots I would wear in the heat of the summer.
With all of the protection layers and waterproof membrane, this makes for a warm boot indeed. Despite the Gore-Tex liner, the boots feel very hot when the temperature reaches beyond 25 degrees C (ish). Saying that, the boots are breathable and despite your feet getting hot, they don't get too sweaty.
Daytona Travel Star PRO GTX Boots Protection
As their name suggests, the Travel Star PRO GTX boots are aimed at the touring market. They are also great boots for everyday riding. You probably won't wear them on a track or for off-road riding. As an overall riding boot, the protection in these is as good as it gets.
There is reinforcement capping at the front, protecting your toes. Rear capping around the heel, ankle bone reinforcing and shin bone reinforcing inlays. The heel area has 3M Scotchlite reflectors. There is latex foam padding at the shin area for comfort. The soles are reinforced with steel inlay underneath the plastic insole topped by fibre fleece for comfort.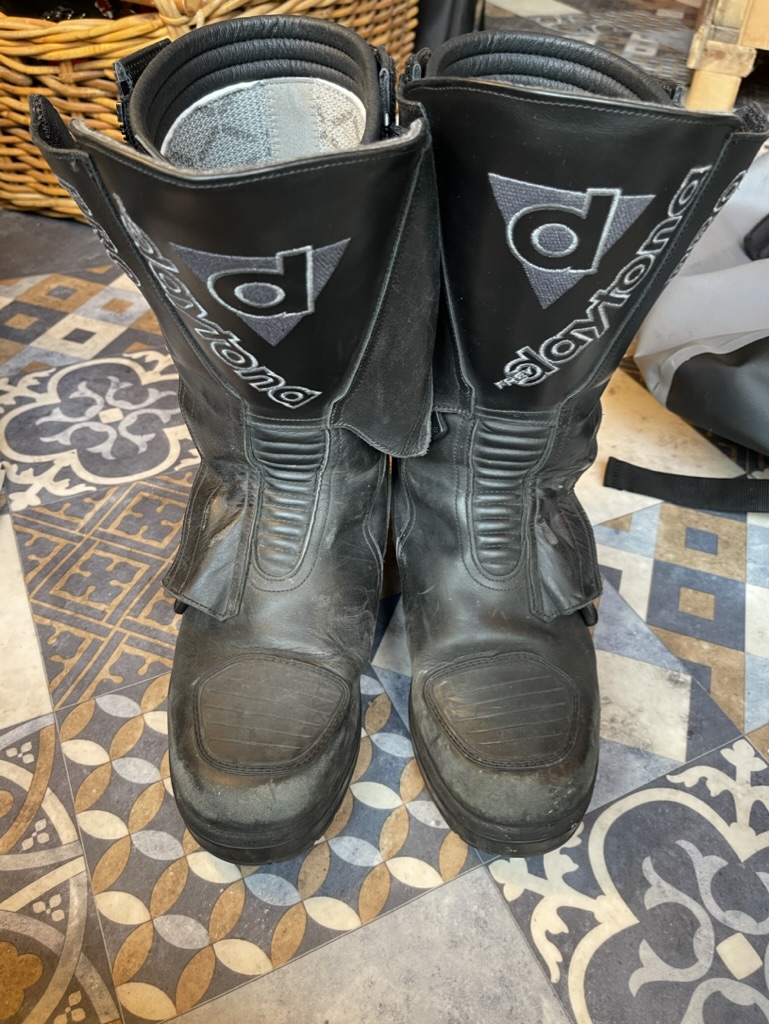 Waterproofing in the Daytona Road Star GTX Boots
The Daytona Travel Road Star PRO GTX boots are completely waterproof. If you are wearing them with good waterproof trousers over them so the water doesn't get in from the top, you can be assured your socks will be dry when you take off the boots after a rainy ride.
If you wear a pair of jeans, the water will find its way inside the boots but you will have to tip them out to get rid of the water. That's how good the boots are. The zips are covered with a leather outer layer and secured with velcro. Gore-tex Climatic membrane keeps them waterproof and breathable.
Daytona Road Star GTX Boots Value for Money
My favourite saying 'buy cheap, buy twice' has proven correct so many times. When I couldn't afford expensive things or when I was feeling cheap, I often ended up regretting not spending the extra money for the quality.
My previous biking boots would barely last one season, the soles were worn so they looked like slicks and were quite dangerous in the rain. The zips would break or the thin leather would wear down and the waterproofness would stop being effective.
Yes, the Daytona boots are expensive but if you are covering serious miles they are totally worth it. I can easily go through a pair of boots or two in one season. These are looking to last me way over two seasons and that includes winter riding. Money saved in the long run for sure.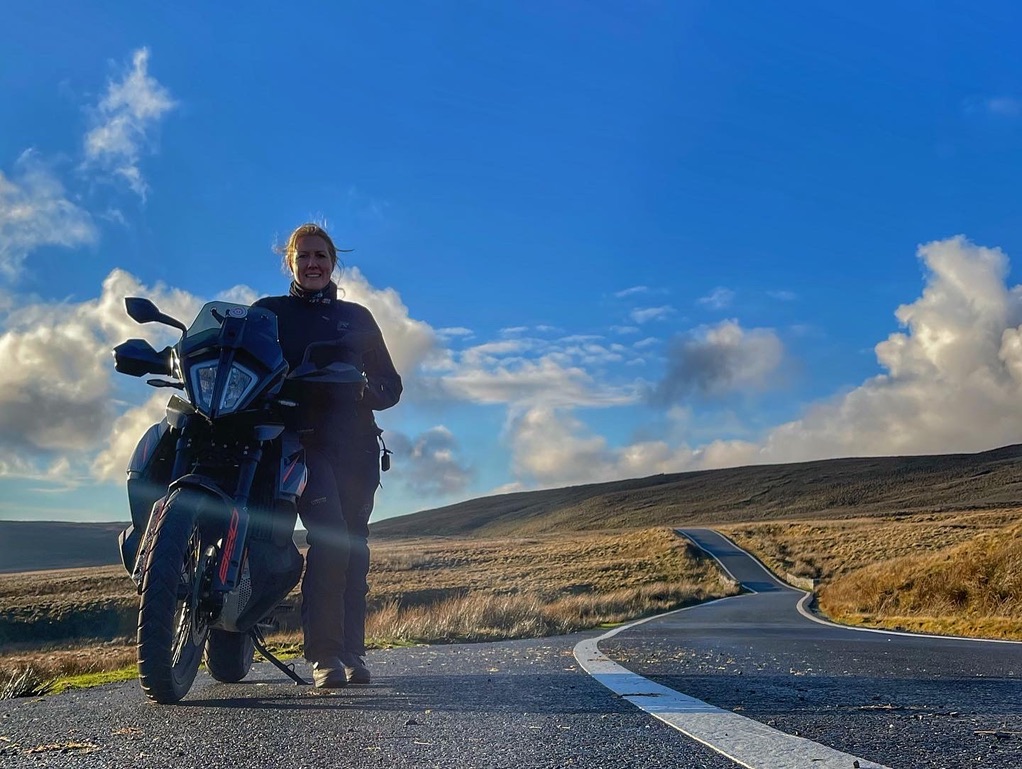 Final Thoughts on the Daytona Road Star GTX Boots
Up until now I always wondered if the boots were worth the money. After the two tours this summer, I can say with confidence that yes, yes they are! From the comfort to the safety features, longevity and the kudos of wearing Daytona all add to the sweet feeling of knowing you have the best of the best.
Our feet work hard when on and off the bike and any discomfort on the bike translates to distraction and safety can be compromised. Knowing I can trust the boots to take me for several thousand miles on and off the bike, no slipping in the rain and plenty of grip when off the tarmac, is worth their weight in gold.
Daytona Road Star GTX Boots Key Features:
Special Hydrophobic full cowhide construction
Waterproof and breathable GORE-TEX climatic membrane
Rear Velcro fastener adjusts for different calf sizes
Two zip fasteners (one on each side)  for quick and easy entry with leather covering
Plastic ankle protection both anterior and posterior sides, padded interior with open-cell foam
Reinforced gear change cushion made from abrasion-resistant PU foam
PU foam insole and gel layer to reduce vibration
Plastic reinforced inner sole with a hot-dip galvanized steel inlay that allows you to gently roll your feet
3M-Scotchlite heel reflectors
Non-slip rubber touring sole
Specs:
Price: $449.00 (USD)
Made In: Germany
Colors: Black
Sizes Available: 36–51, plus five different calf sizes
Height of Shaft: 29 cm
Review Period: July–September 2022
Pros
Hydrophobic full cowhide construction means the boots are tough and repels water
The breathable GORE-TEX membrane ensures the boots are waterproof and keep your feet dry even in a heavy downpour.
Double velcro closure fastener at the back means you can adjust the boots to fit your calf sizes perfectly.
Two zip fasteners, one on each side ensure your foot slides in and out quickly and easily.
Wide shinbone padding gives extra protection to your shins.
Reinforced gear change cushion keep your toes comfy.
Visibility via 3M-Scotchlite heel reflectors
Non-slip rubber touring sole means your feet won't slip off the pegs in the rain.
Cons
Expensive to buy at the start but you do get your money's worth over the miles ridden.
Wide footbed—may need to size down
Not for extremely hot conditions
Important Links / Where to Buy: