Experienced riders and daredevils are invited to join the inaugural Nomadic Knights reconnaissance motorcycle tour of the hair-raising Cliffhanger in the Himalayas.
The Cliffhanger is a rough Himalayan track hewn into the side of vertical cliffs in Kashmir and is billed as one of the world's hairiest roads.
The first motorcycle tour group to tackle the road will be led Alex Pirie, a Scot who moved to India in 2008 and founded the Nomadic Knights motorcycle travel company. Alex has ridden more than 200,000km across India on classic Royal Enfield motorbikes.
The spine-tingling Cliffhanger track from Killar to Kishtwar traces a narrow and rudimentary route high above a gushing river in the remote Pangi Valley in the Indian state of Jammu and Kashmir.
"This trip will be our toughest but most exciting tour yet," says Alex. "This will be a recce trip for us but I am inviting along daring souls from Australia – and there are a lot of them – who want an adventure in its purest form as none of us have ridden this route before.
"We won't know what lies ahead but we will be prepared as we will have our experienced team and all our food, tents, fuel and water with us for the three days that we'll spend on the most challenging part of the route," he says.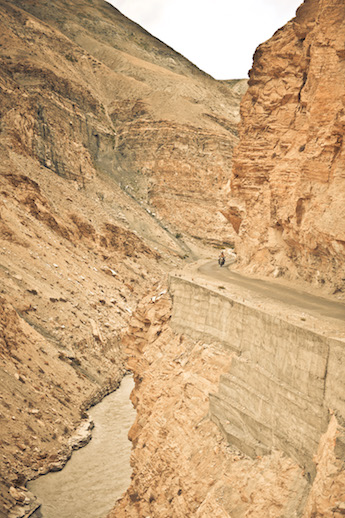 Because of the track's difficulty, Alex is restricting participants to experienced riders.
The Nomadic Knights hardcore adventure Roof of India tour into the far north-west leaves on July 30, 2016, and costs US$3980 (about A$5100, subject to exchange rates), but if booked by May 31 will be discounted US$250 to US$3730.
The 14-night tour leaves the northern Indian city of Chandigarh on July 30, 2016, and take riders on 500cc Royal Enfield Bullets for a 2100km circuit through the Indian Himalayas along some of India's loneliest and the world's most spectacular roads.
Along the way riders will explore high-altitude deserts, glacier-gouged gorges and lunar-like valleys, visit remote villages and temples in far northern India and ride over mountain passes up to 5.5km high. They will be riding in the land of wild snow leopards, bears, yak and ibex and stay in luxury Arabian-style tents with campfires at night or local hotels. 
The Roof of India tour takes in rarely visited territory in Jammu and Kasmir and includes the second and third highest road passes in the world  – both over 5000m high.
A day of white-water rafting on the Zanskar River is also included as is a stay in Kargil near the Pakistan border.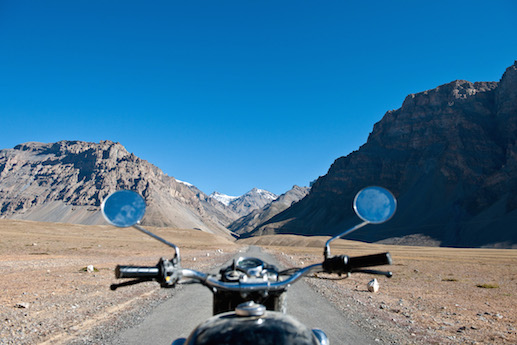 To obtain the discount, use the code ROI250 when booking the Roof of India tour.
Fares include accommodation, bike hire, fuel, breakfasts, dinners and also mechanical and logistical support throughout the trip. Riders travelling solo can share accommodation with other single riders without any solo traveller supplement. Tours and fares are subject to availability and conditions apply. Flights to India are extra.