Imagine having a tyre that changes its tread pattern when you go from tar to dirt and back again.
Well, that could be the future with two motorcycle tyre designs in the top three of the biannual Hankook Tyre Design competition.
The winning "Dakar" design by German university student Samir Sadikov is a motorcycle or car/SUV tyre made up of individual hexagonal parts that contain their own air.
On the tar, they interlock tightly so there a narrow tread pattern, then they separate for the dirt to provide a wider, knobby tread.
They aren't puncture proof like the honeycomb design of the Terrain Armour army-spec tyres on the Polaris Sportsman WV850, but if a block is punctured, it can be replaced or repaired without having to replace the entire tyre.
Second place went to the "Vent" tyre by Andreas Hartl who designed a wet-road tyre that has horizontal rubber blades that act like a turbine to pump water away. It is probably more suited to car tyre with its flat surface.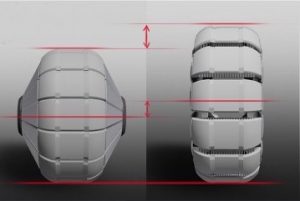 However, third went to "Konzept Winter" car and bike tyre design by Lucia Lee which is similar to the winner with 14 sections that separate laterally for extra traction. They would make a great hillclimb or mud tyre.
The other nine entries include tyres that project 3D images ahead of the car, allow users to swap tread patterns like Lego blocks and produce a graphic of the road ahead.
They show that the future of tyres will not be conventional.