Australian Dakar rally legend Simon Pavey is returning to Australia for another off-road riding course for Compass Expeditions.
Simon, who has competed in six Dakar Rallies and finished four, now lives in Wales where he runs a renowned training facility. Among his "students" are Ewan McGregor and Charley Boorman who he trained to compete in the 2006 Dakar.
Simon returned to Australia last year for Compass Expeditions and now he's back by popular demand He will conduct a level 1 & 2 off-road training skills course on the weekend of November 1-2 at Mansfield, the gateway to the Victorian High Country.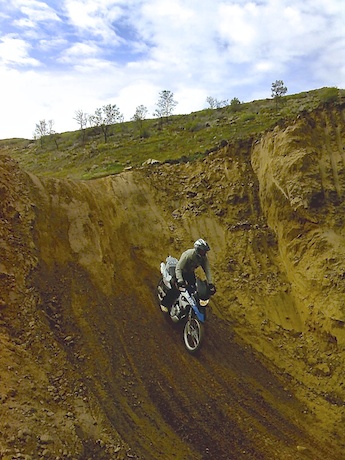 "Last year's event in the Flinders Ranges was a massive success," says Mick McDonald co-founder of Compass Expeditions. "I simply can't believe the change in skill levels, but more importantly, confidence after a weekend with Simon and his team, in fact two riders who had never been off road booked the epic 105 Road of Bones expedition shortly after completing the course, it really is that good."
I've completed two training courses with Simon and found him a calm, quiet teacher who is unable to be flustered by the most demanding or talentless rider. He coaxes and coaches in such a manner that nervous riders are soon tackling seemingly unsurmountable obstacles such as the near-vertical drop I'm pictured descending in the photograph at right.
Simon's weekend course is followed by a five-day ride through the Victorian High Country where riders can put to practice what they have learnt. The route provides a mix of easy to challenging dirt with a little pavement mixed in.
For more info on the course and five-day ride, which can be booked separately, click these following links: Weekend training and 5-Day ride out.
For further details please contact Mick McDonald on email: mick@compassexpeditions.com
Phone: +61 3 5368 2113