French company Dab Design planned this ugly custom "Enhanced Racer" kit for the BMW R nineT that simply bolts on – no welding or grinding sparks required!
Beauty might be in the eye of the beholder, but we think it's ugly.
It looks like a reject from a B-grade sci-fi movie, which is weird as the R nineT is a retro model.
Besides, if you want a racer version of the BMW, buy the Racer!
We're not alone in our opinions, either.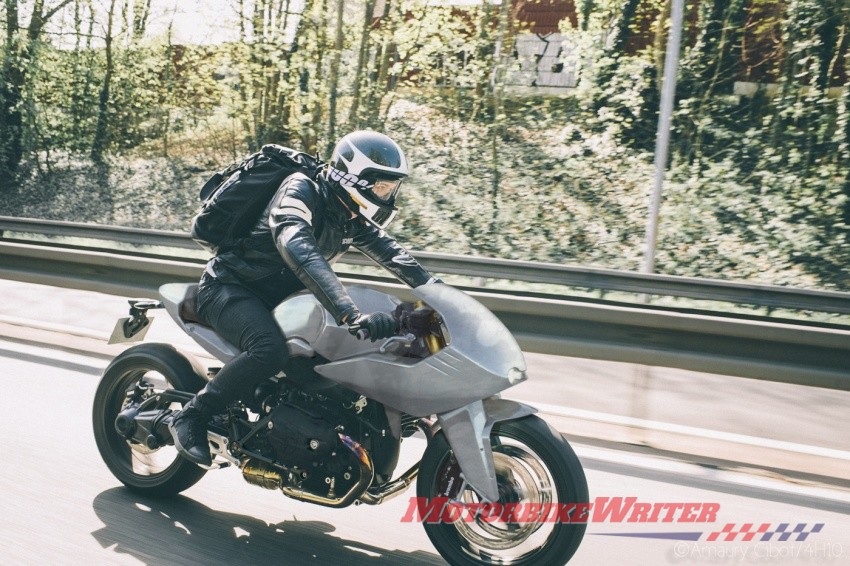 Dab Design seeks crowd funding
Dab Design obviously didn't trust they had the right formula. So, instead of producing the 13-piece kit, they went to crowd-funding site Indiegogo to raise €50,000 ($A76,500, $US60,900).
With the deadline for finding about to close, they have raised just €537 ($A820, $US650) from three backers, which is only 1% of the total.
It seems the motorcycling public still has some taste!
Dab Design had hoped to sell the kit for a whopping €4000 ($A6120, $US4870) for the fibreglass version. Carbon fibre and flax versions were to cost almost twice as much.
Thankfully riders have more sense than cents.
None of the pledged funds will go to Dab Design.
Dress up your R nineT
If you want to dress up your R nineT with some taste, there is a great range of accessories designed by Roland Sands Design.
They are available for the R nineT, R nine T Pure, R nineT Scrambler, R nine T Racer and R nine T Urban G/S.
BMW Motorrad Australia boss Andreas Lundgren says the parts are "pretty cool".
"It's however not the first time we have sold non-factory options through our dealers," He says.
"Previous examples include Gilles tooling, Laser exhausts and Alpha Technik Motorsport parts." 
The aluminium parts have a hand-polished black coating which is then CNC machined. Selected areas are milled again to reveal the original aluminium surface.